It all started in early 2014 for me, when I finished reading Jessica Alba's book, The Honest Life. I'm not sure I've read a book that has changed my outlook and actions so much, and that's pretty cool to say. This book propelled and challenged me to seek out the best quality items I can to make healthy living a priority.
One of the first changes I made was simply switching to almond milk pretty exclusively for eating, cooking, and baking. While 2017 was the year I focused on cooking dairy free, this was probably the beginning of that journey. Note that in 2018, I'll have plenty of dairy free recipes on my blog. But I do still want to incorporate some dairy here and there, and I'll try to offer alternatives or make those ingredients optional.
2017 also saw me featuring a few more gluten free recipes as well, because I wanted to see what I could do in that realm. And I do anticipate doing more gluten free recipes in the future, because these dishes typically seem delicious yet not as heavy. My favorite changes of gluten of course come in the form of trying a huge variety of pasta alternatives as well as using Tamari in place of soy sauce.
As this new year has been occurring, my skin and complexion are a huge focus for me. Spurred on by stress, I'm pretty sure, my face has been fairly broken out the past few months. So I've jumped into trying some new, clean products and seeing what kind of effects they'll have. Now it's too soon to say definitively how these new products work for me, but I'm pretty committed to them.
The key really is focusing on clean, non-toxic products when it comes to skincare and household items. As far as food goes, anytime you can avoid processed foods, then you absolutely should. The sad fact is the US doesn't regulate ingredients in food and household or beauty products as much as it should, so we all need to be quite diligent. That means we start getting comfy with reading ingredients, and it's often my first stop when I find a product. I want to see how clean it is before I get too excited about it.
For beauty products, definitely try out the Think Dirty app. It tells you how toxic a product is, and then you can make the decision on whether you want to use it or not. If you want to learn a bit more about how I cleaned out my toxic products, definitely check out this post for more info that focuses on healthy skin.
The Products I Love for Healthy Living:

Skincare
I'm currently trying out Ursa Major for my skincare routine, because their products are very clean. They also have a 30 day guarantee if you're not happy, so that is a huge plus for me.
Another new brand I'm exploring is Acure and specifically their face scrub. I'm really loving the one I got that has sea kelp in it, and it's gentle but does the job of removing dead skin.
One skincare product that I've enjoyed the past year is a mask, because they're gentle and make my pores smaller. I've been rotating between the Honest Beauty clay mask and the clay mask from Karena + Katrina of Tone It Up. They both feel great on, and offers a bit of skin detox that we all need.
When it comes to the shower and my hair, I'm a big fan of the Honest Company's Shampoo/Body Wash along with their spray conditioner. The Honest Beauty line also offered a lot of hair care products too that I'm enjoying.
I haven't found a hairspray that seems super clean yet, so I did try out this DIY Hairspray with vodka. So if you're curious about that, then check that post out here.
Makeup
In an effort to ensure the makeup that touches my skin is clean, I've recently switched to a new brand. If you haven't heard of Crunchi yet, then definitely check it out. I'm currently trying the Crunchi Primer and Foundation, and so far I'm really loving how it feels on.
I like that I feel like I can trust the Honest Beauty brand, so I'm using it for Finishing Powder, eye shadow and lip gloss or crayon.
Tarte is a brand I've used for 3 years now, and at the moment it's my go-to for concealer, eye liner and mascara.
Every Day Household Products
The Honest Company has been one I've used for so long now, and I still consistently use their surface cleansers, dish soaps, laundry detergent, and dryer sheets.
Currently I'm using Dr. Bronner's for hand soap, and I had to convince my boyfriend last weekend that the sugar soap on the counter was hand soap. Ha – he was a bit skeptical, but I assured him that it's a great, non-toxic product and he'll love how his hands smell after. I've also heard great things about their castile soap for tons of uses, so I'll likely pick some of that up soon too.
Food
In regular rotation in my fridge, you'll find lots of greens (kale & spinach mainly). I also make sure my crispers are packed with fresh veggies including broccoli, Brussels sprouts, carrots, onions, garlic, beets, and fennel.
Spices are critical to your cooking game, and they also last a decent amount of time. So stock up and experiment with them on your veggies, in your scrambled eggs, salads, and more! A few of my favorites are: Cinnamon, turmeric, garlic powder, onion powder, red pepper flakes, cayenne, basil, oregano, thyme, everything bagel seasoning by TJ's, & Mrs. Dash's sodium free flavors.
A few more items I keep in my refrigerator include Tamari (like soy sauce), Sriracha, Kimchi, and Kombucha. The first two are amazing for adding flavor to soups and dressings and more. The latter two are awesome sources of fermented foods that offer healthy probiotics you need.
When it comes to my pantry, you'll find a variety of good-for-you items including gluten free pasta and kelp noodles to give me healthy alternatives. I love using honey, maple syrup , & liquid stevia for sweetening my foods. And I've recently been trying out different chicken and beef bone broths.
Also in the mix are almond milk, coconut milk, and coconut water, because they're great to cook with and amp up a smoothie.
Speaking of smoothies, I love keeping ingredients on hand to whip up green smoothies & smoothie bowls. Especially during the warmer months, they're my go-to breakfasts and are a fun way to make your food gorgeous AND healthy.
Supplements
Black Raspberry supplements has been in my rotation for years after hearing it's packed with antioxidants and helps prevent cancer. I always buy the Eclectic Nutrition brand on Amazon, so you can check that out here.
Fish Oil is packed with Omega 3's which are something we all need, so I've recently tried out taking these each day.
I accidentally got sent an order of Ritual Supplements, which worked out for me, because I was impressed with what I read about them. So I just started trying out these pills, and I'll keep you posted on how that goes.
Collagen Peptides are so good for your skin, hair, and more. So I've been adding them to my smoothies and morning coffee. They have no taste, which makes them an easy addition to your coffee.
Maca Powder great for energy and I've been adding it to smoothies lately, because who doesn't need more energy and antioxidants?
Matcha Green Tea is filled with antioxidants and great for energy too, so it's great for protein balls and smoothies.
Activated Charcoal for beauty and food are able to pull out toxins from our skin and bodies. So I just purchased some, and while it's messy as hell (so have lots of baking soda on hand), it seems worth the mess for the benefits.
Where to Shop for Healthy Living
For food and household items, I buy from Target and Trader Joe's the most locally followed by a nearby Sprouts and Hen House.
Thrive Market is a great resource for reasonable prices on high quality everything including supplements, food items, and beauty items.
Brandless is a new option out there to get a variety of items for $3, but be sure you do your research, because that may not be a deal depending upon what you're looking at.
Amazon is another resource I shop from for food like kelp noodles and some supplements.
Crunchi is sold through a distributor, and it's a fairy new company. So if you're interested in trying it, you can find someone who sells it.
Honest Beauty and the Honest Company are most cost efficient if you're ordering their bundles, which you can sign up for here (Beauty) and here (Company).
Tarte is easy to come by from Ulta and Sephora to their own website or even QVC.
My favorite DIY makeup brush cleaner for healthy living: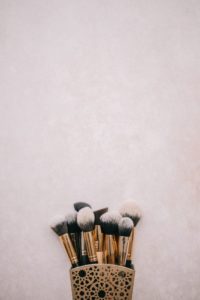 Print
DIY Makeup Brush Cleaner
Ingredients
Ingredients:
1 cup filtered water
1 T. Apple Cider Vinegar
1/2 t. Dish Soap, use a non-toxic, all natural brand like Honest or Mrs. Meyers for example.
Instructions
Combine the ingredients in a glass.

 

Add brushes to glass and let the brush heads soak for 10 minutes.

 

Rinse brushes with cold water and use your hands to help clean them. Then repeat the steps with a fresh cup of water, vinegar, and soap until your brushes are clean.

 

Let the brushes dry on a clean towel overnight.
Notes
Quick Note: Note that for really dirty brushes, you may need to repeat steps 1-3 about 3 to 4 times, but it's amazing how clean they get with this simple, natural solution.
My favorite healthy living recipes to keep you going strong!
Smoothies & smoothie bowls:
Tropical Matcha Smoothie Bowl
Healthy Berry Acai Smoothie Bowl
Skinny Oatmeal Cookie Smoothie
Cinnamon Apple Smoothie
Soups:
Spicy Sausage Minestrone
Homemade Chicken Wonton Soup
DF Roasted Veggie Soup
Spinach Artichoke Soup
Sides & Salads:
Roasted Butternut Squash Fennel Salad
Spicy Stir Fry Zoodles
Roasted Maple Acorn Squash
Soba Noodle Salad
Healthy 5-Spice Fried Rice
Parmeson Bacon Spaghetti Squash
Main Dishes & Pastas:
Roasted Veggie Sriracha Tahini Bowl
Basil & Lime Butternut Squash Quinoa Bowl
Avocado Linguine with Shrimp
Top Heavy Cauliflower Rice Chicken
Mango Chicken Quinoa Bowl
Healthy & Easy Tilapia Ceviche
Mexican Chicken Tostada
Spring Roll Noodle Bowl
Healthy Sweet Potato Turmeric Bowl
Sweets & Snacks:
Vegan GF Pumpkin Bread
Spicy Kale Artichoke Vegan Dip
Healthy Chocolate Mug Cake
Spicy Mango Pineapple Fruit Leather
DF Dark Chocolate Coffee Ice Cream
Healthy living and eating doesn't have to be overwhelming or difficult, which is why I wanted to create this post. We're living in a very amazing time where more and more companies are driven by creating all natural, non toxic products.
This means that we have options galore, so we can actually find the best brands for us. I'd love to hear from you about this topic of healthy living, and how we can find quality products. Do you have any favorite brands or is there anything you're looking for a non-toxic replacement? Comment below and let's chat!
Stay inspired & cheers to healthy living!
~Kelli
0