I'm a bit worn out this week, which is pretty funny considering I just enjoyed a 5-day weekend. How does that seem to happen? I mean I felt refreshed, but coming back to work and having to catch up has totally zapped my energy. So I knew this week since I was running on fumes that I needed an easy meal that would hit the spot, and Shrimp Avocado Pasta was born.
Last week I was hanging with my family on a little vacay and eating ridiculously bad. Or at least it felt that way, because I'd been really eating healthy this year. And so it was time for me to get back on track, so I wanted something that was both healthy and filling. I'm a girl who loves her pasta, so I created this Shrimp Avocado Pasta recipe to check the boxes.
First off, even though it's pasta, it's gluten free, so that's a win right there! My favorite gluten free pasta these days is by Ancient Harvest, and I love it because it tastes like the real thing. The shrimp is a lean protein, which I was desperately needing. And the avocado sauce is pretty guilt free and also gluten and dairy free, so another box is checked. Finally, this recipe comes together in under 30 minutes.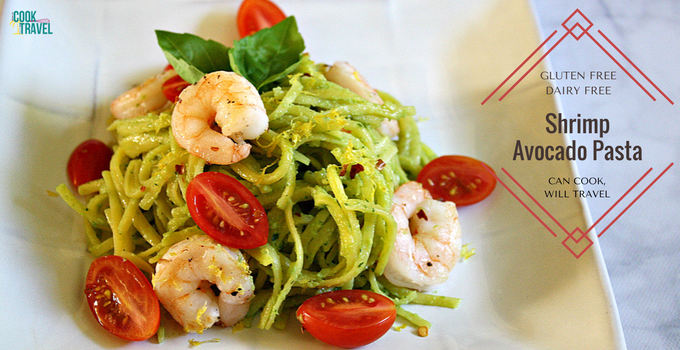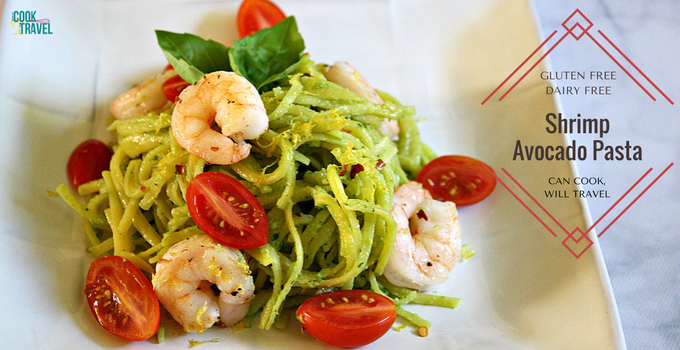 You'll need a blender or food processor for the sauce, because that will help it to get really smooth and creamy. That texture comes from an avocado, tahini sauce, and some extra-virgin olive oil. The flavors become bright with the addition of some lemon juice, garlic, and a little salt.
All you need to do is cook the pasta according to the package instructions, and then cook your shrimp for 2 minutes or less on each side. Then blend up the sauce and pour it over the pasta. Add some salt and pepper if you need it, toss it, and serve it up with some cooked shrimp and sliced grape tomatoes. I topped mine with some lemon zest and red pepper flakes to brighten the flavor and add a touch of heat.
Oh holy moly, this Shrimp Avocado Pasta was delicious! The tomatoes add a fresh bite to the dish, so the taste is lighter. The shrimp and avocado combo works so well together flavor wise, so they really compliment each other.
The creamy avocados make a lovely, thick sauce, and adding the tahini and lemon kept the flavors bright. I know I keep talking about how "bright" the flavors are, but that's because the avocado sauce could be a bit heavy or overly saucy. I love the touch of heat from the red pepper flakes, and you can omit it if you want. Also you can totally swap out the shrimp for chicken or whatever your favorite proteins are.
I cannot wait for you to whip up this Shrimp Avocado Pasta recipe, because it'll be a hit! So click that link for the recipe and step by step instructions, and get healthy with this yummy dish! Happy healthy eating!
A look back:
One year ago: Teriyaki Shrimp is Simply Delicious!
Two years ago: Bring on the Basil Garlic Popcorn!
Three years ago: Three Cheers for Sautéed Zucchini with Toasted Garlic and Lime!
Four years ago: Feeling Fancy with Blackberry, Fennel and Goat Cheese Pizza
Five years ago: It's a Mac 'N Cheese Kinda Week
Six years ago: It's Tea Time…Muffins + Chai Tea = Pure Goodness!
0