Alright, so you know how I've been eating dairy free pretty much this whole year, right? Well it's truthfully been a lot easier than I expected it to be. With the exception of cheese and ice cream, because those are two of my favorite cravings.
So what's a girl to do? Well I've found some substitutions for cheese in the form of almond or coconut based alternatives out there. But ice cream is a bit more tricky! Yes there are definitely options out there, and those options are growing. And so far my favorite is the non-dairy Ben & Jerry's variety, but Lord have mercy on me! The texture is perfect and just a scoop is the best sweet treat. But there's a lot of sugar in there, my friend.
Sugar is something I've been trying to watch for about a decade, because diabetes runs in my family. So I have diligently kept an eye on my sugar count whenever I possibly can. But if I wanted dairy free ice cream, then I could have a no sugar added kind or the above Ben & Jerry's. Honestly that no sugar added is a great option, but it's not the creamiest in the world. That's what makes the Ben & Jerry's kind so freaking good, but the sugar content means I can't eat it very often.
So I had to come up with my own recipe, so that I could control the added sugar. And probably 4 or 5 years ago, my mom told me about how you can freeze bananas and then turn them into ice cream. Oh holy cow was it delicious, so I knew that they would be how I'd experiment with my own version of non dairy ice cream.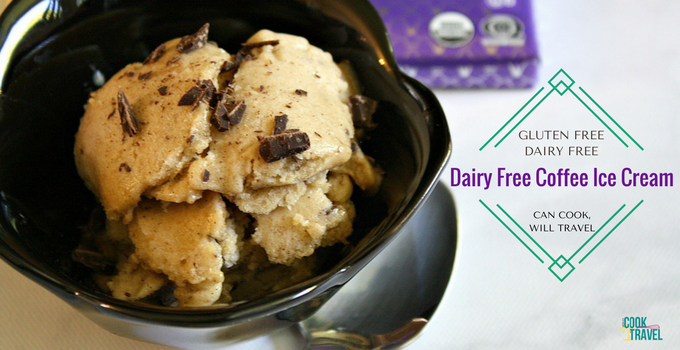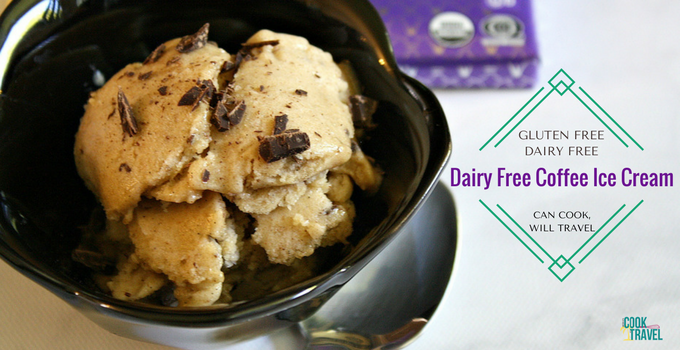 My favorite ice cream always has coffee in it, so I wanted coffee and I wanted chocolate. Those were my only requirements. So off I went to freeze some bananas. The more frozen, the creamier the ice cream, so I froze mine overnight.
I used my food processor and blended the frozen bananas, a little coffee, some honey, cinnamon (cuz it's good for you), and vanilla bean paste. A note on the coffee, is that I used some that I drink every morning, which is just a K-cup of either caramel vanilla cream or some sort of flavor. This round it was a Vanilla Bean Creme Brûlée coffee I had, and it worked perfectly.
You could stop there, or get crazy and add in chocolate. Once the ice cream is blended, transfer it to a bowl and fold in a couple of squares of your favorite dark chocolate. I love the Trader Joe's 73% cacao dark chocolate for an option that only has traces of milk in it, because I can live with that. However if you're super sensitive to dairy, you can skip the chocolate. Freeze the ice cream for at least 2 hours or until it's pretty frozen.
A tip here is that I waited until the next day to try mine, so I'm thinking it'd be even better if I'd enjoyed it about 2-4 hours in the freezer. That way it would have been a bit creamier, however the finished product was seriously so good! I love knowing exactly what's going in my food and choosing high quality ingredients, which meant that a serving is only 10 grams of sugar!!
So if you're a total ice cream lover like me, and you want a non dairy version that is delicious this recipe is for you! Click that link for the recipe and step by step instructions! Happy ice cream eating!
A look back:
One year ago: Healthy Sweet and Sour Chicken is Fab!
Two years ago: Sticky Honey Lemon Ginger Chicken = One Light, Bright Dinner!
Three years ago: Crock Pot to the Rescue with Honey Sesame Chicken
Four years ago: Learning to Love Salads – Part 12: Tuna Pasta Salad
Five years ago: Creamy Avocado Pasta…My New Favorite Pasta Dish
Six years ago: The Deliciousness that is Israeli Couscous
0