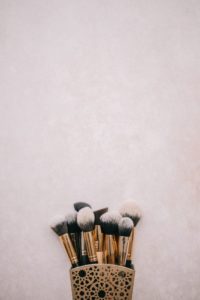 DIY Makeup Brush Cleaner
Ingredients
Ingredients:
1 cup filtered water
1 T. Apple Cider Vinegar
1/2 t. Dish Soap, use a non-toxic, all natural brand like Honest or Mrs. Meyers for example.
Instructions
Combine the ingredients in a glass.

 

Add brushes to glass and let the brush heads soak for 10 minutes.

 

Rinse brushes with cold water and use your hands to help clean them. Then repeat the steps with a fresh cup of water, vinegar, and soap until your brushes are clean.

 

Let the brushes dry on a clean towel overnight.
Notes
Quick Note: Note that for really dirty brushes, you may need to repeat steps 1-3 about 3 to 4 times, but it's amazing how clean they get with this simple, natural solution.
Recipe by Can Cook, Will Travel at https://cancookwilltravel.com/healthy-living-guide-success/