Can a dish be my happy place? I say yes, but maybe as a foodie I'm biased? I mean absolutely a big bowl of mac 'n cheese or dessert is a totally normal happy place, but this Turmeric Sweet Potato Bowl is now my healthy food happy place.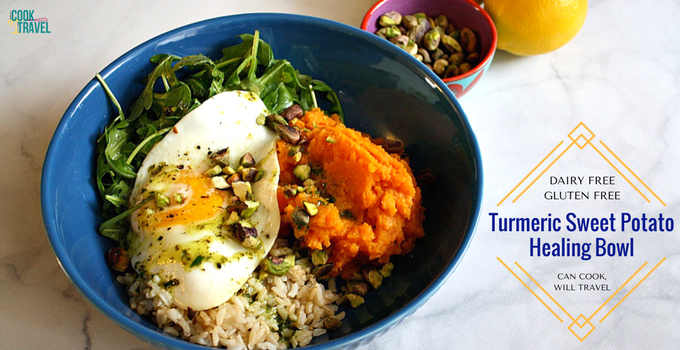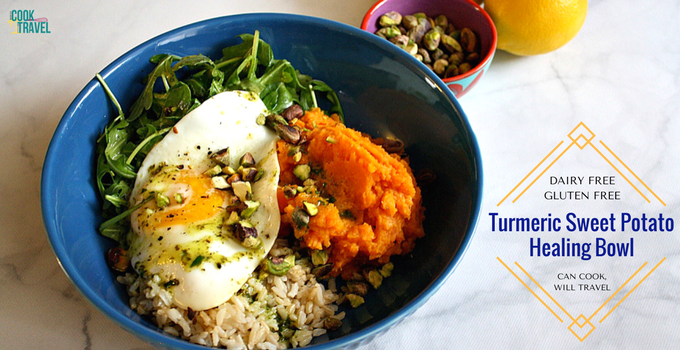 This dish comes from Pinch of Yum, and I'm getting a bit obsessed with their recipes. They're super healthy, the flavors are amazing, and they're inspiring me to eat a bit better. And I love that they love bowls and have a whole recipe section devoted to them. This Turmeric Sweet Potato Bowl is similar to the Buddha Bowl I made last year, where you have several healthy components that all get piled into a bowl and devoured as one dish.
I kept coming back to this dish as one I HAD to make because I had so many of the ingredients on hand already. It was a sign, and I'm so glad I listened. So let's talk about this healing Turmeric Sweet Potato Bowl a bit.

There are really 5 components to this Turmeric Sweet Potato Bowl, but they're all simple:
Mashed Turmeric Sweet Potatoes
Grain – I went with brown rice but quinoa will work too.
Arugula
Egg (however you prefer – I did a fried egg on mine)
Dressing that too-simple-to-be-as-good-as-it-is lemon dressing
First things first, I made my brown rice a day ahead so that it was done and just needed reheated. You could do that with the dressing as well too. Also if you're like my mom and are watching how many carbs you're eating, you can use quinoa which is slightly fewer carbs. OR just have a bigger serving of arugula and smaller servings of sweet potato and rice. But I was in a rice mood and love the heartiness of brown rice.
Speaking of sweet potatoes . . . we must talk about these mashed sweet potatoes. First off, they have turmeric in them, and that spice gives a nice warmth to the finished potatoes. Turmeric is also super good for you, and you can learn more about that in this post. Just cut the potatoes into cubes and heat in a pan with oil and add the turmeric. Once the potatoes are coated in turmeric, simmer in broth and garlic until the potatoes are tender. Then just mash the cooked potatoes with a little broth and salt and pepper.
I loved that this recipe was dairy free, although you could add a little cream to your potatoes when mashing. But truly, you don't need the cream. They're amazing as is. While the potatoes cooked, I blended the dressing, which was so easy. It's just olive oil, lemon juice, garlic, agave, and parsley. You'll toss some arugula in the dressing right before you serve it.
The final piece is the egg, which you can make however you want. I love a good fried egg with slightly runny yoke, but poached eggs or scrambled eggs would be lovely too, I'm sure. Then put the bowl together by adding about 1/2 cup or so of potatoes, rice, and a nice handful of arugula (tossed in the dressing). Then add the egg to the top along with some chopped nuts of your choice. I went with pistachios because they're so delicious. Drizzle a little dressing on the top, and you're ready to dive in.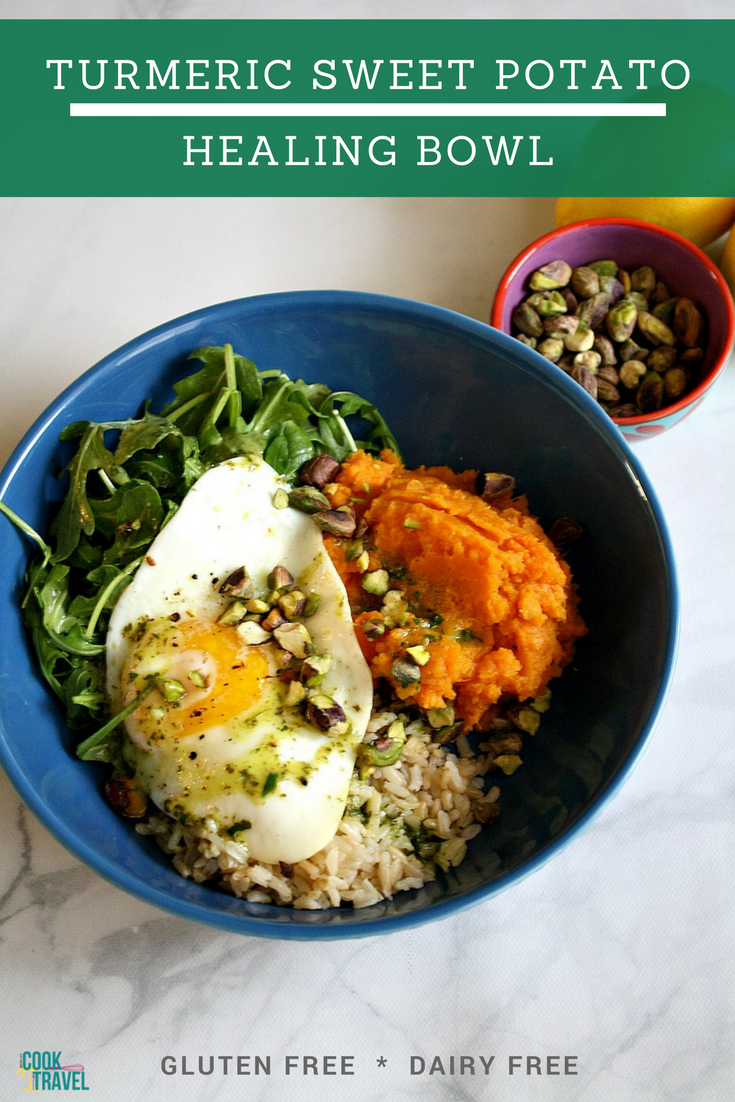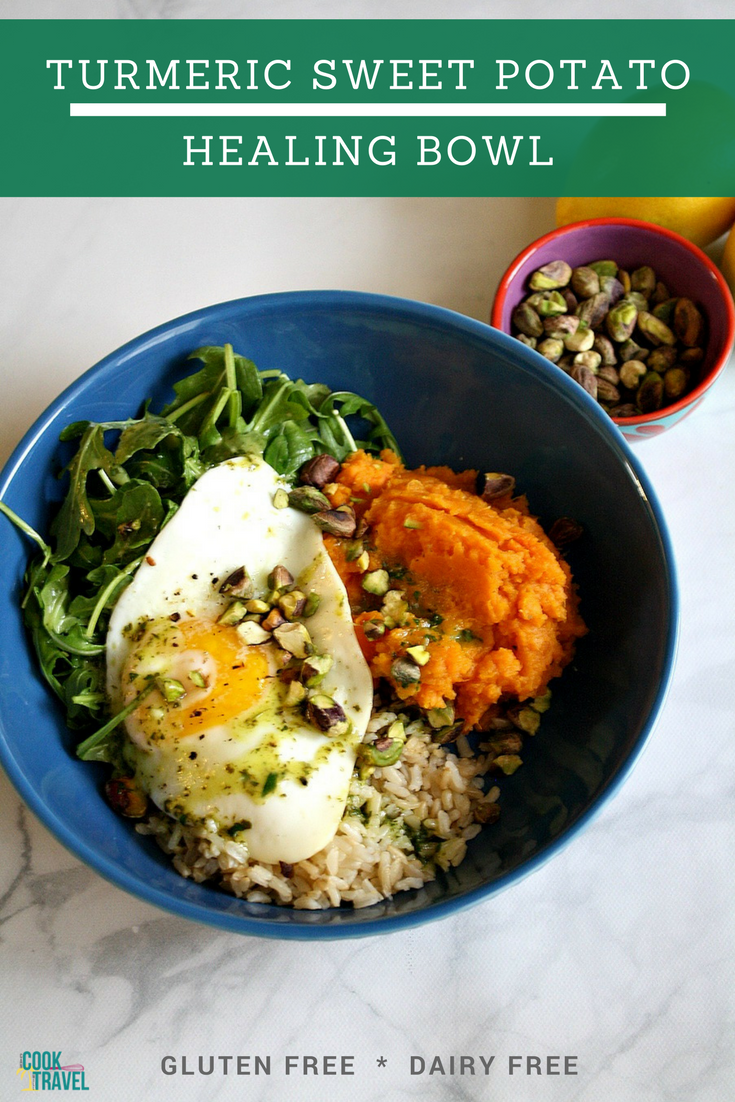 That dressing is so bright and refreshing that it keeps the potatoes from feeling too heavy. And the arugula is a perfect pairing with its slightly lemon and pepper-y flavors. I couldn't tell you which part was my favorite because I loved it all. Plus can you really beat a fried egg on top of anything? I kinda think it makes everything better, personally!
I was ready to lick my bowl and go back for round 2, but somehow I managed to restrain myself. When putting up your leftover food, just store everything separately, and it's a cinch to throw together as you're ready and cook your egg right before you eat.
So stop what you're doing and make this Turmeric Sweet Potato Bowl ASAP for a healthy, crazy good meal. Click that link for the recipe and step by step instructions! Happy bowl eating!
A look back:
One year ago: Dark Chocolate Sea Salt Almonds Make Healthy Snacking a Breeze!
Two years ago: Smoothie Slimdown: Cinnamon Apple Smoothie
Two years ago: Swoon-worthy Caramelized Onion and Bacon Mac 'n Cheese
Three years ago: It's Tea Time – Part 2: Earl Grey Shortbread Cookies
Four years ago: Broccoli Cheese Soup . . . Delish!
Five years ago: All You Need is Love . . . And Cinnamon Rolls (In My Humble Opinion)


0