Lately I've been going nonstop, and it's been pretty exhausting, if I'm being honest. And that usually means that I veer off course when it comes to healthy eating, so that's definitely been happening a little last week. But in an effort to get back on track, I created this Double Chocolate Mug Cake to do just that!
Now I know you're probably thinking that something called a Double Chocolate Mug Cake must not be healthy. But I'm pretty excited to say that's what I enjoy about making a mug cake. You can make it pretty healthy with gluten free flours, low sugar options, and dairy free with milk substitutes. The other thing I love is that mug cakes are single servings, so you don't have extra cake sitting around tempting you. (My self-restraint is lacking, so this point is pretty important to me.)
I was craving chocolate this week, and making a mug cake was the perfect way to get my chocolate fix without the guilt. Plus this weekend is my mom's birthday, so it seemed like perfect timing to share this recipe with you – Happy birthday, Mom!! 🙂
I made a peanut butter and chocolate mug cake a few years back, and I realized that I was long overdue for another mug cake on the blog. And I'm a total chocaholic, so this time around I knew I needed this Double Chocolate Mug Cake in my life.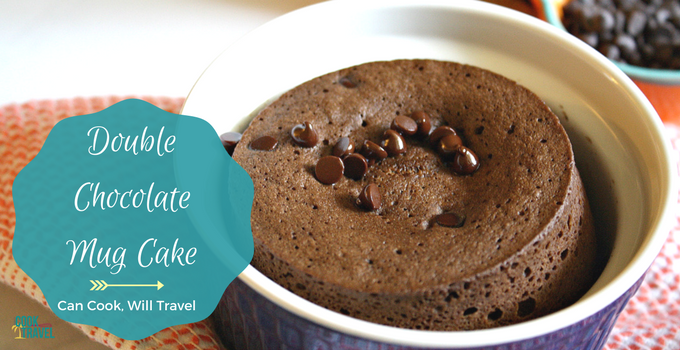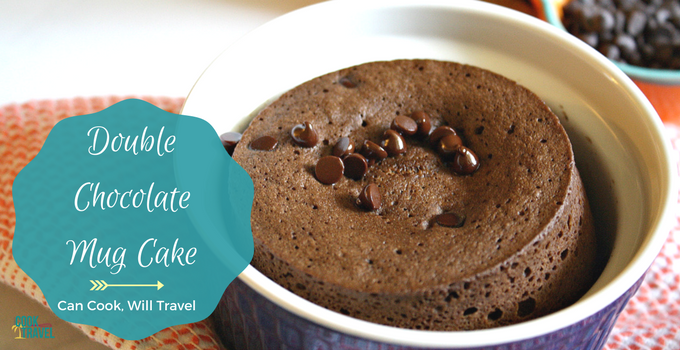 Making a mug cake couldn't be easier. You can pick a mug and stir everything together right in that or else you can use a bowl first, which is what I did. It's basically like making a mini cake, so you start with mixing your dry ingredients together. In this case that was whisking my protein powder, coconut flour, cocoa powder, ground cinnamon, and a pinch of salt together.
Then add the almond milk, vanilla, honey, and egg to the mixture and stir away. I folded in a little bit of chocolate and that's it. The key with making this dairy free if you want to add chocolate to it is to choose dairy free chocolate chips. I love the Enjoy Life brand, and the quality is great! I actually can find these at my local Target and Sprouts grocery stores.
Then pick a small mug or ramekin (I went for the latter because my mugs are all pretty large). And don't worry about spraying the mug or dish before adding the batter, because it helps the cake rise a bit.
I made mine in the microwave and cooked it for about 2 1/2 minutes, but just know your microwave. My older microwave I used to have would definitely be closer to 3 or more minutes.
It's pretty cool to see the little cake bake in the microwave before your eyes. It rises a bit, and don't worry because it will fall just slightly once you take it out. And top the cake with a few chocolate chips and then dig in! I loved that this wasn't super sweet but was nice and chocolatey. In fact it reminded me a little of the chocolate soufflé I made during the first year of my blog. Yum!
Time to make this Double Chocolate Mug Cake for yourself, and I'm betting you'll soon be loving mug cakes too. So click that link for the recipe and step by step instructions, and happy baking!!
A look back:
One year ago: Chia Oatmeal Breakfast Bowl, Hello Breakfast!
Two years ago: Peach, Brie, and Bourbon Onion Pizza = One Seriously Gourmet Pizza
Three years ago: Spicy Quinoa Crusted Chicken…Nom Nom Nom
Four years ago: Making Pizza Healthier with Eggplant Pizza
Five years ago: Low Cal Chocolate Muffins – Yes, You Read That Correctly!
Six years ago: Zucchini Makes Me Happy
0