Focusing on healthy eating is a challenge, so let's just be honest about that. I feel like I face it a lot from eating out to stresses in life. When I'm stressed, I want to eat and snack on something easy and delicious, which often can end up with me grabbing a handful of kettle chips or chocolate. But hey, at least it's dark chocolate, right?! So I wanted to try out a superfood protein balls recipe this week so I had no excuse to reach for bad stuff.
I haven't made protein balls in a while, and I actually made 3 different kinds before I settled on this Superfood Protein Balls recipe. The first one had matcha in it and I wasn't loving the texture, and the second one is similar to the one I'm sharing today but it was a bit more dry.
I found inspiration with this chia seed protein ball recipe I made a few years back, and decided to amp it up a bit. Any sweetness comes naturally in the form of medjool dates, but you could use prunes too if you can't find the dates. I like to soak mine in hot water for a few minutes to plump them up, and they do have a large seed, so make sure you remove those.
Then I added healthy fats with a little coconut oil and almond butter, so along with the dates, we've got these guys to help bind the superfood protein balls together. Then start adding the superfoods in the form of some maca powder, which is great for boosting energy and also helps reduce stress. Which is perfect for me, because I've been STRESSED the past few months.
I added a scoop of Tone It Up protein powder, because the vanilla flavor is nice and subtle. And I also threw in some Collagen Peptides, because they're great for your skin and your body in general. I started adding collagen to my daily routine in either my coffee or smoothie depending on the day. It's great and has no flavor, so it's been a favorite purchase of mine lately.
The final addition is chia seeds, because they're an awesome superfood as well. And I like that they add a slight crunch to these superfood protein balls. Plus they have lots of omega 3 fatty acids which are good for your cholesterol and heart among other things.
I combined mine in my mini food processor, but a large one works well too. And I added a little more coconut oil as I blended, to help the protein balls bind a bit more. Roll them into 1-2 teaspoon sized balls, and then enjoy right away or pop in the fridge. I like making the superfood protein balls smaller, because then you get to eat more in a serving.
I love the almond butter's nuttiness, and the maca powder has a butterscotch-y taste to it adding dimension. The dates add the perfect amount of sweetness, and the crunch of the chia seeds is subtle but interesting.
The best part about these superfood protein balls is that you can tailor them to your preferences. So use peanut butter or cashew butter instead of almond butter if you want. Swap out the dates for prunes if those are easier to find or you like them better. Add some cinnamon if you like, because that's amazing for you. It's really all about making your healthy snacks delicious so you actually want to eat them. That way they're satisfying and you're not experiencing any FOMO.
I'm flying out today for work, and I've been tempted to make a large batch to bring with me. I find it such a challenge to eat well when traveling unless you plan ahead.
Travel tips for staying healthy in addition to bringing superfood protein balls with you:
Plan ahead and buy snacks in advance. It's cheaper and you get what you want.
I love packing a few different protein bars or meal replacement bars. With this trip, I'm not sure what my schedule will be, so this ensures I never go hungry.
Always have water on hand, so that can be bringing your own water bottle or making sure you purchase water regularly. It's the best way to drink enough water, stay hydrated and have energy for the day.
Add dark chocolate or nuts to your snack rotation, so you have lots of variety and not just protein bars.
Hope these tips help you when you have a trip in your future. I love to travel, but I always assume I'll eat like $#!t when I'm gone, which is never a good plan.
So I'll be armed with these yummy superfood protein balls and healthy options to keep me going. So click that link for the step by step instructions and recipe, and I hope you enjoy!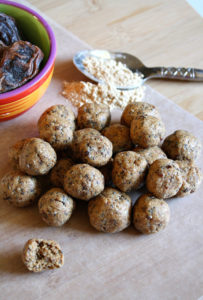 Print
Maca Almond Protein Balls
Yield 24 protein balls (approx)
These clean eating snacks come together in a snap and are the perfect way to curb your hunger throughout the day.
Ingredients
Protein Ball Ingredients:
Instructions
Begin by heating hot water and then pouring it over the dates to soften them. Let the dates soak, and then remove the seeds and stems and cut into quarters.

 

In a food processor add all of the ingredients, and then process until the mixture is well combined and can be formed into balls.

 

Use your hands to press 1 to 1 1/2 teaspoons of the mixture together until you can easily roll it into a ball. Enjoy immediately or refrigerate for later.
Courses Snacks
Cuisine Healthy
Nutrition Facts
Serving Size 3 protein balls
Amount Per Serving

Calories 128

% Daily Value

Total Fat 5 g

8%

Saturated Fat 1 g

5%

Unsaturated Fat 4 g

Sodium 42 mg

2%

Total Carbohydrates 14 g

5%

Dietary Fiber 2 g

8%

Sugars 11 g

Protein 8 g

16%
* Percent Daily Values are based on a 2,000 calorie diet. Your daily values may be higher or lower depending on your calorie needs.
A look back:
One year ago: Irish Soda Bread – Happy St. Patty's Day!
Two years ago: Coconut Crusted Chicken Strips = One Sweet Dinner!
Three years ago: Bacon and Brussels Sprouts Macaroni and Cheese = One Satisfying Dish
Four years ago: Warming Slimdown Soup = Guilt-free Soup for Me!
Five years ago: Shrimp & Grits . . . Why Not?!
Six years ago: Not Your Average Chicken Soup . . . Lemon-Tarragon Chicken Soup
Seven years ago: Fish Tacos . . . Uh, Yes Please!
1