It's January, which means the holidays are over and everyone is feeling like this is "their year". It's all a bit clichéd, you know? What I do know is that I sure hope 2017 is a great year, and like a lot of you, I'm definitely focused on being a bit healthier than last year. Hopefully it lasts longer than the normal resolutions and doesn't expire after 30 days or so. But I was craving soup, and how delicious does Spinach Artichoke Soup sound?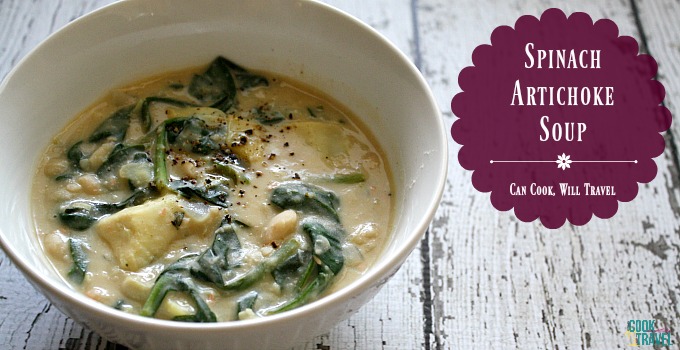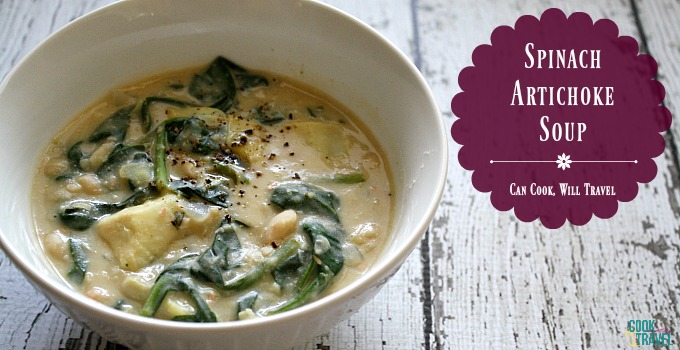 Earlier in the week, I featured a new Cookbook Love post. This was a cookbook by Tara Stiles that is about plant-based eating. Now I can't say I'll forever be able or willing to eat like this. However one part, I for sure like about this style of eating, is that it's dairy free.
I already try to make dairy free choices at breakfast time with almond milk for my cereal or oatmeal. And then I love coconut oil in my coffee instead of creamer or half and half. It's a change my sister got me on, and I've come to really enjoy it.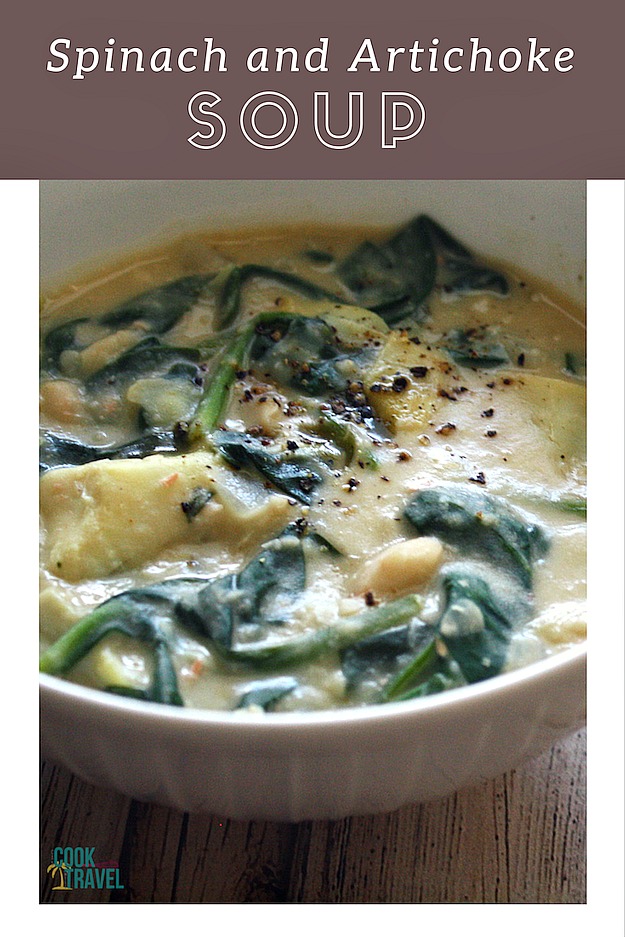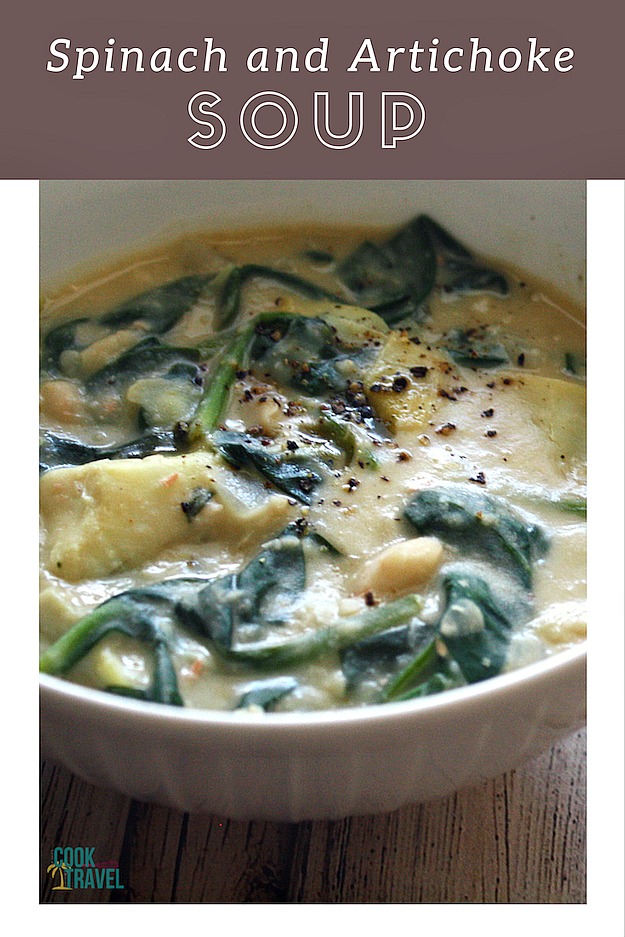 I chose this soup recipe from the site Busy Mom Blog, and I knew I'd need to tweak it ever so slightly to make it non-dairy. The first tweak was not garnishing with Parmesan cheese, and that was super easy. The second is that it calls for cream cheese, and I didn't know if I could find a non-dairy option. But it turns out that I sure can! Trader Joe's came to my rescue with a vegan cream cheese. And I think it worked pretty well in this Spinach Artichoke Soup.
Otherwise, I stuck to the ingredients, but I did end up having to add my special twist to the soup. (I'll get to that in a minute.) The soup was really easy to make. Just sauté some onions, garlic, quartered artichoke hearts, and baby spinach until the spinach wilts. Then add the sautéed veggies to a stock pot along with vegetable (or chicken) broth, the (non dairy) cream cheese, and 3 cans of white beans pureed.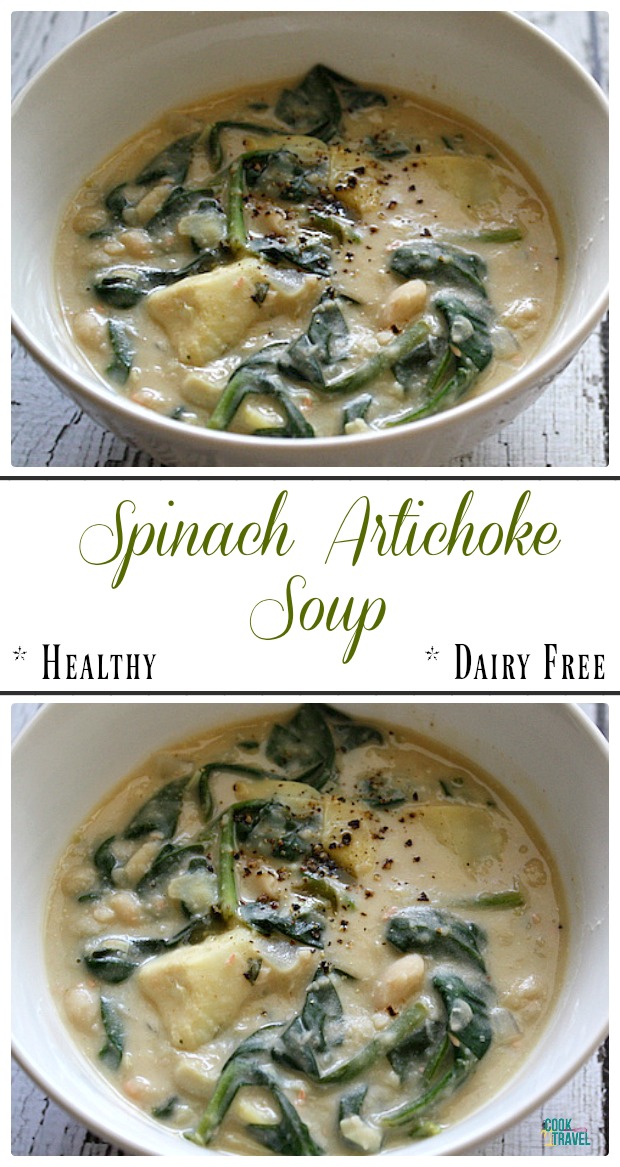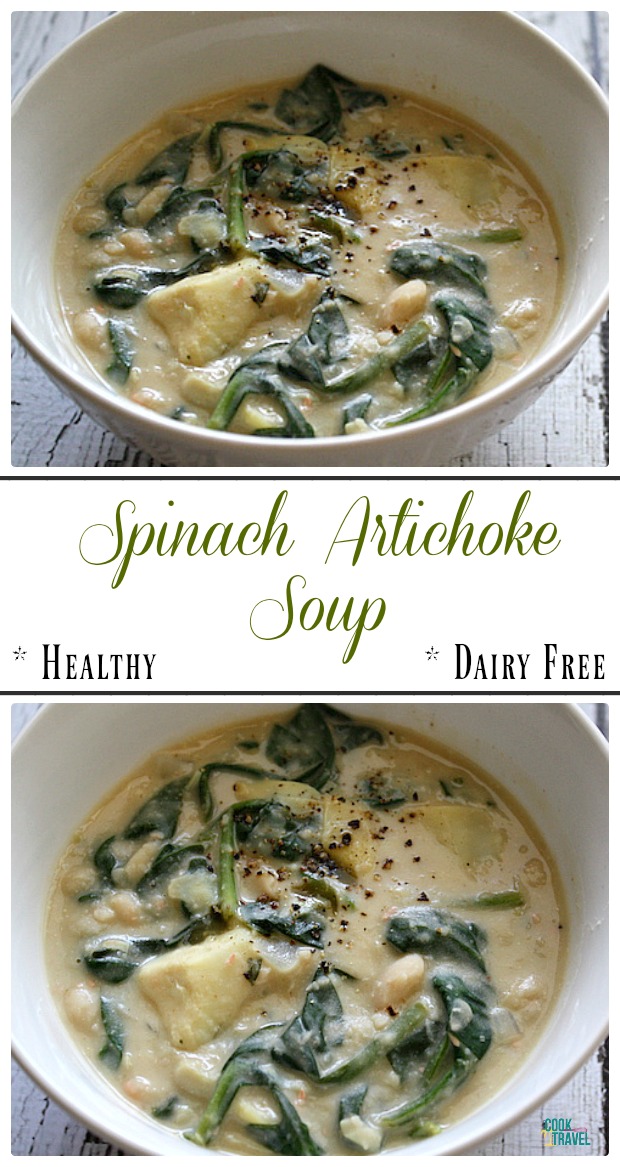 Let's talk about these pureed beans for a moment, and clarify that process a bit. First off, I drained and rinsed my beans to remove the salty bite that canned beans tend to have. When it comes to pureeing, I'm seriously missing my mom's Vitamix. Note to self: Get myself a good quality blender. If you have a really good blender like a Vitamix or Ninja, it should be a cinch to puree your beans. However, my blender was pitiful at doing it, so I switched to my hand blender and that worked great. If you get desperate you can just mash them with the back of a spoon or leave the beans whole
Personally I'm not a big fan of beans in a soup, but I was pretty intrigued at using them to thicken the soup so you don't need cream or extra calories. Once you have your ingredients in the stock pot, just stir it all up. Then heat the soup over medium-low heat for 20 or so minutes and you're ready to eat.
This soup is nice and creamy and quite hearty, and it's perfect for cold Winter days. I love how crazy healthy this is and that I was able to make it dairy free without sacrificing flavor. When it comes to flavor, I kinda wanted more in that department, so I added my twist to the soup. The soup gets more flavor with a nice amount of jalapeño tabasco along with more salt and pepper. And that added a lot more dimension to the Spinach Artichoke Soup, by giving it a slight kick but nothing crazy. Then right before serving a squeeze of lemon juice adds a bit of brightness that takes this soup to a whole new level!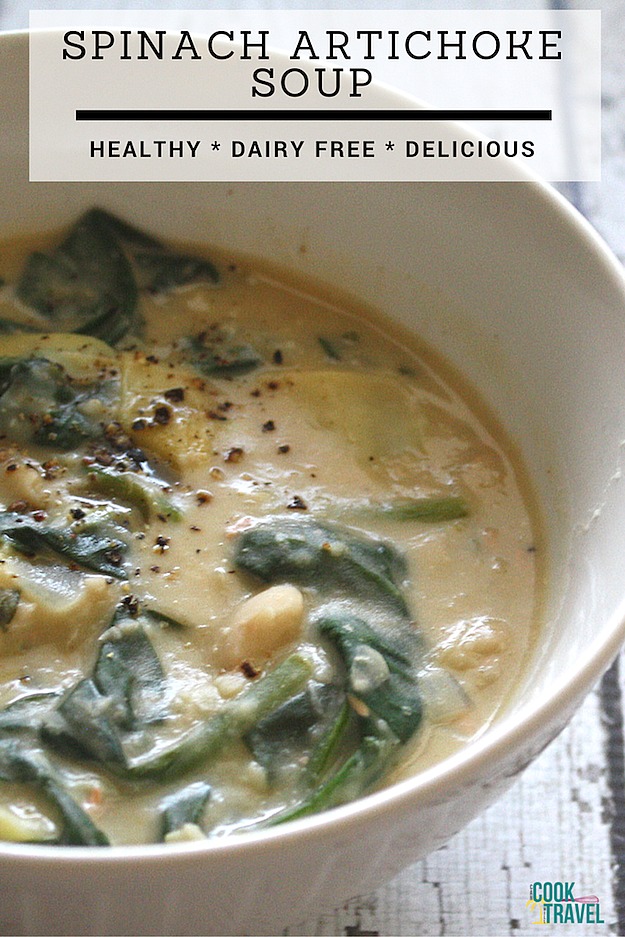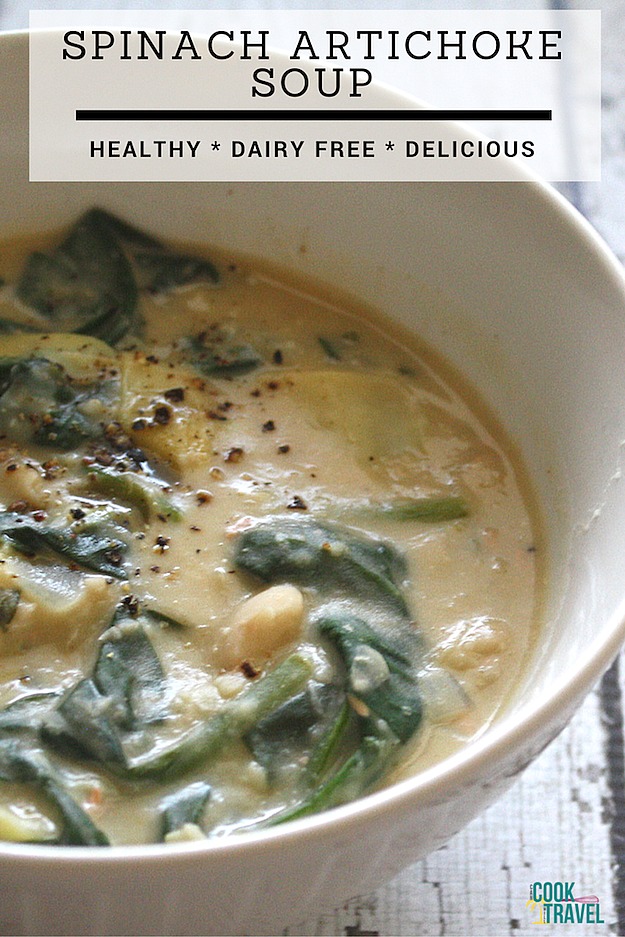 Overall, I'm very pleased with how this Spinach Artichoke Soup turned out. It's pretty with the spinach throughout, and anytime I get to enjoy artichoke hearts I'm a happy girl. The leftover soup tastes great the next day, so just heat it up with a splash more broth so it's not too thick. Then once it's warm top with more pepper, tabasco, and that squeeze of lemon…yum!
Maybe this whole cutting out dairy thing won't be all that difficult? I think we're pretty lucky to be living in a time when we have so many options for different dietary restrictions and preferences at our fingertips.
So whether you want to keep it non-dairy or add dairy in, I know you'll be pleased by how filling and healthy this Spinach Artichoke Soup is. I can't wait for you to try it, so click that link for the step by step instructions! Happy soup-ing!
A look back:
One year ago: Spinach Artichoke Dip = A Light, Delicious Dip!
Two years ago: Cauliflower Chowder Starts the Year Off Right
Three year ago: Kicking Off the New Year with Bang Bang Chicken
Four years ago: Hearty Minestrone Soup…Take that Winter!
Five years ago: Linguine with Clam Sauce…Absolutely Delicious!
Six years ago: Meet My New Friend,The Pomegranate

Welcome to the #SoupWeek, hosted by Palatable Pastime. This week is all about delicious and warming soups. Be sure to check out some of the recipes below or you can follow along on Facebook, Twitter, Google+ and Instagram using the hashtag #SoupWeek. We also have a #SoupWeek Pinterest Board where you can see all of the offerings in one easy to access spot! What a great way to stay warm in cold weather!
Monday
Tuesday
Wednesday
Thursday
Friday
38