So yeah this week I made my own hairspray – no big deal. I desperately needed hairspray after I did an overhaul on my beauty products and tossed mine. Finding a new hairspray that was non-toxic ended up being super difficult. And that's why this DIY hairspray project got started.
August's Cookbook Love feature was the Hello Glow book, and that's where I got this DIY hairspray "recipe". I was flipping through it last week, because I felt an urge to start making new products. Finding high quality, safe beauty products proves to be an expensive endeavor, so that's what I loved about this hairspray. It was not only easy, but I had nearly everything on hand. Plus I just love the Hello Glow site where Stephanie has tons of awesome all-natural, DIY goodies!
For the DIY hairspray you'll need the following:
Distilled Water
Sugar
Vodka
 DIY Hairspray tools you'll need, so grab these in advance:
Small saucepan
Funnel
12 ounce spray bottle
The only item I didn't have was distilled water, and that's under $1. Then I remembered I had picked up a 12 ounce glass spray bottle last year when I wanted to do another DIY project, so that was easy to find.
For the vodka and sugar, I definitely had both on hand. I realized with the sugar that I hadn't really used it much recently, so this DIY hairspray was a great way to use it up. I've found lots of ways to replace white and brown sugar in my diet, so these days you'll often see coconut sugar, honey, maple syrup, molasses, agave syrup, and liquid stevia in my recipes and definitely in my kitchen.
I had the DIY hairspray made in less than an hour, and that's pretty freaking awesome. Stephanie Gerber from Hello Glow recommends spraying it on still damp hair and then after styling for extra hold.
Knowing those recommendations, I gave those two methods a try this week. Here's what I really loved about it:
It holds a style fairly well, especially considering how fine my hair is.
I loved spraying it on slightly damp hair, because my natural curls come out a bit. And that's hilarious because growing up my hair was stick straight. So now to see that there's some curl in my hair when it gets wet makes me so excited.
I tried doing some waves through my hair and then spraying after to hold it, and it certainly did keep the curls from falling flat really quickly.
I noticed no funny smells or stickiness from the DIY hairspray, which is awesome!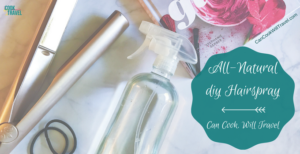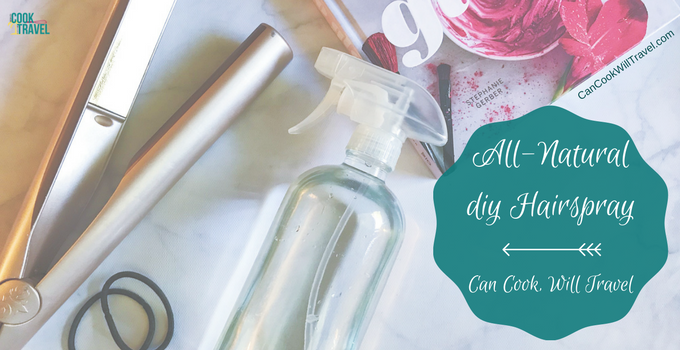 Print
DIY All Natural Hairspray
When non-toxic, natural products are important to you, then knowing what goes into your products is important. That's why I tossed my store brand hairspray, and ended up making my own with this easy recipe!
Ingredients
Ingredients:
1 1/2 cups Distilled Water
2 teaspoons Sugar
1 tablespoon Vodka
Equipment:
Small Saucepan
Funnel
12 ounce spray bottle
Instructions
Combine distilled water and sugar in a small saucepan and heat over medium heat until the sugar dissolves.

 

Remove the saucepan from the heat and let it cool to room temperature.

 

Stir in the vodka and then transfer the mixture using a funnel to the 12 ounce spray bottle.

 

When you're ready to use this DIY hairspray, just spray slightly damp hair with it and then style away. If you want some extra hold, just spray your hair again after styling.
Notes
Stephanie's Tip: If you need more hold, then increase the amount of sugar to 1 tablespoon!
I hope you've enjoyed this DIY hairspray recipe, and if you want the book click here or the link above. You can also learn more about Hello Glow in my review in this link, so happy reading! I'd love to know if you try this recipe or if you have your own fun way to make hairspray. Comment below and let's chat about DIY!
Stay inspired & go create cool $#!t!
~Kelli
2