Can you believe that we're only a week away from Fall?! I love Fall so much with the crisp air, warmer clothes, boots, scarves, and so on. In fact, I've written a post in 2015 and another in 2016 about my love for this season. And thinking on Fall makes me instantly think of tons of seasonal ingredients and dishes. One of my favorites is squash, and that inspired me to create this Butternut Squash Chicken Quinoa Bowl this week.
It's no secret that I love a good bowl filled with great ingredients and lots of flavors. This year alone I'm creating my 5th bowl of goodness thanks to my new Butternut Squash Chicken Quinoa Bowl, and I know you'll love it. It's packed with tons of flavors, fresh ingredients, and is a bit addictive.
Over the last 4 months or so, I've found that I always have quinoa on hand, and I try to keep cooked quinoa in my fridge. It's great to add to salads, and also mix with some roasted veggies like I did here. Another ingredient I tend to keep on hand are chicken breasts. If I don't have a specific recipe in mind for them, then I'll just cook them on the stovetop and keep the cooked chicken in the fridge for salads.
So the fact that I had plenty of cooked quinoa and a cooked chicken breast hanging out in the fridge made this Butternut Squash Chicken Quinoa Bowl even easier to make. The part that is the most time consuming is cutting up the butternut squash, so I took a shortcut and purchased pre-cut squash at Trader Joe's.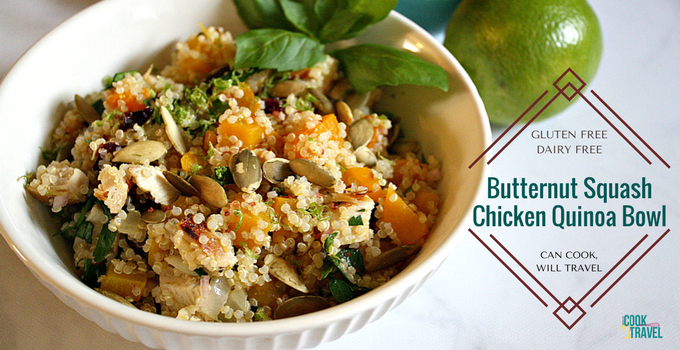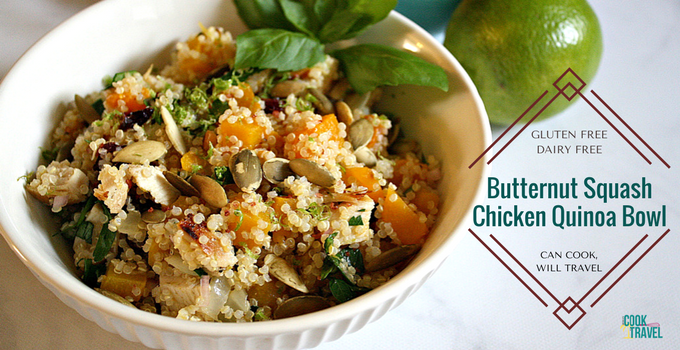 Then all I had to do was chop up some onions, garlic, and cut the butternut squash into smaller pieces, and I was ready to go. Simply roast the veggies in the oven for 20 minutes or until they're tender.
While the veggies roasted, I could make my dressing for the Butternut Squash Chicken Quinoa Bowl. This dressing was one I created on a whim with lime zest, lime juice, extra-virgin olive oil, honey, salt, pepper, coriander, shallots, and some fresh basil. Mix everything up and pop it in the fridge until you're ready for it.
Finally I just needed to dice my chicken and chop my parsley and basil, so then it was a matter of throwing it all together. One thing to consider is that you can make everything ahead of time and just heat the quinoa, chicken, and veggies up before serving. Or you could make everything but the squash in advance. Don't you love that kind of flexibility?
Just toss cooked quinoa, chicken, the roasted squash and onions, dried cranberries and fresh herbs together with the dressing. That's it! Seriously this dish couldn't be easier to make, and I love that! I can make a whole meal out of this dish or you could omit the chicken and serve it as a side dish.
I topped the bowl with pumpkin seeds (pepitas) or almonds work, a little lime zest and some finishing salt. Oh holy moly, I fell for this dish more and more with each bite. So much is happening with crunchy pepitas, savory chicken, creamy squash, tart cranberries, and a sweet, bright vinaigrette.
I'm such a fan of this Butternut Squash Chicken Quinoa Bowl, and I know you will be too. You'll love it, because it's a light meal to enjoy throughout the week or share with your loved ones. Click that link for the recipe and step by step instructions. You can thank me later on this, so happy healthy eating!
A look back:
One year ago: Strawberry Basil Moscow Mule Cocktail – Oh Yes!
Two years ago: Fig, Prosciutto and Goat Cheese Pizza – Don't Mind If I Do!
Three years ago: Sriracha Shrimp and Zucchini Lo Mein = One Damn Good Dinner!
Four years ago: Well That Was Easy! Shrimp, Zucchini & Pesto Pasta
Five years ago: Learning to Love Salads – Part 9: Black Bean, Quinoa & Citrus Salad
Six years ago: Cookies and Sea Salt…Really?!
12