Do you ever find a dish that you just never want to stop eating? I think this Asian Pasta Salad is it for me! And usually when I'm feeling that way about a dish, I typically regret it shortly after eating it, because it's a rich dish. But not this Asian Pasta Salad . . . there is nothing guilty about it aside from how large of a serving I want.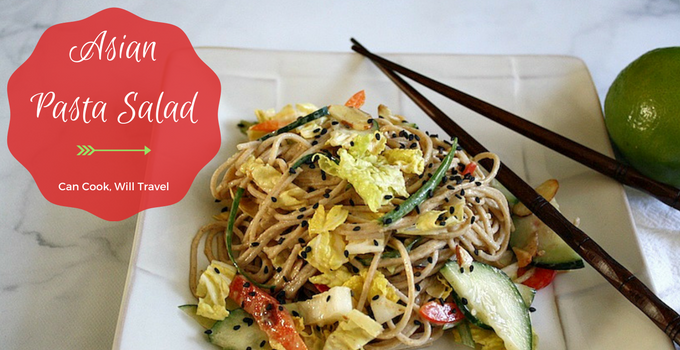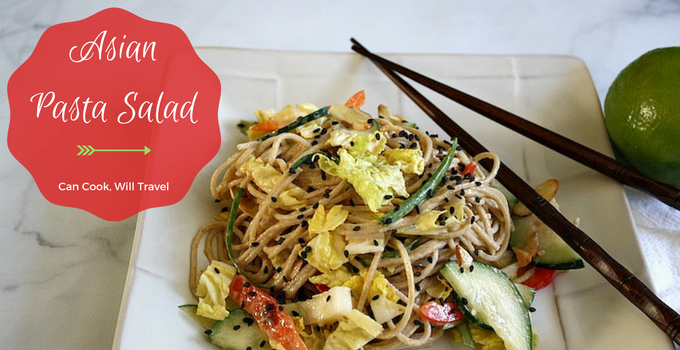 If you're new to my blog, then let me fill you in a tad. While I'm a major fan of comfort food, I'm trying to make some healthier decisions this year. And limiting how much dairy I eat each week is the biggest choice I'm making. And so far it's going so well! I've already shared a creamy and healthy soup, a super easy Pad Thai recipe, and insanely good Lemon Blueberry Belgian Waffles that are all dairy free.
So what I'm learning is that dairy free doesn't mean that I have to sacrifice flavor. Hooray! Seriously, I was a bit worried that I'd feel like I was missing out on eating what I want. What a relief to know I'm not!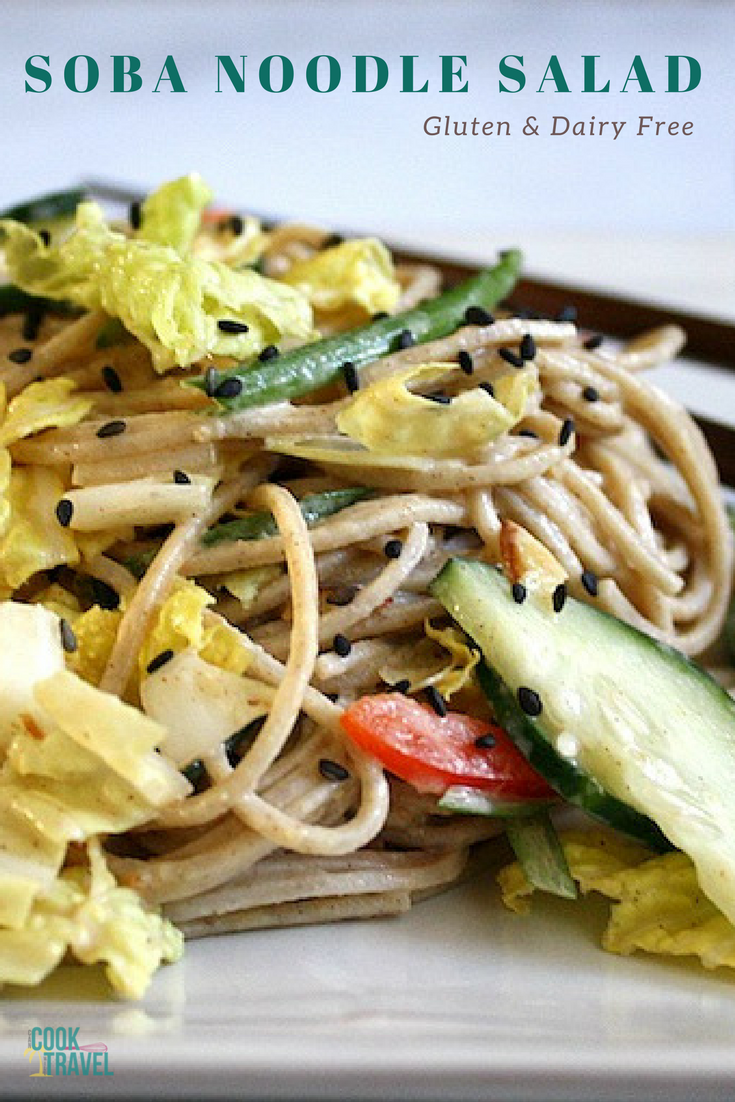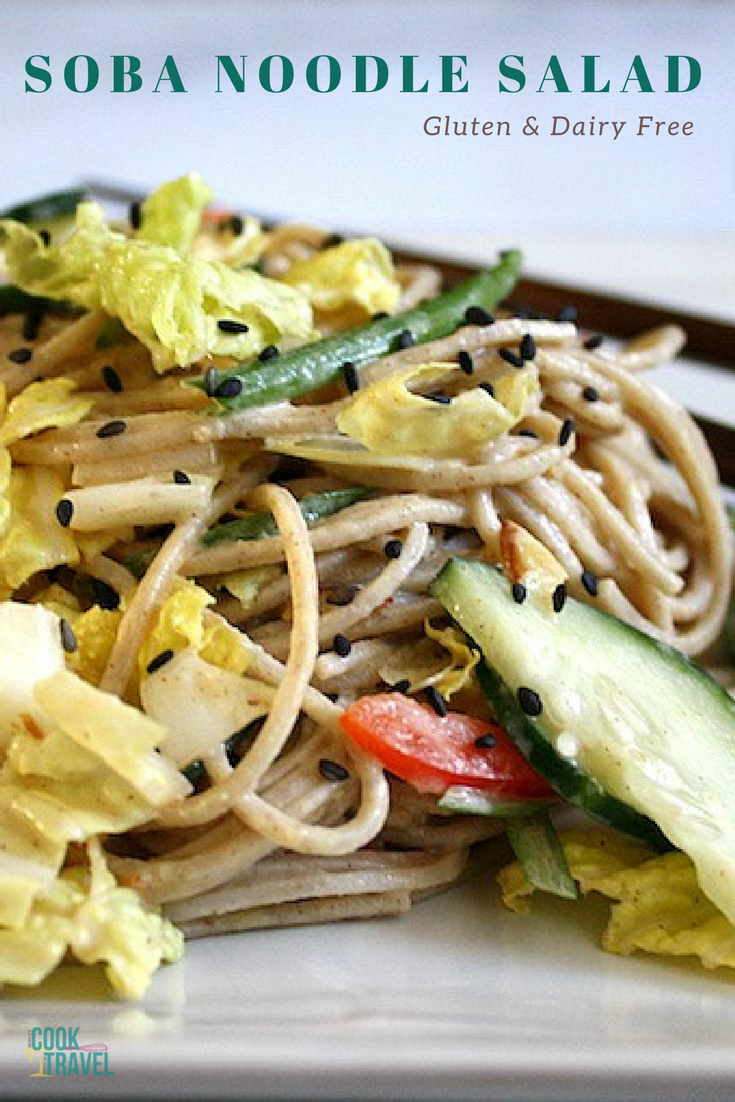 Truthfully I was really struggling with what I felt like cooking this week. I'm not sure why I was feeling so blocked and uninspired. And that's when I took a stroll through my cookbook collection and found this recipe from Giada de Laurentiis. Here's the thing . . . Giada is my culinary idol. Not only does every damn dish of hers that I make turn out perfectly, I also love how happy and passionate she is. Those are 2 things that I'm striving to fill my 2017 with.
So I truly didn't doubt for a second that this Asian Pasta Salad would be stellar. First of all, it makes a TON of food. So I hope you have a small army to feed. Okay, just kidding, but I'll be eating on it for a while. However, it's so delicious that I actually don't think I'll mind digging into these leftovers for a few days.
The Asian Pasta Salad is not only dairy free, but it's also vegetarian, vegan and gluten free. Score! So let's chat about what we're working with here. First of all are the soba noodles, and this is my first time ever cooking them. Soba noodles are made from buckwheat and are usually gluten free. Now you have these noodles tossed with thinly chopped vegetables including Napa cabbage, red peppers, scallions, and cucumbers. Toss the pasta, veggies, and some sliced almonds with an incredibly flavorful sauce, and lunch is served!
For the sauce it's a mix of almond butter, soy sauce, EVOO, fresh lime juice, sesame oil, honey, ginger and wasabi paste. It's this nutty and bright sauce that just takes this Asian Pasta Salad to a crazy good level. And if you love sushi, I have a feeling you'll adore this dish, because I felt like I was eating a sushi inspired pasta salad. With the sesame oil, ginger, and wasabi paste it really felt like a California roll (sans rice) with a wicked dressing married a pasta salad.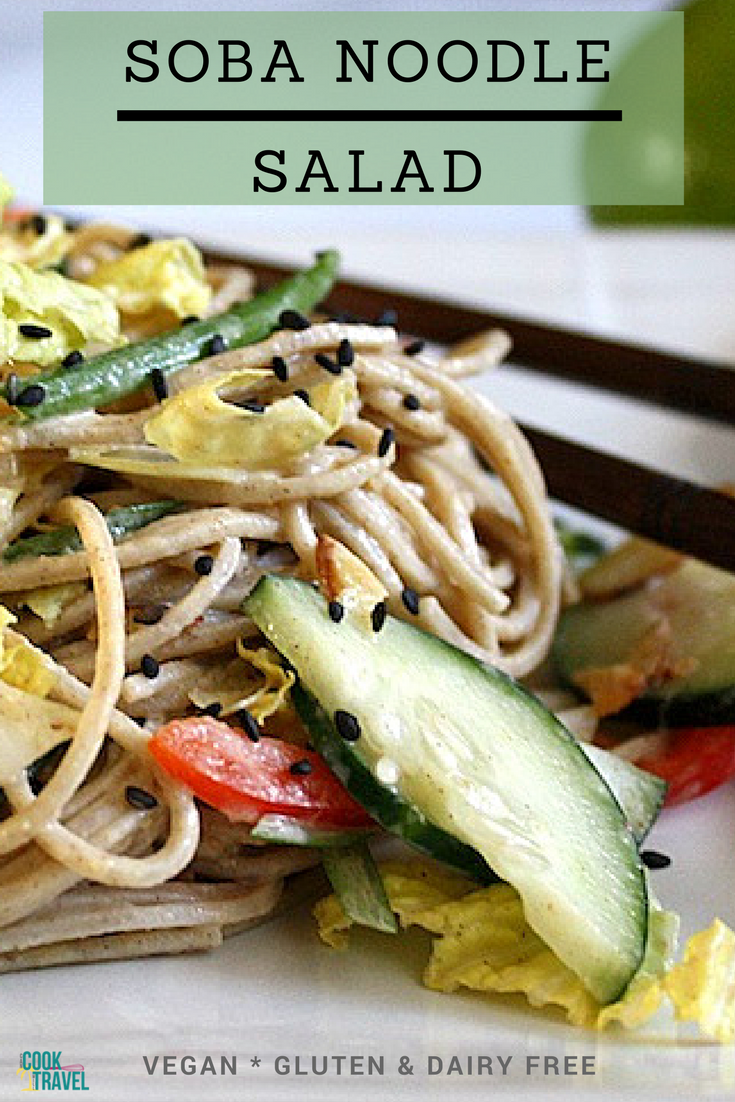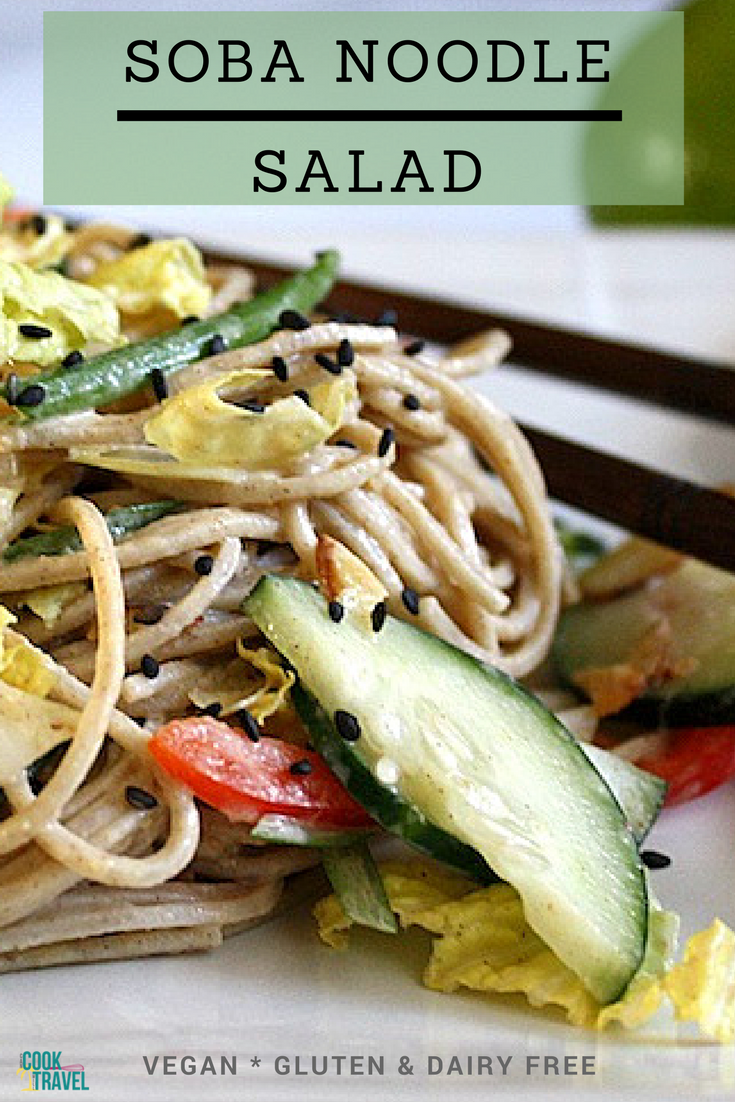 I wish I could fully express how much I loved this salad, but you'll just have to make it for yourself to understand what I mean.
For the ingredients, you'll find the soba noodles, sesame oil, and wasabi paste in your Asian foods aisle. Otherwise the only other thing that I find slightly hard to find is Napa cabbage, so just go to a really well stocked produce section, and you should be in luck. Recently a nearby area in KC got a Sprouts grocery store, and I'm loving their produce section, which is where I can always count on finding Napa cabbage.
Now go grab your grocery list, add all of the ingredients you need for this Asian Pasta Salad recipe and make it ASAP. This is one dairy free meal that I will absolutely be making time and time again. Happy salad eating!
A look back:
One year ago: Broiled Grapefruit Heats Up Breakfast!
Two years ago: Learning to Love Salads – Part 17: Quinoa and Kale Salad
Three years ago: Well Hello Cheesy Quinoa and Broccoli Patties!
Four years ago: Cauliflower Couscous … Minus the Couscous … Just Trust Me
Five years ago: Peanut Butter Kiss Cookies … A Delicious Trip Down Memory Lane
Six years ago: Rooting Around


0