You guys, it's my birthday today! The first thing I think of around my birthday is family, so that's what inspired this recipe. I might get a little sentimental on this post, because it's a bit of an ode to my grandma. I have this awesome photo of her that we found several years ago, and when I moved into my latest place I realized that I had printed out a copy to frame. Well I finally got around to framing it, and it made me want to cook something inspired by her this week. So in honor of LaRue, I give you Top Heavy Chicken.
My grandma was sweet and loving and had a great sense of humor, but she was taken from us too soon. She passed away when I was 6, and that was the first time I lost anyone in my life. Ah Grandma was totally my favorite at the time of her passing, and I wish I'd gotten to know her as I grew up. But one thing that was never a question is that the woman could cook!
She passed her skills and passions for cooking onto my mom, who then passed them along to me and my sister. It's really amazing to think how the art of cooking is not only a stress reliever, a great way to nourish your body, but it's also an expression of love. At least to me it is.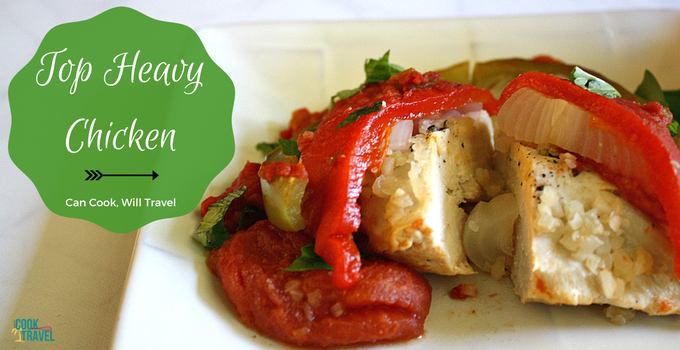 Often after I cook a dish, I wonder to myself what my mom would think. Luckily there are times when I do get to cook for her, so that question is answered. But this week, I hoped I made Grandma proud. This Top Heavy Chicken recipe is my take on her Top Heavy Pork Chops, which my mom still makes and I love.
I remember trying to make them once years ago for my boyfriend at the time, and I didn't have the proper pans so it didn't turn out great. So I was crossing my fingers this experiment of mine would make Grandma smile. Oh I definitely think it did, because these Top Heavy Chicken Breasts were so good. And as they baked all of the smells brought back many childhood memories.
I love how crazy easy this recipe is, and I didn't want to alter Grandma's version too much because I wanted it to be recognizable. So I browned some chicken breasts in a pan. Then I added them to a casserole dish along with some stewed tomatoes. Next I piled on some cauliflower rice, and topped that with a slice of onion, roasted red pepper, and a green pepper. Spoon more stewed tomatoes over the top, and bake until the chicken cooks through.
Now Grandma's recipe called for rice, so I did experiment with rice alongside cauliflower rice, and I preferred the latter. Here's the thing, it can sometimes be tricky getting the rice to fully cook with the original recipe. With the cauliflower rice it's not only delicious, but it cooks really quickly.
The chicken was juicy and so good! And I love how the veggies soften and just fall apart and the flavors are the essence of comfort food. Plus my Top Heavy Chicken version is a healthier twist subbing out the rice for more veggies.
Grandma totally checked out my kitchen this week as I interpreted her recipe, and she was smiling down on me…I just know it. I cannot wait for you to try my riff on Grandma's recipe with Top Heavy Chicken Breasts. So go on and click that link for the recipe and step by step instructions, and happy baking!!
A look back:
One year ago: Feeling Italian with Ricotta Gnocchi
Two years ago: Tomato Strawberry Gazpacho . . . Take That, Summer!
Three years ago: Pesto Shrimp with Snow Peas over Quinoa = Healthy & Fast!
Four years ago: It's Pad Thai Time!
Five years ago: Mini Frittatas = Maximum Cuteness
Six years ago: Learning to Love Salad – Part 1: Greek Salad
0