For me, eating healthy regularly has become non-negotiable, so finding or creating healthy recipes is a must. And I know that I'll become bored if I do the same thing too much. Since seasonal recipes are a must, this Kale Autumn Salad is a perfect choice.
I know many of you are wanting healthy recipes that are easy and fast, and that's why I'm particularly loving this Kale Autumn Salad. It comes together super quickly and tastes so good.
The idea came from the site Cookie + Kate, because the idea of an Autumn salad sounded delicious. But I wanted to change it up a tad, and omit the goat cheese as a way to keep this dairy free. (Although make NO mistake that goat cheese is my favorite.) I also wanted to add butternut squash to make it more hearty and go with the seasonal vibe.
The original recipe calls for apples and fennel, so I kept both of those. For the fennel though, I decided to roast it and the butternut squash. My decision to do this was an easy one, because I love roasted veggies in a salad. I think it definitely makes them more filling and flavorful, so it was a perfect decision. Plus while I enjoy the licorice-like flavor of fennel, I prefer it roasted.
The dijon and maple syrup flavors in Kate's recipe sounded fabulous, so I stuck with her dressing. I loved that the lemon and dijon mustard added tang plus there was a slight sweetness that balances the typically bitter kale.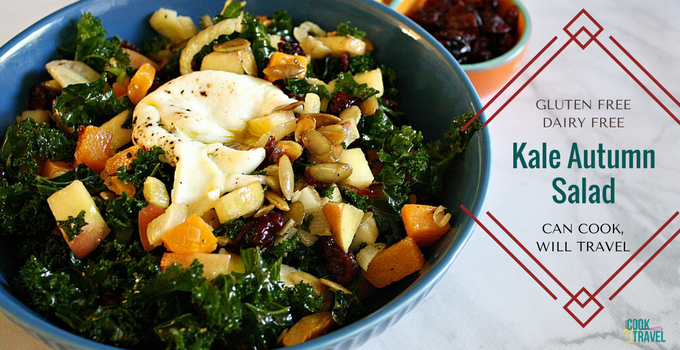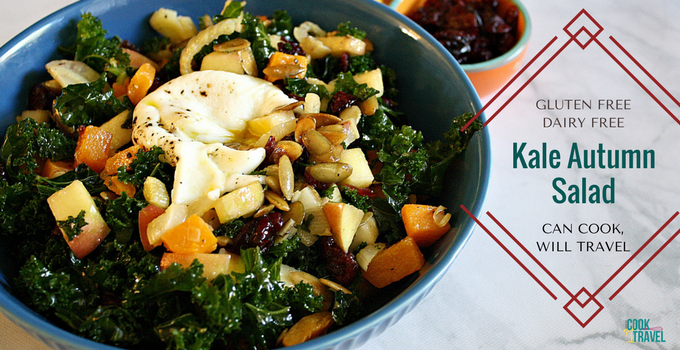 I knew that when I made the decision to skip the goat cheese, then I definitely needed to balance that creaminess elsewhere. The butternut squash when roasted adds a creamy texture, and then I opted to top it with a poached egg. The poached egg is always a favorite of mine, because it adds a nice creaminess with the runny yolk. I honestly didn't miss the presence of the cheese, but that doesn't mean I won't add some in the future!
The Kale Autumn Salad came together really quickly, and it's something you could make ahead of time and then eat throughout the week. I started by roasting the veggies, and once that was in the works, I could prep the kale, toast the pepitas, and make the dressing. By "prep the kale" I mean massage it with some olive oil to help it to become more tender and less bitter.
Once the veggies are tender and cooled, then the salad can be put together with the kale, chopped apples, toasted pepitas, chopped dried cranberries, and roasted veggies. Toss it with the dressing so that it's lightly coated, and note that you probably won't need all of the dressing. Then at the very end, poach the egg, and if you don't consider yourself a pro when it comes to poaching eggs, try this cool and easy method!
Break that yolk and dive into this salad! This recipes makes 2 large salads as a main dish, and I know you'll love all of the flavors. Plus by using seasonal ingredients like apples, fennel, and butternut squash, then you're saving a bit of money. After all, seasonal ingredients are generally easier to find and less expensive since they're in season. Love that!
So go ahead and whip up this incredibly delicious and simple Kale Autumn Salad for a healthy meal this Fall. I have a feeling you're going to love this one! Click that link for the recipe and step by step instructions, and then happy salad eating!
A look back:
One year ago: Cheesy Corn Bacon Jalapeño Dip = Touchdown!
Two yeas ago: Banana Nut Bread Waffles Means I Heart Breakfast Even More!
Three years ago: Homemade Pretzels with Sriracha Beer Cheese Sauce … Oh My Goodness, These Are Good!
Four years ago: Ale and Cheddar Soup Saves the Day
Five years ago: Ravioli + Green Beans = Surprisingly Yummy
Six years ago: Calling All Cauliflower
0