I might be biased here, but I'm pretty sure I have the best mom. As you know, I love to cook, and I 100% got that love and skill from my mom. My grandma passed away when I was only six, and my mom wasn't much older than I am now. And one of her favorite traditions that my grandma did for her was to help her stock her kitchen with cool cooking finds. So whenever she has an opportunity to gift me anything cooking related, she's always happy to do it. And that is kind of where the story of these Stir Fry Zucchini Noodles started.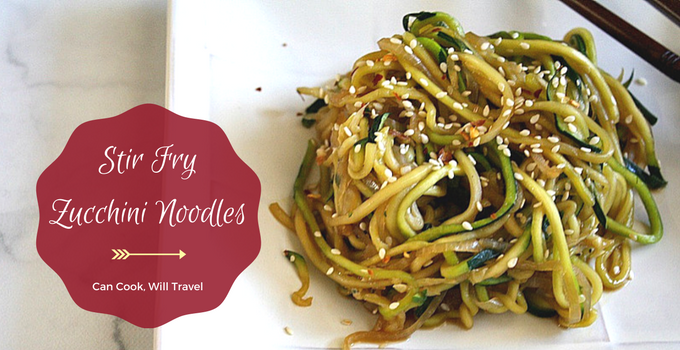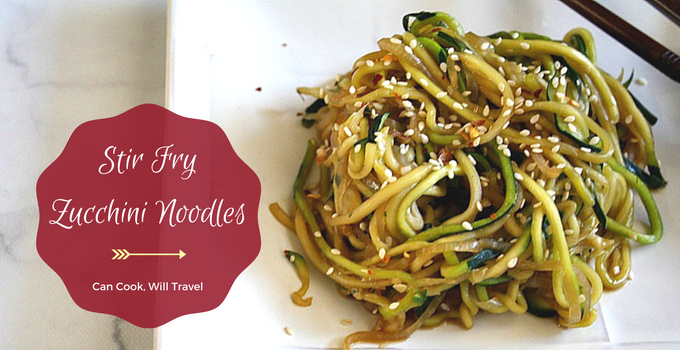 For Christmas this year I found myself asking for some fun cooking tools that I "needed". On my list was a spiralizer, but before I could even share my Christmas list, my mom had her counter top spiralizer in its box sitting in my room when I went home this Fall. She no longer needed hers and thought I could put it to good use. Um, thanks for reading my mind, Mom!
And then I asked for a nice wok for Christmas, mainly so I could make yaki soba in the near future. You see, when I made it way back in year 1 of blogging, I was actually using my roommate's wok, which is funny since she never cooked. So I went all those years without a wok, and I'm not sure why I waited so long to ask for one, honestly. So I did get a nice wok from my parents, and I was ready to play with my 2 new cooking tools this week!
Now one thing I totally forgot about with a wok is how important it is that you season it. With any wok you purchase, you should have instructions on how to properly season it. With mine it was a process of boiling water in it, and then scrubbing it really well with soap and hot water. Then dry it off, put oil in it and heat it over medium heat for about 10 minutes as you rub the oil around with a paper towel. Then let it cool completely and repeat the oil process 3-4 more times. While this seasoning process takes a while, it is completely necessary to help your wok start building a nonstick layer on it.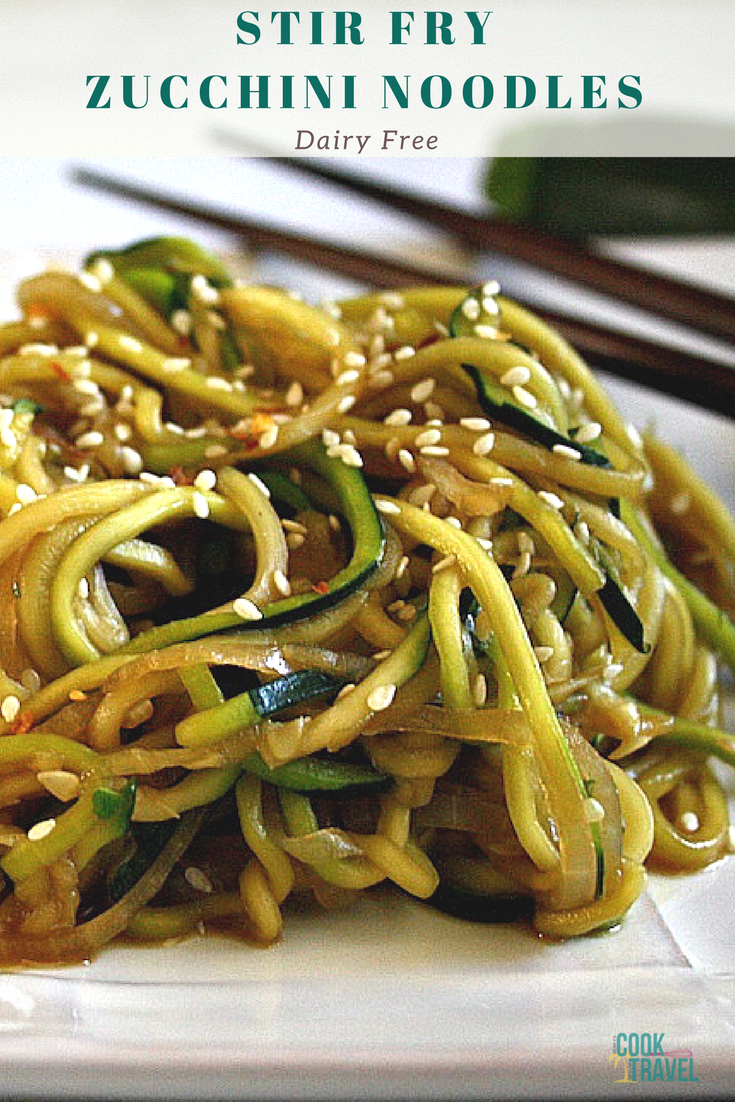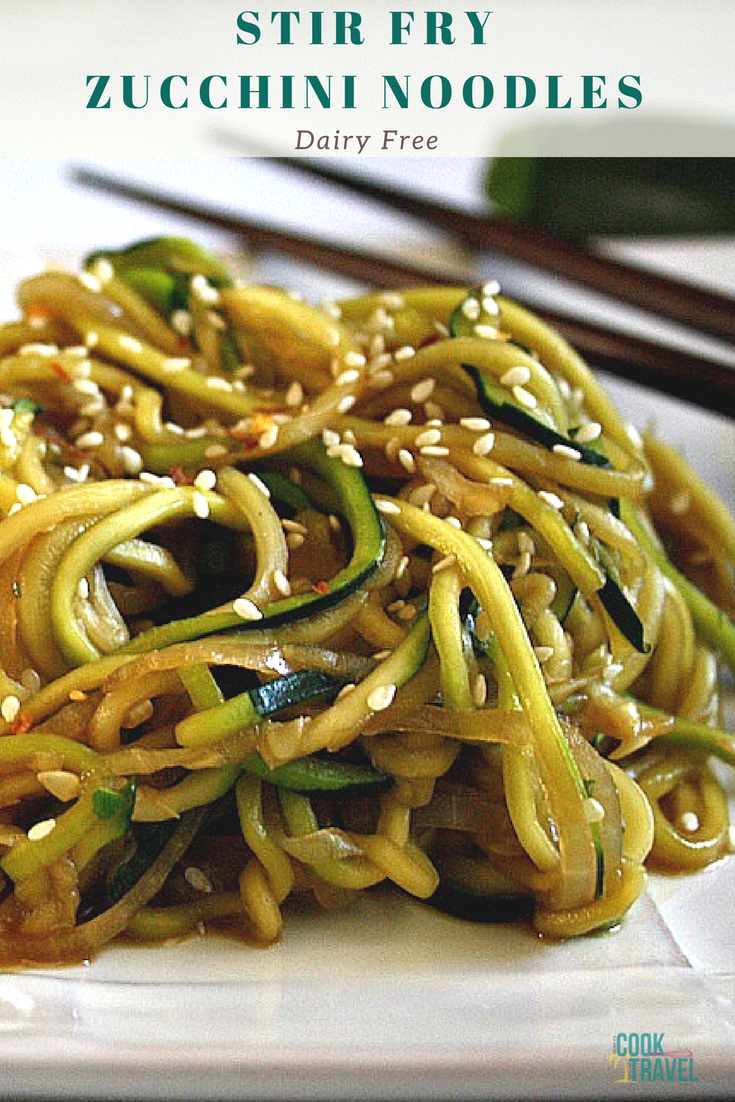 So my wok was finally well seasoned, and the time to stir fry my heart out arrived. And these Stir Fry Zucchini Noodles (or Zoodles for short) were a fabulous way to christen my wok. You actually spiralize onions and zucchini for this recipe, which was fun but pretty damn tear-filled thanks to those crazy onions. Wow!! But I ended up with 2 big piles of onions and zucchini. One tip with the zucchini is to use the stem end as the one that your crank holds onto as you turn, so that it has a bit more stable base to grip into since zucchini is a pretty soft veggie.
Make sure to use a paper towel to press out excess moisture from the zucchini noodles, and I think I could have done a better job of that. But making the Stir Fry Zucchini Noodles was totally easy. For flavors, I added garlic and crushed red pepper flakes to the onions as they cooked. Then sauté the onions, garlic, and pepper flakes in some peanut oil in the wok for about 5 minutes. It's not called "stir fry" for nothing, so stir pretty constantly so that the veggies cook evenly.
Once the onions are translucent, add the zucchini and keep stirring for another couple of minutes. Then add in teriyaki and soy sauce to the zucchini and stir for another 5 minutes. Ultimately you're looking for the Stir Fry Zucchini Noodles to be nice and tender. I tossed some toasted sesame seeds in at the end, and when I served it up I added more sesame seeds and pepper flakes.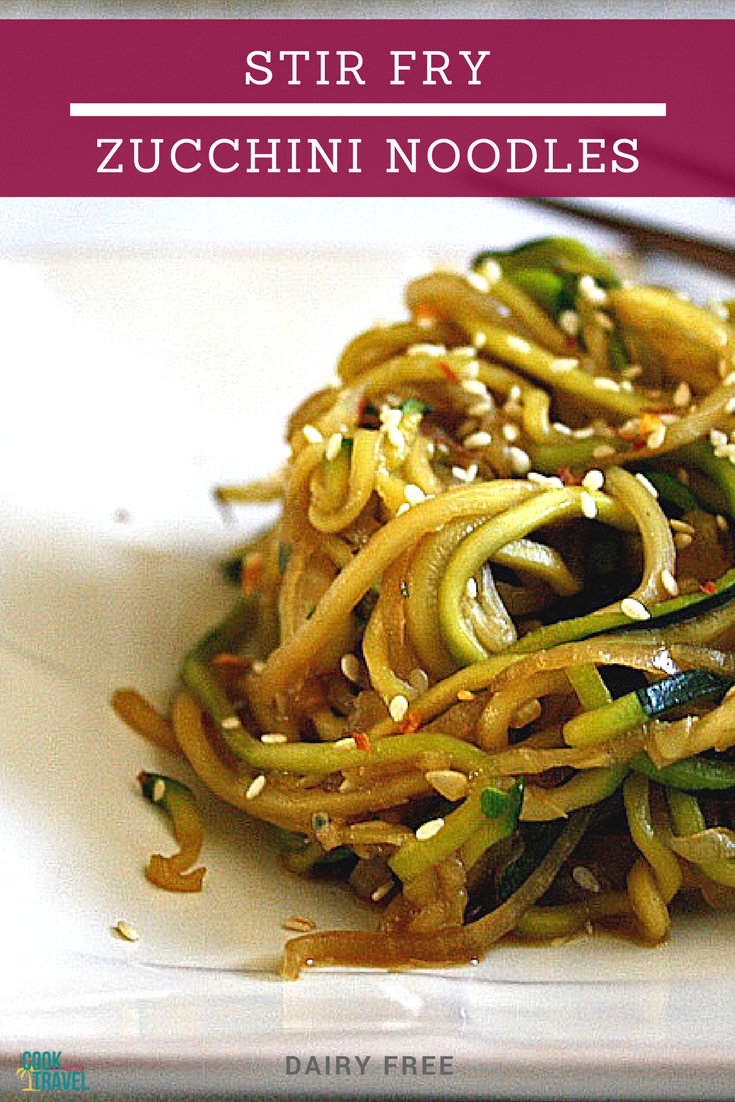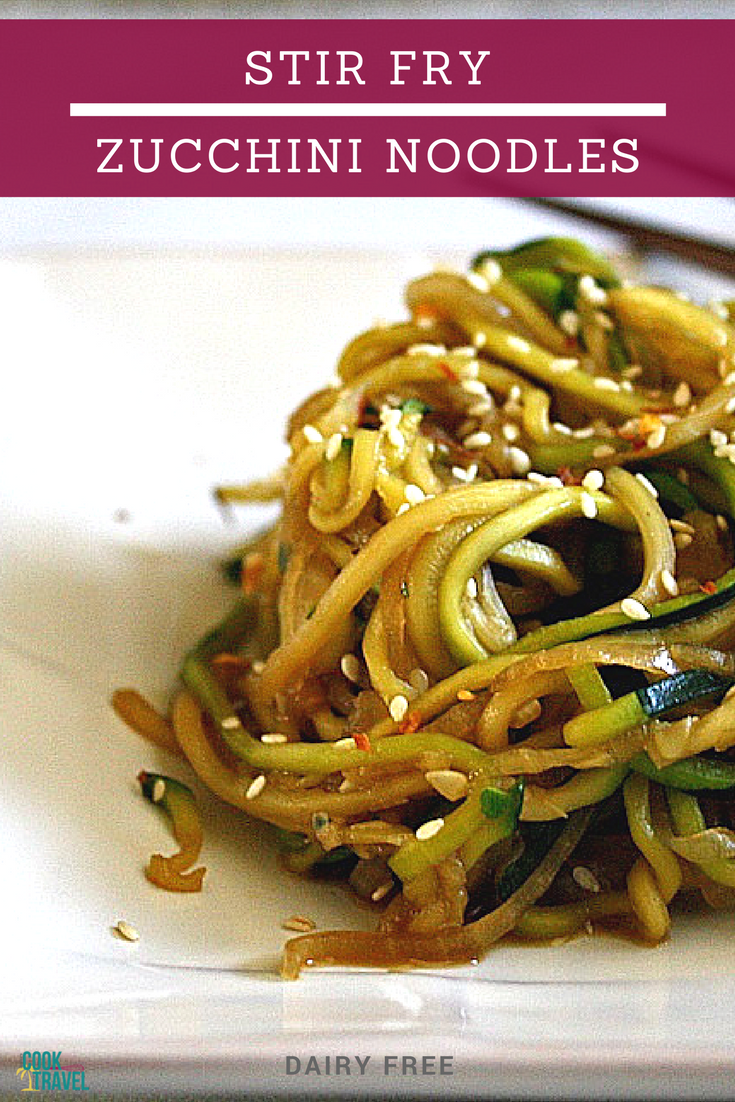 The original recipe didn't call for garlic or red pepper flakes, but I think the extra spice was totally necessary. It really helps add a little more interest to the flavors and isn't overly spicy. (Feel free to add as much or little as you want.) I also used peanut oil so the oil I cooked in had slightly more flavor, and I added more sauces at the end along with salt and pepper to amp up the flavors a bit more.
I really loved this dish, so serve it as a side to your favorite protein or as its own meal. Plus this side is a perfect excuse to practice my chopstick skills. And the onions and zucchini totally make you forget you're eating vegetables instead of noodles. And that's saying a lot, since I'm a total pasta fanatic.
If you love Asian flavors like me, then this Stir Fry Zucchini Noodles recipe is a fun one to make. Plus it's super healthy, fits my dairy free eating game plan, and is totally delicious! Now I'm excited to spiralize and stir fry even more veggies! So click that link for the recipe and step by step instructions. Happy zoodle eating!
A look back:
One year ago: Mexican Style Stuffed Shells are Mmm, Mmm, Good!
Two years ago: Cranberry Oatmeal Muffins – Making Breakfast Healthier One Muffin At a Time!
Three years ago: Crock-Pot Salsa Chicken Couldn't Be Easier!
Four years ago: Get Comfy with Baked Artichoke Chicken Pasta
Five years ago: Cinnamon-Raisin Bread … Nothing Can Compare to Homemade Bread!
Six years ago: Ah, Wagamama: How I've Missed You (And Your Noodle-Ness!)


32