So I have a confession to make: I'm a bit obsessed with mangos right now. I'm looking for any and every excuse to eat mango, so naturally this week I'm featuring the fruit. Here we are in June, and I'm baking chicken, which might not seem like the perfect thing to make in Summer. Oh but that's so not the case with this Chili Lime Mango Chicken Bowl!
I used to hate mangos as a kid, which is pretty sad. I think I had one that wasn't very ripe or flavorful and thought that meant mangos were bland and gross. So I've avoided them, much like kiwi, for years. It wasn't until I started making green smoothies that I used them at all. So I guess I've slowly started introducing them into my food for the past year and a half. How have I gone this long without this tropical fruit in my life??
In fact, last week I was featuring them in my insanely good-for-you and refreshing Tropical Turmeric Chia Smoothie. If you haven't tried that yet, it's an absolute must! And I'll happily include them in any smoothie, so the time had come for me to buy a fresh mango.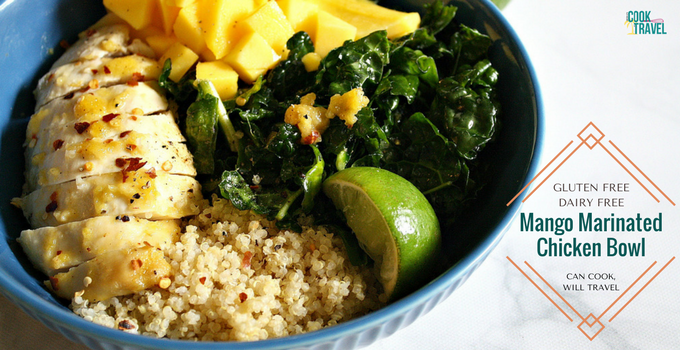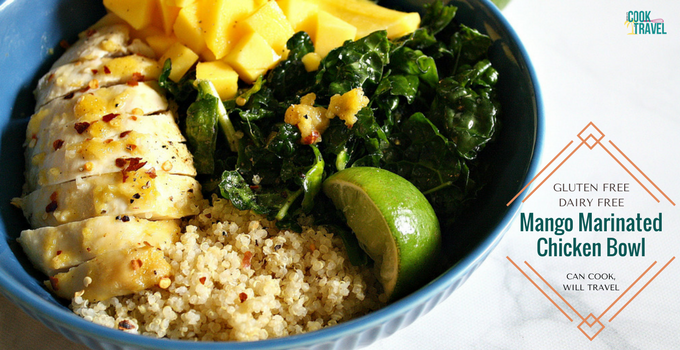 Off I went to pick up some red mangos that were on sale at 2 for $1! And I'd seen them cut before, because I'm an avid cooking show watcher (not surprisingly). So as soon as I took my first bite of this fresh mango, I realized how dumb I'd been avoiding this fruit forever. Oh well, at least I'm figuring this out now.
You marinate the chicken in this chili lime and mango sauce, and all you need is a blender. Add some fresh mango, sweet chili sauce, lime juice, pineapple juice, agave, shallots, garlic, salt, and pepper to the blender, and blend until it's smooth. Then put the chicken in a bag and add the marinade and let it sit in the fridge for 3-24 hours. I made my marinade right before dinner one night and then baked it for lunch the next day, and it was lovely.
Next time I make this Chili Lime Mango Chicken Bowl, and yes there will definitely be a next time, I'm making one minor adjustment. I'm reserving some of the marinade (maybe 1/4 cup or so) before adding it to the chicken to drizzle over the top of the cooked chicken. Most of my marinate burned up in the oven, and I think it would be great as a sweet addition to the bowl.
For the Chili Lime Mango Chicken Bowl I used kale (lacinto or dinosaur kale is what I had on hand), some cooked quinoa, and fresh mangos. To make the kale a little less bitter, just massage some olive oil in it. And then put it all in a bowl, add a little salt, pepper, crushed red pepper, and a squeeze of lime, and you're ready to enjoy!
I loved the sweetness from the mango as a way to balance out the heat from the chili peppers and slightly bitter kale. In fact, I ended up saving my mango to eat last, so it acted as a light dessert! You could swap out the quinoa for cauliflower rice or add some brown or white rice if you prefer. But I was trying to keep the meal really healthy and not starch-filled, and it was so delicious.
You've gotta try this Chili Lime Mango Chicken Bowl, because it's flavorful and easy to make ahead. So click that link for the full recipe and step by step instructions! Happy eating!
A look back:
One year ago: Huevos Rancheros Breakfast Sandwich . . . Oh Yes!
Two years ago: Skinny Oatmeal Cookie Smoothie . . . Just Like Old Times But Healthier!
Three years ago: Going Back to Hawaii with Kalua Pork
Four years ago: Hellooo Calzone…We Meet at Last
Five years ago: Baked Not Fried
Six years ago: Time to Make Gazpacho!

0