The new year is here, and we all love starting it off with a bit of gusto for change, don't we? I know I sure do, because I've got all sorts of things that I'm wanting to focus on this year. And of course, like a lot of us out there, I'm making my health a priority as well. Which is how this Spicy Sausage Minestrone came into my life.
So, full disclosure here, this is round 2 of making this minestrone. The first round was really good, but I knew I could do even better. For round 2, I added sausage to it, because I figured it was a good way to get more meat in my diet. And also sausage amps up the soup flavor so well.
This recipe also uses gluten free pasta, so that helped it be gluten free as well! And for gluten free pasta, I've definitely been trying out some different brands and kinds over the past year. The one I used here is from Trader Joe's and is made only of brown rice and water, and honestly it tastes so much like the real thing!
Once you have all of your veggies chopped, this dish gets pulled together really quickly. I chopped my onions, carrots, celery, garlic, and zucchini so they were ready to add when I was ready for them. I also used frozen green beans, which couldn't be easier.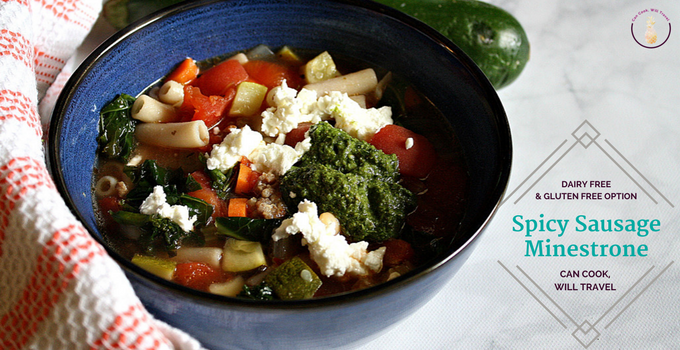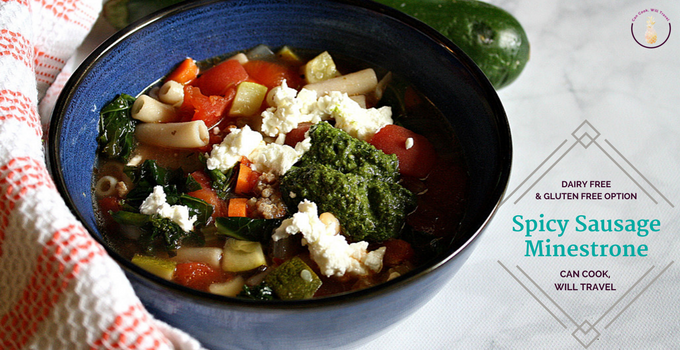 To make the Spicy Sausage Minestrone, just brown the sausage in a Dutch oven or large pot, and I added red pepper flakes for extra heat. Then add the veggies to the sausage and cook for a couple of minutes. Follow that with some dried basil and dried thyme so they could coat the veggies a little and start to flavor them. Then the chicken (or veggie) broth, diced tomatoes, water, kidney beans and cannellini beans are tossed in.
Don't forget to add some bay leaves as well, but remember you CANNOT eat them, so fish them out once the soup simmers. It's all about layering the different flavors with each step as you cook.
Simmer away for at least 20 minutes, so that all the flavors come together. While the soup simmers, cook some pasta in a separate pan and then rinse and toss with a little EVOO so they don't stick. In round 1 I was lazy and just cooked the pasta in the soup, but that results in the soup getting thick and being taken over by the pasta. Thank God my boyfriend still liked it and ate it up despite the leftover soup looking like a different meal!
But cooking and storing the pasta separately helps the soup to stay nice and broth-y. Then add chopped kale to the soup, and let it simmer for a couple of minutes. And if you like heat, now is the time to amp up the spice. So I added several dashes of hot sauce plus Jalapeño Tabasco to it. And I like to use pre-chopped kale in a bag because it's a huge time saver. Then serve it up with some pasta in the bowl, soup on top, stir it together and dig in.
To make my Spicy Sausage Minestrone a little more special, I topped it with a little pesto and goat cheese. Holy flavor-filled heaven, this soup was so f'ing good!! The spices and heat are a nice balance and help give the soup some interest. And I loved how the pesto and goat cheese made it a little creamy. But they're totally optional, so skip them if you want.
I literally can't wait to eat more of this soup, but I'm practicing serious self-restraint here. So check out this Spicy Sausage Minestrone recipe and for step by step cooking instructions to make life a bit easier, then click the link! Happy soup making and stay warm!
A look back:
One year ago: Dairy Free Pad Thai = Healthy & Yummy!
Two years ago: Lemon Spinach Orzo Makes Me Happy!
Three years ago: Pomegranate Scones Make Breakfast Delish!
Four years ago: Warming Up with Spinach Tomato Orzo … Yum!
Five years ago: Quick, Healthy & Easy – Salmon & Broccoli
Six years ago: Brussels Sprouts Two Ways
Seven years ago: Perfecting Gnocchi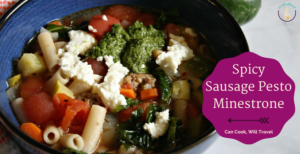 Print
Spicy Sausage Pesto Minestrone
Yield 10 servings
This healthy and super flavorful soup is packed with veggies plus sausage for some spice, and I've added gluten free pasta as well.
Ingredients
Soup Ingredients
1 t. Grapeseed Oil (or olive oil)
Package of Sausage (your favorite kind)
1 T. Red Pepper Flakes (or your preferred level of heat)
1 cup Onion, diced
2 Carrots, diced
1 Celery Stalks, diced
1/2 cup cut Green Beans, frozen
1 medium Zucchini, diced
2 cloves of Garlic, minced
1 t. Dried Thyme
1 t. Dried Basil
4 cups low-sodium Chicken Broth (or vegetable broth)
2 cups Hot Water
28 oz. Canned Diced Tomatoes (do not drain)
1 can Cannellini Beans, drained and rinsed
1 can Red Kidney Beans, drained and rinsed
2 Bay Leaves
Favorite hot sauce, to taste
Jalapeño Tabasco sauce, to taste
Favorite Pasta (I used a gluten-free kind by Trader Joe's)
2 cups Kale, ribs removed and cut into bite-sized pieces
Pesto, garnish (this is optional and I found a yummy vegan one at Trader Joe's that I used)
Goat cheese, garnish (optional)
Instructions
Get your minestrone started by making sure all of your veggies are cut, so they're ready for you. Then heat a large pot over medium heat with 1 t. Grapeseed Oil. Add the sausage to the pan along with 1 T. red pepper flakes to make the sausage spicy, and then cook for about 8 minutes or until the sausage is brown. Then drain off any excess oil in the pot.

 

Add the onions, garlic, celery, carrots, green beans, and zucchini to the sausage, and then cook for 2-3 minutes. Once the onions start to become translucent, add about a teaspoon each of dried thyme and dried basil. Then stir and cook another minute.

 

Add the broth, water, diced tomatoes, bay leaves, plus the drained and rinsed beans to the pot and then stir. Bring the soup to a light boil and then reduce the heat to a simmer and cook for at least 20 minutes.

 

While the soup simmers, cook your pasta according to the package instructions. Then when the pasta is al dente, drain it in a colander, rinse it with cold water, and then toss with a little extra-virgin olive oil so that it keeps the pasta from sticking.

 

After the soup finishes simmering, add the 2 cups of kale to the pot and then stir and cook another 2 minutes.

 

To serve the soup, add 1/2 cup of pasta to a bowl, ladle in the soup over the pasta, and stir. Then top with 1 T. of pesto and a few crumbles of goat cheese and enjoy!
Notes
Quick Tip #1: Be sure to make the pasta in a separate bowl, and then store it separately in the refrigerator. If you leave it in the soup, it'll cause the soup to become really thick. I like to store my pasta in a plastic bag.
Quick Tip #2: Keep it dairy free by removing the goat cheese and using a vegan pesto (I picked up a great one at Trader Joe's). Keep it gluten free by using gluten free pasta and making sure your sausage is gluten free.
Courses Dinner
Cuisine Soup
Nutrition Facts
Serving Size About 1/10th of Soup Recipe
Amount Per Serving

Calories 340

% Daily Value

Total Fat 11 g

17%

Saturated Fat 4 g

20%

Cholesterol 25 mg

8%

Sodium 923 mg

38%

Total Carbohydrates 43 g

14%

Dietary Fiber 7 g

28%

Sugars 6 g

Protein 15 g

30%
* Percent Daily Values are based on a 2,000 calorie diet. Your daily values may be higher or lower depending on your calorie needs.
0