It's icing out right now as I write this post here in Kansas City, and I'm not feeling it. Our temperatures swing by 30 degrees each week, so I'm sure it'll melt soon, but still. So I wanted a big bowl of healthy comfort food, and that's where this Winter Pasta came into the picture.
Here's the thing: I've eaten out a lot the past few days, so I was craving healthy food. Really just a way to detox and get back on the good food kick. But I also wanted to enjoy pasta, because I love pasta. So I decided I'd cave to my cravings but use gluten free pasta instead, so I wouldn't feel so guilty about it.
I was able to whip this whole recipe up and enjoy it over my lunch break, so it's definitely a perfect meal when you're low on time. The longest part is just cutting the veggies, so you could always do that part in advance if you're in a real hurry.
Using what was in season for this Winter Pasta recipe made it both affordable and also delicious! I roasted cauliflower, onions, carrots, asparagus, and garlic together with some dried basil and turmeric. This was another way to sneak in some healthiness in the form of turmeric. If you aren't familiar with the spice, well check out this post on why it's so amazing. I love it with veggies and even in my smoothies, so definitely keep it on hand.
While the veggies cook, just cook your pasta according to the package. I went with Trader Joe's brown rice & quinoa pasta, because it tastes so much like the real deal. But you can use whatever pasta you prefer. In fact, this could easily be turned into a bowl with quinoa or rice if you're more in the mood for that.
Once the pasta and veggies are cooked, then toss them with EVOO, lemon juice, and serve this Winter Pasta up ASAP. You can really go crazy with your toppings if you want, and I kinda did. After all, this is pretty healthy and light, so it can handle lots of toppings. I added freshly grated Parm, lemon zest, fresh basil, plus freshly cracked pepper and sea salt.
The lemon juice really brightens up the whole dish, so it's light and brings out all the flavors. I love the different textures of the veggies, so use whatever veggies you like. But do be sure to consider the textures so you get a variety. And I really do adore that TJ's pasta, because it twirls and tastes authentic. It's of course not quite as spring-y as regular pasta, but man it'll sure work when you're needing to remove gluten.
The whole idea with my Winter Pasta is to get you using seasonal ingredients while maximizing flavors. So get creative with your veggies and toppings, and I know you'll love it too. It's perfect on its own or serve it as a side or topped with your favorite protein. I definitely pan on adding shrimp to one round of leftovers and maybe tuna or chicken or tofu to another. This recipe makes 4-6 servings, so you'll have plenty of chances to change it up!
So let's all bring some heat to Winter in the kitchen at least, and whip up this Winter Pasta straight away. Click that link for the step by step photos and instructions along with the recipe. Happy cooking!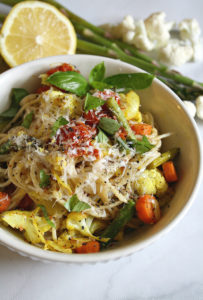 Print
Winter Roasted Vegetable Turmeric Pasta
Yield 6 servings
Try out this healthy pasta using your favorite gluten free (or not) pasta and tons of seasonal veggies to keep you warm in the winter!
Ingredients
Pasta Ingredients
1/2 Head of Cauliflower, cut into small florets
1/2 Onion, diced
2-3 Garlic Cloves, sliced
3 Carrots, peeled & sliced
8 Asparagus Spears, cleaned & cut into bite-sized pieces
Handful of Grape Tomatoes
2 T. EVOO
1 t. Dried Basil
1/2 t. Turmeric
Salt & Pepper, to taste
1 package Gluten Free Pasta (or your favorite pasta)
2 T. EVOO
Juice of Half a Lemon
Topping Ideas:
Freshly Grated Parmesan (omit for dairy free option)
Fresh Basil
Lemon Zest
Freshly Ground Pepper
Sea Salt
Instructions
Preheat your oven to 350 degrees, and then prep all of the veggies.

 

For the veggies: In a large bowl add the cauliflower, onion, garlic, carrots, asparagus, and tomatoes and then coat well with EVOO, dried basil, turmeric, and salt and pepper. Then place in single layer on a Silpat lined baking sheet, and bake for 20 minutes.

 

For the pasta: While the veggies roasted, bring a large pot of water to a boil. Then cook the pasta according to package instructions. Once it's al dente (be sure to taste it), then drain it, rinse it with cold water, and toss with a little EVOO so it doesn't stick together.

 

Finished dish: Put the pasta back in the empty pot along with the roasted garlic, 2 T. EVOO, and the juice of half a lemon. Toss and then serve right away topped with your favorite ingredients and enjoy!
Notes
Quick Tip: Use your favorite seasonal veggies but be sure you try things with different textures to keep it interesting. Also try out your favorite gluten free or regular pasta with this dish.
Courses Side Dish
Cuisine Pasta
Nutrition Facts
Serving Size 1/6 of pasta
Amount Per Serving

Calories 387

% Daily Value

Total Fat 12 g

18%

Saturated Fat 1 g

5%

Unsaturated Fat 8 g

Sodium 85 mg

4%

Total Carbohydrates 66 g

22%

Dietary Fiber 6 g

24%

Sugars 4 g

Protein 9 g

18%
* Percent Daily Values are based on a 2,000 calorie diet. Your daily values may be higher or lower depending on your calorie needs.
A look back:
One year ago: Chicken Tikka Masala Hits the Spot!
Two years ago: Vanilla Nut Latte Protein Bites Make Snacking Delish!
Three years ago: Garlic Parmesan Cauliflower . . . It's the Right Thing to Do
Four years ago: Learning to Love Salads – Part 15: Kale Salad with Warm Cranberry Vinaigrette
Five years ago: Jalapeño Cream Cheese Poppers – An Appetizer I Can Get Behind
Six years ago: Chicken Enchiladas – Lightened Up Comfort Food
Seven years ago: Granola Goodness
0