Fall is great, but my trip to Austin and the fact that I've been in Vegas all this week, do remind me that I love warm weather too. I mean if I could live where it's in the 70's year round, I'd be a happy camper, for sure! Well I say that, but maybe I would miss the seasons and changing leaves. So I'm on my continued adventure to enjoy seasonal foods like apples, pumpkins, cranberries, squash and more. Speaking of squash, this week I made a Roasted Maple Acorn Squash that I'm so excited to share!
There's something about an acorn squash that I really love, and I'm guessing it's fond memories. As a kid, I grew up eating acorn squash, and I've always enjoyed it. Back in the day, my mom would slice the squash in half, scoop out the insides, and then roast it in the oven. We'd add butter and brown sugar to it, and sometimes that was enough for a whole meal when my dad wasn't home.
A few years back, I decided to try a stuffed acorn squash recipe with apples and bacon. Oh my goodness, if you haven't tried this recipe yet, you really must.
And I have another acorn squash recipe to add to your must-make list: Roasted Maple Acorn Squash. It's super easy to make, and taste so great. Truly the hardest part of working with squashes like acorn, butternut, or spaghetti squash is cutting them. My trick is to heat them in the microwave for 30 seconds at a time until the skin is just tender enough to cut through with a sharp knife. You're not trying to cook it in the microwave, just soften the skin enough that you can cut it.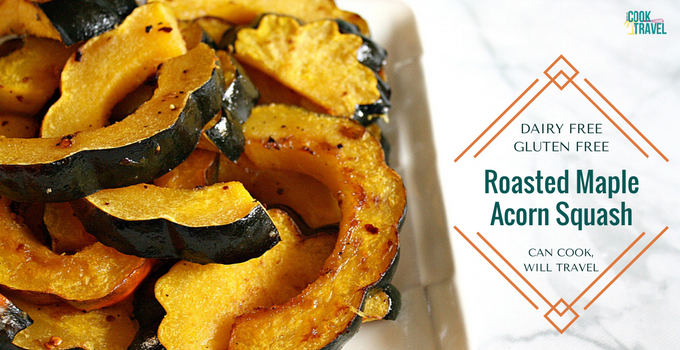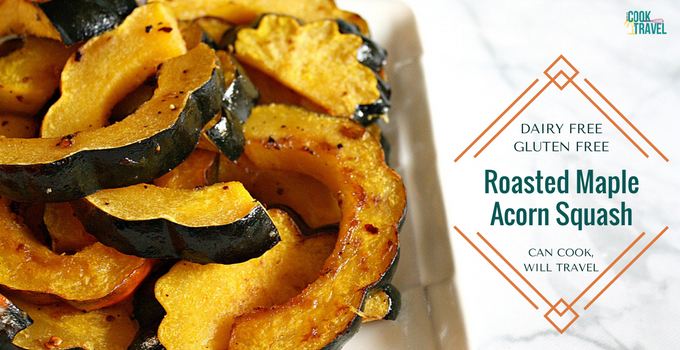 Something else that's new to me is the idea of eating the skin. I was seeing these gorgeous roasted acorn squash on Pinterest with the skin on, but I'd always avoided it. Well you can actually eat it, which I'd never thought you could. So I gave it a go with this Roasted Maple Acorn Squash and it's true! The skin is tender enough to eat yet adds a little crunch and texture. It was great!
When it comes to the squash, you simply cut it lengthwise, scoop out the insides and then slice across so you get these beautiful shapes. Then the good stuff is about to happen. My Roasted Maple Acorn Squash recipe is a sweet, savory, spicy experience that only requires a few things. I tossed the squash with extra-virgin olive oil, maple syrup (sweet), garlic powder (savory), red pepper flakes (spicy), and salt and pepper.
The squash is roasted in the oven for about 30 minutes or until it's really tender and starts to caramelize a little.
My kitchen smelled SO good as the squash roasted, and I couldn't wait to dig in. You really get a sweet, salty, spicy taste with every bite you take. Roasted Maple Acorn Squash will truly make an amazing side for your next meal and especially for Thanksgiving and Christmas. I love how gorgeous it looks, and it's kinda rustic looking too.
I served mine in a bowl with some brown rice, chicken, and edamame. Talk about a bowl that packed a serious flavor punch, because the Roasted Maple Acorn Squash stole the show!
I literally can't wait for you to make this Roasted Maple Acorn Squash recipe for yourself, so whip it up for your next meal and enjoy! Click that link for the recipe and step by step instructions, and happy squash roasting!
A look back:
One year ago: Pumpkin Alfredo = What is Right with the World
Two years ago: Pumpkin Pie Overnight Oats Make Breakfast a Breeze
Three years ago: Chia Seed Blueberry Muffins = Healthy Comfort Food!
Four years ago: Smashed Sweet Potatoes Never Tasted So Good
Five years ago: Ka Pow! It's Kung Pao Chicken!
Six years ago: Monkey Bread!
2