Ah matcha has become such a huge trend that I'm seeing it all over my Instagram feed these days. So naturally it made me super curious what this whole thing was about. And if you know me, which you probably do by now, I was ready to start experimenting. Over on Instagram, I'm always sharing my favorite things, and smoothie bowls are my latest obsession. So I experimented my little heart out the past couple weeks and came up with an epic Tropical Matcha Smoothie Bowl.
Let's start out with the obvious question in case you were like me, and that question is "what the heck is matcha, Kelli?" So glad you asked!
Matcha, a green tea powder, comes from tea leaves that have been shaded, which means that the plant produces more amino acids and caffeine. In addition, matcha is FULL of antioxidants and has a range of health benefits from fighting obesity to regulating hunger, and also provides more focus and clarity. For more info, feel free to read up on the Wikipedia article too.
I'm a big fan of tea and green tea, so I proceeded with my experimentation. Although matcha isn't found in every store or isn't very cheap, it's still fairly easy to be found. In fact you can find it on Amazon with ease (as you can most things), so do your research and find the matcha that works for you.
My first matcha purchase came from Trader Joe's with their individually packaged servings, so that's what I've used here in this Tropical Matcha Smoothie Bowl. But you can certainly use a little more or less in yours.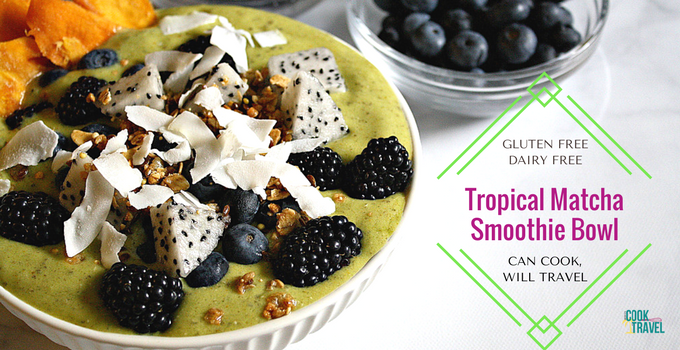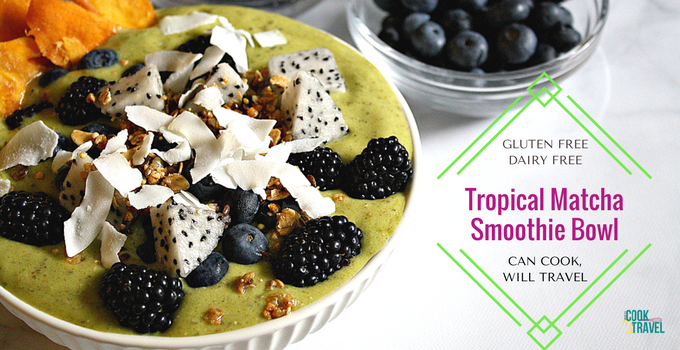 I tried several matcha smoothie bowl recipes I found and ended up creating my own full of my favorite ingredients. I started with coconut water and protein powder (I love the Tone It Up brand that you can buy on their site or at Target). Then I added frozen bananas, mangos, and pineapple (where the "tropical" comes in with our Tropical Matcha Smoothie Bowl). Next I threw in turmeric and cinnamon because I love their health benefits, some chia seeds for energy, and the packet of matcha.
Blend away until your smoothie becomes totally smooth and combined, and then pour it into your bowl. The fun part for me is topping the smoothie bowl, because I get to exercise some creativity. My Tropical Matcha Smoothie Bowl had berries including blueberries (they're my favorite) and blackberries (which I got for a STEAL at the store). Then I added granola and coconut chips for crunch, and dried mango to give a nod to what's in the Tropical Matcha Smoothie Bowl.
The real exotic part of this topping was dragon fruit, which I'd never worked with before. I've seen it on Instagram, and when I spotted it at my grocery store I had to pick one up. It was actually easy to work with, and super funky to look at! Just cut the fruit lengthwise like you would an avocado and scoop out the inside. The outer pink skin is NOT edible, so be sure you cut away any of it that sticks to it.
Dragon fruit has tons of nutrients in it and helps lower blood sugar. You can learn more from this link here. While it doesn't particularly taste sweet, it's so cool and a beautiful addition to my Tropical Matcha Smoothie Bowl.
I loved the consistency and fruity flavor from this Tropical Matcha Smoothie Bowl and I can't until you try it. I used a Vitamix, so if you have a low-powered blender, then let the fruit thaw slightly to blend easily.
To get the Tropical Matcha Smoothie Bowl recipe and step by step instructions, click that link and enjoy! Happy smoothie bowl making!!
A look back:
One year ago: Channeling Shark Week with Fish Tacos!
Two years ago: Lemon Spaghetti (or Linguine in this Case) Is a Family Favorite!
Three years ago: Spicy Basil Chicken – Tell Me More!
Four years ago: Pasta + A Fried Egg = Lemon Parmesan Angel Hair Deliciousness
Five years ago: Blueberry Lemon Bundt Cake = One Stress Free Girl!
Six years ago: Learning to Love Salad – Part 4: Chicken and Couscous Salad
0