Happy New Year, and let's welcome in January, shall we? I choose to officially say hello to it by featuring what to cook in January, because you may be surprised! This blog series is all about featuring fruits and veggies in season, and there's a lot in season this month.
When I think of cooking this time of year, then I instantly want comfort food. Here in the Midwest, it's gotten crazy cold since Christmas. Single digit highs make a girl want to hibernate for Winter, so naturally something hearty is on my mind.
This week I'm in the process of doing a 5-day detox with the Tone It Up girls, because the holidays happened. I found myself surrounded by indulgences both of my own creation and from going home. So this week, I'm taking a break and focusing on eating clean.
If you're wanting to eat seasonal food, here are some fruits and veggies to look for:
Apples
Beetroot
Brussels sprouts
Carrot
Cauliflower
Celeriac
Celery
Chicory
Clementine
Grapefruit
Jerusalem artichoke
Kale
Kiwi fruit
Leeks
Lemons
Oranges
Parsnips
Passion fruit
Pears
Pineapple
Pomegranate
Potatoes
Rhubarb
Satsumas
Spinach
Swede
Tangerines
Turnips
Based off of this list, I found myself gravitating towards 4 ingredients for this What to Cook in January post. First are carrots, which I've been enjoying a lot lately. I particularly love roasting them with other veggies and throwing them in a Buddha bowl, because it's so hearty.
The second is no surprise, because it's kale. One of my coworkers gives me a heard time when he sees my kale recipes, because I share many. I'm still trying to convince him to try this uber healthy green, but I do have many yummy recipes here to highlight it.
Then we're talking citrus in the form of lemons and grapefruit. Lemons are a fruit I keep on hand for my morning lemon water and vinaigrettes. And grapefruit is something I've enjoyed forever, because I love myself some tart flavors. And grapefruit actually becomes a versatile ingredient, which you'll notice as you peruse the following recipes.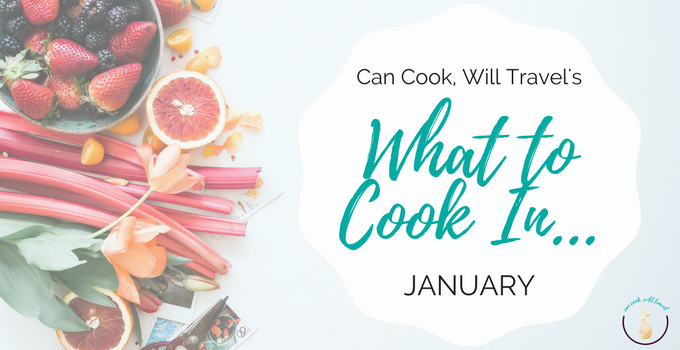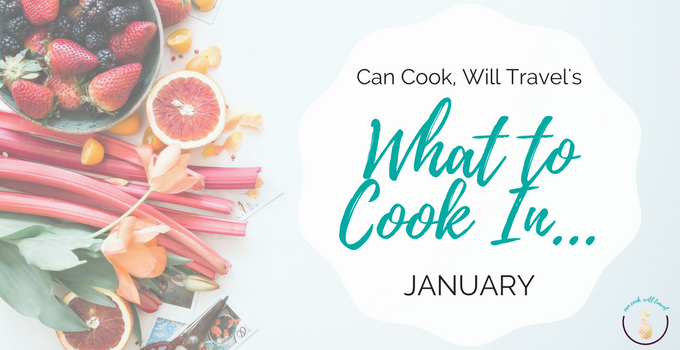 As I started compiling this recipe list, I was actually seeing a few themes. First of course is that comfort food naturally comes up, because these seasonal ingredients beg for it. But I also noticed some healthy options hidden in the mix, which is a pleasant surprise.
So after this detox is over, I'll have a huge amount of recipes to use and riff on for more healthy eating. And that's great, because it's tough to lose weight or keep it off this time of year. My favorite activity is walking, but I have to get a bit creative in these temps. I hate that, but it's good for me to get some more well-rounded exercise in (I suppose).
So let's dive into ALL of the ways to use carrots, kale, grapefruit, and lemons, so we can all enjoy seasonal cooking!
What to Cook in January Recipes:
Breakfast:
When I want a savory breakfast, then this Quinoa Breakfast Bowl with Kale Chips is it. I love all the textures from the quinoa to the crunchy kale chips, amazing mushrooms, and fried egg on top. Oh yes, please make this one, because it's the right thing to do.
I do enjoy a breakfast wrap on occasion, and this Egg and Kale Breakfast Wrap is healthy and really delicious. Plus it's another excuse to eat a fried egg, because I love a good runny yolk!
Broiled Grapefruit with Bananas & Honey is easy and a fun way to sweeten up tart grapefruit, so whip it up! I grew up eating grapefruit, but never like this, so it's a wonderful way to get your fruit in your morning diet.
There's something about muffins that I just love, and maybe it's that they feel a bit like comfort food. These Pink Grapefruit Muffins are delicious, come together in no time, and they're great because they're not too sweet!
I'm kinda obsessed with these Lemon Blueberry Belgian Waffles, because the flavors are crazy good. I made them a year ago and think about them a lot, so you should probably make them too. The blueberries and lemon go so well together.
I was inspired by my trip to the UK to make these Earl Grey Scones with Lemon Glaze, because what seems more British than tea? These are light, floral, and the glaze on the top is a lovely accompaniment.
These Lemon Blueberry Quinoa Pancakes sneak in some quinoa to give you a healthy, light, and fluffy dish. They're really easy and fun to make and a great way to get your family to eat healthy.
Salads:
For some reason when I add quinoa to a salad, then I automatically love it more. And this Quinoa and Kale Salad is packed with flavors from kale, goat cheese, and pomegranates for a perfect Winter salad..
Ooh I really love this Kale Salad with Warm Cranberry Vinaigrette, because the kale is tender and the vinaigrette is so good! Plus it's an excuse to enjoy goat cheese and cranberries.
Perhaps you're seeing a theme here with all the goat cheese, but it is my favorite kind of cheese. This Wintry Salad with Grapefruit & Goat Cheese is filled with veggies, and it's topped with a lovely goat cheese disc that I love!
I'm sharing this Lemon Zest Vinaigrette, because it's so versatile and simple to make and keep on hand I enjoy adding it to my salads or my roasted veggie bowls for some bright flavors.
Lemon Tuna Salad in Avocado features this lemon zest vinaigrette, and it's really easy and healthy. I love having a light lunch option, and this is a perfect recipe for that!
Side Dishes:
I'm pretty sure these Maple Bourbon Glazed Carrots would make the perfect side for nearly any dish. That bourbon sauce is really delicious and makes these carrots taste amazing.
This recipe for Roasted Parsnips & Carrots is one I made early on in my blogging days, but it's so easy and delicious that it had to be included!
I love adding this Lemon Spinach Orzo recipe to a side for the proteins I'm cooking. It's almost like making risotto but with orzo instead and is made a bit more hearty and healthy with spinach. You'll love this one with it's lemony flavors, so make it straight away.
Pasta:
Lemon Spaghetti must begin this what to cook in January pasta category, because it's my favorite pasta dish. The pasta is coated in a cheese and lemon sauce that is easy to make and tastes so amazing!
I really enjoy this Easy Lemon Garlic Kale Pasta, because it's super filling on its own. You can mix it up by using your favorite pasta, and the lemony kale makes the dish pretty hearty. Yum!
Again my love of goat cheese comes out with this Lemon-y Pasta with Goat Cheese & Spinach dish that has a delicious goat cheese sauce. If you love pasta and goat cheese, then definitely make this recipe ASAP.
Sometimes I find myself craving Lemon Pepper Shrimp Scampi, because it's light yet filling. Plus it's a really simple dish to whip up when you want a special treat.
I love when my pasta is filled with veggies to make it feel even healthier, and Pasta with Zucchini, Tomatoes & Creamy Lemon-Yogurt Sauce does just that. The sauce is a simple one with yogurt, lemon, and Parmesan that then gets tossed with the pasta and veggies.
We're ending this section with the fabulous Lemon Parmesan Angel Hair with Fried Egg, because it's the right thing to do. Anything topped with a fried egg tastes better, and you'll be surprised by how amazing this egg is on pasta. Just make this, and then you can thank me later.
Soups & Entrées:
This Kale Tortellini Soup is one of my favorites I've ever made on my blog, and it's all about the spice. You can make it as spicy as you like, and it's delicious on a cold night. If you enjoy tortellini, then add this soup to your must-make list.
Switch up your chicken soup with this Lemon Tarragon Chicken Soup recipe, because you need a change. The tarragon really takes the soup to another level of flavor!
My first try at calzones was a total success with these Kale, Mushroom & Ricotta Calzones, and they're pretty easy to make. Buy pre-made pizza dough to save time, and then you'll be whipping these up with ease.
Finally we have this Sticky Honey Lemon Ginger Chicken recipe that is light, filled with flavor, and is a lighter dinner option. So when you want stir fry or Chinese, but you want it to be healthier, give this dish a try!
Apps & Snacks:
Spicy Kale Artichoke Vegan Dip is crazy amazing and super healthy, so please make it! It comes together quickly, and tastes so good. You can cook it on the stove and serve it right away or else bake it for a little more flavor! Plus it's perfect when you're wondering what to cook in January, because I love dip when it's chilly out.
I gotta say I've made a lot of recipes over the years, and I kinda forgot about these quinoa cakes. But that's crazy because these Cheesy Quinoa Cakes with a Roasted Garlic & Lemon Aioli were seriously so good, and a great little snack!
Sweets & Drinks:
Warm Lemon Pudding is for anyone who loves lemons, so if that's you, then make this up! It's not exactly healthy but holy smokes it's just crazy good! So go on and indulge yourself just a bit!
For a pretty cake to make and impress your friends with, then try out this Blueberry Lemon Burst Bundt Cake. You'll find the blueberry swirled throughout the bundt cake for a really pretty presentation.
Finally we're ending this giant recipe post with a cocktail that's one of my favorites to this day. The Grapefruit Rosemary Moscow Mule is not too sweet and the sprig of rosemary that you smell as you drink it takes it to another level. Yum!
Alright now neither of us have an excuse to avoid cooking with these seasonal ingredients, now do we?! From savory to sweet to indulgent to healthy, well then I've given you a lot to chew on. Ha – so you see what I did there, right?!
I can't wait to explore this What to Cook in January list even more and start adding some items to my grocery lists this month. I find myself constantly making new recipes, but I do love going back to tried and true ones when I can. So I hope I've inspired you too, and comment below and let me know what recipes you're ready to try!
Stay inspired, great some seasonal ingredients, & then start cooking!
~Kelli
0