Are you a big fan of grapefruit like I am? I know it can go one of 2 ways with grapefruit . . . either you're like me and love this tart treat or you want nothing to do with it. So that's where Broiled Grapefruit makes the perfect dish to unite everyone.
Okay that sounds a bit dramatic – haha!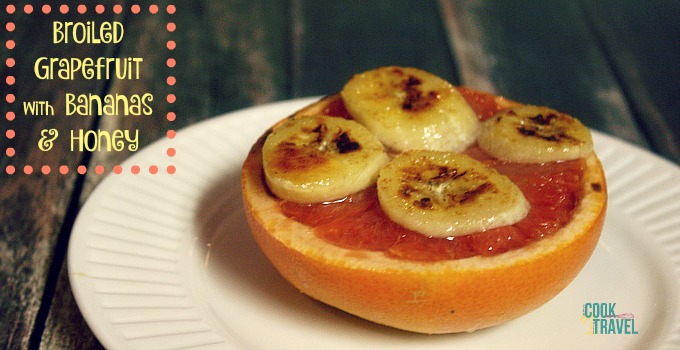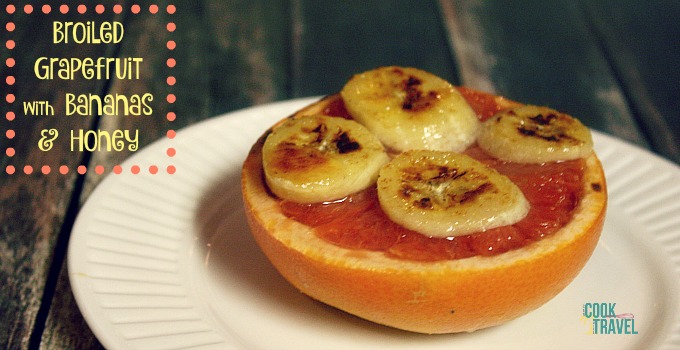 When I was a kid, eating grapefruit for breakfast on the weekends was a normal thing. I never thought anything was odd about that. My mom would slice the grapefruit in half, hand us a grapefruit spoon, and we'd get to practice our "knife skills" by cutting the the grapefruit segments for easy eating. Then I'd grab a teaspoon of sugar to sprinkle over the top and scoop out the grapefruit. I loved it! I really loved the leftover grapefruit juice I'd squeeze out of the grapefruit at the end that was slightly sweetened and delicious. Yep, I was not a "normal" kid when it came to food.
But I really do think Broiled Grapefruit can bridge the gap a bit and help people to love this tart fruit more. Broiling it helps bring out the sweetness of the fruit, and it's a fun food to eat. And it's a cinch to make.
How to Make Broiled Grapefruit:
Cut a grapefruit in half.
Use a grapefruit knife (or paring knife) to cut each segment for easier eating.
Top the grapefruit with honey, bananas, and ground ginger.
Broil until the grapefruit starts to caramelize and enjoy.
Yep, it's that easy to make.
I can't believe I've gone this long without trying out broiled grapefruit. Like all food trends, I saw this one over on Pinterest and finally had to try it myself. I'm loving it.
You still get a bit of tartness from the grapefruit, but the honey and bananas help sweeten it up, and broiling it heats up the fruit and also adds a slight caramelization, for some extra flavor dimension.

If you love grapefruit, then this is a no-brainer. And if you want to love it, but just haven't enjoyed it raw, then give broiling a try.
Make sure that this Broiled Grapefruit makes a regular rotation in your breakfast routine. Click that link for the recipe and step by step instructions.
A look back:
One year ago: Learning to Love Salads – Part 17: Quinoa and Kale Salad
Two years ago: Well Hello Cheesy Quinoa and Broccoli Patties!
Three years ago: Cauliflower couscous … Minus the Couscous … Just Trust Me
Four years ago: Peanut Butter Kiss Cookies … A Delicious Trip Down Memory Lane
Five years ago: Rooting Around
0