What's your stance on breakfast for lunch or dinner? Yay or Nay? I'm definitely pro breakfast food for any meal. In fact, very rarely (aside from oatmeal, maybe) do I ever make breakfast for my blog and actually eat it at breakfast. So needless to say, these Lemon Blueberry Belgian Waffles were no exception.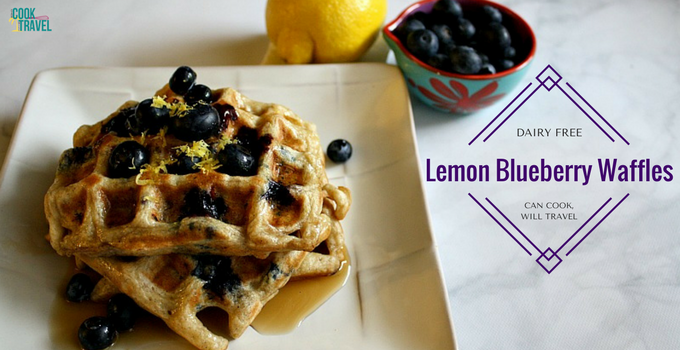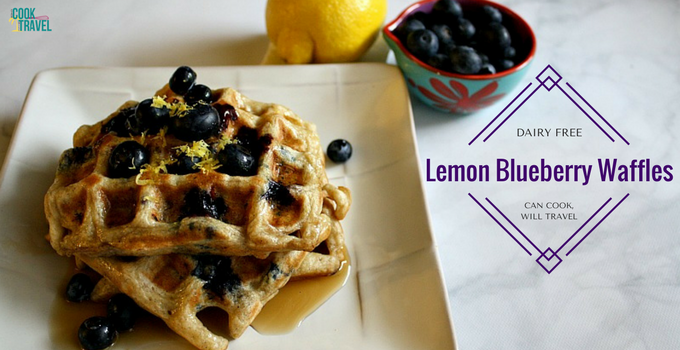 I love both pancakes and waffles, so I asked for a Belgian waffle maker for Christmas this year. I have this weird affection for Belgian waffles, because eating them transports me to another time. So I studied and got my Masters degree in London, which sounds so fancy, right? Well the least fancy part of the experience was that I lived in the dorms. But there were perks to that, including the cafeteria just being across the way from my wing. And they had this Belgian waffle maker that I definitely got good at using.
Usually I tried to eat pretty healthy back then (and now), but whenever I wanted to treat myself, I'd make a Belgian waffle using the super hot waffle iron they had. You know the kind where you flip it halfway and kinda guess at when it's done, and if you're wrong you gotta start over. So Belgian waffles are kinda my favorite. I love that they hold more fruit and maple syrup and they totally make me nostalgic.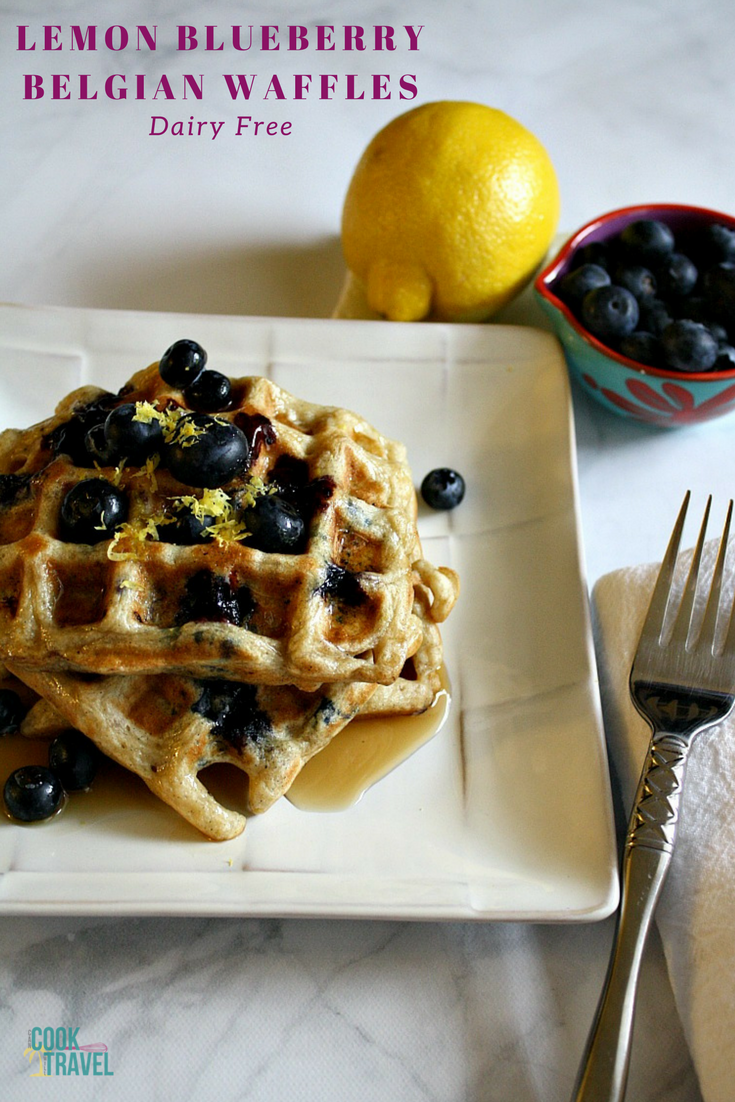 This week was my first time at trying out my new waffle iron, and I was scouring Pinterest for a yummy recipe to try. So many sounded amazing but I got inspired by one on the blog, Something Swanky. Ashton, on the blog, was making Blueberry Vanilla waffles, and her original plan had to been to add lemon to the waffle batter. So I decided to take that idea and put my own spin on these Lemon Blueberry Belgian Waffles.
What's funny is that the Lemon Blueberry Belgian Waffles started reminding me of how I eat breakfast most days as I kept tweaking ingredients. I start off my day with lemon ginger water, so naturally I added ground ginger to the waffles as a good balance for the lemon. To make the lemon flavor come through, I added both lemon juice and lemon zest to the waffle batter.


Ashton and I have something in common, and that is our love for vanilla bean paste. A girl after my own heart, so I absolutely had to add vanilla bean paste to my batter. When making anything sweet, adding vanilla bean paste is usually always a good idea. And I kept this recipe dairy free by using almond milk and coconut oil, which I use every breakfast as well. There's not much sugar in this recipe (only 2 tablespoons), so that's great!
How many waffles you'll get out of this recipe will absolutely depend on your Belgian waffle maker. My waffle maker makes 2 small square waffles, so I could get 11 waffles out of it quite easily. Although some people were getting 5-8 out of the same recipe. Now 11 waffles is way more than I need hanging around, so I froze half of my waffles.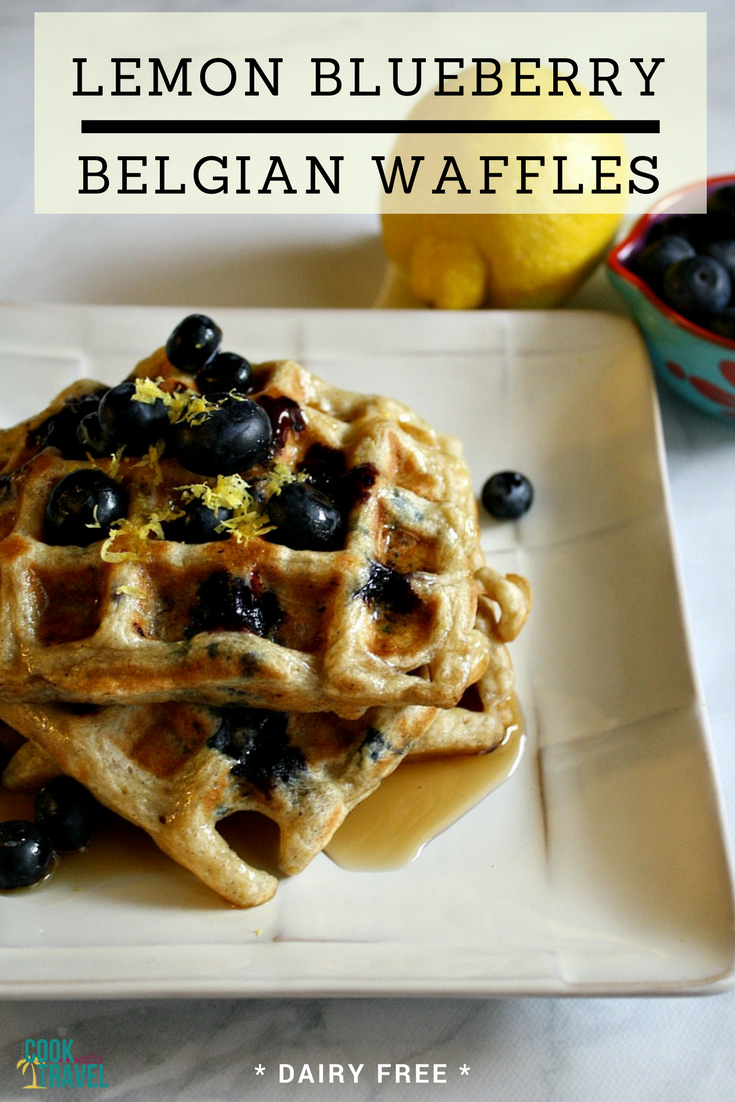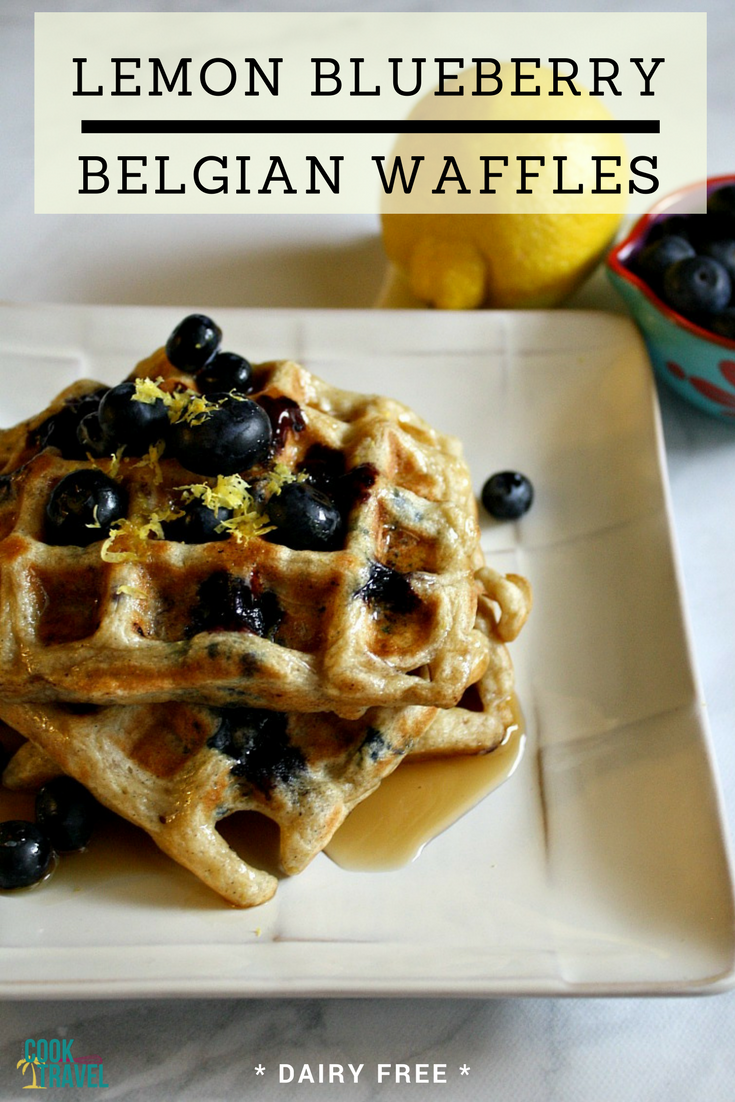 Here's how to freeze homemade waffles like these Lemon Blueberry Belgian Waffles:
Set the waffles you want to freeze in a single layer on a wire cooling rack to completely cool.
While the waffles sit, place a baking sheet in the freezer with a layer of parchment paper on it.
Once the waffles are cool, place them on the parchment paper leaving space between them and let them stay in the freezer for about 6 hours or until they're totally frozen.
Quickly place the waffles in freezer bags and seal making sure to remove as much air as possible. If you have a fresh sealer, definitely use that, and if not you can use a straw to suck out some of the air before sealing your freezer bag. I just got this handheld Foodsaver fresh sealer for Christmas and am loving it!
The waffles should store in the freezer just fine for up to 3 months, and pack them in individual servings for easy eating.
To reheat, bake in the oven at 350 degrees for 10 minutes. OR use your NuWave oven and heat for about 3 minutes or until warm and crispy on the outside.
Not surprisingly, these Lemon Blueberry Belgian Waffles were completely delicious! The lemon flavors helped keep the waffles from feeling too heavy, and the fresh blueberries added a little sweet and tart hint with each bite. I topped mine with some pure maple syrup, more fresh blueberries, and some lemon zest. My stomach was pretty damn happy after this meal, and I have a feeling this recipe is going to become a standard in my kitchen.
So if you love waffles, then you will adore these Lemon Blueberry Belgian Waffles! And if you're in need of a Belgian Waffle maker, I'm pretty happy with my Hamilton Beach waffle iron after whipping up this batch of waffles. Happy Belgian waffle making!
A look back:
One year ago: Grapefruit Rosemary Moscow Mule – Yep, That Happened!
Two years ago: Get Your Soup On with Stuffed Pepper Soup
Three years ago: Spicy Stir-Fry Baby Bok Choy Couldn't Be Easier
Four years ago: 3 Kinds of Goodness in 1 Dish – Gnocchi with Squash and Kale
Five years ago: Oooh, Smoky Corn Chowder!
Six years ago: Chicken and Dumplings … or Along Those Lines



0