Working from home has its advantages. I love having the TV on while I work to provide some background noise. One of my favorite, albeit dangerous, things is to have the Cooking Channel on all day. They have some awesome shows, and one of their new ones is Tia Mowry at Home.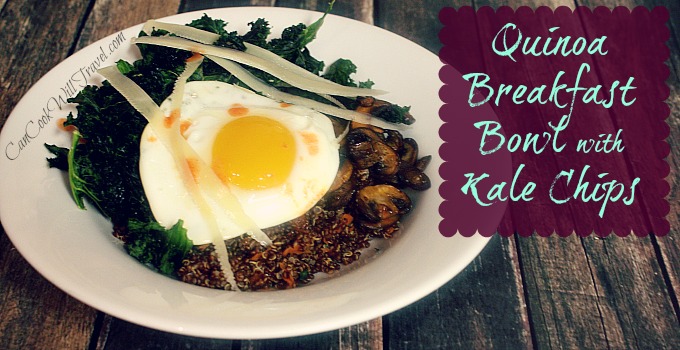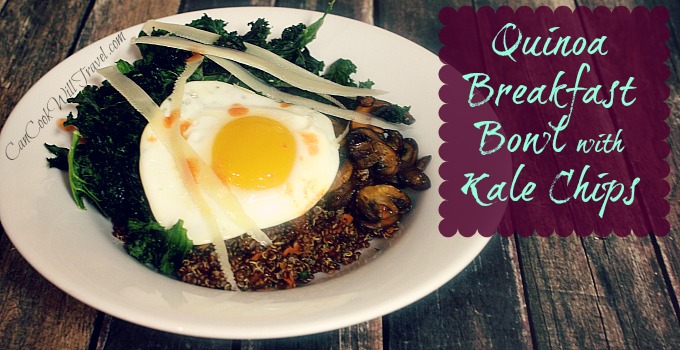 If you're around my age (no comment), then you probably grew up with Tia and Tamara's show, Sister Sister, gracing the telly. It's been fun following their career through reality shows, talk shows, and tv shows and movies they've done. I was pleasantly surprised when I recently saw that Tia had her own brand new cooking show on the Cooking Channel. I've been salivating over the recipes each week, and when this Quinoa Breakfast Bowl with Kale Chips showed up in an episode, I was so excited to try it.
First off, she used red quinoa, which I've been looking for an excuse to try, plus mushrooms (I opted for baby bellas instead of shitakes), crispy kale chips, and a fried egg. The fried egg really sealed the deal for me. I've grown to LOVE that soft yolk making its own sauce as you can tell from the yummy potato and Brussels Sprouts hash along with this Lemon Angel Hair with Fried Egg pasta dish…I highly recommend trying out one or all 3 of these recipes. So freaking good!
This recipe was pretty easy to make. There are really 4 components. The first are the kale chips, and these kale chips ended up being the best I've ever made. There were 3 keys to making these so damn good:
Use pre-bagged, triple washed and cut kale. This is really important because if you wash your own, it's SO DIFFICULT to completely dry off the kale.
I'm usually a big proponent of lining your baking sheets to help with cleanup but after you've massaged the kale with oil, place it directly on the baking sheet. This will help them crisp up better.
Finally, use 2 baking sheets if you have a lot of kale like I did. You don't want to crowd the kale or they are going to keep each other from getting crispy.
While the kale bakes to perfection, the quinoa gets cooked. What I totally loved about what Tia did was that she added flavors to the quinoa as it cooked in the form of shredded carrots and garlic. I have got to start doing this with my quinoa more often.
For the mushrooms, the recipe calls for shitakes, but I think baby bella mushrooms are just as hearty and I like the flavors. It was a great decision. And Tia's tip to let those mushrooms cook for several minutes to get nice and brown on each side was so on point. The flavor and smells were sooo great!
And then came the fried egg. I tend to get nervous about sunny side up eggs, but another great tip from Tia's show was to cook the eggs over a low heat. It takes a bit longer but it allows the egg to thoroughly cook and still result in a runny yolk.
Throw all of the components together in a bowl, top with the egg, some hot sauce and some shaved Parmesan cheese…this was heavenly healthy eating. I served it to my mom too, and we both loved this one.
I can't wait for you to try out the Quinoa Breakfast Bowl with Kale Chips…it will not disappoint. Step by Step instructions and the recipe are in the link!
A look back:
One year ago: Egg and Kale Breakfast Wraps…Get Your Breakfast Wrap On
Two years ago: Hello Comfort Food: Enchilada Pasta Casserole
Three years ago: For the Kale of It
Four years ago: Homemade Pesto…Oh the Varieties!
0