This week I've not felt so well, so that's been a pain and inconvenient. It's so hard to be motivated to do anything when you're fighting sickness. I haven't really been sick so much as dealing with my sinuses, so that's not fun. Luckily I had honey, hot tea, and my neti pot as my close friends this week. And I'd been planning on making this Warm Lemon Pudding all month, and it was perfectly timed!
The day I made this Warm Lemon Pudding was one where I hadn't slept much because my throat was on fire and swallowing was pretty painful. So when I took my first bite, it was another comforting friend to help ease my throat pain. Not only that, this dessert was CRAZY good!
Since it's December, my original thought had been to make something sweet to indulge a bit that wasn't heavy. And this Warm Lemon Pudding seemed like a delightful option. I found it on the blog Seasons & Suppers, and the post inspired me to create a dairy free version. Luckily it all worked out when I needed to whip this up.
I really didn't need much for the recipe that I didn't already have on hand, which I love! I go through lemons like it's nobody's business, so I just needed to pick up extras and I was all set.
This Warm Lemon Pudding has 3 parts to it:
The batter is where all the lemon-filled flavor lives, and I added some vanilla to it along with lemon zest and lemon juice. I also used almond milk, to keep it dairy free along with vegan butter from Earth Balance.
Then egg whites are beaten into stiff peaks in my electric mixer, so they make the batter super airy.
Finally the water bath creates a steamy oven while the Warm Lemon Pudding is baked, and keeps them from drying out in the oven.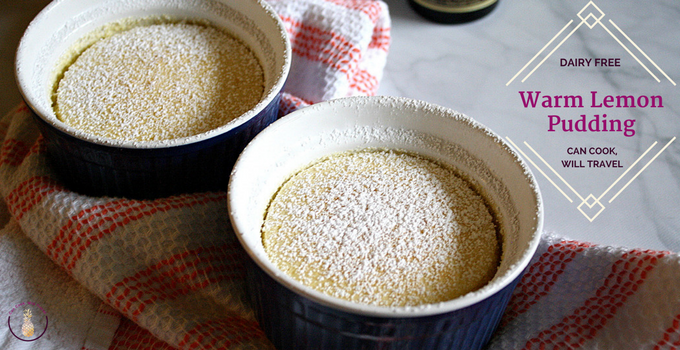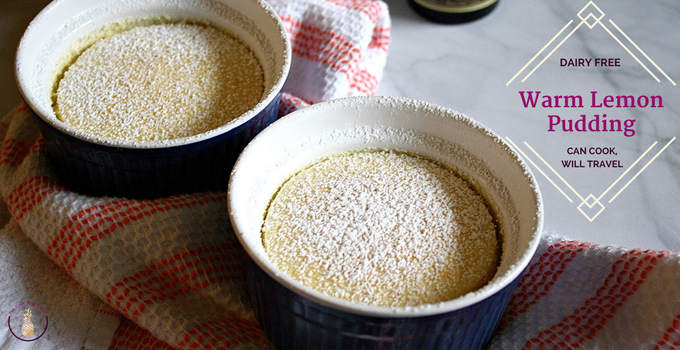 To make the batter, it's a matter of mixing together butter (vegan in my case) and sugar. Then add in egg yolks, lemon zest, salt, flour, milk, vanilla bean paste, and lemon juice (from about 3 lemons). The batter was very runny, but I remembered how thin soufflé batter is, so I figured I was okay. Folding in the stiff egg whites help make the batter a bit thicker and also super light.
The keys are making sure you fold the egg whites in and don't whisk them, because that keeps them light in the batter. And also it is key to get your water bath ready to go and your ramekins buttered, and then carefully transfer them in and out of the oven and onto a cooling rack.
I think my oven cooked these beauties for about 34 minutes and they were just starting to get a little color on the top. I honestly wasn't sure how they'd turn out, but damn this Warm Lemon Pudding is crazy good! The lemon flavor totally shines through yet it's not too tart or too sweet. Such a great balance. So if you're a big fan of lemons, then this recipe is a must-make kinda situation.
The end result as you take your first bite of the Warm Lemon Pudding is a cake-like layer on top with warm, thick pudding on the bottom. I sprinkled mine with a light dusting of powdered sugar so they looked pretty and added a hint of sweetness. After the first bite, this pudding consumed my thoughts, and currently I'm sitting here considering skipping dinner to eat another one. Don't judge me, okay, because I'm sick and clearly not thinking straight!
Overall you get 4-6 ramekins worth of Warm Lemon Pudding depending upon your ramekin size. So I got 5 out of this recipe, and this helps make portion control a breeze. Well unless you're like me and lack a good amount of self control, and then you're contemplating when round 2 will be.
There are a few tools that I found helpful when making this recipe:
Microplane grater, because you want to zest your lemon and it does so with ease.
Hand-held juicer, so you can get those fresh lemons juices in no time.
Ramekins, or you can use one large dish, but I got mine at World Market years ago and they're so cute!
Hand mixer and/or electric mixer are necessary to make the batter and whip up the egg whites. So I actually used both, so I wouldn't have to clean my mixer bowl between making the batter and eggs.
Fine Mesh Sifter so that you can dust your powdered sugar over the top of the finished Warm Lemon Pudding.
Oh my these Warm Lemon Pudding bowls are melt-in-your-mouth good and easy to make. They're the perfect way to satisfy your sweet tooth and indulge with a light dessert recipe. (I'm meaning light in flavor and texture, because there's plenty of sugar here, so it's not a "healthy" recipe.)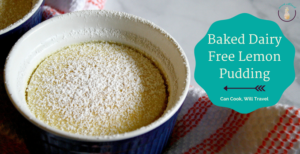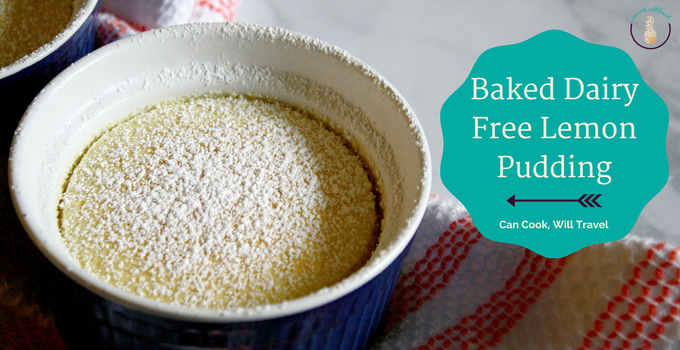 Print
Baked Dairy Free Lemon Pudding
Yield 5 ramekins
Tart meets sweet in this indulgent dairy free lemon pudding that is crazy good!
Ingredients
Pudding Ingredients:
2 Tbsp Vegan Butter, at room temperature (28g) (or regular butter if you prefer)
1 cup Sugar, DIVIDED (225g)
3 large Eggs, separated
1 Tbsp Lemon Zest
1/4 cup All Purpose Flour (25g)
1/4 tsp Salt
1 cup Almond milk (250ml)
1 t. Vanilla Bean Paste
1/2 cup freshly squeezed Lemon Juice (3-4 lemons)
1 Tbsp Powdered Sugar, for garnish
Instructions
Prep Work: Preheat your oven to 350 degrees, and then butter your ramekin dishes and place them in a roasting pan. Then start a large pot of water to simmer on the stove while you make the batter. Then measure a cup of sugar and measure 2 tablespoons of that and set it to the side. Next wash and zest 1/2 a lemon so you have a tablespoon of zest, and then juice enough lemons for 1/2 cup of juice. So that was about 3 lemons for me.

 

The Batter: In a large bowl, mix together the softened butter and sugar (minus the 2 tablespoons) with a handheld or stand mixer, so the mixture is light and fluffy but it's still grainy. Then add the egg yolks one at a time and mix them in. Next mix in the lemon zest. Then add the flour and salt to the bowl, and combine with your batter. Finally add the milk, lemon juice, and vanilla to the bowl and combine the batter. Note that the batter is super runny, so I ended up whisking by hand at the end, so I didn't have liquid all over my counters and me.

 

The Egg Whites: In a clean and dry mixing bowl, add the egg whites and then mix on high until they form soft peaks. Then add the reserved 2 tablespoons of sugar to the whites and continue to whisk until stiff peaks form.

 

Combined Pudding: Then add the egg whites to the batter, and gently take a few minutes to fold them into the batter. Be careful not to whisk but use a spatula so that the batter becomes really light and airy. Now ladle or pour the mixture into your prepared ramekins, and I got about a 1/2 cup per ramekin.

 

Bake: Gently pour the warm water into the bottom of your roasting pan so that it goes halfway up the side of the ramekins. Then carefully transfer the pan to the oven (on the center rack) and bake for 30-45 minutes, depending on the size of the dish(es) you're using. Mine took about 34 minutes until they here slightly firm to the touch and just starting to get some color on top.

 

Finish Up: Remove the finished pudding from the oven, and carefully transfer the ramekins to a wire cooling rack. I place some waxed paper under my cooling rack to catch the powdered sugar, because 10 minutes after cooling you'll dust the Baked Dairy Free Lemon Pudding lightly with the sugar. This helps from making a huge mess on your counters, so that's a fun tip! Serve while they're still warm and then enjoy!
Notes
Quick Tip: Reheating leftover puddings is a cinch, so add them to a 350 degree oven for 3-5 minutes and let them cool for 10 minutes before enjoying.
Courses Dessert
Nutrition Facts
Serving Size 1 ramekin
Amount Per Serving

Calories 268

% Daily Value

Total Fat 8 g

12%

Saturated Fat 2 g

10%

Unsaturated Fat 5 g

Cholesterol 129 mg

43%

Sodium 111 mg

5%

Total Carbohydrates 47 g

16%

Dietary Fiber 1 g

4%

Sugars 41 g

Protein 4 g

8%
* Percent Daily Values are based on a 2,000 calorie diet. Your daily values may be higher or lower depending on your calorie needs.
So indulge and dive in to these Warm Lemon Pudding, and I know you'll be hooked on them just like me! Click the link for the recipe and step by step instruction, so you can be curling up with a bowl of goodness too! Happy baking!
A look back:
One year ago: 12 Minute Chicken & Broccoli = Dinner in a Hurry!
Two years ago: Eggnog Truffles are Always a Good Idea
Three years ago: Ham and Cheese Waffles Hit the Spot Anytime!
Four years ago: Creamy Mushroom Pasta with Caramelized Onions and Spinach – Goodness on a Plate
Five years ago: Brrrr … Homemade French Bread to the Rescue
Six years ago: Cranberry Love
0