I'm taking things way, way back with a memory from my childhood that inspired this Avocado Tuna Salad dish. If you've followed me for a while, then it's clear that I'm a fan of tuna. And I know some of you may think it smells, but I think you get such great flavor and it's an inexpensive grocery item (depending on the brand).
Now I can distinctly recall several people I've lived with over the years who hated the smell of tuna. Such a shame too, since I love making dishes with tuna. So for you tuna haters out there, don't knock it till you try it!
But back to my childhood memory that inspired this recipe, and it takes me way back to my junior high years. There I was on a family vacay with my mom, aunt and uncle, and my sister. I remember that we just had to go to Reno when we were in Nevada, because the adults loved visiting casinos. So my sister and I were left to entertain ourselves, and we did. But once dinner time came, all 5 of us headed to dinner, and I ordered an Avocado Tuna Salad where the tuna salad served in a half of an avocado. My mom had told us about it from a past trip, and I couldn't wait to try it.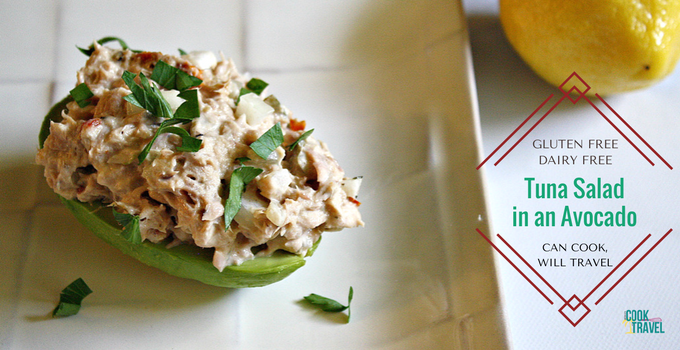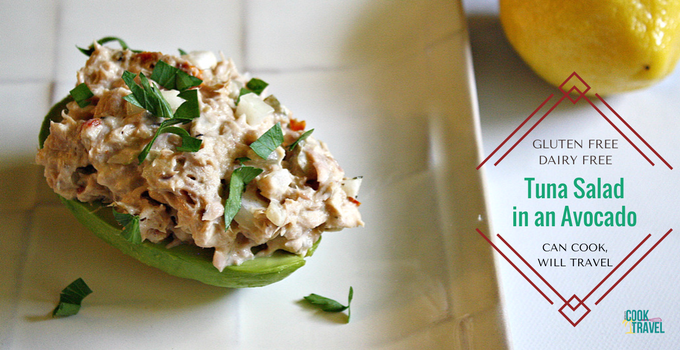 Avocado Tuna Salad was such a crazy cool concept to me as a kid (yes, I was a weirdo even back them). But seriously having tuna on bread made sense, but an avocado suddenly made me realize you could do untraditional stuff with food. And it tasted so good! I mean, how could it not with the creaminess of an avocado?! Maybe this little memory inspired me to love the versatility with cooking perhaps…
So off I went 20+ years later to create my own version of Avocado Tuna Salad, and I was excited to experiment with it! I started with a base of canned tuna, and personally I'm a fan of the regular (non Albacore or white) tuna. And I don't have a huge preference between using tuna packed in oil or water, although it's less messy draining the water packed tuna.
To the tuna I added onion, dill pickle relish, sun-dried tomatoes, mayo, salt and pepper, and a lemon zest vinaigrette. This tuna salad is so freaking good on its own, so add it to bread and you're good to go!
But why would you do that when you can add the tuna salad to an avocado? Not only does using avocado make this dish gluten free, but the creamy avocado helps tame the fishy flavor. Oh my goodness it's such a quick and easy lunch to whip up when you're in a rush. That's actually how I decided to make this for my blog. On a whim I mixed this recipe up, and instantly I felt transported to Reno (ah back in the day!). But making this recipe reminded me how great a simple dish can be.
You've got the bright flavors from the lemon and relish, crunch of the onion, a little salty addition from the Sun-dried tomatoes, and some creaminess from the mayo and avocado. Seriously what a yummy recipe that hits the spot in the Summer when you want a light dish! Love it!
I can't wait for you to make this Avocado Tuna Salad recipe when you're facing a busy day. Whip up the salad in advance, and then cut the avocado right before you are ready to eat. So lunch on the go couldn't be easier! Serve this with an apple or slice up some veggies to snack on too for a super healthy meal. Happy tuna eating!!
A look back:
One year ago: Brie & Nectarine Chicken Quesadilla is a Cinch!
Two years ago: Skinny Poolside Dip . . . We're Gonna Need a Bigger Bowl!
Three years ago: Lemon-Dill Green Beans Makes Summer Very Tasty
Four years ago: Baking Away – Apple Galette with Sour Cherries and Goat Cheese
Five years ago: Say Yes to Sesame Noodles
Six years ago: Fun with Fennel
0