Well I know it's officially Winter when I come down with a cold. It's been a doozy, so I was really wanting something comforting, but also a dish with good flavors so that I could hopefully taste it! I'd been eyeing this Lemon Spinach Orzo for a while now, and felt like it was just the comforting side dish I needed.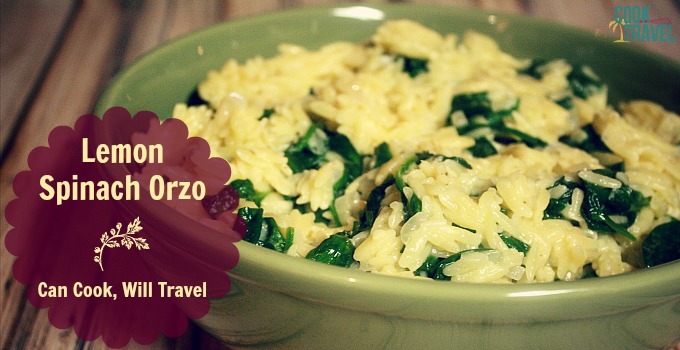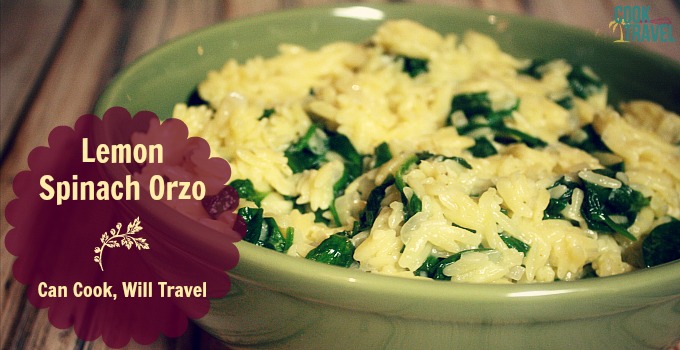 The Lemon Spinach Orzo comes from PureWow. Again I love this site so much, in case you can't tell. (Not just for food, my friends!) I felt called to cook this up this week … it was perfect timing!
If you follow me on Instagram, you have probably noticed my 30 Days of Green Smoothies Challenge I'm doing, so I have tons of spinach on hand. It was meant to be. And if you aren't familiar with orzo, it's basically rice-shaped pasta.
This recipe was pretty easy to make and came together in under 30 minutes from start to finish. Chop up your shallots and garlic. Then it's time to cook!
The shallots first get cooked in olive oil, and then the garlic gets added to it. Stir the uncooked orzo into the shallots and garlic so that it's covered in the oil and mixed well. Then add some white wine to the orzo. You'll want to stir and cook until most of the white wine is absorbed.
At this point, it starts to feel a bit like making Risotto. If you've ever made risotto, then you know that you add a bit of liquid at a time, stir until the liquid is absorbed, add some more and repeat. So here you add some chicken broth, cook and stir regularly and once that is absorbed, add more broth.
Once all the broth is absorbed, stir in the spinach. Then add the remaining ingredients of lemon zest and juice, butter, and Parmesan cheese. Season with salt and pepper, and you've got yourself a kick-ass side dish!


Even though I was sick, I could still taste the bright lemon flavors and creamy texture of the orzo. I loved it! Plus it'd be great with just about any meat dish: steak, chicken breasts, shrimp, pork … whatever trips your trigger!
This Lemon Spinach Orzo will become a favorite of your family's too, I bet. And with 4 cups of spinach stirred into the pasta, it's a great way to sneak some healthy greens into your family's diet. Be sure to click that link for the recipe and step by step instructions. Happy "Orzotto" making!
A look back:
One year ago: Pomegranate Scones Make Breakfast Delish!
Two years ago: Warming Up with Spinach Tomato Orzo … Yum!
Three years ago: Quick, Healthy & Easy – Salmon & Broccoli
Four years ago: Brussels Sprouts Two Ways
Five years ago: Perfecting Gnocchi
1