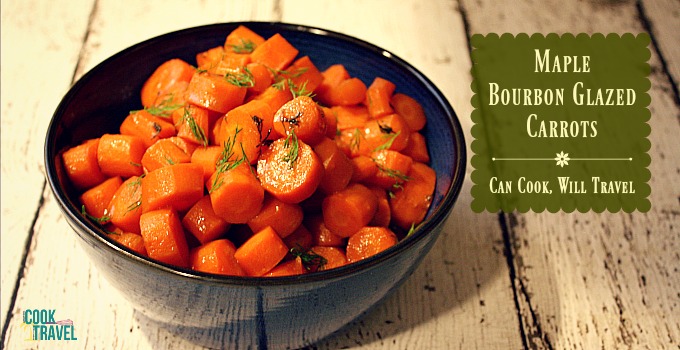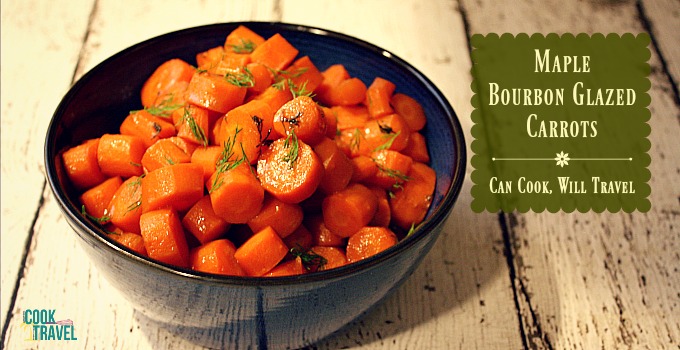 (This Maple Bourbon Glazed Carrots recipe can be found on the site Cooking and Beer here.)
Step by Step Instructions:

Your dinner is about to get a whole lot tastier, because this Maple Bourbon Glazed Carrots dish will be on the table in no time. Here's what you'll need: Maple Syrup, 1 1/2 pounds of sliced Carrots, Bourbon, Salt & Pepper, 2 teaspoons of chopped Dill, Brown Sugar, and 1 stick of unsalted Butter.

Start off this Maple Bourbon Glazed Carrots dish by adding 3/4 cup of your favorite Bourbon to a skillet, while heating the pan over medium to medium-high heat.

Now you want to let the Bourbon reduce in half, so that some of the alcohol taste burns off. Speaking from experience, keep an eye on the pan so that it doesn't reduce too fast. Anywhere from 4-10 minutes in you'll be good, so stay close.

Here is the reduced bourbon.

Next add the butter, 1/4 cup of brown sugar and 1/4 cup of maple syrup to the bourbon, so that you can create the glaze.

Then stir and allow the butter to melt.

Once the butter has melted, add the carrots, dill, and salt and pepper to the pan. Stir so that the carrots are coated in the glaze. Reduce the heat and stir occasionally for about 15 to 20 minutes.

Once the Maple Bourbon Glazed Carrots are tender but still have a slight bite, they are all done. Serve right away and top with more fresh dill right before enjoying them. Happy veggie eating!!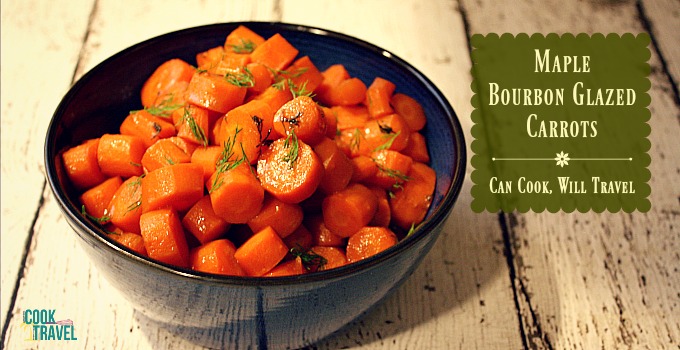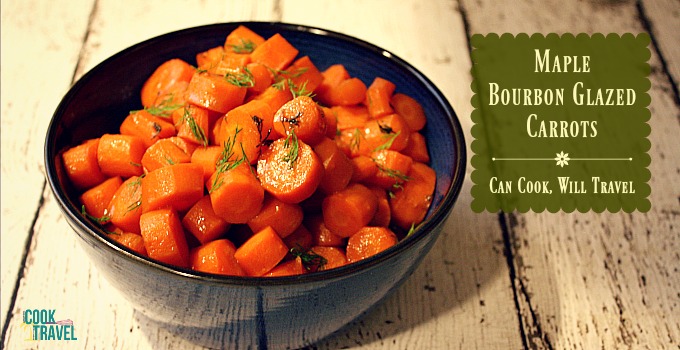 Maple Bourbon Glazed Carrots
Oh these carrots are seriously amazing and are perfect for Thanksgiving, any holiday, or any dinner honestly!
Ingredients
¾ cup good-quality Bourbon or Whiskey
½ cup unsalted Butter
¼ cup Maple Syrup
¼ cup Brown Sugar
Salt
Black pepper
2 teaspoons chopped Dill (plus more for garnish)
1½ pounds Carrots, peeled and sliced into ½ inch pieces
Preparation Instructions
Begin by chopping your dill and slicing your carrots.
Then in a large skillet, heat the bourbon over medium to medium-high heat until the liquid reduces in half. It will take 4-10 minutes, but keep a close eye on the skillet.
Add the butter, maple syrup, and brown sugar to the bourbon and stir until the butter melts. Reduce the heat to medium-low and add the carrots, dill, and salt and pepper (to taste).
Stir the mixture occasionally and let the carrots cook for 15-20 minutes or until they are tender. Serve right away and top with fresh dill right before serving. Enjoy!
7