This week I had been craving some lemon spaghetti pretty seriously. I am pretty sure this dish was the first one by Giada Di Laurentiis that I ever attempted several years ago, and it pretty much solidified my love for Giada. Everything I make by her is crazy good, and it all began with Lemon Spaghetti. And can I just apologize now for waiting so long to share a new pasta recipe?! Nearly 4 months…this pasta addict is shocked!
Okay, I know you're saying: Um, Kelli that is linguine, not spaghetti… Yes, I know but it's what we had on hand and I love linguine, and I just knew it'd still work like a charm in this recipe. Happy to report that I was right!!
Here is what is great about lemon spaghetti, speaking from years of experiencing in whipping it up. First off, it's crazy easy to make. I made it over my lunch break with time to spare, if that helps you see how quickly it comes together. And second, it is such a perfect main dish or side dish that is light, bright, and refreshing. That brightness comes from the combo of lemon juice and lemon zest and adding basil, one of my all-time favorite herbs/smells, just takes the pasta to another level. That combo is perfectly Summer!
You can mix up the lemon sauce really quickly and do so in advance if you want. Just whisk together olive oil, lemon juice, grated Parmesan cheese, and salt and pepper. To me the Parmesan is absolutely killer in this dish, especially if you have freshly-grated Parmesan. I've made it with the kind in the green can from the store too, and it works just fine. But there is something so magical about fresh Parmesan cheese that really sends every dish it's in above and beyond.
When you're ready to eat, cook your spaghetti (or linguine…haha) according to your package's instructions. Once cooked, transfer the pasta to the bowl with the lemon sauce and toss with some lemon zest and fresh, chopped basil until it's well combined. That's it, my friends! This dish is ready to go and seriously so good.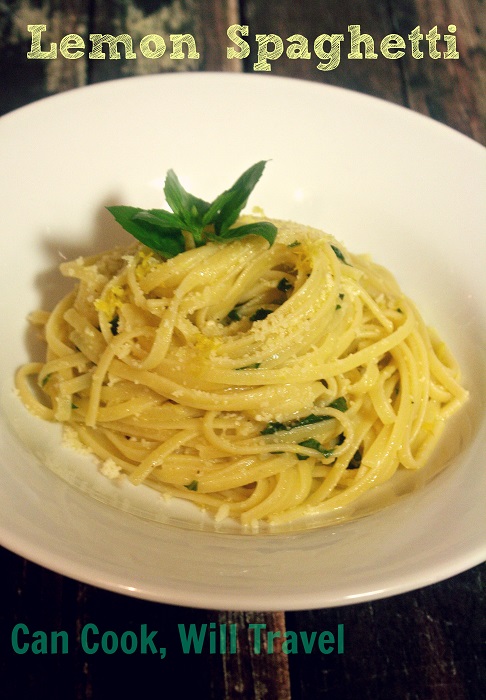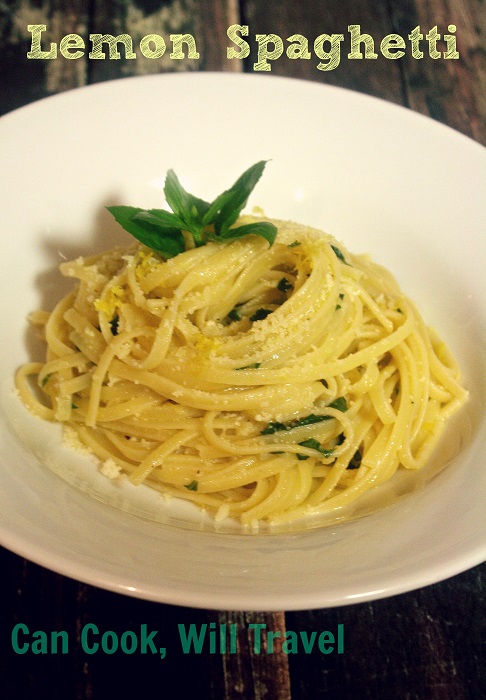 I really am not sure why it took me so long to feature this recipe on my blog, other than I love experimenting with new recipes and flavors. But the time had come that you understand the fabulousness of lemon spaghetti. I often will make a meal of this dish alone, but it is great with just about any protein I can think of. Topped with shrimp, served alongside a steak (hello!) or pork chop, or topped with a grilled chicken breast would be amazing too. (Okay now I'm getting hungry…good thing I have some lemon spaghetti leftovers in the fridge.)
So stop what you're doing, and go get yourself everything you need for this Lemon Spaghetti recipe! Be sure to click that link for the recipe and step by step photos and instructions. Seriously so good! Happy (pasta) twirling!
A look back:
One year ago: Spicy Basil Chicken – Tell Me More!
Two years ago: Pasta + A Fried Egg = Lemon Parmesan Angel Hair Deliciousness
Three years: Blueberry Lemon Bundt Cake = One Stress Free Girl!
Four years ago: Learning to Love Salad – Part 4: Chicken and Couscous Salad
0