Happy November, my friend! I'm starting a new series called "What to Cook In…", and you're in for a treat! This month's What to Cook in November post is our intro to this series, where I share recipes that are perfect for you to whip up this month at home.
After closing in on 7 years of blogging and sharing recipes each week, I've amassed quite the culinary collection. So in this series I'm highlighting some of my favorite recipes over the life of Can Cook, Will Travel. These are recipes that feature seasonal ingredients and that I'm betting you're going to love as much as I do.
So you may be asking: What's in season right now? Here are a few fruits and veggies that are abundant this time of year.
Apples
Artichokes
Avocado
Beets
Bok Choy
Broccoli
Brussels Sprouts
Cabbage
Carrots
Cranberries
Fennel
Lemons
Orange
Pomegranate
Potatoes
Squash
Turnips
Yams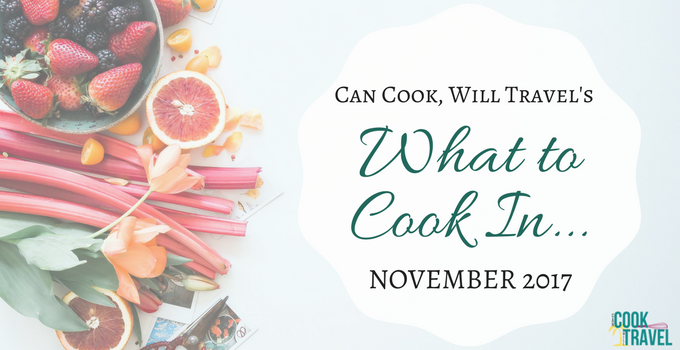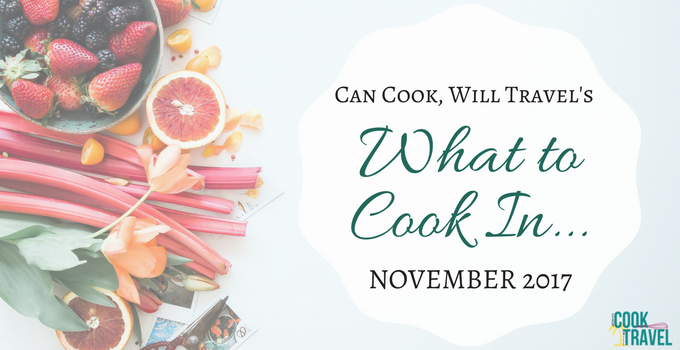 I'm a huge fan of root vegetables, which are in season in the cooler months. They make perfect sides this time of year, so I'm featuring 2 of my favorites for this month's What to Cook in November feature: Squash and Beets!
And to me, nothing says "let's get ready for Thanksgiving" more than 2 of my favorite fruits: Apples and Cranberries! So I'm sharing TONS of recipes featuring these tart and sweet ingredients.
What to Cook in November Recipes:
Breakfast:
If you love apple pie and pancakes, then you're about to be in breakfast heaven! These Apple Pie Pancakes cause your kitchen to smell like you just baked a pie, and they're fabulous!
Enjoying a slice of fruit bread like this Cranberry Orange Bread easily makes breakfast a treat! A little tart, sweet, and moist, this bread is fantastic!
My love for scones is a very real thing, and these Cranberry Scones are divine! They feature fresh cranberries in a buttery scone that I could probably eat on the daily.
If you prefer your treats to be a bit more moist and muffin-y, then these Fresh Cranberry Muffins are a great option! They're a little tart yet totally sweet and a breeze to make!
Side Dishes:
One of my favorite Thanksgiving side is cranberry sauce, and this Cranberry Sauce with Apples takes this side to a whole new level. It's more sweet and great on its own or as a topping for some roasted turkey!
Kale Salad with Warm Cranberry Vinaigrette is a sturdy salad that holds up to warm vinaigrette. With shallots, dried cranberries, and goat cheese, this salad hits the spot as a side or a main dish.
I made this recipe years ago, and I still think about Roasted Beets with Oranges and Goat Cheese. It's tart yet earthy and the creamy goat cheese is the perfect accompaniment to balance it all out!
This Smokey Roasted Butternut Squash features one of my all-time favorite spices: Smoked Paprika! If you don't have this spice on hand or don't use it often, then you must give it a try in this recipe. It is a healthy and totally delicious side that's perfect for Thanksgiving!
My latest salad recipe here on the blog is this Kale Autumn Salad with roasted butternut squash and fennel. Both of these ingredients are in season along with apples, dried cranberries, and pumpkin seeds. And when you combine it with a lemon maple dijon dressing and a poached egg over the top, your life starts to taste even better!
Main Meals:
I grew up on acorn squash, where we'd roast it in the oven and then eat it with some butter and brown sugar. This Apple & Bacon Stuffed Acorn Squash recipe suddenly turns a delicious ingredient into a star in this dish! I mean it has apples and bacon stuffed inside it, so it's the definition of Fall if you ask me!
This Roasted Veggie Turkey Quinoa Bowl features beats along with whatever other veggies you love. They're roasted and then combined with quinoa, ground turkey, and a lemon vinaigrette that leave you with a healthy main dish that you're sure to happily devour!
One of the first butternut squash recipes I made on my blog is this Penne with Butternut Squash and Goat cheese dish. Oh. Holy. Moly! If you love pasta and goat cheese, then don't think any further and just make it straight away!
I created this Butternut Squash Chicken Quinoa Bowl as a way to enjoy roasted squash in a uber healthy dish. It's light, bright, good-for-you, packed with veggies and lean protein, and I'm a huge fan of it.
Desserts:
When I first made this Apple-Cranberry Pie several years ago, my sister and I declared it to be our second favorite pie of all time. (Behind gooseberry pie, in case you're curious.) With a layer of cranberries topped with a layer of cinnamon-y apples, the sweet and tart flavors form the perfect pie! Make this – please!
I'd totally forgotten about this glorious Apple Thyme Cake, which makes me sad. After all with the sweet apple and earthy thyme all mixed into a cake, there's literally nothing to not adore about this dessert!
Ready for the easiest pie of your life? Great because these Mini Apple Pies couldn't be more simple to make. You wrap apple wedges with pre-made pie crust and then add some cinnamon sugar, and your house will smell fabulous. Even better, these little guys are way healthier than traditional apple pie, and are so great for portion control!
Drinks:
If I could be a drink, I'd probably be this Cranberry Moscow Mule. It's tart, not-too-sweet, and super easy to make! I'll be making this pretty regularly this season, because it's crazy good! And I also adore Moscow mules and my copper mugs, so there are those fun facts as well.
This Big Sister Cocktail packs a bit of a punch with its extra bit of sweetness and tart kick from lemon and orange juice. Shake it up, serve it over ice and cocktail hour has begun!
With tons of apple, cranberry, beet, and butternut squash dishes to whip up, I'm hoping the question of "What to Cook in November "is answered! You get hearty meals, tart and sweet notes, and then tons of roasted veggie options. Plus plenty of main meals and side dishes for entertaining and parties this year.
And if you're in search of the perfect copper mugs to have on hand, then here are the ones I own:
Now that you know What to cook in November, I'd love to hear from you and find out which of these seasonal ingredients you love the most! Any favorite seasonal dishes you enjoy making? Comment and let's carry on the conversation below!
Stay inspired, grab some seasonal ingredients, & then start cooking!
~Kelli
0