With Thanksgiving this week, I stumbled upon a great recipe with the oh-so-addictive Pinterest site that I had to make. I was looking for something that I could create quickly, cheaply, and also not in my own kitchen.
I'm visiting my parents for the holiday and I wanted to be able to make a recipe that wouldn't take over my mom's kitchen but would also be a crowd-pleaser. This mini apple pie recipe (which I found on the site Cookin Up North) looked so easy and fun and were right up my alley.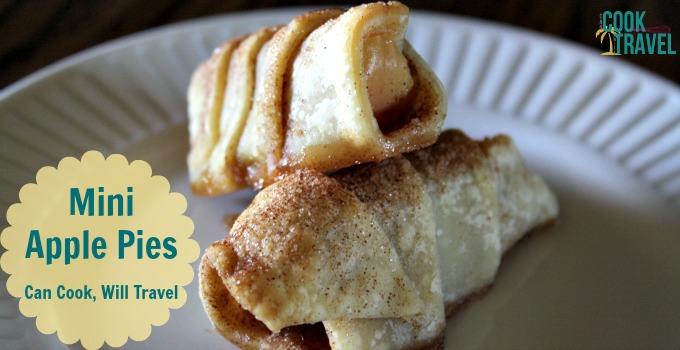 Very few ingredients are required to make the mini pie. I bought pre-made pie crusts, coated one side with melted butter and cinnamon sugar, and cut them into 16 one-inch wide strips that were about 8 inches long. Then I used an apple slicer to cut two apples in wedges. The wedges then get wrapped with pie crust and topped with a little more butter and cinnamon sugar. They are then baked for 15 minutes or until cooked and slightly brown. And there you go…mini apple pies.
No pie tins, lattice-work, or pie filling is required. You will end up with sixteen individual mini apple pies. I used Braeburn apples, but any apples that you prefer for baking will work just fine. These tiny desserts are fabulous for portion control and truly do taste like a tiny pie. I love this dish when you're looking for a dessert that is like finger food. It makes it even more fun to eat since they are already individually portioned.
I also enjoyed that these little treats felt like they were a bit healthier than a normal pie. Each one is less than 1/16th of a pie crust. The recipe calls for a total of 3 tablespoons of butter and 1/2 cup of granulated sugar, and just as much was left in the bowls or on the counter than was on the pie crust. The filling of these mini pies is simply 1/8th of an apple and a little butter and cinnamon sugar mixture. Thus you're not eating a heavy, fattening pie filling but are truly tasting the fruit itself. I didn't peel my apples, and I preferred the peel on them so they didn't fall apart. Plus they were a total hit around our dining table.
This dessert is such a great fall treat, and all you need to do is click here for the recipe and step by step instructions.
0