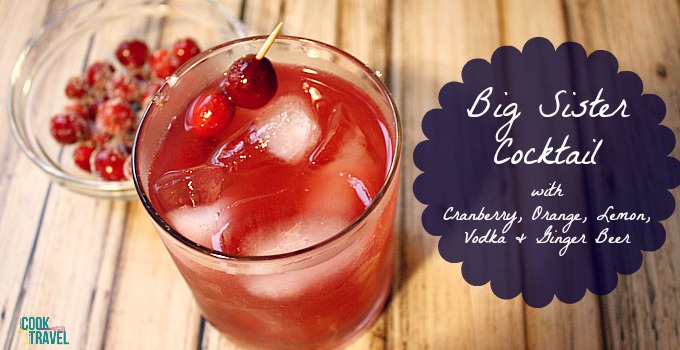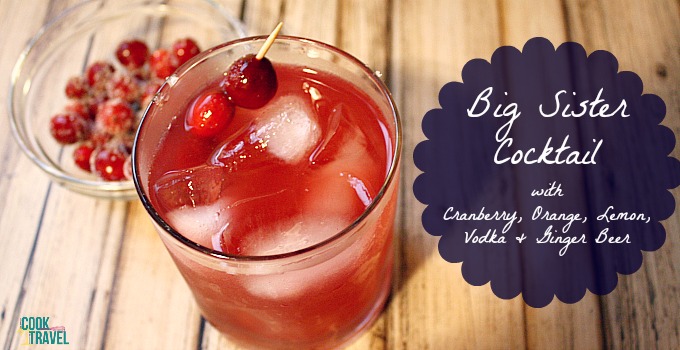 (This Big Sister Cocktail can be found on the site Vanilla and Bean here.)
Step by Step Instructions:

Get ready to kick back and relax with this The Big Sister Cocktail, because it's a cinch to make. Here's what you'll need: Ginger Beer, Vodka, Cranberry Juice, Simple Syrup, Sugared Cranberries (optional for garnish), an Orange and a Lemon.

This Big Sister Cocktail comes together in a flash, and while measuring out all of the ingredients is the most time consuming part, it's still very quick. So start off by measuring one ounce of freshly squeezed orange juice.

You'll need a cocktail shaker to help you mix away, so add some ice to yours. Then add the orange juice to the shaker.

Next up is 2 1/2 ounces of cranberry juice, so it gets added to the shaker too.

Measure out about an ounce of ginger beer, and then pour that into your cocktail shaker.

The other alcohol element is in the form of vodka, so go ahead and add 1 1/2 ounces to the shaker. If you don't go with the citrus vodka, just be sure to add an extra squeeze of lemon to the cocktail before serving it.

Next up is adding 1/4 ounce of simple syrup to your cocktail shaker, so that you get a nice balance of sweetness. Feel free to add more simple syrup at the end if you need to, because you might find it needs to be a little sweeter.

Finally you'll add a few drops of lemon juice to the The Big Sister Cocktail to brighten the flavors.

Pop the top and lid of the shaker on, and then give it 3 or 4 good shakes.

Then you're ready to go! The chilled Big Sister Cocktail can be poured over ice, and then served with some skewered sugared cranberries for garnish and enjoy! Happy shaking!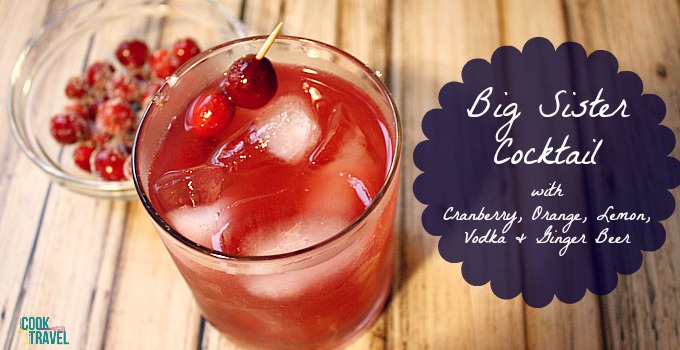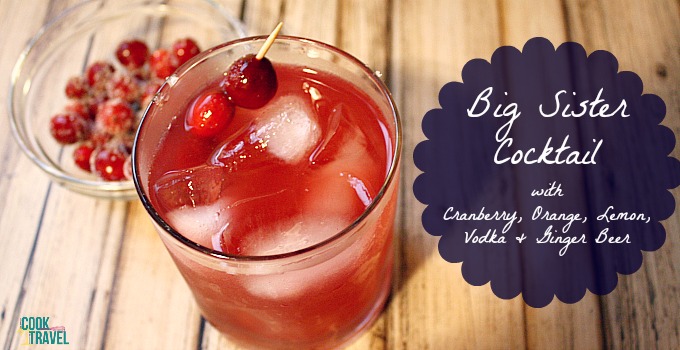 Big Sister Cocktail
Fruity, tangy, and sweet . . . this cocktail packs a punch and is delicious!
Ingredients
2½ oz Cranberry Juice (70g)
1 oz Fresh Squeezed Orange Juice (28g)
A few drops of fresh Lemon Juice
¼ oz Simple Syrup 7g (I used the syrup from making the sugared cranberries…see note for how to make your own)
1 oz Ginger Beer (28g)
1½ oz Citrus Vodka (70g) (Or use regular vodka and add an extra few drops of lemon juice)
3-4 Sugared Cranberries skewered (for garnish)
Preparation Instructions
In your cocktail shaker throw in some ice, and then add the cranberry juice, orange juice, lemon juice, simple syrup, ginger beer, and vodka. If you user regular vodka over citrus vodka, then add an extra splash of lemon juice.
Put the lid on your shaker, and then give it 3-4 shakes.
If you taste the cocktail and think it's too tangy, then and add more simple syrup.
Finally Serve over ice and garnish with some skewered sugared cranberries. Enjoy!
Notes
If you are skipping the sugared cranberries, make your own simple syrup really easily. Just boil ¼ cup of water and ¼ cup of sugar (raw cane sugar works well), and then simmer and whisk until the sugar is dissolved. Let the syrup cool and store it in the fridge for up to 2 weeks.

For the sugared cranberries recipe, check it out here: http://vanillaandbean.com/sugared-cranberries/
5