Apple pie anytime without the all of that pie-related guilt? Yes, please!
I obviously have had Fall and Thanksgiving on the brain when it comes to food, especially apple and pumpkin recipes. And I was definitely itching to make something new with apples. The ideas were swirling until I landed on this Apple Pie Pancakes recipe from Averie Cooks (thanks Pinterest!)… there was no looking back!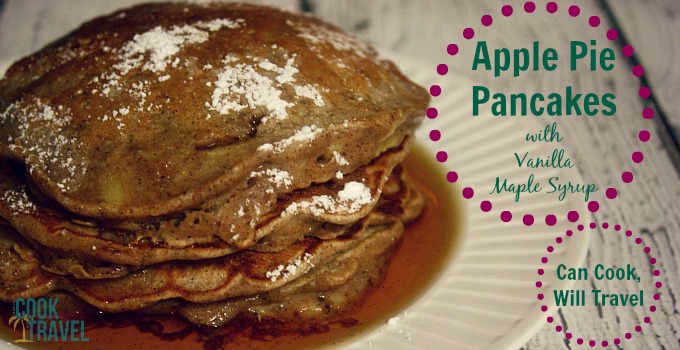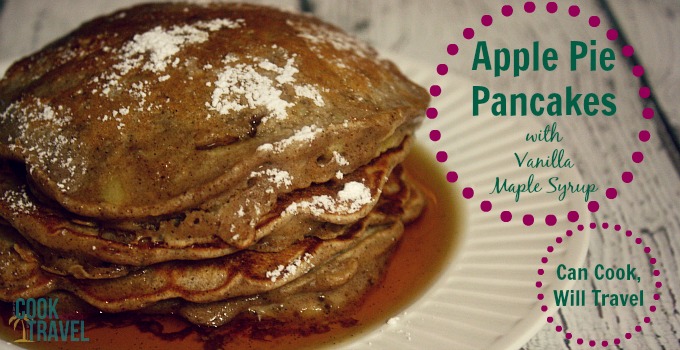 Whipping up pancakes and waffles is so easy and there are so many variations that it makes them really fun to make. And I'm always happy to have a new recipe in my breakfast food arsenal. So away I went with these pancakes.
And they were a cinch to make! I first whisked the dry ingredients together in a bowl, which included flour, brown sugar, baking powder, cinnamon, ground cloves, and freshly grated nutmeg. I did lessen the amount of nutmeg the recipe called for as it's pretty strong especially when freshly grated.
Then the wet ingredients are whisked including milk, an egg, melted butter and vanilla bean paste. Then stir the wet and dry ingredients together. Finally fold in grated apple and the batter is complete! A note on the apple is that the recipe grated it with the skin on, and I opted to peel it. Either way you'll be just fine!
Cooking the pancakes is pretty straightforward, and I got 8 pancakes out of this recipe. (You may need to double or triple the recipe if you have a lot of mouths to feed.) You can serve this with your favorite butter and syrup. I opted to make the vanilla maple syrup that was featured in the blog post I found. It was insanely easy by just mixing vanilla with some maple syrup. Ta da – kicked up maple syrup! The link to the recipe below includes this easy syrup.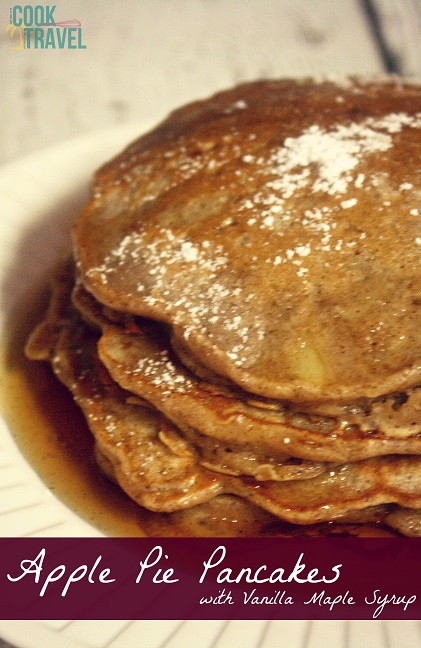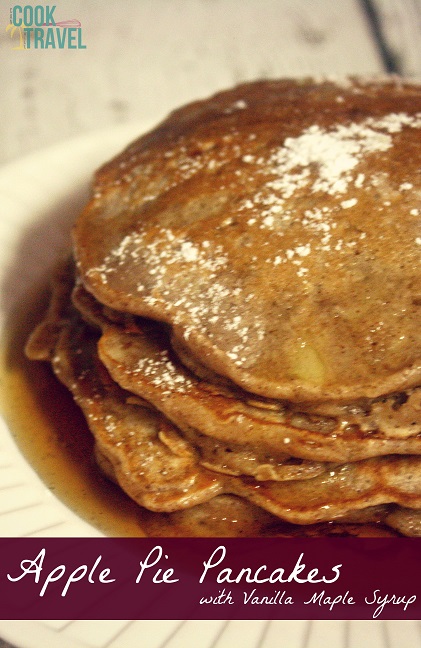 The taste of these pancakes was fabulous. Hearty and filling, and definitely had that apple pie flavor. The bits of apple are great (I used granny smith apples) and the cinnamon, nutmeg, and clove are definitely a nod to the classic pie. Topped with the vanilla maple syrup, it was a winning breakfast!
I can't wait for you to try this Apple Pie Pancakes recipe with Vanilla Maple Syrup out too. The adults AND kids in your life will be big fans! Happy breakfasting!
A look back:
One year ago: Creamy Broccoli Pasta Couldn't Be Easier
Two years ago: Breaking Tradition with Sausage, Spinach and Feta Quiche
Three years ago: Apple Cranberry Pie … Happy Thanksgiving to Me!
Four years ago: Mini Apple Pies Are Something to be Thankful For
1