So this was an exciting week for me. I made my first pie! I know, I know…you'd think as much as I love to bake that I would have baked tons of pies. I've helped my mom occasionally on a pie but haven't made my own from start to finish.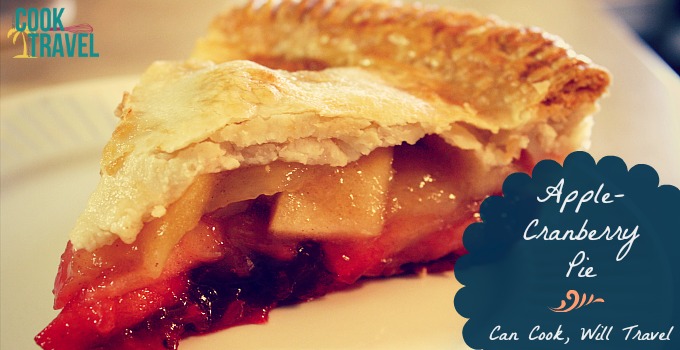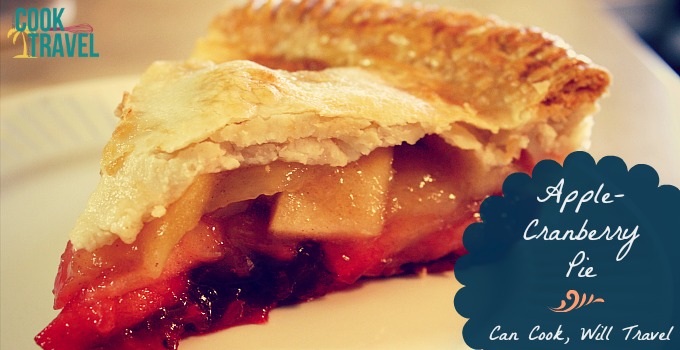 I'll be honest, with it being Thanksgiving this week, I didn't have time to make my own crust (baby steps, okay?), so I used pre-made crust. First thing I am thankful for this week is pre-made, refrigerated pie crust…what a lifesaver! What really caused me to finally make a pie was when I saw a recipe for Apple-Cranberry Pie from America's Test Kitchen. I knew that from this source it had to be a delicious pie, and a great one for me to start with.
Not only did this pie scream to be made for Thanksgiving week, but it also has cranberries, which I adore. I absolutely loved the fact that the tartness of the cranberries helped keep the apple filling from being overly sweet. This was a crazy good pie! Second thing I'm thankful for this week is cranberries. Their lovely tartness is good in SO MANY recipes!
I also made the two fillings ahead of time, which is so fabulous this time of year since we are all so busy. The apple filling gets cooked in the microwave (genius!), and the cranberry filling is cooked on the stovetop and comes together in a snap. Both fillings need to be cooled before the pie can be baked, so when they were cooled, I refrigerated them and they just need to be used in 2 days.
The pie was easy to put together and pretty standard for making a pie. Just put one crust in your pie pan, then spread the cranberry filling over the bottom of the crust in an even layer. Then the apple filling is added on top of the cranberry layer and spread evenly. The apple filling will need to be mounded slightly over the middle of the pie. Then the second crust is laid over the top of the pie, the edges are folded under and crimped. Bake away and ta-da…apple-cranberry pie! And it's so pretty!
Truly this pie is now one of my favorites (although gooseberry is still at the top of my list). Check out the recipe and step by step instructions by clicking here!
What I was cooking up a year ago: Mini Apple Pies are Something to be Thankful For
If you're looking for a healthier apple pie, check out these adorable and crazy easy mini apple pies. They are tasty and don't require peeling apples. Plus they are great for portion control. This would be a fun way to get kids to start baking, too. Hope you enjoy!!
1