So the title pretty much sums up my cooking adventure this week. I had been itching to do some baking, and this week I was drooling, I mean scrolling, through Spoon Fork Bacon's site when this recipe popped up in front of me. I just had to try it.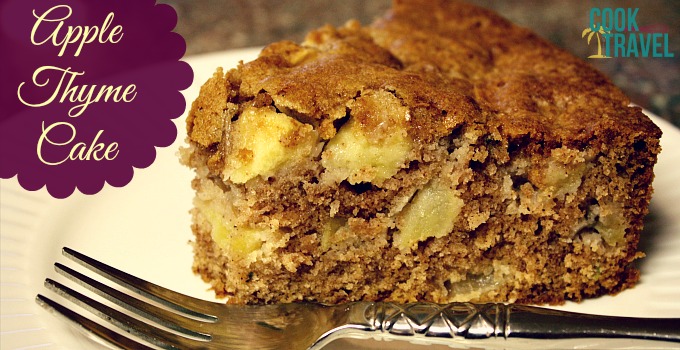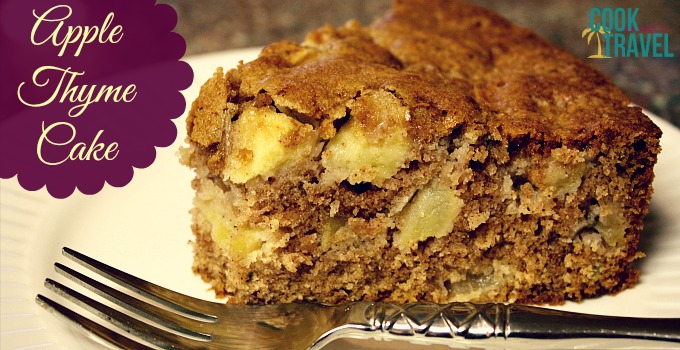 A note on Spoon Fork Bacon. First off, I love the name of the blog. Bacon anything can't be a bad thing. Second, these ladies are fantastic at putting together really unique dishes that taste fabulous, so I knew that this cake would be no different. Definitely go check out their blog. I'm sure you'll discover some really cool recipes, just like I do every time I mosey on over.
You don't often see people incorporating fresh herbs into their baking, and I was so incredibly intrigued by an apple and thyme combo that I went to the store as quickly as I could to grab what few ingredients I needed.
The cake comes together pretty quickly. The only real prep work was measuring the flour and sugar, and then chopping the thyme and finally peeling and dicing two golden delicious apples. Then just sift your dry ingredients, mix your wet ingredients together, slowly stir in the dry ingredients, and then fold in the apple and thyme. Toss it into a round cake pan and bake away. This was seriously so good that I couldn't resist taking a bite before my first picture of the piece of cake…clearly I have very little self-restraint!
A couple of things I should mention about my experience baking this cake: First, I didn't have a 10-inch round pan, so I used a 9-inch pan. I had to bake it quite a bit longer but once the cake pulled away from the sides of the pan slightly and a toothpick inserted in the center of the cake comes out clean, then you're all set. The recipe recommends baking the cake for 20-25 minutes, but I easily baked it for 35-40 minutes since the cake pan was smaller so it was cooked throughout.
Second, I cut up my apples prior to mixing the batter together, so if you do that just sprinkle some lemon juice over them and toss the apples with your hands so that the apples do not turn brown. Oh the wonders of lemons!
Third, the original recipe calls for a caramel sauce to drizzle over the cake. I was making my caramel sauce and accidentally burned it…whoops! So I was feeling rebellious and ate a piece sans caramel sauce, and it turned out to be a happy accident. You see, I really think that caramel sauce would have overpowered the cake a bit. The cake is super moist, and the apples and thyme flavors were so delicious yet subtle together that I think the caramel sauce might have caused the thyme from fully shining as it should. It's totally up to you and I'm including the caramel sauce recipe in case you wanted to try it with the cake…but fear not if you're trying to save on fat and carbs, the cake will be absolutely delightful without the sauce. Gotta love those happy accidents!
Get into the Fall spirit with this delicious cake by clicking here for the recipe and step by step instructions.
What I was cooking up a year ago: Chili Night

I was welcoming in Fall with my Chili Night last year. This consisted of a white chicken chili recipe that was absolutely delicious and was chock full of flavor (and spice) and was also rich and warmed you to the core. Then I accompanied it with a pumpkin cornbread that just made my stomach very happy. With a subtle pumpkin flavor, it was fast and tasted oh-so-good with my chili. Seriously these were so good!
0