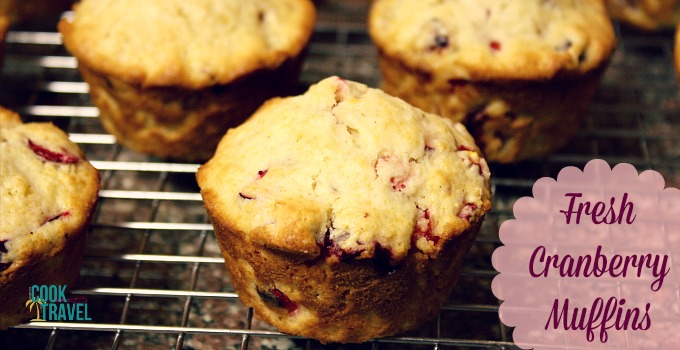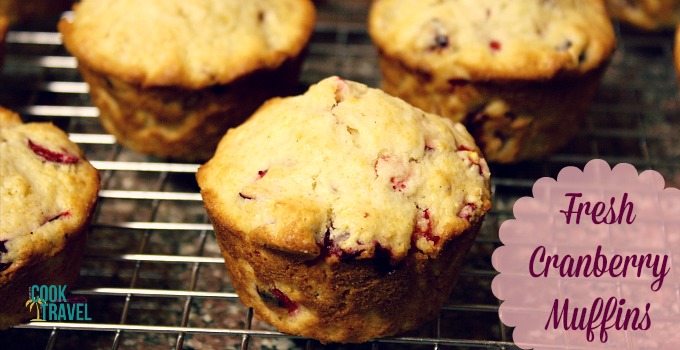 (Recipe can be found on the Cooking Light site here.)
Step by Step Instructions:


To make these delicious Fresh Cranberry Muffins, the following ingredients are needed: 1 cup of chopped Cranberries, 2 cups of All-Purpose Flour, 1 teaspoon of grated orange rind, 2/3 cup of Sugar, 1/4 teaspoon of Salt, 2/3 cup Milk (I used Skim), 2 teaspoons Baking Powder, 1 beaten Egg, 1/4 cup melted Butter, and 1/2 teaspoon vanilla extract (I used vanilla bean paste, which is so good!).

Begin by preheating the oven to 400 degrees. In a bowl, combine the flour, sugar, baking powder, and salt in a large bowl and whisk.

Then add the cranberries to the dry ingredients and stir with a wooden spoon.

Make a well in the flour and add the milk, butter, orange rind, vanilla extract.

Then stir with a wooden spoon until the batter is just combined. Don't overwork the batter, so that it makes nice, fluffy muffins. (Much better than rock hard muffins.)

Spoon the batter evenly into the muffin tins. Then bake the muffins for about 18 minutes or until the muffins spring back when touched lightly.

Remove the fresh cranberry muffins from the pan immediately and let them cool on a wire rack. Then eat one, enjoy, and repeat!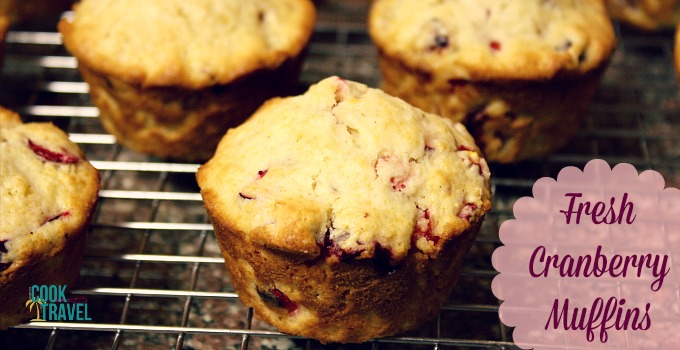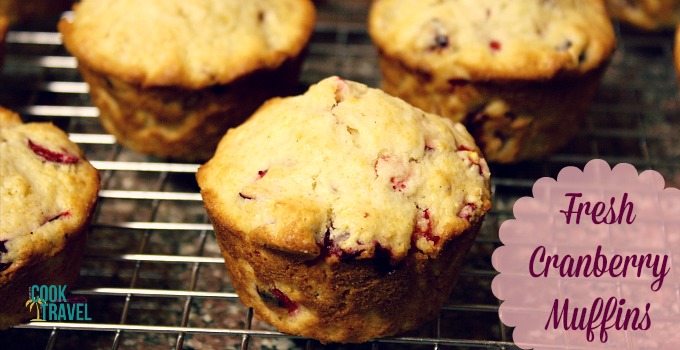 Fresh Cranberry Muffins
Nothing is better than homemade muffins, and these fresh cranberry muffins are fluffy and bright and delicious!
Ingredients
2 cups all-purpose flour
⅔ cup sugar
2 teaspoons baking powder
¼ teaspoon salt
1 cup chopped fresh cranberries
⅔ cup 2% reduced-fat milk
¼ cup butter or stick margarine, melted
1 teaspoon grated orange rind
½ teaspoon vanilla extract
1 large egg, lightly beaten
Cooking spray
Preparation Instructions
Preheat oven to 400°.
Lightly spoon flour into dry measuring cups; level with a knife. Combine flour, sugar, baking powder, and salt in a large bowl; stir well with a whisk.
Stir in cranberries; make a well in center of mixture.
Combine milk, butter, rind, vanilla, and egg; add to flour mixture, stirring just until moist.
Spoon batter into 12 muffin cups coated with cooking spray. Bake at 400° for 18 minutes or until muffins spring back when touched lightly in center. Remove muffins from pan immediately; place on a wire rack.
Notes
These muffins freeze well. Bake them ahead, cool completely, and store in freezer bags. To serve, thaw at room temperature. Reheat in aluminum foil at 300º for 10 to 15 minutes or until thoroughly heated.
Nutrition Information
Serving size:
1 muffin
Calories:
174
Fat:
5g
Saturated fat:
2.7g
Carbohydrates:
29.2g
Fiber:
0.7g
Protein:
3.2g
Cholesterol:
30mg
0