Welcome to another installment of my blog series "What to Cook In…" where we're talking about What to Cook in December. And after I compiled my list, the answer to this is there's a TON to cook in December.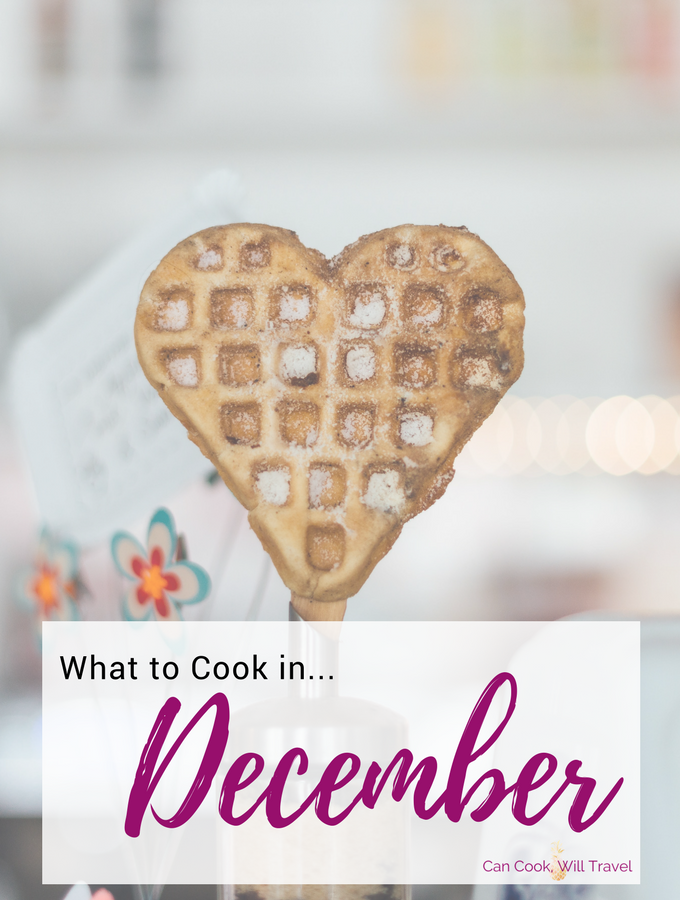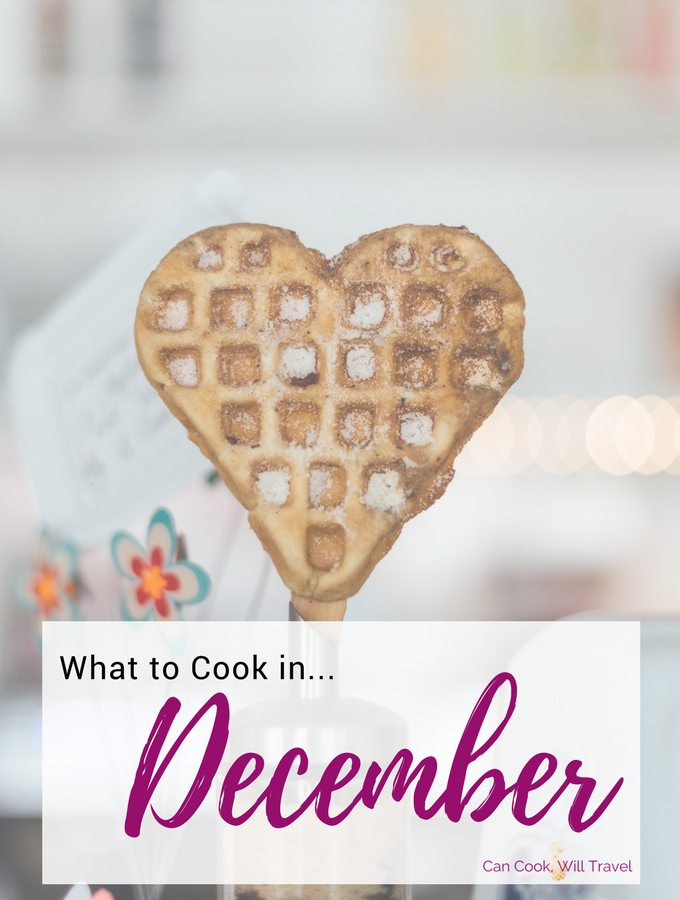 The idea with this What to Cook in December post is to feature seasonal ingredients, because they're cheapest and the best quality when they're in season. And it's easy to forget just how many items are in season at a time. Maybe we get in a rut and just buy the same thing on repeat no matter if it's in season or not.
But I love the idea of inspiring both myself and you by this series, because it encourages us to eat food when it's meant to be eaten.
So here are a few fruits and veggies that are in season this month:
Apples
Beets
Bok Choy
Broccoli
Brussels Sprouts
Cabbage
Carrots
Cauliflower
Collard Greens
Cranberries
Dates
Fennel
Grapefruit
Kale
Kiwifruit
Leeks
Lemons
Mushrooms
Mustard Greens
Onions
Oranges
Pears
Pomegranates
Potatoes
Radish
Rutabaga
Spinach
Sweet Potatoes
Swiss Chard
Tangerines
Turnips
Winter Squash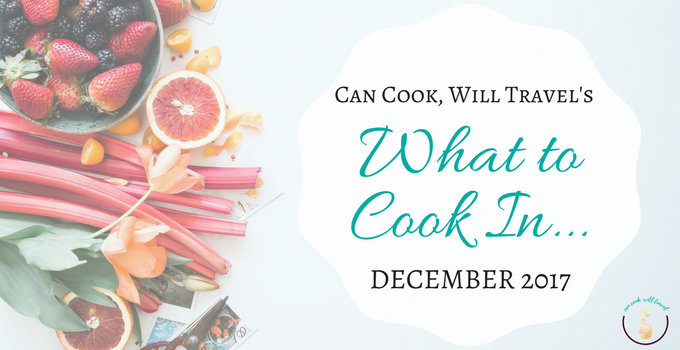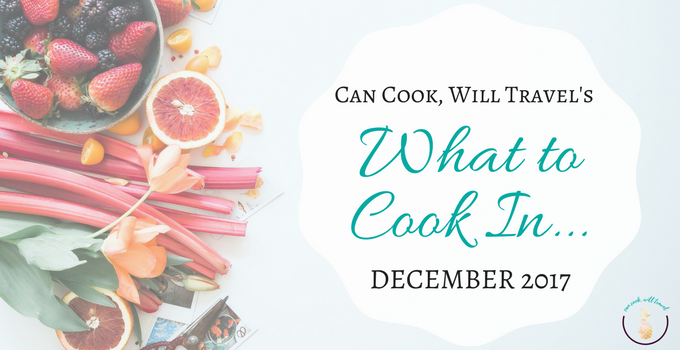 Quite the list, right?! And I'm choosing to highlight 3 of them, because I've cooked with them a lot in the past. And that means that I've got some pretty stellar recipes up my sleeve for you. I settled on Kale, Brussels Sprouts, and Pomegranates this month.
Now kale is definitely a trendy leafy green, but it's also incredibly heart and good for you. So that means it's pretty darned versatile. Brussels sprouts have long been a favorite of mine, and they're divine when they're roasted, so you'll see a lot of that but also a few cool uses for it too.
And finally pomegranates, which hold a special place in my heart. They kicked off my blog when I started way back in 2011. Week one of blogging had me experimenting with pomegranates and I kinda am crazy for this funky little fruit. You'll see a ton of uses for pomegranate here too.
What to Cook in December Recipes:
Breakfast:
I created this Healthy Winter Oatmeal when I was craving healthy food right before the holidays. The resulting oatmeal makes for a perfect breakfast, because you throw it together and are enjoying it in about 5 minutes time. One future change is switching out the sugar for coconut sugar, because I love that substitution.
If I could eat scones every day, then I'd be a happy girl. So not surprisingly these Pomegranate Orange Scones make my What to Cook in December list. Scones are easy to make, rustic so they don't have to look perfect, and the pomegranate arils add a little crunch and also juice with each bite.
This Potato and Brussels Sprouts Hash is a must try breakfast, if you ask me. You'll find roasted red potatoes and Brussels sprouts, bacon, smoked paprika, and an over-easy egg. Oh yes, I'm totally making this one again ASAP!
Baking is a favorite hobby of mine, and muffins for some reason are something I love to make. Pomegranate Ginger Muffins feature pomegranate arils, candied ginger, and orange zest all in a light and fluffy muffin. They couldn't be more perfect with your morning coffee or hot tea.
I love this Quinoa Breakfast Bowl with Crispy Kale Chips recipe, because it's savory and hearty and delicious! You'll find a bowl filled with kale, quinoa, deliciously cooked mushrooms, topped with a sunny side up egg and Parmesan cheese.
What is it about a wrap that I love so much, I wonder? And this Egg and Kale Breakfast Wrap has hummus and tomatoes egg, kale and it's so freaking good. So if you want a savory breakfast recipe, this is a great option when you have plenty of kale around!
Salads:
Any excuse to throw a little goat cheese into my life is one I'll consider, and this Quinoa and Kale Salad is topped with my favorite cheese. This one is a warm salad, and you'll cook the arils with the quinoa which is kinda fun. And then the kale is sautéed with onion and it's all tossed together with almonds and goat cheese. You can change this one up as you like, and it's a pretty awesome dish that even my meat-and-potatoes-loving dad enjoyed!
This Kale Autumn Salad is one I created a few weeks back, and I'm kinda crazy about it. The hearty kale stands up well with roasted fennel and butternut squash (both in season!). Toss in apples, dried cranberries, pepitas with a seriously good lemon honey dressing, and a poached egg ends up being the pièce de resistance!
This cold Shaved Brussels Sprouts Salad is insanely yummy and I think about it more than I probably should think about a salad. The salad consists of shaved Brussels sprouts (using a mandolin), thinly sliced apples, and Pecorino Romano cheese. Salty, sweet, and kinda perfect if you ask me!
Another kale salad coming your way, because it's the right thing to do. Kale Salad with Warm Cranberry Vinaigrette is my favorite cool weather salad because it's slightly warm yet creamy from the goat cheese. Good Lord this salad is fabulous!
Side Dishes:
My first Brussels sprouts recipe on the blog is this Brussels Sprouts with Balsamic Pomegranate Glaze dish. Roasted Brussels sprouts coated in this thick, sweet, tart glaze taste so special yet come together easily. My kinda side dish!
How about a gratin that only uses 1/2 tablespoon of butter?! That's exactly what this Skinny Brussels Sprouts Gratin offers but even better is that it tastes so freaking good! Thanks to some Parmesan and Gruyere cheese, the sauce boasts tons of flavor. So go on and make this one, and I know you won't regret it for a minute!
For all my spicy food lovers out there, this Spicy Honey Mustard Brussels Sprouts is here. This healthy side involves roasting sprouts until you get a deep flavor while coated in a tangy, spicy sauce. I definitely did a happy dance after making this fabulous side dish.
Roasted Brussels Sprouts with Honey Sriracha Drizzle makes for a total homerun, I must tell you! You roast these guys by first sautéing them and then finishing them off in the oven. The final piece is drizzling this sauce made of honey, Sriracha, and soy sauce over the top that is spicy and crazy good! You'll soon love Brussels sprouts after this recipe.
I think this Thai-Style Brussels Sprouts was my first recipe I used fish sauce in, and man don't ever smell it or you'll never use it! You don't need many ingredients for this recipe, yet it packs tons of flavor and is easy to make even though it looks like you slaved over it. Ooh, it's so good!
Main Meals:
I'd never tried making calzones before, but after making these Kale, Mushroom, and Ricotta Calzones, I was wondering why not. Save time with pre-made pizza dough, and then sauté the kale and mushrooms then add them to several cheeses for the filling. Then fill the dough, bake away, and enjoy for a hearty, meat-free, delightful meal!
This Gnocchi with Squash and Kale recipe intrigued me, so I knew it was one I had to make. You've got 3 ingredients I adore plus Parmesan cheese and some spice that is a combo that you really must try. My words can't quite do this dish justice, so definitely give it a go!
Oh yes I'm excited to share this Easy Lemon-Garlic Kale Pasta! Sautéed kale combines with your choice of pasta along with lemon infused oil (so easy to make btw). This cheese-free dish is one I definitely love!
When I think of soup, I often think of this Tortellini Kale Soup. It's broth with tomatoes, hearty thanks to tortellini and kale, and spicy. It's perfect for cold winter days, so make this one as soon as you're craving a spicy soup!
Roasted Brussels Sprouts Cauliflower Soup is pretty much the bees knees, so you should make it! You blend roasted sprouts and cauliflower together with chicken stock and those roasted bits add TONS of flavor. This soup is just delightful and perfect when you need some creamy soup STAT.
I totally heart mac 'n cheese, which if you know me is no surprise at all. And I'm always looking for new variations on this classic to jazz it up a bit. That's where this Bacon Brussels Sprouts Mac 'n Cheese comes in, and I gotta say that it's one of my favorite mac 'n cheeses ever!
Apps & Desserts:
These Chocolate Fudge Pomegranate Cookies are a recipe I also whipped up in week one of blogging, and my roommate at the time often talked about them. They're fudge-y, arils add a little crunch and juicy bit, and did I mention there's chocolate?! Yeah when you have pomegranates laying around, make these and do it fast.
Salsa is so great, and it can be easy to just pick some up at the store. But this Pomegranate Salsa includes tomatoes, cilantro, jalapeños, green onions, lime and a touch of sugar. The dip defines freshness, and the flavors of each ingredient taste so damn good!
Another damn good dip is this Spicy Kale Artichoke Vegan Dip that can be baked or not and is one that even non-vegans will love. I could barely photograph the dip, because it smelled fabulous and all I could think about was enjoying it! When you need a hot dip, look no further!
Wow, I had to catch my breath there after recapping all of these What to Cook in December recipes. I surprised myself with how many I came up with, and if they're on this list, then it means that they are ones I still think about.
I have a feeling several of these recipes will be on my list of What to Cook in December after taking a trip down memory lane. So now I'd love to find out which of these recipes gets you ready to cook! And definitely let me know what you do end up making.
Stay inspired, grab some seasonal ingredients, & then start cooking!
~Kelli
0