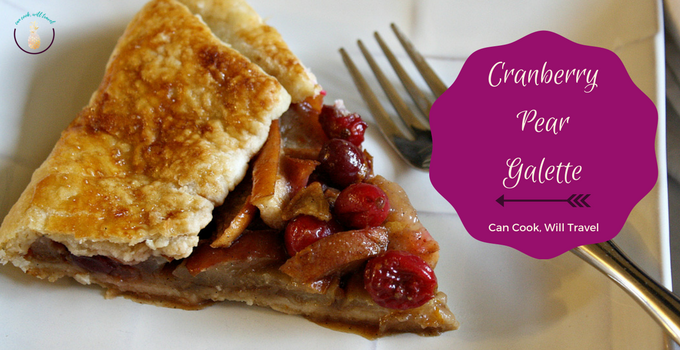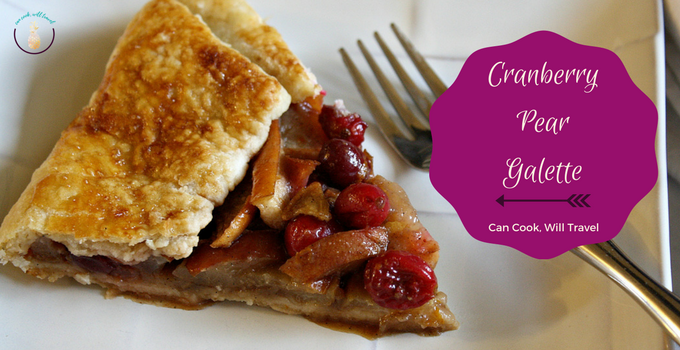 (This is fabulous, and if you love cranberry desserts, then check out this Apple Cranberry Pie.)
Step by Step Instructions:

To say this Cranberry Pear Galette is fabulous is an understatement, so make it straight away and here's what you'll need: Salt, Corn Starch, 2-4 Pears (depending on size), 1 cup of Cranberries, 1 Orange, 1 Pie Crust, Cinnamon, Maple Syrup, Cardamom, Fresh Nutmeg (or ground nutmeg works), Almond Extract, and Vanilla Bean Paste.

Once your pie crust is ready to go (or use pre-made if you like), then preheat your oven to 375 degrees. Now thinly slice your bears. I like to slice around the core like you see here, because it is an easy way to work with the pear.

Then slice each segment thinly (about 1/4-inch thick), and then in half so you have more bite-sized pieces.

In a large bowl add the pear slices and a cup of cranberries that have been rinsed.

To the fruit add 1/3 cup of coconut sugar, 1 tablespoon maple syrup, 1 tablespoon of corn starch, the juice and zest of half a lime, a teaspoon of cinnamon, 1 teaspoon of vanilla bean paste, a dash of cardamom and freshly grated nutmeg, a pinch of salt, and then 1/8 teaspoon of almond extract.

Give the filling a really good stir, so the ingredients are well combined. Then set the bowl to the side.

Now flour your work surface and rolling pin and get ready to roll out your pie crust.

You'll want your crust about 12 inches in diameter, and since this is a rustic Cranberry Pear Galette, then it doesn't have to be perfect.

Line a baking sheet with a Silpat, and then transfer the dough to the baking sheet.

Now whisk one egg.

Brush the egg over the surface of the crust, and then reserve some egg for the top.

Spoon the filling over the center of the crust, and then leave about a 2-inch border all the way around the edges.

Then fold the ages up around the filling to seal it in just like you see here.

Brush more egg wash over the remaining dough and then sprinkle the crust and filling with a little coconut sugar. Then bake for 35-40 minutes, so that the filling is bubbly and the crust is turning a golden brown.

Once the Cranberry Pear Galette is baked, remove it from the oven and let it sit for about 20 minutes.

Then transfer the galette to a cooling rack. Enjoy this Cranberry Pear Galette within about 2 hours of making, or refrigerate like you would a pie, and enjoy for several more days. The flavors from the cranberry, orange, pears, and almonds make this Cranberry Pear Galette seriously delicious, so happy baking!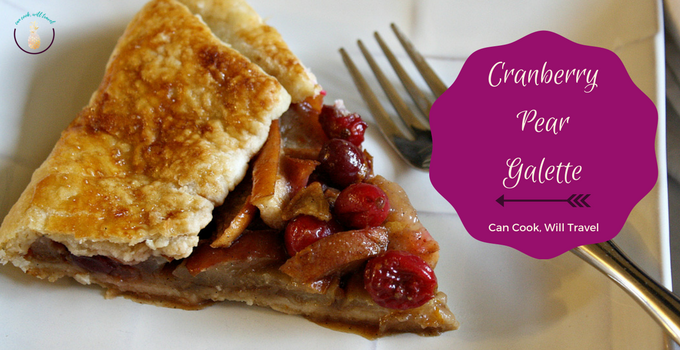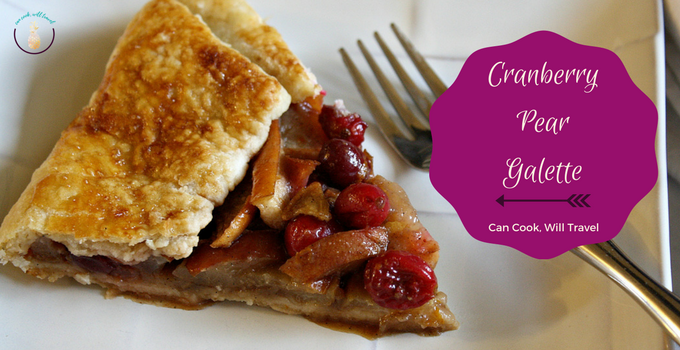 Cranberry Pear Galette
Yield 8 slices
Galettes are easy to make and their rustic look makes it appear like you've slaved for hours on it, when in reality this delicious dessert comes together very quickly.
Ingredients
Galette Ingredients
2-3 Pears, thinly sliced
1 cup fresh Cranberries, rinsed and dried
1/3 cup Coconut Sugar
Juice of half an Orange
Zest of half an Orange
1 T. pure Maple Syrup
1 T. Corn Starch
Dash of freshly grated Nutmeg (or you can use ground nutmeg)
Dash of Cardamom
1 t. Cinnamon
1 t. Vanilla Bean Paste (or extract)
1/8 t. Almond extract
Pinch of Salt
1 Egg, beaten
1 Pie Crust
Instructions
Make your pie crust or use a pre-made pie crust. Then preheat your oven to 375 degrees.

 

In a large bowl combine the pears, cranberries, orange juice and zest, coconut sugar, maple syrup, corn starch, vanilla bean paste, cinnamon, nutmeg, cardamom, and salt, and then stir will to combine. Then set the bowl to the side.

 

Roll out your pie crust on a well-floured surface, so that it is about 12 inches in diameter. Transfer the crust to a Silpat-lined baking sheet, and then use a pastry brush to brush the entire crust with beaten egg.

 

Begin spooning the filling into the center of the crust, so that you have about a 2-inch border around the edge. Gently fold the edges up towards the center of the pie leaving it open so you see plenty of filling. Your goal is to make sure the pie is sealed around the edges, so that the filling stays in. Then brush more egg wash over the edges of the crust, and top with a sprinkle of coconut sugar.

 

Bake for 35-40 minutes or until your filling is bubbly and the crust is a golden brown color. Let the galette cool for 20 minutes, and then transfer to a cooling rack or plate, and devour while the dessert is still warm. Although it's great slightly chilled too, so dig in and enjoy!
Notes
Quick Tip: You can make your own pie crust, which is super easy, but to save time use a pre-made crust or puff pastry!
Courses Dessert
Nutrition Facts
Serving Size 1/8 of galette
Amount Per Serving

Calories 195

% Daily Value

Total Fat 7 g

11%

Saturated Fat 3 g

15%

Unsaturated Fat 4 g

Cholesterol 28 mg

9%

Sodium 158 mg

7%

Total Carbohydrates 34 g

11%

Dietary Fiber 3 g

12%

Sugars 17 g

Protein 1 g

2%
* Percent Daily Values are based on a 2,000 calorie diet. Your daily values may be higher or lower depending on your calorie needs.
0