In the last week or so, it's been frigid here in the Midwest. Complete with a layer of ice and snow on Friday and Saturday. Brrr, I say! And while I never miss breakfast if I can help it, I'm usually a cereal kinda girl. But eating a cold bowl of cereal hasn't sounded so appealing lately. And I was craving oatmeal, so I bring you a Winter Oatmeal that I hope will provide you with a warm and filling start to your day.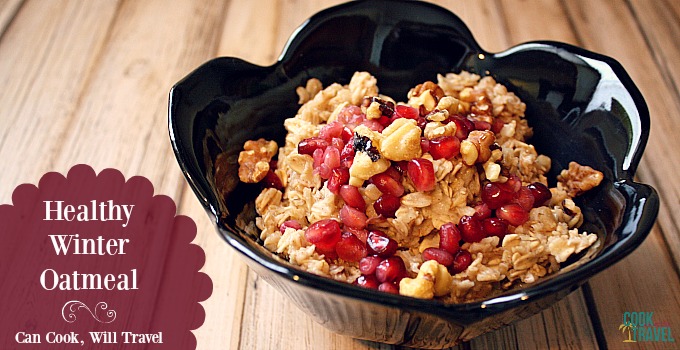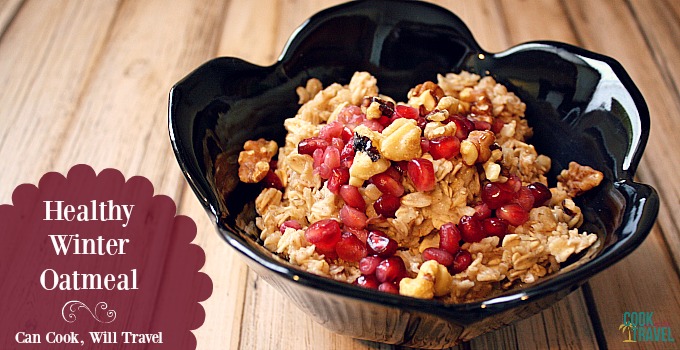 Yeah, I was craving oatmeal. Weird, I know, but I think I just wanted something healthy, hearty, and warm! I have a few favorite breakfast oats recipes including this one that has berries and steel cut oats and quinoa, and this one that has wheat germ and bananas and is delicious! But I wasn't in the mood to slave over a stove, because I preferred to be under a warm blanket.
So I needed a fast oatmeal to whip up and microwave, but I really wanted to avoid the kind you buy in the box and make my own. After all, it's so much better when you know exactly what you're eating and can limit the sugar and such. So I created this bowl of Winter Oatmeal to do just that! It's low on sugar, takes 3 minutes in the microwave, and is super hearty and healthy.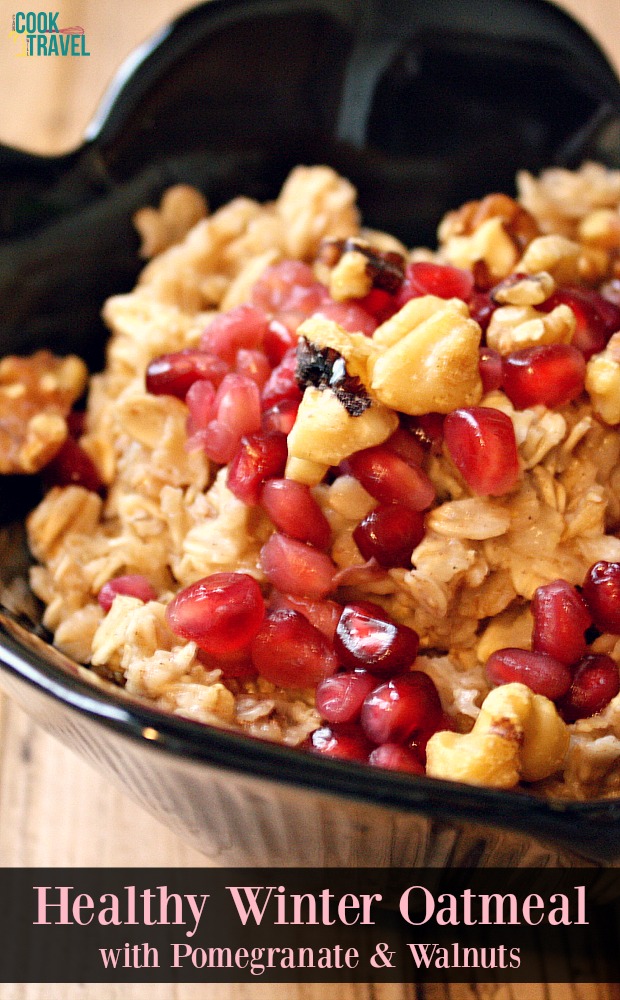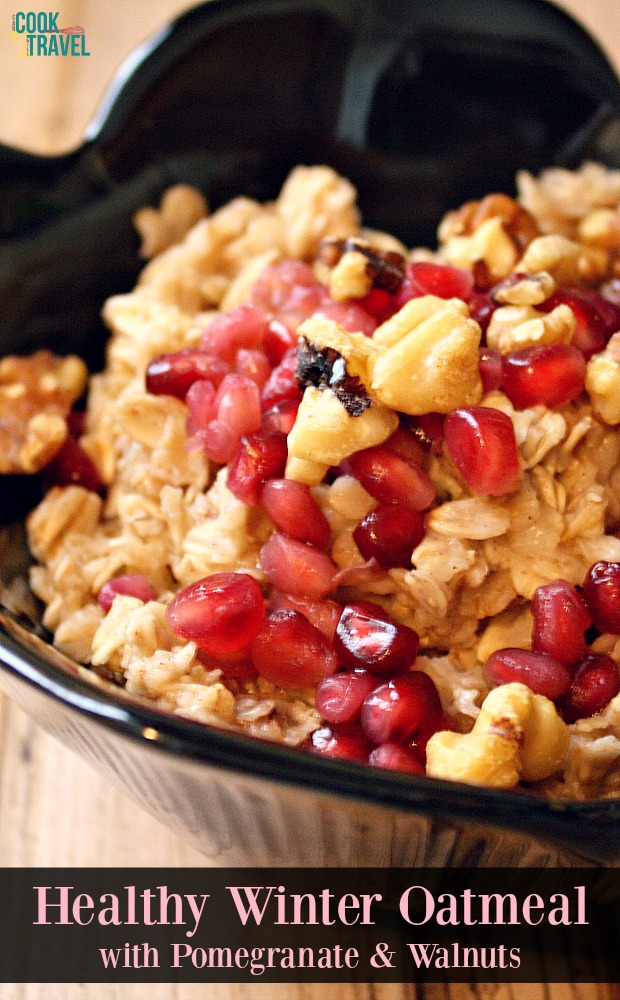 You can really tailor this to whatever ingredients you prefer, but after a little experimenting I settled on this yummy combo. Just mix oats (old-fashioned works well), almond milk (or milk of choice), cane sugar because it's less processed (or brown sugar if you don't care about that), cinnamon, all-spice if you like, a little vanilla bean paste, and a pinch of salt. Microwave until the milk is absorbed and then top with your favorite goodies.
I went with walnuts for a crunch, and pomegranate seeds because they're in season, add a little crunch as well, and a nice burst of juice to brighten up the oatmeal. I even added a tiny amount of pure maple syrup over the top for a little extra sweetness. Cinnamon is really great for you and is such a lovely addition at breakfast and you can add it to the topping if you want.
This oatmeal can be year round if you want to add dried cranberries (or your favorite dried fruit) instead of pomegranates or fresh berries in the Summer. But that little burst of tangy pomegranate juice makes this a bit more special.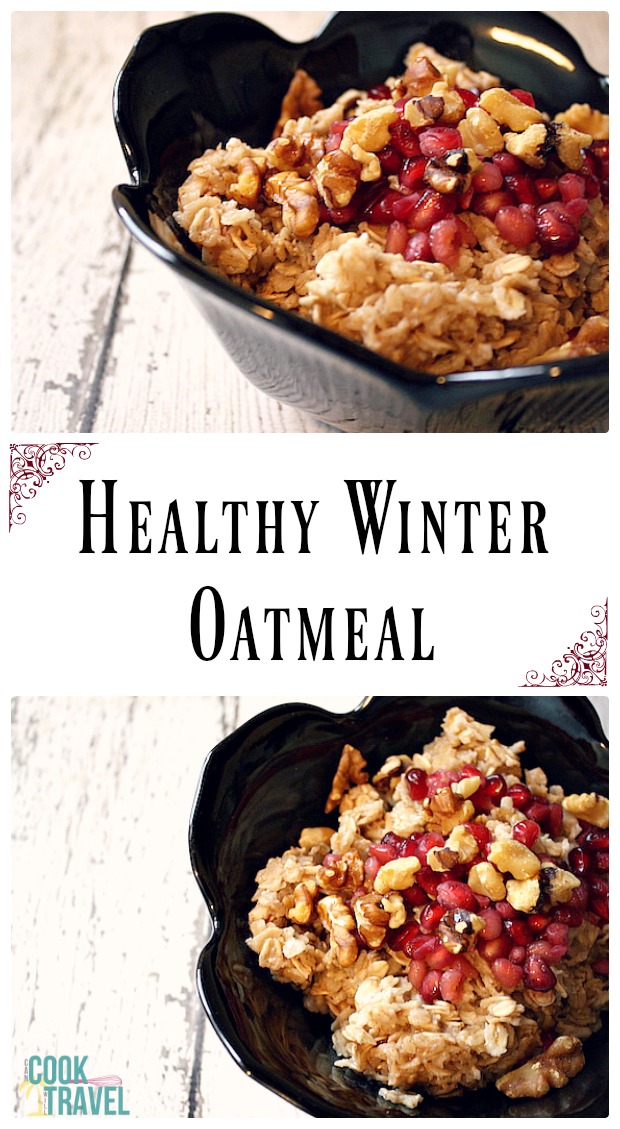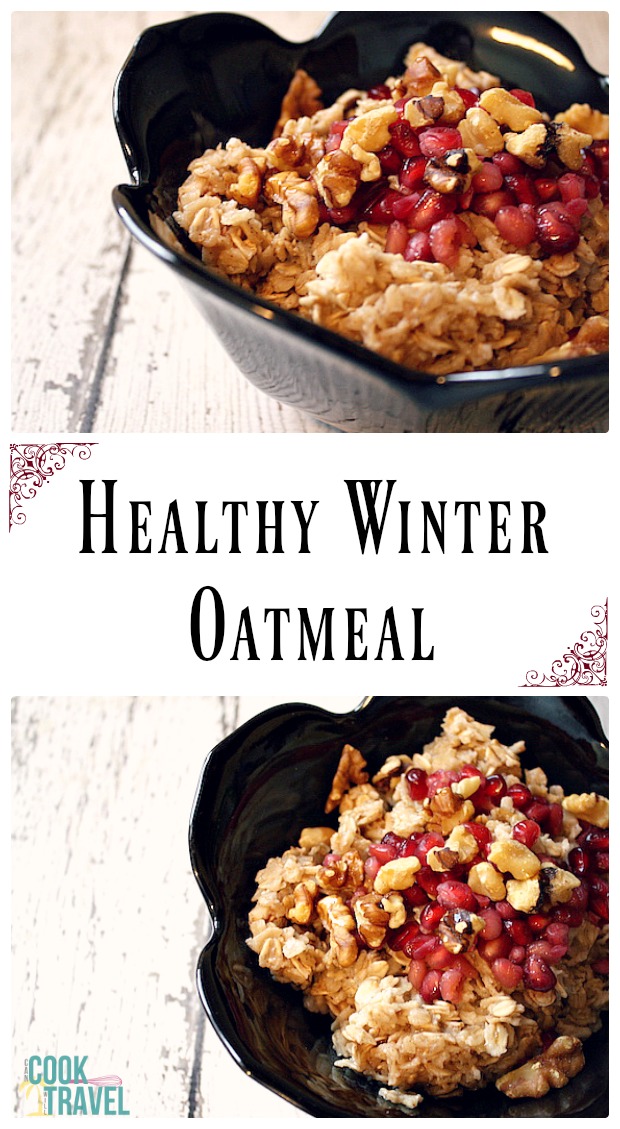 And I know I was craving some healthy options right now as the thought of Christmas food, baked goods, and other indulgences are looming over me in the next few days. Might as well try to eat as healthy as I can now so I feel less guilty later. This oatmeal recipe starts us on the inevitable healthy eating kick we naturally fall into each new year.
Winter Oatmeal is healthy but delicious and filling, which is a winning combination in my book! Click that link for the full recipe and step by step instructions! Happy healthy eating!
A look back:
One year ago: Healthy Sticky Cinnamon Roll Batter Oatmeal . . . Yum!
Two years ago: Broccoli Parmesan Cheese Dip … Tis the Season, After All
Three years ago: Hot Buffalo Chicken Dip … It's Officially a Hit
Four years ago: Turkey Tetrazzini … The Only Way to Eat Leftover Turkey!
Five years ago: Bring on the Artichokes!
0