January is starting to wind down, so it's time for this month's Blogging Roundup. And whenever I write these roundup posts, I find myself reflecting back on each month. It's kind of fun to look at a short snapshot of your life and see where you've grown or what cool things have happened.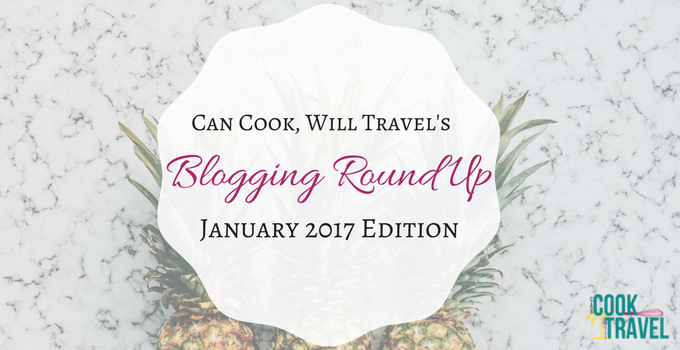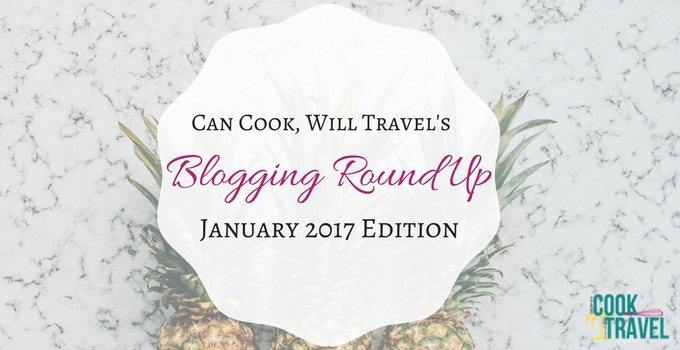 It's pretty natural for this month to be one where people put in a bit more effort in life with the whole New Year's resolution thing happening. So yeah, maybe that's why I've felt some growth. I've definitely put energy into my blog in different ways this month, so that's exciting.
One of the things I've done is committed to starting a weekly newsletter, so be sure to add yourself to the party if you haven't yet! I wanted a way to share with you a bit more personally and make sure you don't miss a thing when it comes to the latest happenings.
And while I'm usually someone who is pretty good at reflecting and seeing the bigger picture, I've grown a lot in that area this month too. I've relaxed more, allowed myself to not put as much pressure on different areas of my life, and tried to work on myself.
Some of my overall goals in 2017 (not resolutions, because who can keep those?!) are to be healthier and happier. While I've tried to be healthy over the years, I wanted to make exercise more of a priority along with eating better.
So one theme you'll certainly find in this month's recipes is dairy free eating. I'll be explaining more on that adventure over the coming weeks, but it's a topic you'll see me touch on in today's post. And then my weekly crushes really just have this overall feeling of celebration and freedom.
So let's dive into this month's blogging roundup, shall we?!

January's Recipes Blogging Roundup:
Dip:
My last hurrah of the year was a Crab Rangoon Dip that I couldn't wait to share. When ringing in the new year, I always love to have great snacks and appetizers and dip should always be on the menu! I adore crab rangoon with its cream cheese and onion flavors and crispy, fried goodness. So this dip is basically a deconstructed crab rangoon and it's seriously tasty and way less guilty! (And yes, this was before I decided to limit dairy in my life.) So if you want a crowd-pleasing dip, this is a fabulous option!
Soup:
I was part of a fun blogging challenge earlier this month for #SoupWeek. This was where several fellow food bloggers shared awesome soup recipes, and I was pretty psyched about this Spinach Artichoke Soup! While I adore spinach artichoke dip, I was super intrigued about how this soup would turn out, as I was on a mission to make it dairy free. And it was creamy, filling, warm, and seriously so delicious. You'd honestly never know the dairy was missing!
Main Dish:
I love Thai food, and having grown up on a hog farm as a kid, it wasn't a cuisine I was familiar with. However in my 20's and 30's I've learned to LOVE trying new foods, and Thai with it's warm, spicy, and delicious flavors won me over. I made a Pad Thai several years ago, and I found this really laid back version this that took no time to make. And I couldn't wait to share it with you. And yep, it's also dairy free, gluten free, and crazy good!
Breakfast:
Do you love breakfast food, because I adore it? And I really love eating it for any meal. For Christmas I asked for a Belgian Waffle maker really for nostalgic reasons, and this Lemon Blueberry Belgian Waffle recipe was my first try at using it. Holy Goodness, Batman, this recipe is delightful! You have a hint of lemon in every bite, fresh blueberries throughout, and it's majorly good! Plus, you guessed it, it's a dairy free recipe as well! I swapped out the milk for almond milk and the butter for coconut oil, and they were kinda perfection! Do me (and yourself) a favor and make this recipe straight away!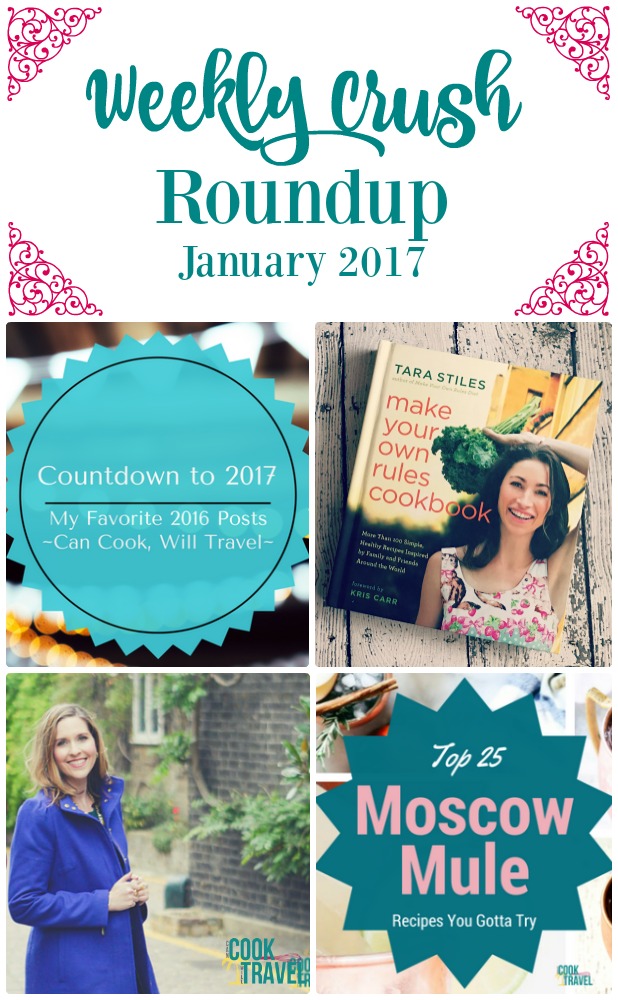 January's Weekly Crush Blogging Roundup:
Goodbye 2016:
As each year winds down, I love writing a post all about my favorite blog posts over the year. And wow was 2016 a tasty and fun year! I had a fun day trip to San Francisco, TONS of good food, and some of my favorite discoveries of the year. It's a jam packed post but one that is totally worth the read. I'm betting you'll find some major food and life inspiration here.
Cookbook Love:
This month's Cookbook Love series post features Tara Stiles and her Make Your Own Rules Cookbook. It was after reading this book that I thought more about reducing dairy in my life. Tara makes it look pretty easy and painless to cook without milk products, and so far that seems to be holding true. You'll love how healthy and freeing this cookbook is!
Cheers to Moscow Mules:
Oooh do I love a Moscow Mule! And as they filled up my Pinterest feed, I just had to feature 25 Moscow Mules that seemed too amazing to miss. So if you love a good Moscow Mule, definitely dive into this post for a bit of inspiration. The cranberry version and the grapefruit rosemary version are 2 of my favorites. And guess what . . . they are super easy to make! So grab that copper mug and start mixing! Side note: It's also a great excuse to buy a copper mug (or 4)!
Favorite Finds:
When I find cool stuff, it's my duty to share it with you. So in the latest Favorite Finds edition, I found myself leaning towards feeding your mind, body, and soul kinda things. From really good talks (30 minutes or less) that open your eyes a bit to some Netflix documentaries that are must-watches, to 2 of my favorite apps . . . I had a lot to share! And I can't wait to hear what you thought once you check them out.
Alright I covered a TON in January's Blogging Roundup. A recipe for every meal, great books, Moscow Mules galore, and stuff to help us all grow to be better people. And don't forget the 2016 recap that will get you up to date on all that was amazing last year.
Now let's stay in touch and connect outside of my blog too! Be sure to subscribe to my weekly newsletter as well by scrolling to the bottom of this post and filling in your info. Then you'll get a weekly blogging roundup, some cooking tips, inspiration, and more.
What part of this month's Blogging Roundup got you excited? Are you ready to hit the kitchen and cook, or go discover some fun new finds? Let me know in the comments below!
Stay inspired & discover cool stuff!
~Kelli
0