Happy New Year, my friend! It's been a fairly relaxing holiday season for me, I must admit. I've spent the last week+ with my family in my hometown, where I've worked and relaxed and enjoyed some quality family time. I was looking forward to this Cookbook Love post in January, because I knew I'd have 1 or 2 new cookbooks added to my collection. Thanks to Christmas, I got two cookbooks, and I knew exactly which one I'd be featuring first: the Make Your Own Rules Cookbook by Tara Stiles.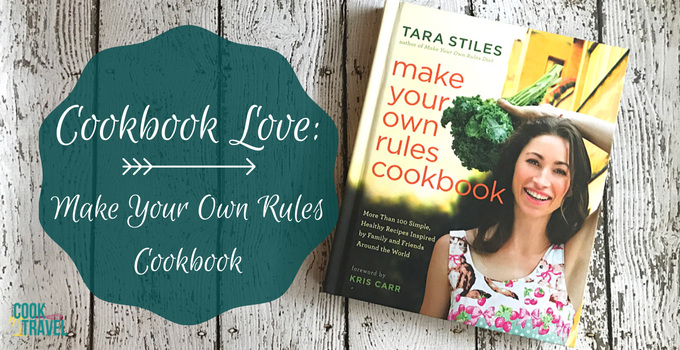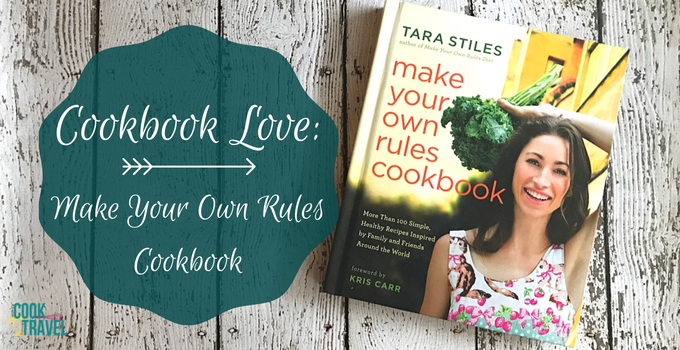 This is a book I gave my sister for Christmas 2015, and of course I flipped through it before I wrapped it for her. What I found was a book I knew I'd eventually need, because the principles in it are great. We'll get to that more in a minute.
So when I made my Christmas list this year, I'm really glad that this book popped into my mind. I remembered how much I liked looking at it, so asking for it was a no brainer. My sister returned the favor and gave it to me for Christmas 2016. Gotta love that!
I knew if I got this cookbook, then I had to feature it in January. After all, this is the month of resolutions, diets, gym memberships, and good intentions. So the Make Your Own Rules Cookbook offered a bit of a bridge to all of that. You see, it's a book that focuses on creating healthy choices, good habits, and experimentations in the kitchen so that you can (you know what I'm about to say here) make your own rules when cooking.
So without further ado, let's chat a bit about the Make Your Own Rules Cookbook.
Why Tara?
I'm really drawn to cookbooks that are written by 1 person, because you get amazing stories, a glimpse into their lives, and the recipes feel more cohesive. Tara isn't someone I knew much about, but my sister has followed her for years.
Tara Stile created Strala yoga, which is her own take on yoga. I'm actually pretty excited to look into Strala a bit in the upcoming months if I get bored exercising. And she found that she just felt better when she stopped eating takeout and eating out all of the time.
Her cooking is plant-based, and this is the second cookbook like this I've featured. It's certainly not because that is how I want to eat, but I've been drawn to these books. So perhaps subconsciously I'm telling myself that I want to eat healthier.
And Tara's whole concept in how she cooks is to not sacrifice. To eat well but also to indulge here and there. She, like me, grew up in the Midwest, however she grew up in Illinois and I'm a Missouri girl. But either way, her family was centered around farming, like mine, and she grew up eating the same types of foods and styles I did. And the idea of cooking for an army and eating tons of veggies is one we were both surrounded by.
Having the Midwest and farming in common made me automatically connect more with Tara. Now she lives in New York City, travels all over the world and "citifies" the recipes from home and her travels to make them work for her. It seemed like something many of us could adopt in our own lives.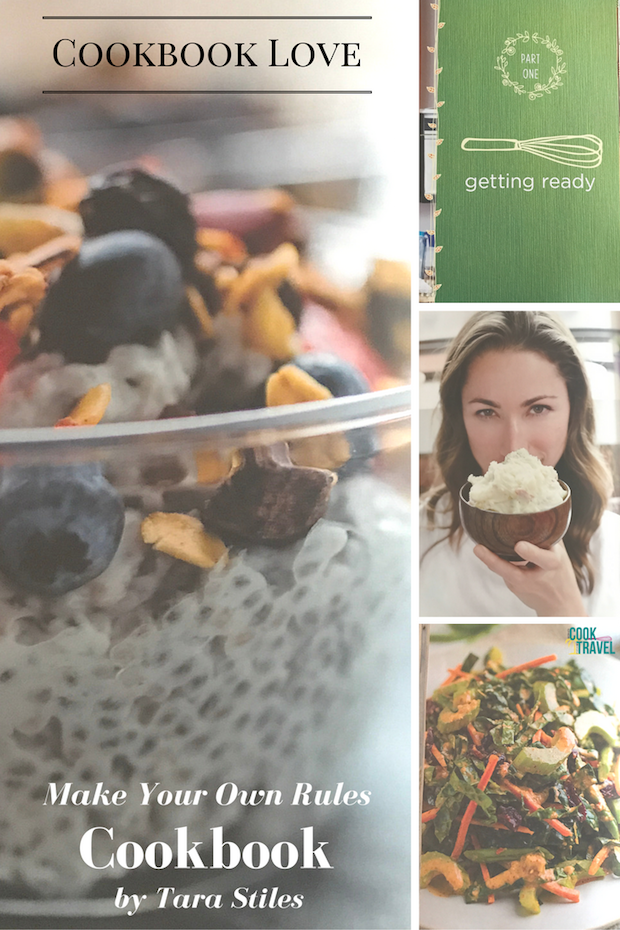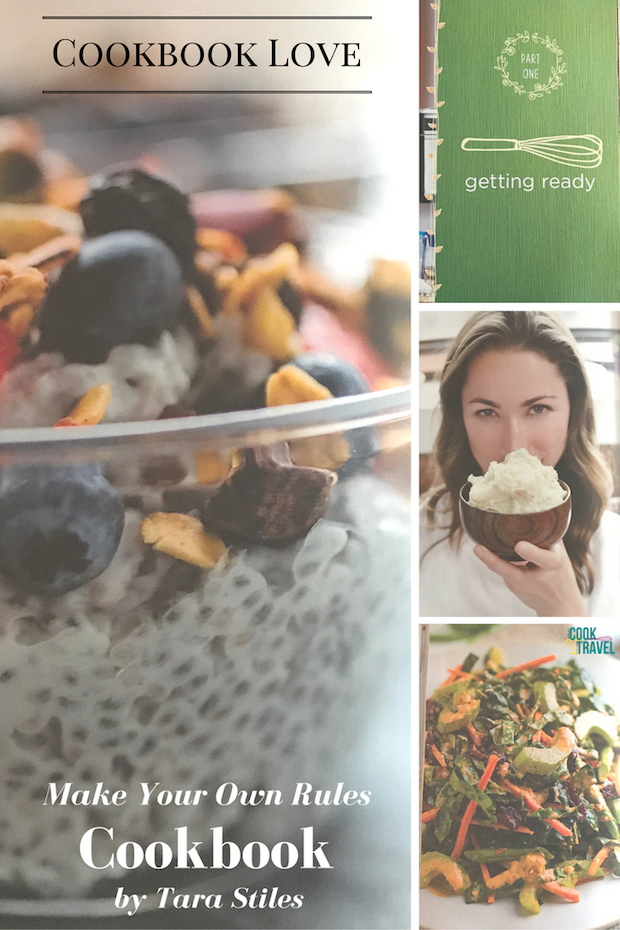 Make Your Own Rules Cookbook Organization:
I literally read this cookbook as if I were reading a book. The intro lets us know that Tara moved to the big city without much knowledge of cooking. Watching her mom and grandmas cooked seemed magical and a bit mystical, so she didn't get into cooking as an adult. So she kinda learned how to cook in her 20's, and found herself experimenting and that's when she realized how incredible cooking could be to improving your creativity.
She also walks through her food rules and how to get your kitchen ready. This is the place to understand how she started eating the way she did, and how you can too. Tara covers how to clean your kitchen properly, and how to cleanse what is in your fridge and pantries. She also talks about the pantry staples that she always keeps on hand. The list isn't your typical list, but it's also not a ton of stuff either. However you find that she truly uses these ingredients throughout a huge chunk of her recipes.
Onto the recipes . . . there are 11 chapters of recipes. They are broken down by meals and she has a huge range of recipes. Her recipes are ones that she has created, others she's adapted from recipes growing up, some recipes from her childhood, and other recipes from (or inspired by) her friends and travels. So as you can imagine, you'll find a Midwestern recipe next to one from a Russian friend or her tropical travels or a Japanese-inspired dish.
I personally love the eclectic-ness of the recipes, because I'm a bit eclectic myself. Perhaps that's because I love traveling and trying new foods, and then being transported back to those trips as I recreate those dishes at home. So understandably, I can't pick a favorite chapter in her book, because they all intrigued me. The beverages chapter with smoothies and juices look fun to try, she has TONS of breakfast recipes, and then she and I both love desserts, so I see a lot of things I want to bake.
Finally you'll find an index at the back, which I'm a fan of.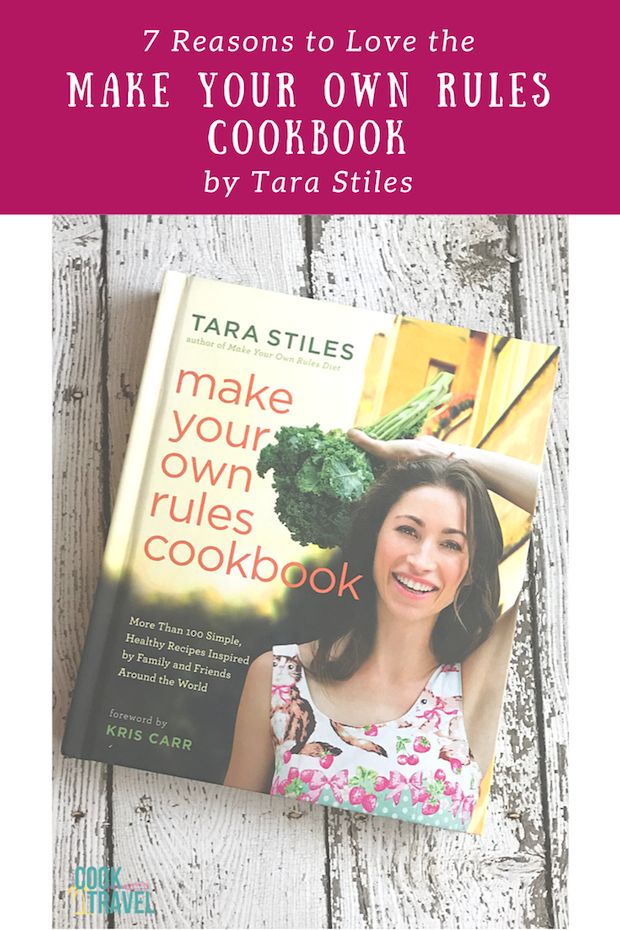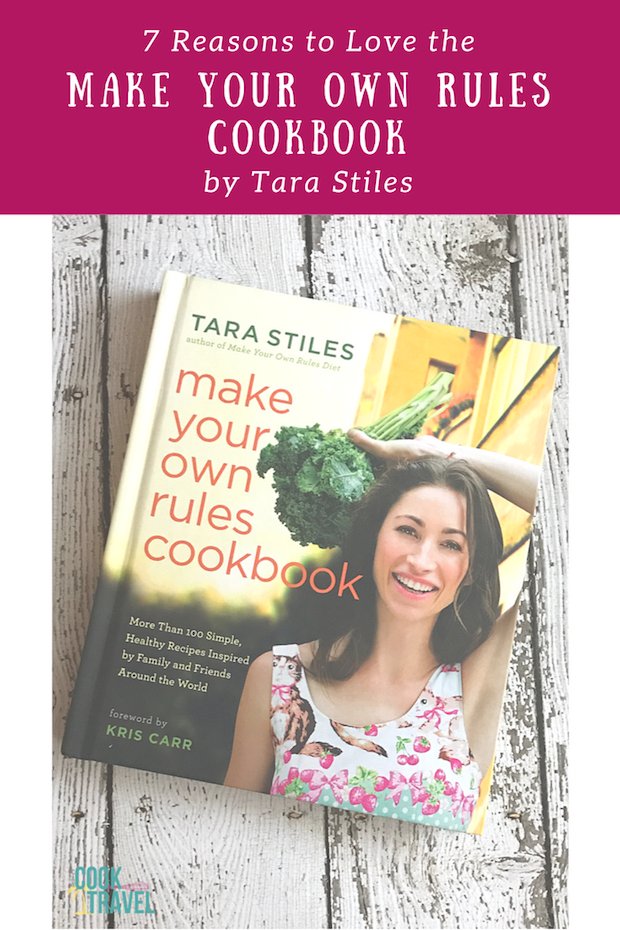 What's to Love about the Make Your Own Rules Cookbook?
The back story – I want to understand someone's background. I think it helps us see where they are coming from (I'm not just talking cookbooks here), and it can inspire you a bit. Tara knows what she craves and then plays around until she can create those dishes in a way that fits her lifestyle.
The photos – The photography is so playful and fun. You won't find photos of every dish, but she's still able to help me picture most of them in my head. But the photographs are really beautiful and make me want to go pick up a ton of fruits and veggies at the store.
Great tips – In the beverage section, Tara talks about juicing a fair amount. She gives you some tips on how to purchase a juicer if you are ready to get serious about making your own healthy juices. Stuff like this is sprinkled throughout the cookbook.
Meditations – Surprisingly a couple of meditations are in the cookbook, which you don't normally find. She has 2 meditations to help you get in the right state for cleansing your kitchen and setting your mind for success in the kitchen. My plan is to record the meditations and then I can listen to them since I don't want to read a meditation and try to meditate.
Tara's honesty – Letting you know that not every cooking experiment you make will be perfect. She tells you about the failures, what worked and what didn't, and how some recipes in the book evolved from a failed attempt at something that she created into something even better. Love that!
Common ingredients throughout recipes – When it comes to plant-based cooking, I notice no meat and no dairy. Now I do love cheese, so I can never fully eliminate that from my life. But I already try to reduce the amount of dairy I consume, so I like the idea of trying non-dairy butter and nutritional yeast as substitutes. And the thing is that if you dive into this book, you won't purchase those for 1 meal but she makes use of them regularly. Money well spent!
Plant-based cooking can be easy – Maybe it's not even that plant-based cooking is difficult. Perhaps for me it's the cost of all of the food, because eating healthy can be a bit pricey. But it's also about self-restraint. I have my moments where I struggle with not giving into my cravings. So could I really eat the majority of my meals this way? Well after reading this cookbook from cover to cover, it certainly seems more doable.

Crave-worthy Make Your Own Rules Recipes:
Detox Crazy Kids – A juice filled with food that actually sounds good and not like a punishment. Don't detoxes always seem like you're about to punish your body (or your mind) a little?
Mother Mary – A tomato juice made from scratch, filled with healthy ingredients, and looks delicious. I see this recipe and think: Just add vodka for a homemade bloody Mary! Yum!
Hash Browns – I kinda love hash browns, and this version is flavored with curry and sounds fab!
Coconut Parfait – A chia seed pudding made with coconut milk that sounds healthy and super yummy.
Tree Pose Pouch – Like Tara says, where did the afternoon snacks we love as kids go? I think afternoon snacks are such a great idea. A healthy granola to keep on hand or pack up if you're on the go or working in the office would be so handy!
Cheesy Sauce – I'm an expert at cheese sauce making. So thinking of giving up my beloved cheese sauce makes me sad. But this "cheese sauce" is super healthy and nutritional yeast gives the cheesy flavor we're looking for. I really do need to try this one out.
Easy Miso Soup – I've always wanted to try making my own Miso Soup. After all, there's something so comforting about getting a bowl of it at the local sushi place.
Kalien Invasion – Hell, I love this just for the name (which my computer keeps trying to autocorrect to "alien" as I type). This is a salad with kale, tons of bell peppers, celery, raisins, and avocados and sounds simple and totally delicious! Just some lemon juice for a bright flavor and creamy avocados.
Lazy Pad Thai – I mean I'm not saying I'm lazy. But I also don't always feel like spending forever in the kitchen with a ton of ingredients making something. This recipe feels like a simple and easy pad thai that I just have to try!
Spaghetti Oh Yes! – I love that Tara still uses pasta in her recipes. This recipe and her pesto shells sound like they are right up my pasta-loving alley!
Five-Minute Veggie Sushi – The idea of making my own sushi sounds intimidating but I'll give it a go if it's as simple and healthy as this recipe looks!
Lime Cake – If that's a thing, I want to be a part of it!
Wow that was a long list! I skipped over adding several recipes to avoid this post from becoming a novel. It excites me, honestly, to think that I could really start eating more of my meals like this. And in some aspects I already do with great oatmeal recipes, using almond milk whenever I can, and with my yummy spin on ramen.
This Make Your Own Rules Cookbook is gorgeous, approachable, and totally doable! Tara walks you through the principles of adjusting your diet and cleaning up your kitchen. Then it's all about giving you the confidence and freedom to try new stuff and play. After all, cooking should be fun, a stress reliever, and a place to have control over putting good food in your body.
What do you think of plant-based cooking like we see in the Make Your Own Rules cookbook? Have you followed Tara Stiles or is she new to you like she is to me? Comment below and let's chat!
Stay inspired & make healthy choices when you can!
~Kelli
0