Hey friend! Are you new to Can Cook, Will Travel or have you been following me for a while? Because if you've been around for a bit, you probably are well aware of my love for Moscow Mule recipes! I think it's the fact that this cocktail is light and refreshing and super versatile that I adore! So it's always an easy choice to both make and order out Moscow Mules regularly.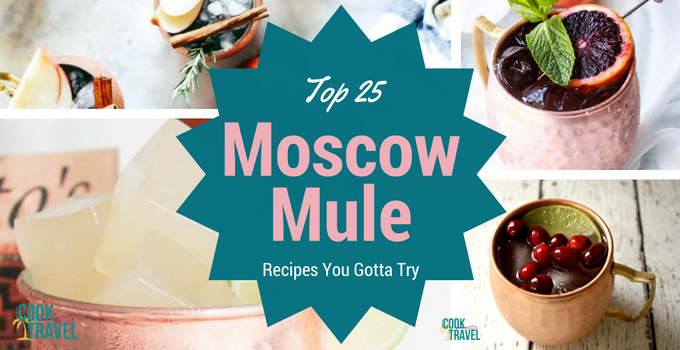 So what is a Moscow Mule and how did it come to be? Let's start with that.
I did a little research (thanks Wikipedia) . . . While some like to think the Mule was born from a drunken conversation in the 1940's when genius struck, I don't think this legend is right. More realistically, the mule actually was created by one of these drunken fella's bartenders, Wes Price. Price, in New York's Chatham Hotel, was on a mission, because he wanted to clean out the unsalable items in the bar's cellar including some ginger beer and Smirnoff Vodka. He created the cocktail in hopes to do so, and the rest is history! Delicious history, I might add!
I've tried a few variations on my blog with 3 different Moscow Mule Recipes in the past year. Plus it was a great excuse to get some pretty copper mugs of my own. And truth be told, my Grapefruit Rosemary Moscow Mule was the first one I'd ever had let alone made. So I'm a newbie in that sense, but I quickly became a big fan and drink them up now. I'm so intrigued by how many ways you can whip up this drink. But if you're curious where to start, here's the basic recipe:

I was perusing Pinterest the other day, as I like to do, and I kept seeing so many cool Moscow Mule recipes floating around that I thought it'd be fun to do a roundup of all of the yummy recipes out there. That way you and I have a one-stop shop kinda post to go find a bunch you want to try.
I wanted to organize them into categories so that it's easier to find the Moscow Mule recipes we're looking for. You'll find the following sections, and if you click these links it'll take you right to them (cuz I'm fancy and helpful like that).
Fruity Mules – Berries and other fruits we know and love.
Citrus Mules – Mules containing some added citrus.
Holiday Mules – Those mules that give us Fall or Winter vibes, and that's always good!
Spicy Mules – Yep, those exist and sound so good!
Whimsical Mules – Certainly flavors I wouldn't have thought of but can't wait to try!
Unconventional Mules – Swapping out the Vodka for Whiskey, so does that actually make them a mule? Oh who cares, because they sound yummy!
Top 25 Moscow Mule Recipes to Try:

Fruity Mules:
Blackberry Mule
Muddle some blackberries and add some fresh mint to this mule for one yummy combo!
Skinny Raspberry Mule
This drink uses some skinny Raspberry and Pomegranate flavored vodka along with fresh raspberries and mint to create a refreshing drink.
Pineapple Mule
This creative mule has pineapple juice added in along with some bitters and fresh mint! This cocktail sounds tropical and interesting!
Peach Basil Moscow Mule
I saw "peach" and "basil" and that was about all I needed. With peach vodka and lemon instead of lime, it's a whole new mule!
Blueberry Cucumber Moscow Mule
By muddling the blueberries and cucumber slices together, you get a seriously refreshing Moscow Mule recipe!
Georgia Peach Mule
I really think I need to purchase some peach vodka just from writing this post! Use peach vodka and some fresh mint mashed with fresh peaches in this cocktail to create a summery drink!
Strawberry Basil Moscow Mule
Put some strawberries and basil in your copper mug and muddle with some ginger beer to create and earthy, sweet and delicious Moscow Mule.
Muddled Fig Moscow Mule
Use fresh figs and muddle them up a bit and then substitute fig vodka in this drink. Seriously, I didn't know fig vodka was a thing, but I'm intrigued!

Citrus:
Basil Lemonade Moscow Mule
Make this yummy mule with fresh basil, your favorite lemonade, and you can make it virgin or with alcohol. Sounds super refreshing!
Sweet Lemon and Mint Moscow Mule
Swap the lime for lemon in this mule and add fresh mint to keep this cocktail fresh. Sweet, tart, and minty sounds like a winning combo!
Blood Orange Moscow Mule
I'm pretty sure I know what I'm making the next time I see blood oranges in the store! Use hard orange soda instead of ginger beer, some ginger liqueur and some fresh mint in this cocktail. I think we both need this mule in our lives!
Orange Moscow Mule
A bit of orange juice added to this mule makes for a bright, citrus-y cocktail!
Grapefruit Rosemary Moscow Mule
This is my very Moscow Mule recipe I ever made and the first I ever drank! And I gotta say that most of the mules I've had since have a hard time competing with this one. The scent of fresh rosemary and tart grapefruit juice make this one stellar cocktail!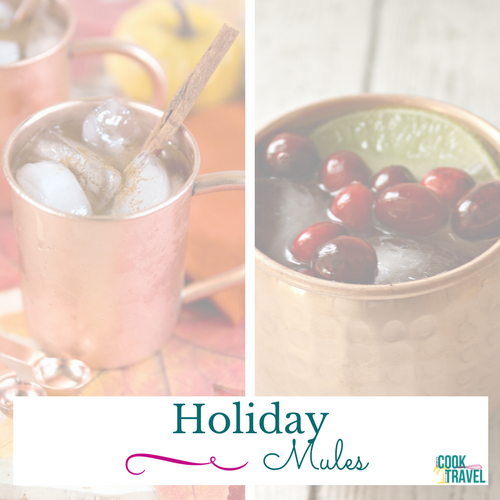 Holiday Mules:
Pumpkin Spice Moscow Mule
This cocktail is Fall-inspired for sure, because of its brown sugar simple syrup infused with pumpkin and warm spices as the base. So then you add in your normal Moscow Mule ingredients, and it's a guarantee that this cocktail will be perfect for Autumn! Better Pin this one!

Cranberry Moscow Mule
I just adore cranberries, and it is all because of the tartness, no doubt! And this tart yet sweet and bright and refreshing cocktail is perfect during the holidays (or anytime, IMO). Yum!
Apple Cider Moscow Mule
This mule has the addition of apple cider and cinnamon, and the thought of it makes me want to go on a hayride and make s'mores like I did as a kid. Is it Fall yet?!!

Spicy Mules:
Fiery Mule
Leave it to Fireball to kick up the mule several spicy notches with Fireball whiskey! And I think this has my friend Kerri's name all over it…
Spicy Cilantro Jalapeno Moscow Mule
So next time I'm making Mexican food, I definitely think it will call for this intriguing cocktail. Muddled cilantro and de-seeded jalapeños take the classic Moscow mule to a whole new, spicy level!

Whimsical Mules:
Campfire Mule
Now this drink, funny enough, makes me think of my childhood, because of all the campfires we'd have with my youth group. And adding Brulee Liqueur to the traditional Moscow Mule gives it a smokey, caramelized flavor (or I'm sure imagining it does).
Lavender Moscow Mule
This one sounds perfect during the Summer if you ask me. You make a simple syrup and then stir in some ground lavender and make your mule from there. Lucky for me, I have some lavender on hand, so I foresee this drink in my future!
Moscow Mule Jello Shots
Yep, Jello shots that are Moscow Mule flavored are a thing, and I hope my friend Kara is reading this! Because this is happening at the next tailgate I go to during football season. #YouveBeenWarned

Unconventional Mules:
Blackberry Sage Kentucky Mule
Swap out the Vodka for Whiskey and give your cocktail a bit more oomph! And I'm such a fan of blackberry and sage on there own, so I can only imagine how fabulous this is!
Irish Mule:
Here's another whiskey variation for you, and it's a more classic mule with the addition of mint and Irish whiskey. Hmmm, I have some Jameson on hand, so I think I can make this happen.
Harvest Moscow Mule
I was torn if this should go in the holiday or Unconventional category, but it's definitely not your standard Mule. You're using hard apple cider in place of ginger beer, and vodka is swapped out for some cinnamon whiskey and bourbon. While I am generally not a big whiskey drinker, I'm definitely going to be trying some whiskey in a future mule. So don't forget this one next Fall!

Whew! So you gotta agree that is a seriously diverse and yummy sounding roundup of Moscow Mule Recipes! And not only are there several I'm excited to try, but they've inspired me for even more combinations. I love seeing people's creativity like this because it gets me feeling excited to experiment with this cocktail.
I hope you're also loving these Moscow Mule recipes, so I'm not alone in my slight obsession. So let's chat more and tell me what the best Moscow Mule you've ever had is and which of the ones on my list do you want! Personally, I do love a good grapefruit mule. I can't wait to find out, so comment below!
Also, if you're looking for some gorgeous copper mugs, here is the set that I got myself over on Amazon that I just LOVE!
Stay inspired & get out your copper mugs!
~Kelli
0