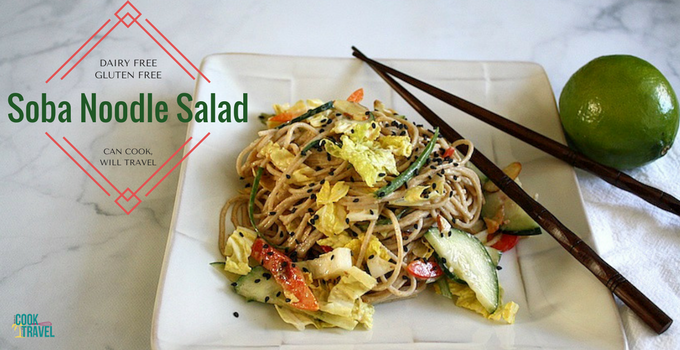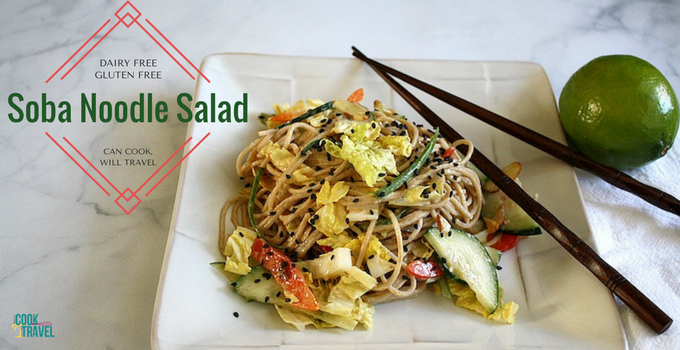 (This Soba Noodle Salad recipe is by Giada de Laurentiis, and it can be found in her Giada's Feel Good Food cookbook.)
Step by Step Instructions:

Soba Noodle Salad is about to rock your healthy eating life, and here's what you'll need: Wasabi Paste (Asian food section), Sesame Oil, Reduced-Sodium Soy Sauce, Extra-Virgin Olive Oil, 1 head of Napa Cabbage cored and thinly sliced, Almond Butter, Honey, Black Sesame Seeds (Spice section), Toasted Sliced Almonds, 1 Red Pepper thinly sliced, 3 Scallions thinly sliced, 1 Cucumber thinly sliced, Fresh Limes, 1-inch piece of fresh Ginger, and Soba Noodles.

This Soba Noodle Salad requires a fair amount of chopping, so I like to get it all done ahead of time. A few thoughts on the prep of your veggies: With the cabbage, cut the end off, then wash your leaves and pat dry. Then cut out the thick white from the leaves and stack the leaves on top of each other and thinly slice. For the cucumber, slice it in half lengthwise and then thinly slice it. Then remove the stem and seeds and cut the red peppers thinly. And for the onions to give them all a uniform look, I cut each scallion into about 2 inch segments and then thinly sliced each segment lengthwise. Finally it's time for the ginger, so use a spoon to help you peel the skin from the ginger.

Then roughly chop the ginger, and don't get too worried on your cutting here because this will go in the blender.

Next start a large pot of water boiling for the soba noodles, so it's heating as you finish up your prep work.

The final prep work is the lime juice, so juice enough limes where you get 1/4 cup of fresh lime juice. I had one seriously juicy large lime, so that ended up being all I needed.

While the water comes to a boil, pull out your blender and get ready to make your Soba Noodle Salad dressing. Then all you need to do is add 3 tablespoons of almond butter, 3 tablespoons of soy sauce, 3 tablespoons of EVOO, 1 tablespoon of sesame oil, 1 tablespoon of honey, the fresh lime juice, chopped ginger, 2 tablespoons of water, and 2 teaspoons of wasabi paste to the blender bowl. Whew that's a mouthful of ingredients, but they're each completely worth it!

Then start blending all of the ingredients up until the mixture is smooth.

Oh how I wish this was scratch and sniff, because this dressing with the fresh lime, sesame oil, wasabi, and nutty almond butter smells incredible. Set aside the dressing, but leave it in the blender so you can mix it once more before using it.

Once your water is boiling, add salt to it, and then add the noodles and cook for 4-5 minutes. My package said 6-7 minutes, so I went for 5 minutes, and that ended up working great! One thing to note here is that I used my full package of 12 ounces of noodles, because I didn't want the rest to go to waste, so 8 or 12 ounces will work perfectly here.

Once the noodles are done, drain them in a colander, and then rinse them really well with cold water.

Then add the drained noodles to a large serving bowl.

As my dressing sat for a few minutes, I noticed that it had thickened up a bit, so I mixed it in the blender for a few seconds and then poured it over the noodles.

How gorgeous is this image as you add the Napa cabbage, red peppers, cucumbers, toasted almonds, and sliced scallions?! You get a good look at the scallions here, and I've never cut them like this before, but they were really pretty in the dish and were easy to eat.

Then use tongs to combine the Soba Noodle Salad so that all of the noodles and veggies are coated in the delicious dressing. Enjoy it right away and sprinkle with black sesame seeds when serving. Honestly if you love sushi and pasta, then you will adore this, because the wasabi, soy sauce, ginger, and sesame oil are such a lovely nod to eating sushi. Happy healthy eating!!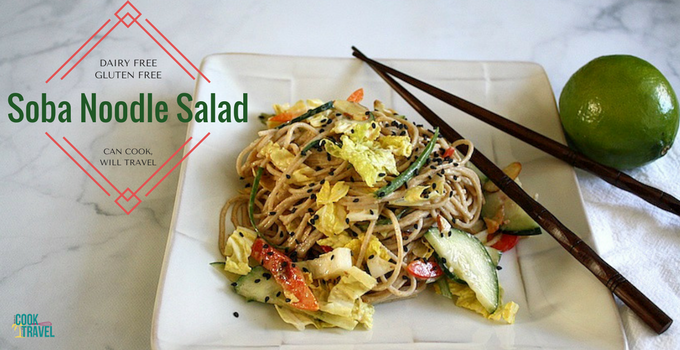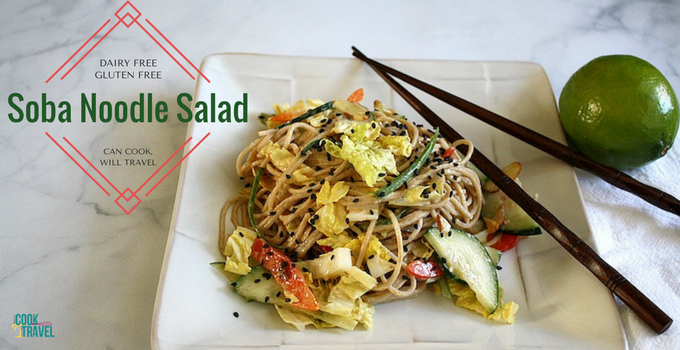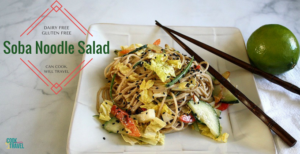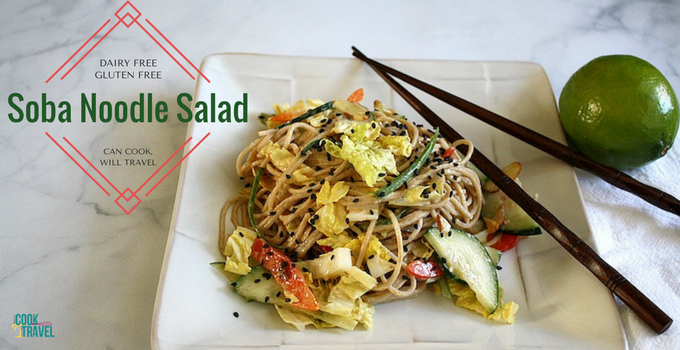 Print
Soba Noodle Salad
Yield 6 servings
This gluten free, dairy free, and vegan salad will have you going back for seconds because it's not only healthy but seriously delicious!
Ingredients
Pasta Salad Ingredients:
8 ounces dried Buckwheat Soba Noodles (I used an entire 12 ounce package)
1 (1 1/2 lb) head Napa Cabbage, cored and shredded
1 Red Bell Pepper, stem and seeds removed and thinly sliced
3 Scallions, cut into 2-inch sections then thinly slice green & white parts lengthwise for lovely ribbons of onions
1 Cucumber, peeled then halve lengthwise and thinly slice
1/2 cup Slivered Almonds, toasted
3 T. Black Sesame Seeds
Dressing Ingredients:
3 T. creamy Almond Butter
3 T. reduced-sodium Soy Sauce
1 T. Sesame Oil
3 T. Extra-Virgin Olive Oil
1/4 cup fresh Lime Juice (a really large lime or up to 3 smaller ones)
1 T. Honey
2 T. Water
1 (1-inch) piece of fresh ginger, peeled and roughly chopped
2 teaspoons Wasabi Paste
Instructions
Begin by chopping up all of your veggies, including the cabbage, red pepper, scallions, and cucumber. For the dressing you'll need to juice your limes and peel and chop your fresh ginger.

Grab a large pot and fill it 2/3's full of water and bring it to a boil. Once it's boiling, salt the water and cook the Soba noodles for 4-5 minutes.

As the pasta cooks, mix up the salad dressing by adding all of the dressing ingredients to a blender. Then blend until the dressing is smooth. Note that you'll want to blend it right before you add it to the pasta so it's not too thick.

Finally drain the pasta once it's cooked, and rinse it with cold water. Once the pasta is completely drained, place it in a large serving bowl. Toss it with the dressing (that you just blended again to ensure it's not too thick), and then add the cabbage, cucumbers, peppers, almonds, and scallions to the bowl and toss until all of the ingredients are coated in the dressing.

Serve the Soba Noodle Salad right away and sprinkle with black sesame seeds before serving. Enjoy!

 
Notes
Quick Note: This Soba Noodle Salad gets even better as it sits in the fridge and the pasta absorbs the dressing. So you'll end up with a lot of leftovers that just get better with time!
Courses Lunch
Cuisine Asian
Nutrition Facts
Serving Size 1 cup
Amount Per Serving

Calories 435

% Daily Value

Total Fat 28 g

43%

Saturated Fat 3 g

15%

Sodium 873 mg

36%

Total Carbohydrates 66 g

22%

Dietary Fiber 5 g

20%

Sugars 10 g

Protein 18 g

36%
* Percent Daily Values are based on a 2,000 calorie diet. Your daily values may be higher or lower depending on your calorie needs.

0