Happy Holidays, friend! We're nearing the end of not only this month but also this year. I really love the Christmas season, so I'm sad to see December come to an end. But it also means that it's time for a blogging roundup and get you caught up all the goings on here at Can Cook, Will Travel.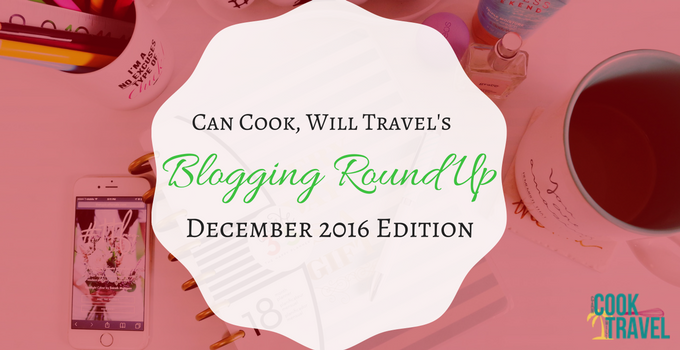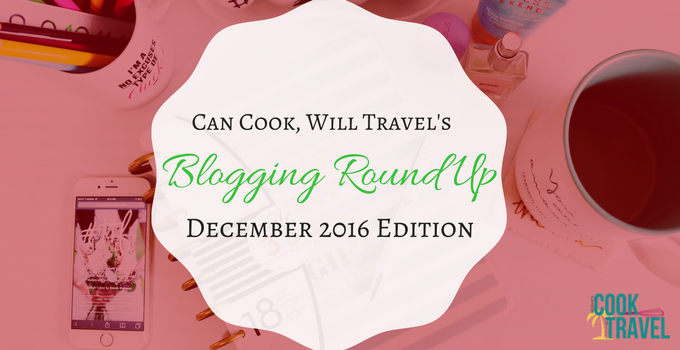 Personally I've done a lot of relaxing this month. I think all of the go-go-go of 2016 finally caught up with me. So up went my tree, and I watched countless Christmas movies with my favorite Christmas candles burning. I literally wrapped every single Christmas gift for every person in my family, including myself (with the exception of 2 gifts my mom forgot about and wrapped last minute). Yep, I happily wrap presents for myself and I never sneak a peek! How's that for self-restraint? I actually a) love a surprise and b) seriously love gift wrapping!
So for me this month it was about holiday flavors, good food (of course), baking, fast meals for those busy week nights I had, and planning for 2017.
So how about we dive into December's Blogging Roundup, shall we?!
Recipes Blogging Roundup: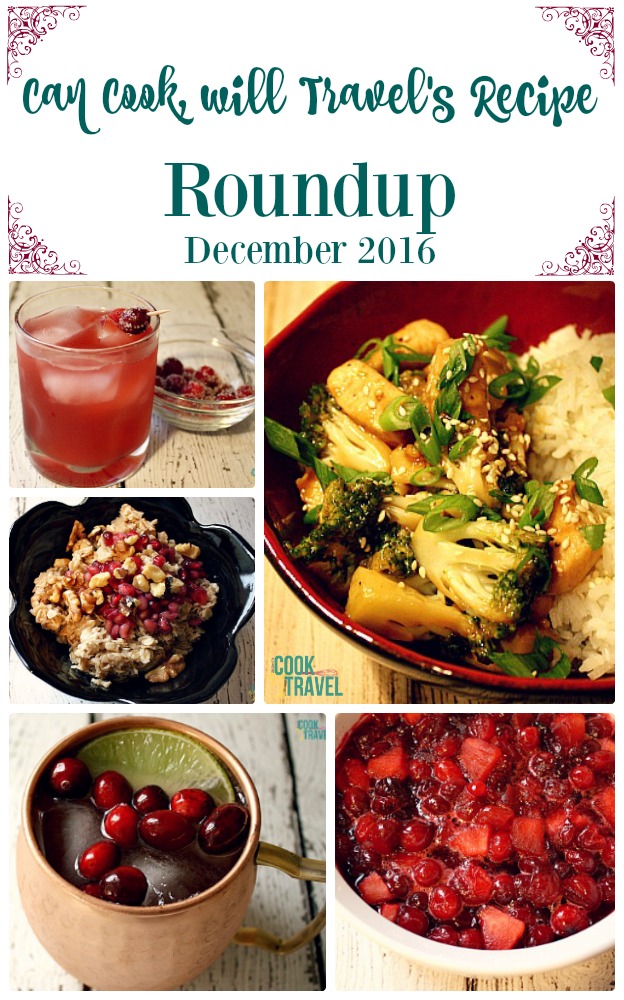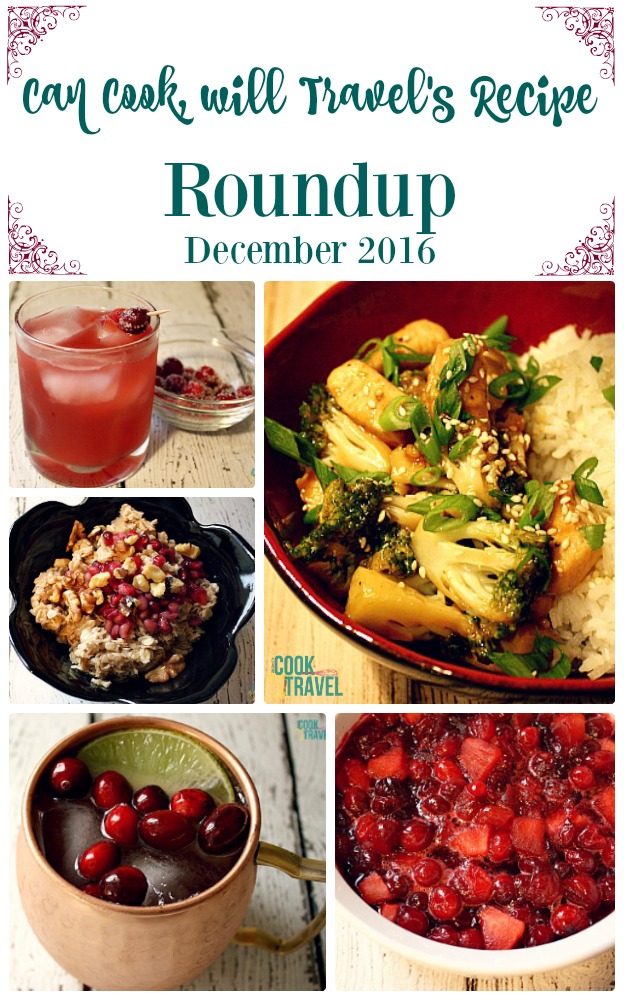 Breakfast:
Breakfast is one of my favorite meals of the day, and I will rarely miss it unless I have to get up insanely early for a flight or something. And typically I'm a coffee and cereal kinda girl. But we had a week in the Midwest where it was beyond freezing. All I could think of was a nice, warm breakfast and this Winter Oatmeal popped into my head.
While I knew I'd be indulging on a ton of food and drinks this month, eating healthy has been a priority for me. And this oatmeal absolutely helped me to eat healthy, and it is super fast to whip up in the morning. So when you're rushing around and think about skipping breakfast, take 5 minutes to make this dish. You'll get extra energy and will feel great about your choice.
Drinks:
Tis the season for holiday parties and spending tons of time with friends and family. And whatever the reason may be, you may find yourself enjoying a lot of holiday drinks this season. And because I adore all things cranberry, I made 2 seriously delicious Holiday Cranberry Cocktails.
The Big Sister cocktail is a mix of vodka, a splash of ginger beer, plus lots of citrus and cranberry flavors. It packs a punch to keep you feeling good all night! And since I love a good Moscow Mule, I had to try a Cranberry Moscow Mule recipe. Oh. Holy. Goodness. This mule is one I know I'll be making long past December. It's bright, refreshing, and my copper mugs never seemed so happy!
Sides:
Have I mentioned I adore cranberries? Oh not in the past 2 seconds, perfect . . . I love cranberries! And I really love cooked cranberry sauce, and this Cranberry Sauce with Apples variation sounded too tempting not to try.
Cinnamon-y, tart from the cranberries, and slightly sweeter with apples and some sugar . . . wow was it amazing! It's great to accompany your holiday turkey, or just to enjoy on its own as a snack or a side. So good!
Main Dishes:
I'm betting your December was as busy as mine was. Lots of get togethers the past couple of weeks with friends and a holiday party along with work and blogging. Well that made for one busy Kelli. And one night I was in desperate need of a fast dinner, and this 12 Minute Chicken & Broccoli dish was perfect.
Chop up the broccoli and chicken into bitesized pieces. Then cook the chicken, whisk up the sauce and add the broccoli to the chicken. Finally stir in the sauce and serve over rice. Did you catch how fast that was? It was super healthy and a great way to eat well and have everything cooked, eaten and cleaned up in under an hour.
Weekly Crush Blogging Roundup: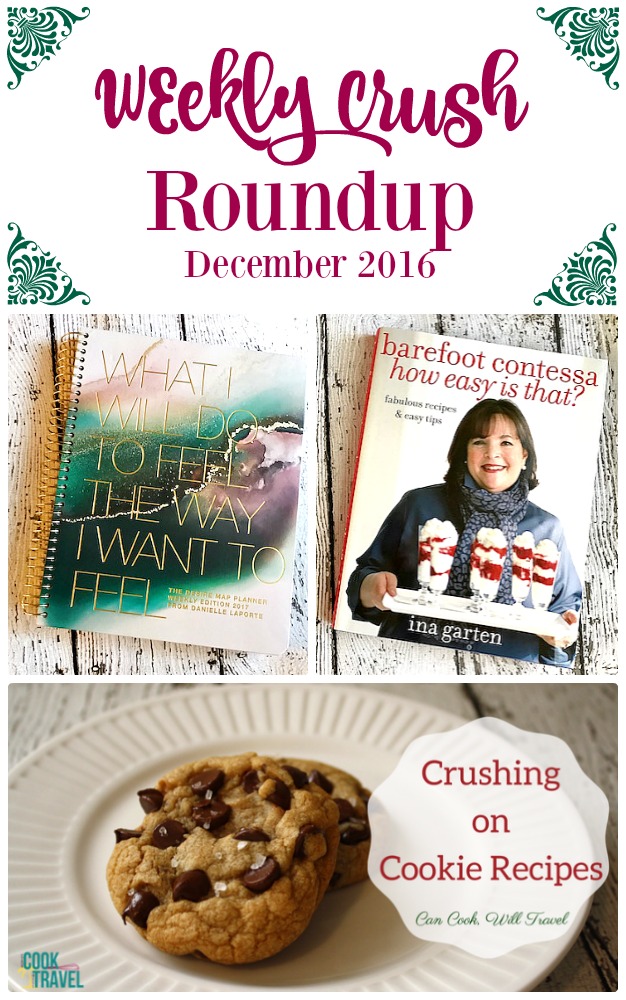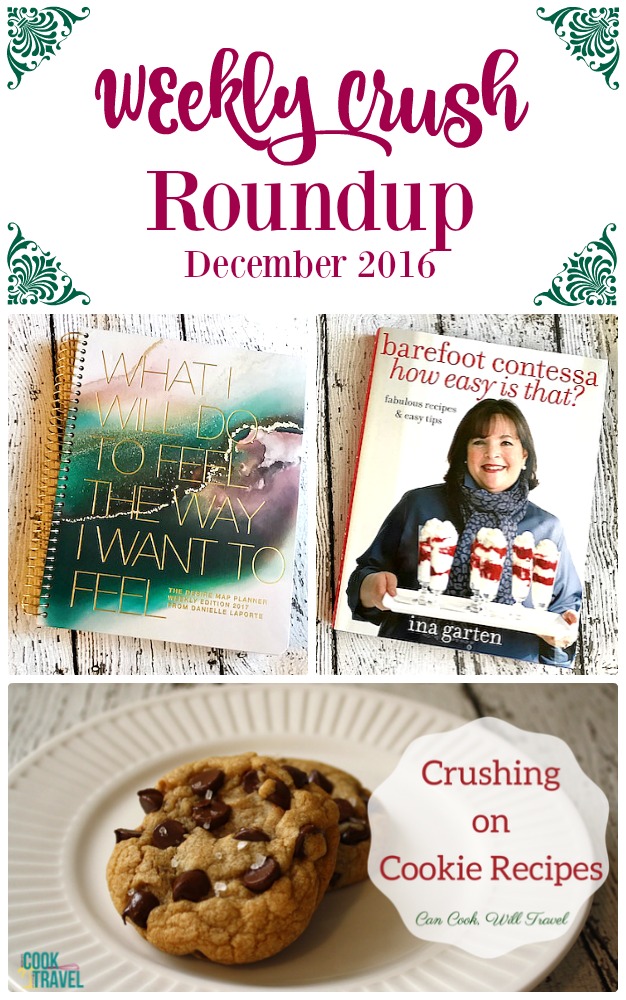 Cookbook Love:
Isn't Ina Garten kinda the picture of comfort food? And to me the holidays are chock full of eating your favorite foods and celebrating tradition. So it seemed pretty perfect to feature one of her cookbooks this month. I decided on her How Easy is That? book, because I was wanting to dive into it again. I got it at an author event she did here in KC 6 years ago, and after that life got busy and I forgot I wanted to revisit it. It's full of great recipes, entertaining tips and tricks, and food that you can make ahead so you aren't slaving away in the kitchen. This is a wonderful cookbook to check out.
Crushing on Cookie Recipes:
If December isn't the month of baking, then I don't know what would be. (Aside from June that has always been full of birthdays in my family.) And I know cookie exchanges are a popular holiday tradition among friends and colleagues, so sharing my favorite cookie recipes is a no-brainer. So in this post you'll find my top 7 cookie recipes that I've whipped up the past 6 years that I still drool over when I think of them. Hope you enjoy!
A Planner with Soul:
Out goes 2016 and in comes 2017. I have a feeling many of us are hoping for 2017 to be a bit kinder. And when it comes to a successful year, for me it's about keeping on top of my work, my blog, and my personal life with as much ease as possible. After seeing myself hop on, then off, then back on the daily planner wagon, I know what works for me. And that is actually using my planner. And I really loved my 2016 planner, The Desire Map Planner by Danielle LaPorte. So choosing it again for 2017 was an easy decision, because it was a mix of to-do lists, journaling, and keeping myself focused on my desires and goals for each day, week, month, and the year. So if you're on the hunt for a planner that you're actually going to use this year, then this one may just be for you too!
Alright, my friend, that's how December played out. I hope you found this blogging roundup useful and that it inspired you to get in the kitchen a bit more or start focusing on your goals for 2017. I know it sure did for me!
We've come to the end of this month's blogging roundup. how was your December?! What are your favorite recipes to make for the holidays? And are you geared up for 2017 so that is your (and my) best year yet?! Let's chat below.
Stay inspired & happy discovering!
~Kelli
0