Let me set the scene: It was November 2010. There I was at Unity Temple in KC with my mom and sister, and we were seated and preparing to see Ina Garten. She was appearing for an author event where she would be interviewed, and everyone in the building had gotten their own copy of the How Easy Is That? cookbook.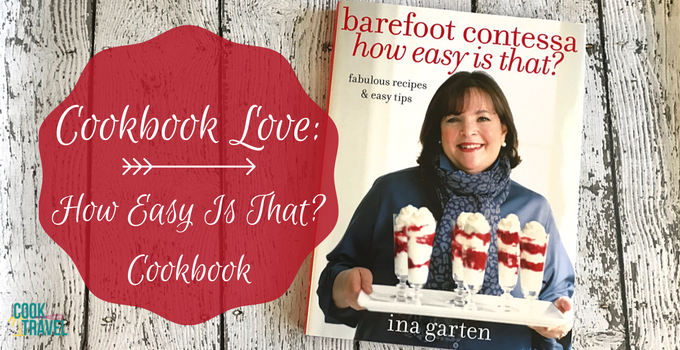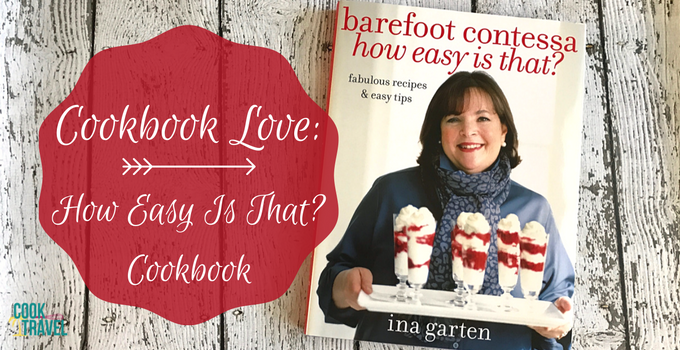 And I'll be honest that 6 years later, I still hadn't really looked at the cookbook after that day. And when I was thinking about the perfect book to feature in this month's Cookbook Love post, I thought back to this one. After all, December to me is about good food, spending time in the kitchen making said food, and entertaining friends and family. All of which Ina has perfected.
As I sat in the Unity Temple waiting for Ina to come out, I really didn't know what to expect, because while I enjoy her Barefoot Contessa cooking show, I didn't know if I'd really relate to her. She lived a bit of a dream life in her fancy Hamptons home within walking distance of the ocean where she enjoys many a picnic (as she should). But what could we have in common? After the question and answer session she did with Rainy Day Books I suddenly realized we both enjoyed good food, easy cooking, and spending time with the people we love. It seems many of us have a lot in common with Ina after all.
Why Ina Garten:
There's something about Ina. Now I know you might watch her show and think it's all a bit pretentious with her Hamptons house, easy access to seafood, and fancy parties. But I can't help it . . . I'd trade places with her for a day (or two)!
Once you start watching The Barefoot Contessa, as Ina is known, you start getting a feel for how she cooks. The ingredients are key, and her techniques are simple. She just wants us to enjoy food and cooking a meal. She honestly makes it all look pretty darned easy.
And when I sat and watched her at that event back in 2010, I could tell she genuinely loved cooking. She loves sharing tips and tricks, and doing whatever it takes to make life easy in the kitchen. And that really is her focus in this particular cookbook as you can tell from the name.
Of course the phrase "how easy is that?" is one that she uses a lot on her cooking shows, so it was a natural cookbook title. But it's a perfect one for Ina, because she can make a dish look divine and impressive yet when you see what it takes, it's pretty easy.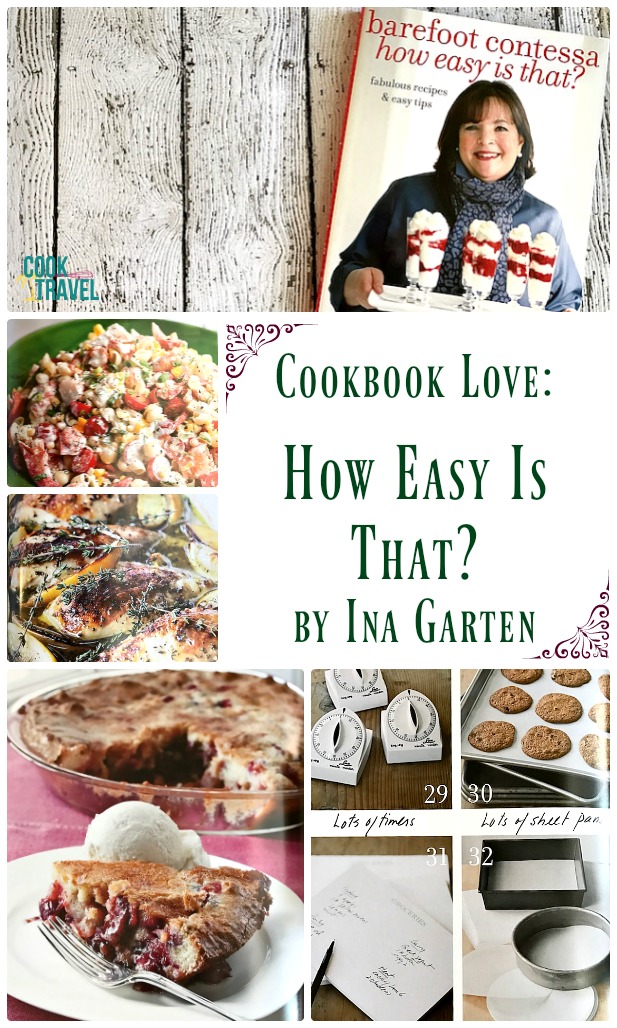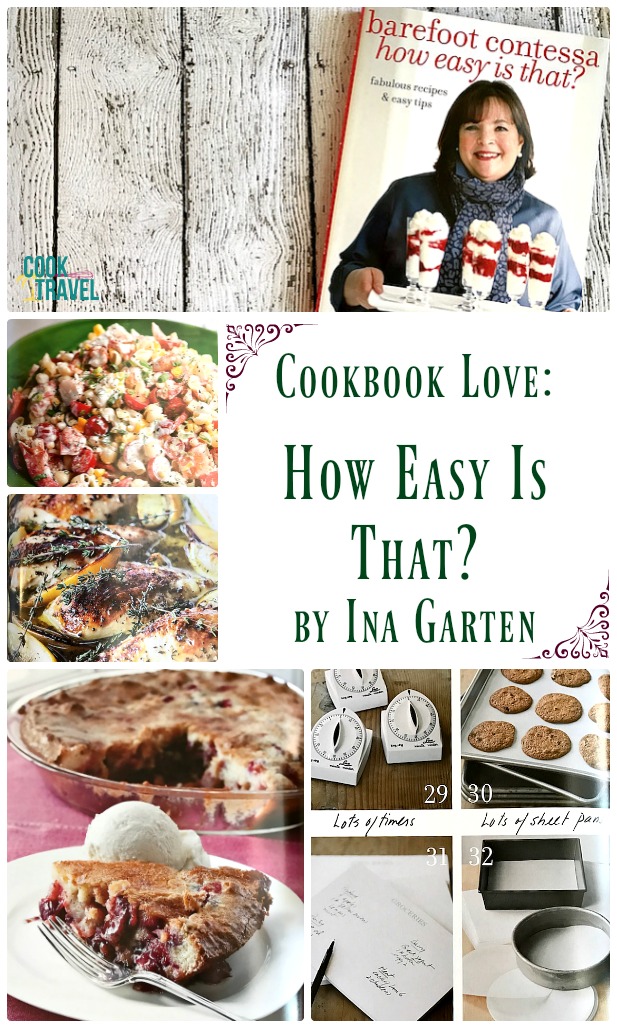 How Easy Is That? Cookbook Organization:
So let's talk about how this book is organized, because it's pretty straightforward. The introduction is definitely worth a read to understand how and why Ina strives to make these recipes easy. Ultimately it all boils down to not wanting to slave away in the kitchen.
Ina loves dinner parties and cooking for friends and of course her husband, Jeffrey. The last thing she wants is to have intricate recipes that require a ton of ingredients and time. Like us, she'd rather work smarter not harder. And one thing you find sprinkled throughout this book are her 68 easy tips. She'll focus on cookware, ingredients, and tips for storage and simple entertaining. Some things are pricey, but I definitely think that certain kitchen tools are worth investing in as it will save you money over time.
The recipes are organized by the type of dish. So you have cocktails, starters, followed by lunch and dinner recipes, and then a section just for veggies and one for desserts. Pretty standard organization but quite useful for getting ideas for meals and hosting parties.
As a fan of indexes in cookbooks, I was surprised to see 2 indexes. You have a standard index so you can search by ingredients. And the additional index is a recipe index, so you can quickly find a specific recipe you're looking for. Talk about handy!
What's to Love about the How Easy Is That? Cookbook
The Concept – I really love when a cookbook is clearly about keeping it easy yet delicious. The idea of recipes to make ahead or shortcuts to take so you can enjoy your company rather than slave away in the kitchen speaks to me. Make a game plan in advance, and your life will be much easier for any meal.
Photography – Great photos are critical to me when it comes to using a cookbook. I eat with my eyes first, and the photos here are gorgeous. They're practically begging you to whip up this food.
Simplicity of Ingredients – As I flip through these recipes, I'm struck by how many require basic, easy to find ingredients. Sure there might be the occasional seafood recipe that I only wish I could find easily (I'm talking to you, lobster). But Ina's in the Hampton's and I'm landlocked in the Midwest and not willing to pay an arm and a leg for fresh seafood, so it's understandable. But most recipes are basic, easy to follow and don't require weird, random items.
Recipe Photos – Every recipe seems to have its own photo, which I so appreciate. It's great to be able to visualize what a finished dish should look like.
68 Easy Tips – As I mentioned, her 68 tips sprinkled throughout the book are great. They're just photos with a short caption to give you ideas or let you know what Ina values most in her kitchen.
Lots of Explanations – Before every section of the cookbook, There's a page of tips, ideas, and thoughts regarding that section's topic. So desserts, for example, is where she gives a ton of baking tips. Plus you'll find a short paragraph before each recipe to give you a bit more insight before you make it.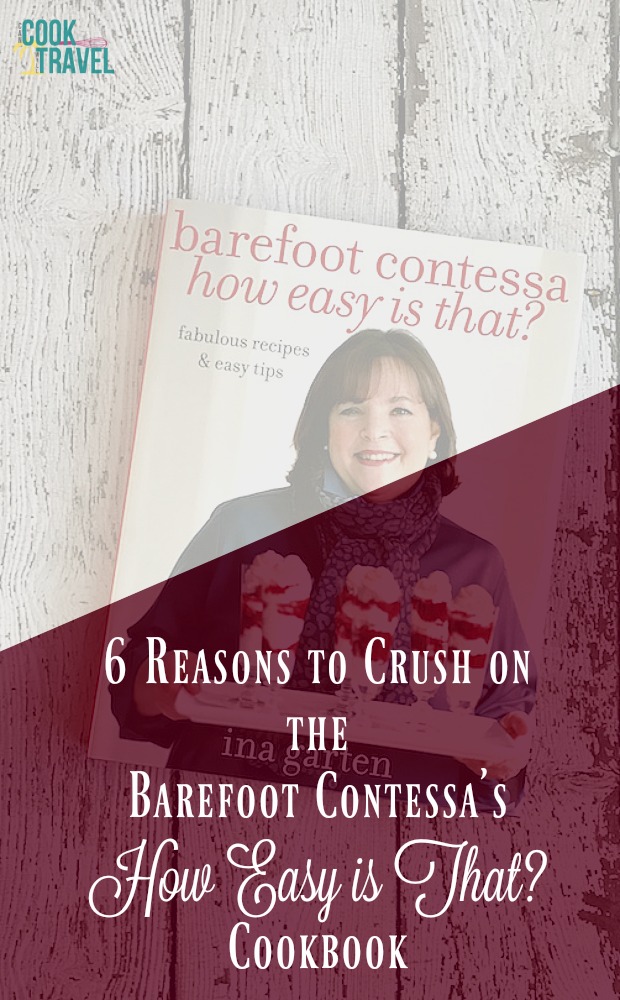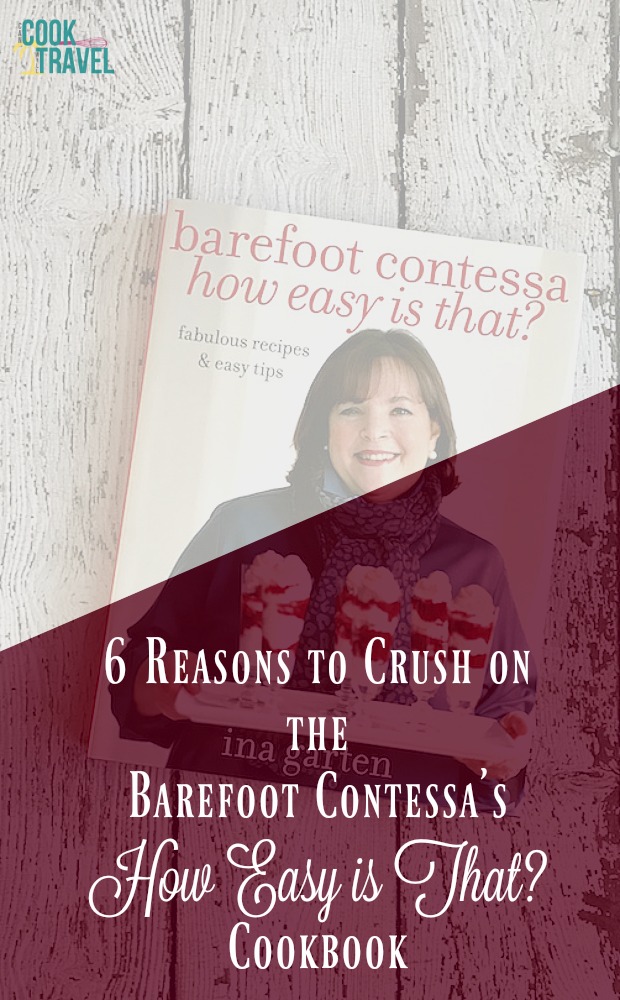 Crave-worthy How Easy Is That? Recipes
Grilled Bread with Prosciutto – Mozzarella and prosciutto is all you need to say.
Pink Grapefruit Margaritas – If lime and grapefruit are involved, I should be too.
Onion and Fennel Soup Gratin – A delicious looking spin on a french onion soup. Yes, please!
French Mussel Bisque – How perfect does that sound on a cold night in?
Greek Panzanella – Panzanella is a salad with a bread base in a nutshell. And I just love the Greek flavors of Feta, olives, olive oil, peppers and tomatoes. Yum!
Lobster & Shells – A Midwestern girl can dream, right?! I get my love of lobster from my mom, because she has amazing taste!
Lemon Chicken Breasts – Don't those sound amazing?! Lemon and fresh thyme are such a great combo.
Bangers and Mustard Mash – Having lived in the UK, I'm a big fan of bangers and mash. This dish was a pub favorite of mine, and I foresee making this on the blog in my future!
Parmesan Polenta – I made another version of polenta by Ina my first year of blogging. It's stellar, so I can't imagine this dish not being wonderful!
Easy Cranberry & Apple Cake – Obviously all I needed to see was "cranberry" to know that I should make this recipe.
Red Velvet Cupcakes – Because who doesn't love red velvet food of any kind? Yum, yum, yum!
You'll find a huge variety of food and drinks in the How Easy is That? cookbook, and they'll be perfect for a quick weeknight or if you're entertaining. And I know you'll love the set up of this cookbook and the gorgeous photos, so you can see what you're making.
Oh and if you're lucky enough to live in Kansas City, I HIGHLY recommend checking out Rainy Day Books (in Fairway, KS). They often have author events that they put on that are amazing. It's also where I got to sit in the front row and listen to Giada (aka my culinary idol), and it was such an incredible experience.
Do you love Ina Garten? If so, then you absolutely need this How Easy Is That? Cookbook! What are your favorite foods to cook? Comment below!
Stay inspired & may your cookbook collection grow!
~Kelli
0