Are you getting in the holiday spirit yet? My tree is up, I've purchased a few presents, holiday scented candles are being burned, and I have Hallmark Christmas movies on throughout the day, so I'm definitely getting there. Last week's cranberry sauce post was so delicious that I decided I wanted to try something else with cranberry flavors and came across two holiday cranberry cocktails that I wanted to try out.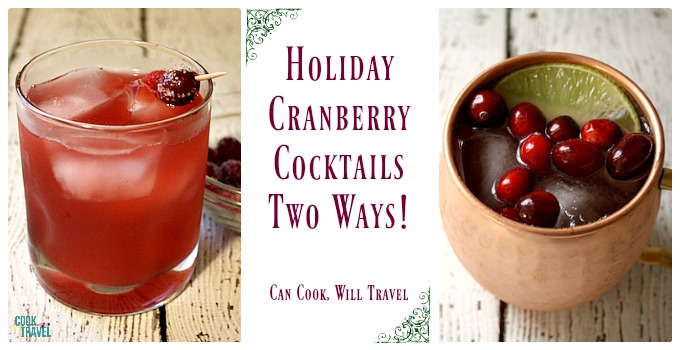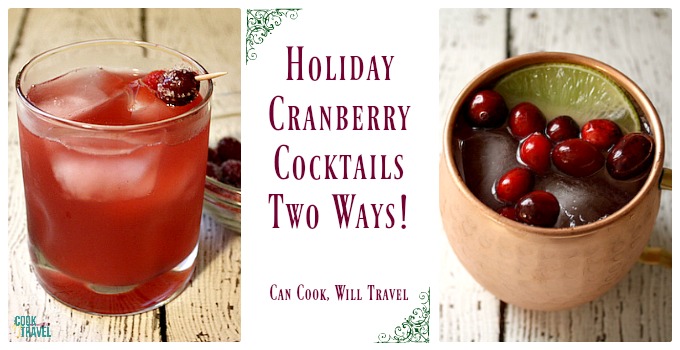 Now really you could make these any time of year, because both cocktails use cranberry juice. So you don't have to consider them holiday cranberry cocktails if you don't want. If you keep some fresh cranberries frozen in your freezer, then it's super easy to garnish your drinks.
If you're not a big cranberry fan (and I know there are some of you out there), then these cocktails are really great for you too! I say that, because you're not dealing with the uber tartness or texture of cranberries, which I know can turn some people off.
So let's dive into these Holiday Cranberry Cocktails, shall we?!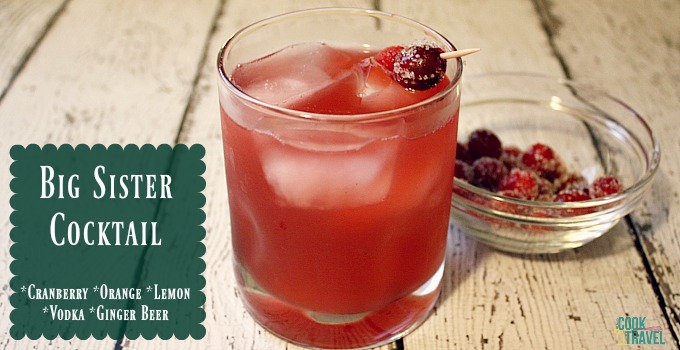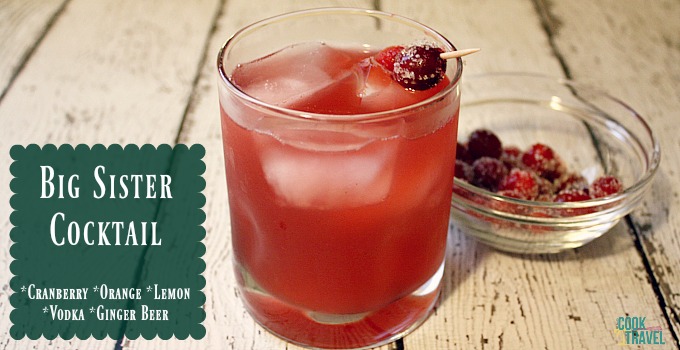 The Big Sister Cocktail
Pinterest really is the greatest, and it's where I found this recipe, the Big Sister cocktail. It caught my eye, well because I have a big sister and I kinda like her and she was sitting next to me when I spotted it. 😉 Out of curiosity, I checked out the ingredients, since the name didn't tell me much, and it didn't take long for me to add this to my cooking/drinking queue.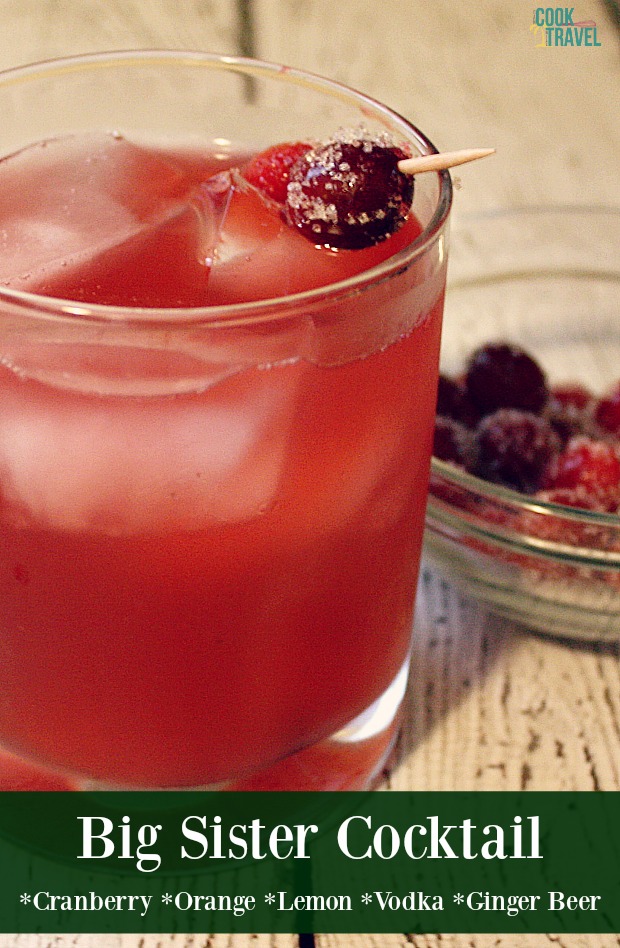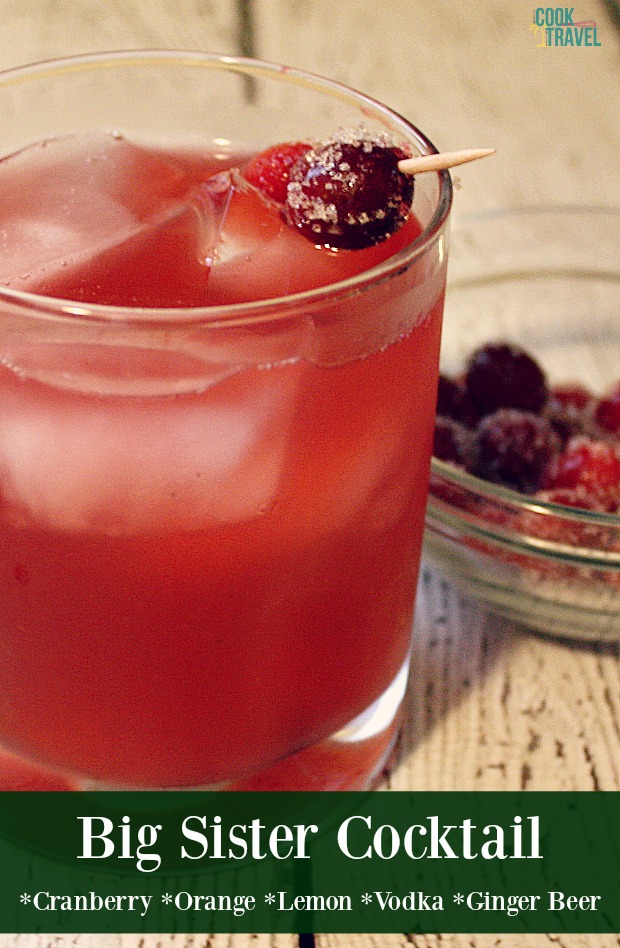 The recipe comes from the site Vanilla and Bean (such a cute name!). It's actually a 2 part-er but the first part is optional. You can create these really yummy sugared cranberries. First you'll make a simple syrup, and then you let the cranberries steep in the simple syrup for about 10 minutes. Remove the cranberries and let them cool, and reserve the simple syrup. Then once the cranberries have cooled, the syrup on the outside is sticky and you roll the cranberries in sugar and store in the fridge.
The sugared cranberries and the simple syrup are both used in this holiday cranberry cocktail. The cranberries are a garnish, and the syrup is added to the drink.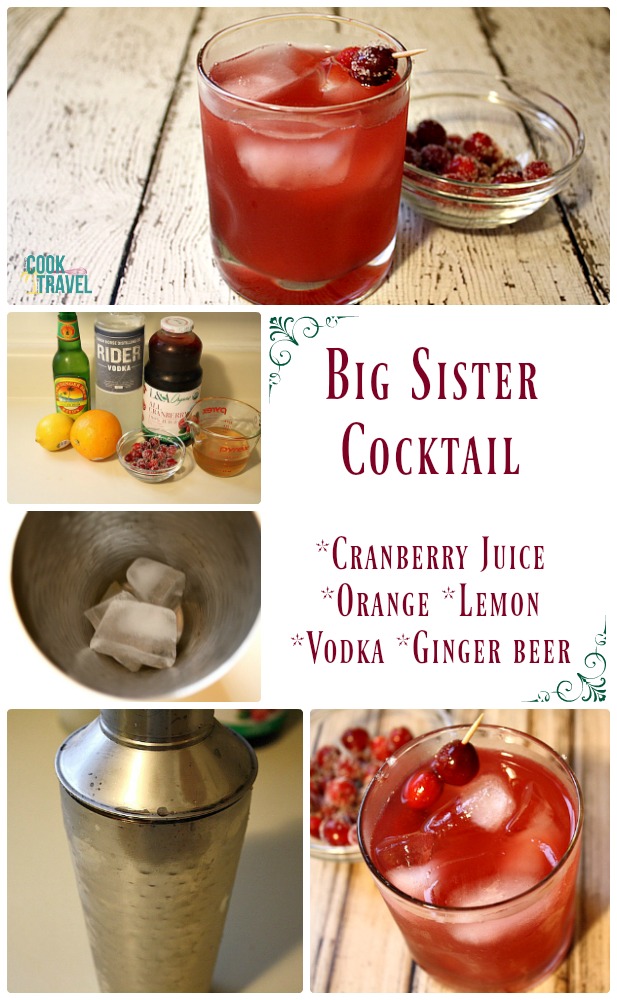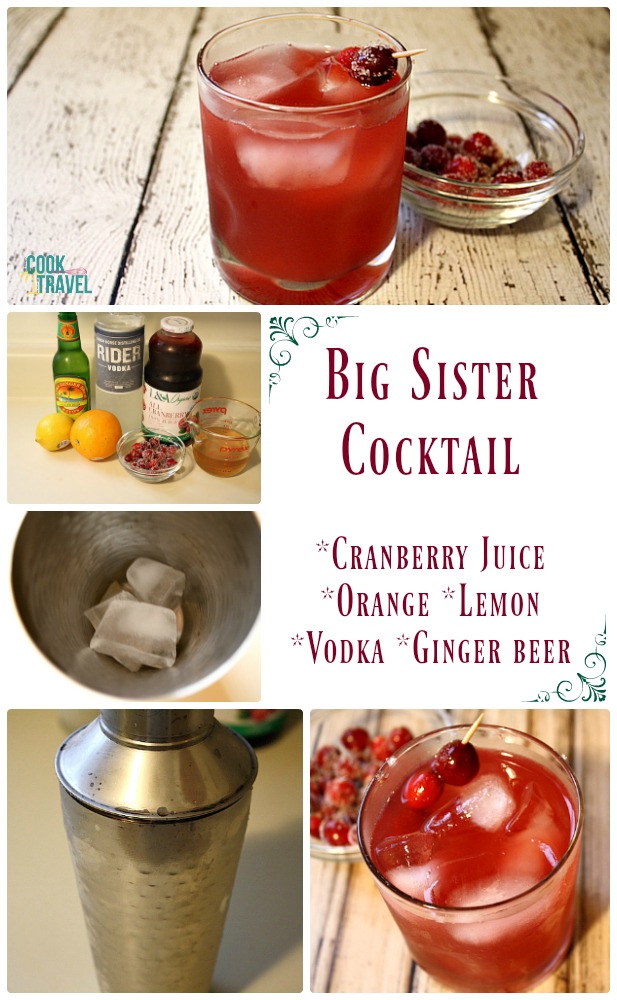 The drink is really quick to make. All you'll need is a cocktail shaker, some ice, and tumbler for serving. In the shaker, combine some cranberry juice, freshly squeezed orange juice, ginger beer, vodka (you can use a citrus vodka), freshly squeezed lemon juice (add a little more if you're using plain vodka), and some simple syrup.
Give the cocktail a shake with some ice and serve it over ice and enjoy! That's it! With this Big Sister Cocktail recipe, you'll be looking like a fancy mixologist in no time!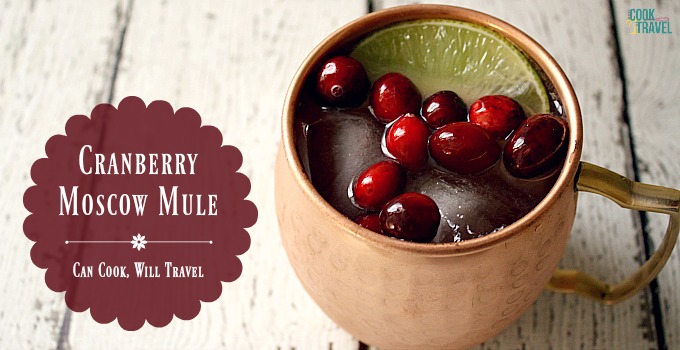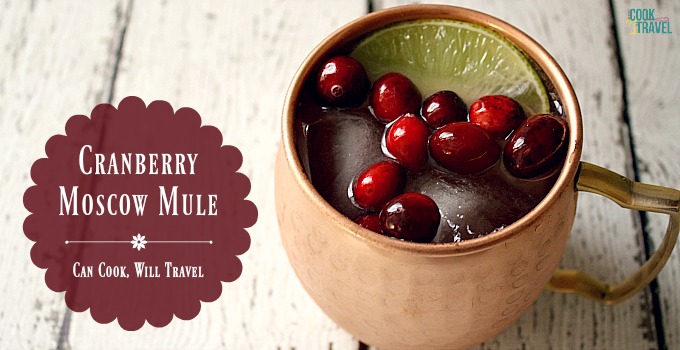 Cranberry Moscow Mule
Oh how I adore PureWow. If you don't follow this blog, they have a ridiculous amount of content from beauty, fashion, life, relationships, career, entertainment to food and drinks (in this case). Check out this post where I featured them to learn more. (No sponsorship here, I'm just a fan!)
Anyway so I saw this cocktail on their site, and this mule originally comes from the blog Blackberry Babe. (Have a feeling I need to dig into this blog a bit too). They had me at "cranberry" but really they could have had me at "Moscow mule" too because apparently I'm pretty easy like that. Haha! In case you're just now getting to know me, I've become a lover of this trendy cocktail in the past year or so. In fact I just "had" to have some copper mugs to make some at home, and this is the 3rd mule variation I've tried.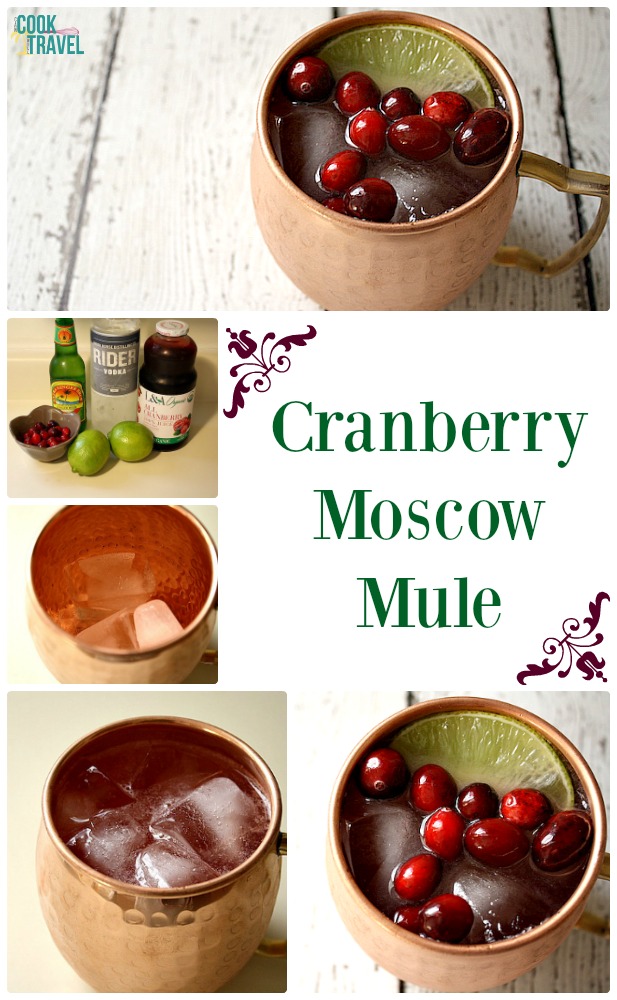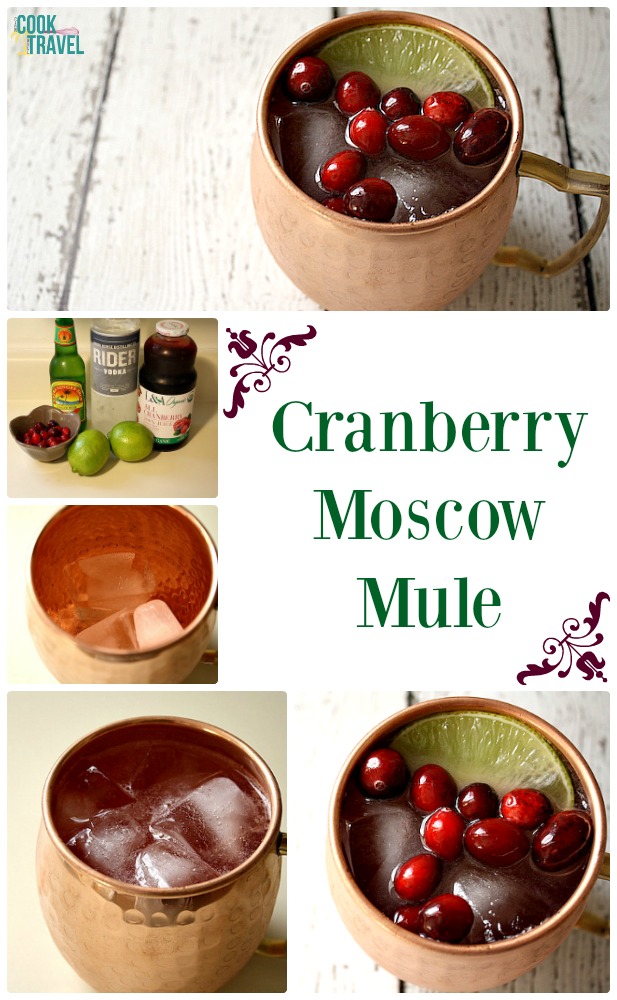 And what I love about a Moscow Mule cocktail is that whipping them up is a cinch. In this case you're just combining ginger beer, vodka, the juice of a lime, and a little cranberry juice together and serve it over ice. Literally it couldn't be easier.
And it's nice and tart from the cranberry juice and fresh and bright from the lime. The ginger beer adds just enough sweetness along with the vodka for a slight kick. This Cranberry Moscow Mule is an easy and impressive cocktail to make for your friends and family over the holidays. Hell, all year it would be perfectly delicious and impressive . . . who am I kidding?!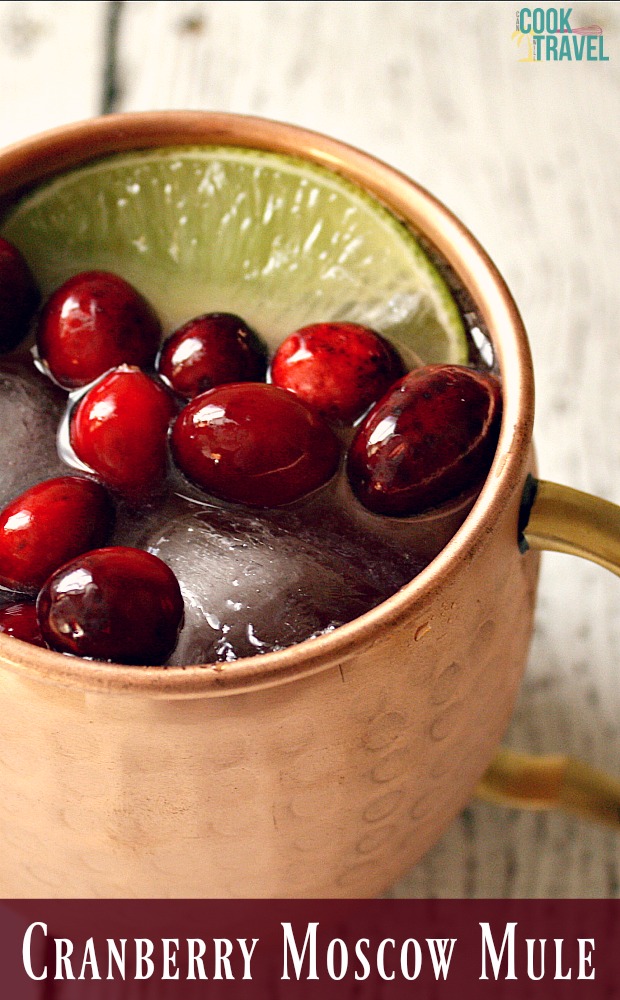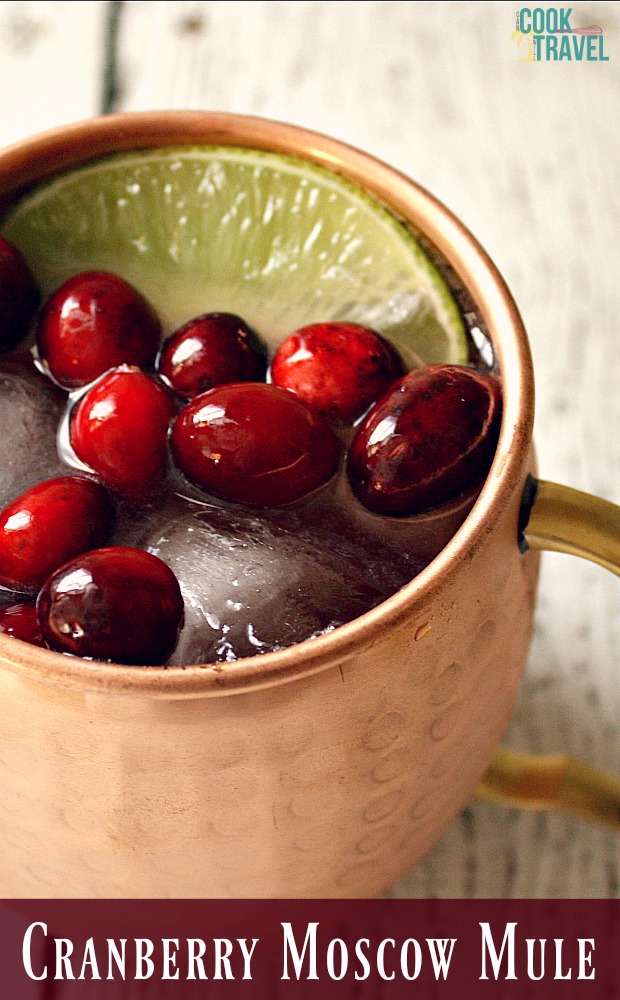 Whether you need an excuse to use copper mugs or break out the cranberries if you have a ton on hand, these cocktails are calling your name. Can you hear them? (I swear it's not the voices in your head.)
They're both delightful holiday cranberry cocktails. So if you want something strong and sweet, go for The Big Sister Cocktail. And if you're in the mood for a bright, tart mule well this Cranberry Moscow Mule is a no brainer! In fact, I have a feeling I'll be making this mule cocktail a lot. Yum!
Which of these holiday cranberry cocktails are you craving? I can't wait for you to try them!
Check out The Big Sister recipe and the Cranberry Cocktail Mule recipe to make the holidays a bit more festive! Click those links for the recipes and step by step instructions. Happy mixing!
A look back:
One year ago: Peppermint Patties are Holiday Perfection
Two years ago: Cranberry Love – Part 3: Cranberry Chicken
Three years ago: Christmas Cookies with a Twist – Pistachio Cranberry Cookies
Four years ago: Avocados + Spicy Peppers = One Crazy Good Enchilada Dish
Five years ago: Honey Oatmeal Bread – Oh Yeah!
0