Another month is coming to an end, and August has been a pretty great month, I'd say. How's your August been? It's kinda funny as I look back at my blogging roundup for August, I start to realize it is a great recap of how my month in life and my blog. After all, my blog is an extension of myself, so I suppose that makes sense.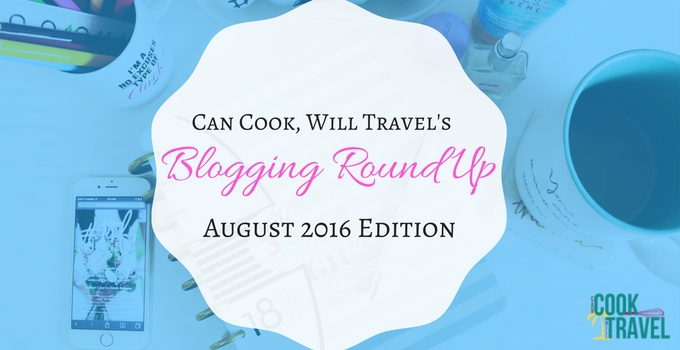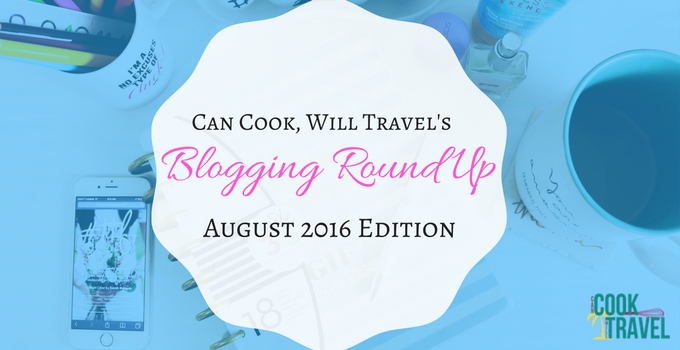 August has been about slowing down, enjoying the little things, and filling my life with fun and healthy things. That meant that I could start creating a routine. Every day for over a week, I've fit in a long walk. For me, it's a serious, haul ass kinda walk rather than a stroll. But what's more important is that it's gotten me moving more, getting fresh air every day, and adding more steps to my FitBit.
I've also spent a lot more time with friends throughout the month than I've been able to since moving back to Kansas City. Whether it was the farmers' market and doing the Race for a Cure with my friend Rebecca, grabbing a week night dinner with Alicia, or catching up with my friend Jamie over yummy food, drinks, and an afternoon at the pool . . . well it's been pretty awesome.
You'll notice a theme of healthy food with a cookbook that focuses on fresh food and overall lots of healthy recipes all month, a motivation post that lights me up, and a post on a hobby I love. I definitely enjoyed writing August's posts, and I hope you enjoy reading them and maybe even implementing a few yourself. My goal was to help myself be healthier and happier this month, and inspire you to do the same.
Let's dive into this month's blogging roundup, shall we?!
Recipes Blogging Roundup: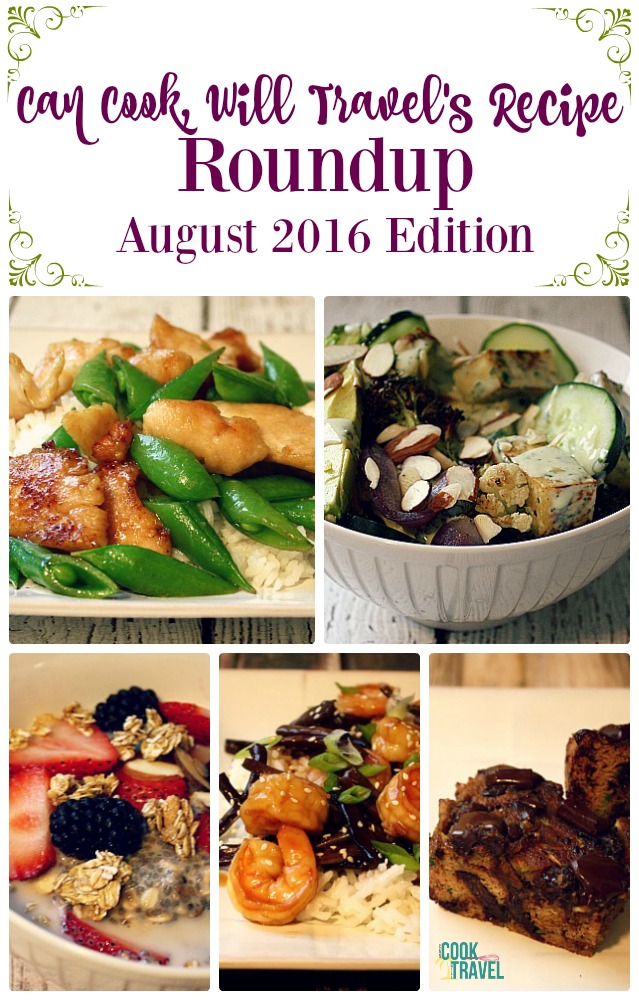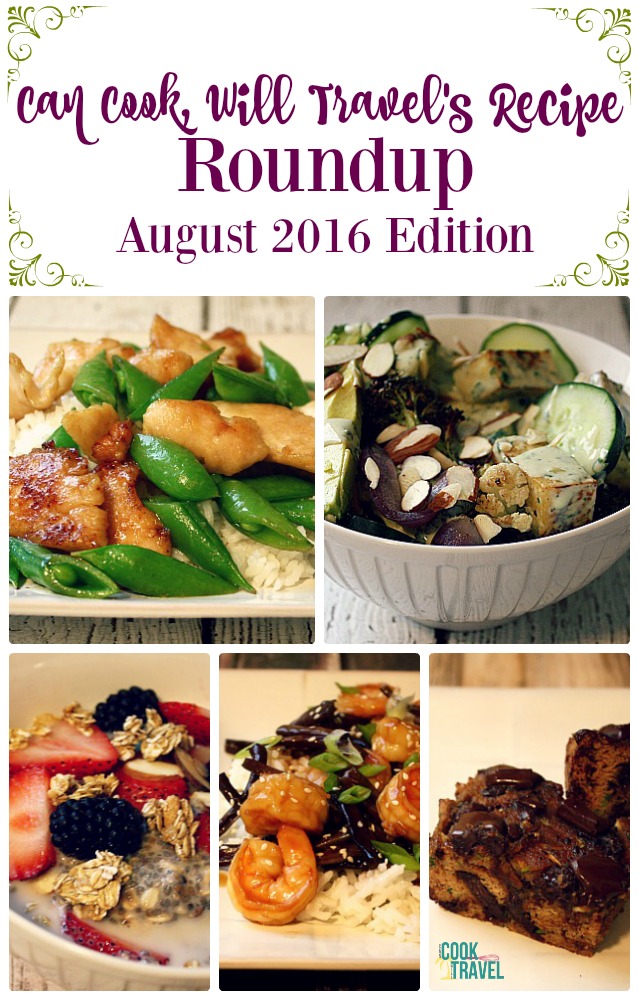 Breakfast:
For all of my fellow breakfast addicts out there, I'm betting you can feel me here. I think breakfast is a great way to start the day on a healthy note. I tend to go for a low sugar cereal and fresh fruit, but sometimes a break in the habit is not a bad thing. That's where this Chia Oatmeal Breakfast Bowl came in. I loved it because you whip up oats, almond milk, chia seed, and cacao nibs in advance and let it hang out in the fridge overnight. Then top with your favorite fruit, granola, and nuts. It's filling and leaves you feeling great!
Snack or Dessert:
I have a sweet tooth. I can't help it. But I tend to feel kinda guilty about indulging it on the regular. So I was on the hunt this month for something that would be a great snack or dessert but wouldn't leave me feeling bad. Say hello to Chocolate Chip Zucchini Bread that is kinda like if zucchini bread and brownies or a cake had a baby. Haha! Well something similar. With bits of dark chocolate in the bread and on top, it feels a whole lot more like dessert yet it's paleo and crazy good!!
Main Dishes:
The rest of the 3 recipes I whipped up in August certainly fit the main dish category. Let's talk about the Chicken Sugar Snap Pea Stir Fry. This recipe came from this month's Cookbook Love feature (we'll get to that in a minute). It was all about highlighting the chicken and peas and therefore was a really simple recipe but light and healthy. Love that! And after looking back at the mouthwatering pictures, I'm anxious to make it again!
Then came Teriyaki Shrimp later in the week. Another stir fry style recipe, but totally different flavors yet still light and satisfying. And this dish was a result of a trip to the farmers' market where I picked up noodle beans, which I'd never seen or heard of before. They were gorgeous and fit perfectly with this dish. Plus you get to make your own teriyaki sauce, which is pretty fun. I like to have total control what's going in my food, and the entire dish comes together really quickly.
And then there was the Buddha Bowl. I'd never heard of one before, but the idea is to combine greens, raw or roasted veggies, grains, protein, nuts, and a great dressing. This particular recipe featured some amazingly delightful roasted veggies. Then I made crispy tofu for a great texture, along with quinoa, and fresh cucumbers and avocados. And the tahini mint dressing was a cinch to make and was packed with such great flavors. There was no doubt with each bite that this recipe was good for you!
Weekly Crush Blogging Roundup: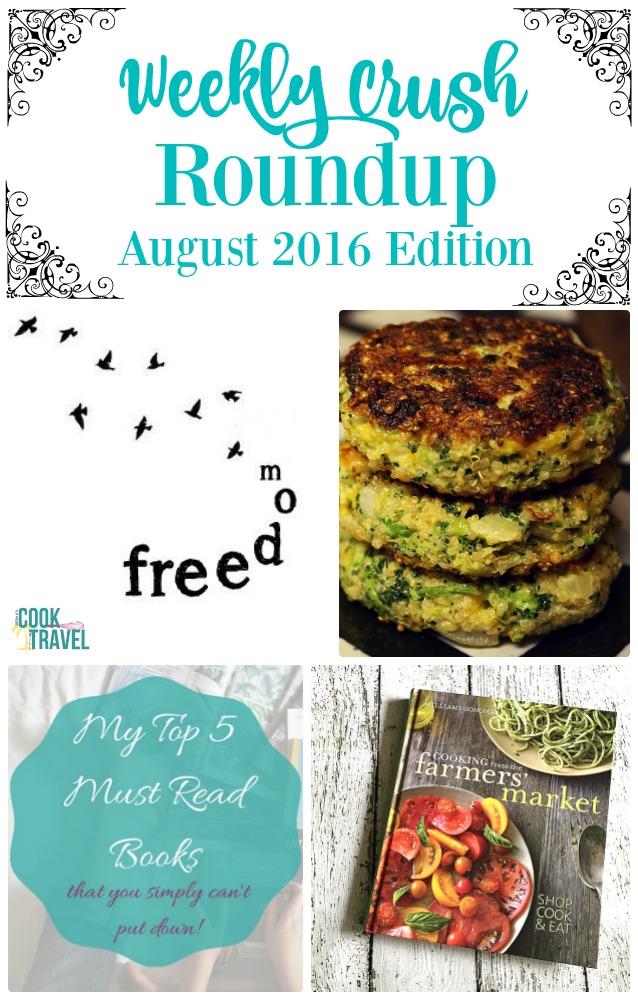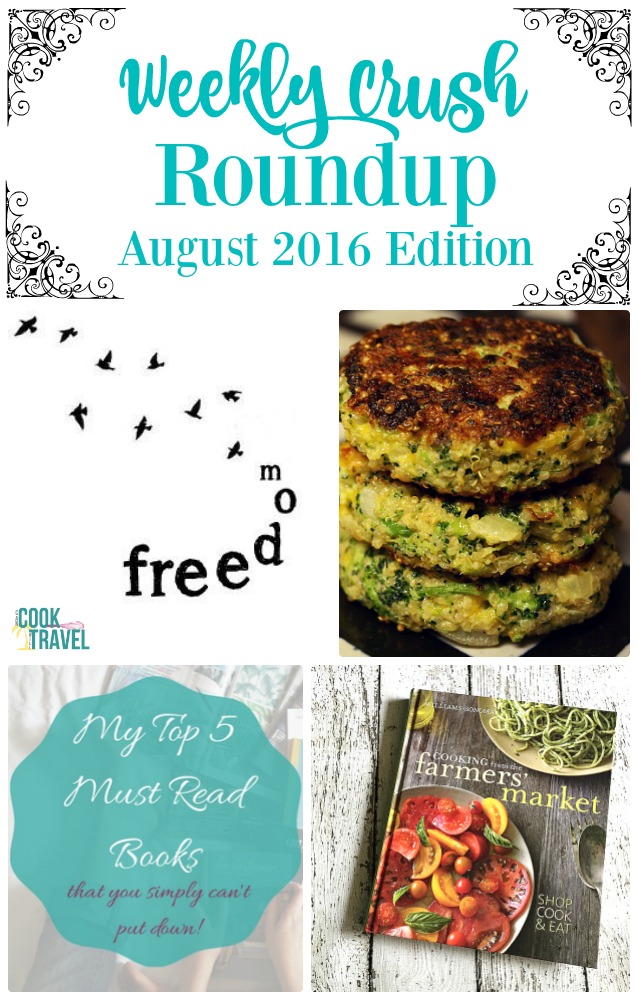 Cookbook Love:
Starting off each month with a Cookbook Love post makes me really happy. And it reminds me of the great cookbooks that I have right there on my kitchen shelf. With it being Summer, it was the perfect time to feature the Cooking from the Farmers' Market Cookbook by Williams Sonoma. Definitely check out this book if you're wanting to incorporate more veggies in your diet. And read the post to find out why I absolutely love how this book is organized. It'll be your BFF when it comes to cooking with veggies.
Recipe Features:
In light of my cookbook feature, it made total sense to feature some of my favorite Vegetable Recipes. Now I've always been a fan of vegetables of all shapes and sizes my entire life. So needless to say, I have a ton of killer veggie recipes on my blog in the past 5+ years. So this post highlights one favorite recipe per vegetable. Not an easy feat to narrow down one recipe per veggie, but you'll find some amazing and tasty dishes featuring broccoli, Brussels sprouts, cauliflower, edamame, squash and more! I dare you to not find a recipe that you don't adore from this list.
A bit o' Motivation:
It's been way too long since I've done a motivational post, and those really light me up. So this month I wanted to talk about how we define freedom, and what it means to each of us. I think you'll find after reading this post that while we are all unique and in different situations and professions, we really do strive for the same types of freedom in our lives. Plus I give you a few suggestions on how you can achieve this freedom we all desire. Go get your freedom, my friend!
Book Club:
And finally, it's time for me to crush on some books with my Ultimate Top 5 Must Read Books list. Now I kinda cheated with one of these books by featuring an author and a few of his books, but this list is all about the books that have affected me and my life in a variety of ways. Whether it's that they taught me to enjoy good literature, made me fall in love with reading, fall in love with myself, or just enjoy reading again . . . they all mean a lot to me. I can't wait for you to pick up one of these books and let me know what you think!
As August comes to an end, I wanted you to be armed with recipes that you feel good about and a few things for you to start falling in love with (whether it's books, a new favorite recipe, or a way to start achieving freedom in your life). This month's blogging roundup is the perfect way to show that now is the time to start living a better, happier, healthier, more fulfilling life. And we can all do it starting with small steps. We've got this!
Did you like this post? I hope so! If you did, please share with the buttons below and leave a comment to let me know what you're enjoying in this blogging roundup!
Stay inspired & happy discovering!
~Kelli
0