I cracked open this cookbook for the very first time sitting on my balcony in my new outdoor furniture. As I dove into this Cooking from the Farmers Market cookbook, it was the first time I had been able to stop moving and relax at home for quite a while. And as I started reading this cookbook, I realized that I've been on the go way too much, and perhaps this book was the perfect way for me to start getting back in touch with putting down some (tiny) roots.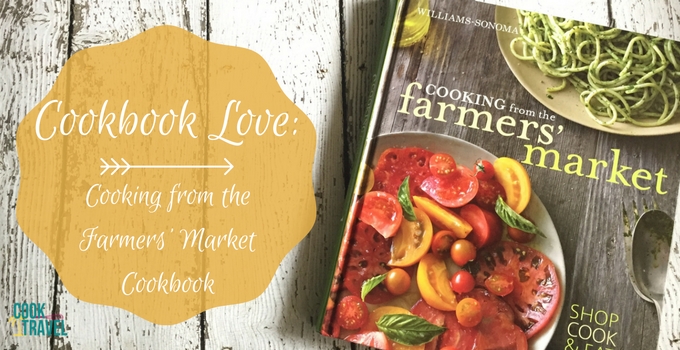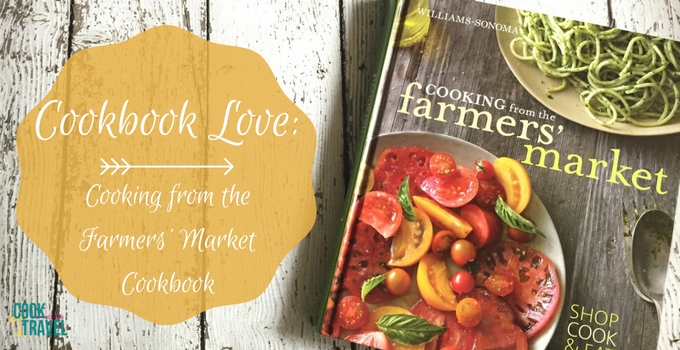 I'll fill you in on the cookbook as we go through this post, but the big point it touches on is the importance of farmers markets. (Shocking based on the title, isn't it?!) And I am realizing that I haven't been to a farmers market in a long, long time. I'm on the go a lot, so usually when local markets are happening I'm either out of town or cozy in my covers not willing to budge because I'm finally HOME.
But this month, I'm hereby vowing to go to at least one farmers market. Anyone want to join me?!
Why this Cookbook?
I've had this Cooking from the Farmers Market cookbook a long time, and truthfully I don't think I've ever cracked it open until now. When it came to picking August's Cookbook Love feature, all I had on my brain was fresh fruits and veggies. I've been eating them up as fast as I can it seems. So I saw this book on my bookshelf and thought it was the perfect time to see if it was worth featuring.
After a few flips through the book, I suddenly became energized and excited to try some new foods and recipes. Cooking from the Farmers Market truly inspires you to be a bit adventurous and supplies you with some delicious recipes to try out.
So if you're wondering why this book? It's really to encourage both you and me to get a bit more hands on with my food. See where it came from and who grew it whenever possible. So here's to both of us getting up a bit early to explore a local farmers market in August. We've got this!

The Farmers Market Cookbook Organization
When it comes to the organization of a cookbook, I'm finding that they are all similar yet quite different, if that's possible. You have the same basic layout of introduction, an informative section that is unique to the subject or author's point of view, the heart of the cookbook is of course the recipes, and then hopefully there's a lovely index at the end.
The intro to this book was what made me realize that it's time I slow down a tad. Now I like being on the go a bit, but I'd like to make it a point at least once a month to have a Saturday morning that is all mine where I can go explore a local farmers market. So thanks to this intro for a bit of a personal challenge.
If you're ever wondering what fruit and vegetables are in season during a certain time of year, then you'll love the handy dandy grid that lives in this cookbook! It breaks down when the best times of the year are to buy certain foods, which is useful so that you can purchase items that are not only going to taste better but are probably going to be less expensive.
Time for the heart of this book . . . the recipes. The organization is unique and really helpful. The authors focus on one fruit or veggie at a time, and give you info on how to buy it (meaning what to look for), the history of the ingredient, how to handle that item, and then 3 flavorful recipes that you could cook it in. How lovely is that?! It's perfect for those of us who want to be sure we get the best produce and handle it correctly. Plus, I like knowing a bit of history and facts about everything.
At the end of the book you'll find a section on basic recipes for a range of sauces, dressings, pie dough, crisp topping, etc. There's another section on cooking techniques. These ranges from how to hard boil an egg to using a charcoal versus gas grill. Not only is this cookbook really organized and easy to sift through, but it has an index for quick reference.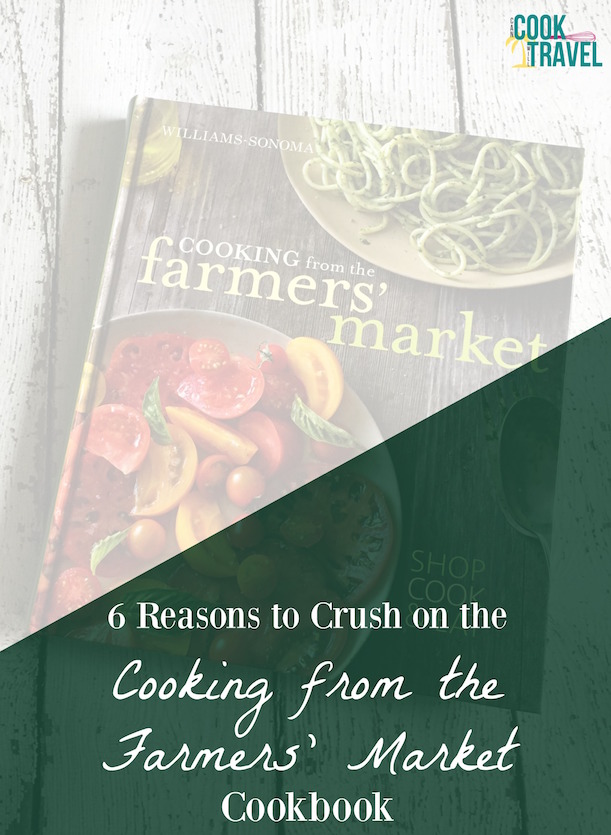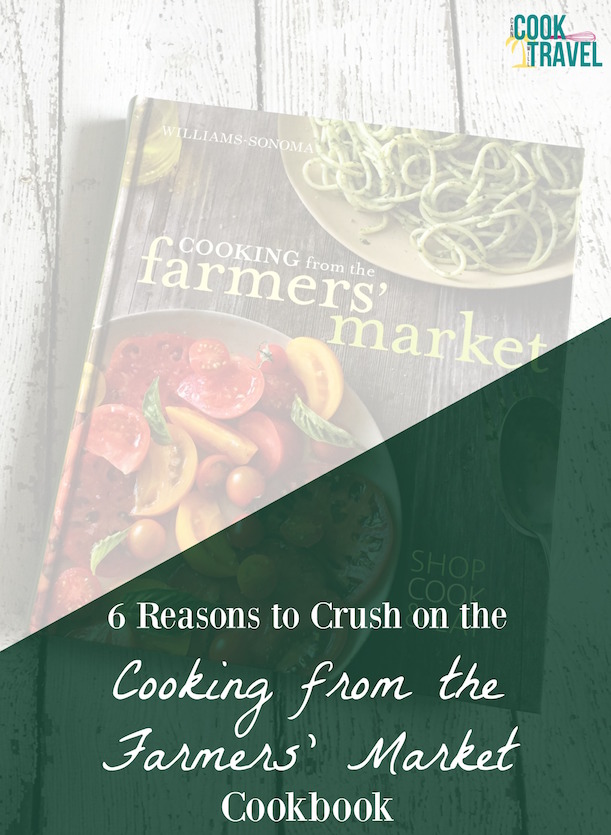 What's to Love About Cooking from the Farmers Market?
The In Season Grid – It's important to buy and eat produce when it's in season, because it's cheaper and tastes better. So this grid is crazy helpful!
The Organization! – I really love how each vegetable gets equal treatment. You find out how to buy it, what to look for, a bit of info/history, and 3 recipes that are simple yet flavorful to help highlight that item. All produce is treated equally!
Wide Range of Produce is Featured – If you come across a veggie or fruit, odds are really good that it's highlighted in this cookbook. So you'll have a few options for what to do with it.
Huge range of types of recipes – There's plenty of meat featured in this cookbook, and a great variety. So you really get to see one ingredient cooked in 3 unique ways.
Gorgeous photography – This one is super important to me, because we eat (and select) recipes with our eyes first. And if the food looks good, I'll probably give it a try. I know I'm not alone in that!
Encourages you to be adventurous, which we all should be a bit more of! – Next time you find a fruit or vegetable that is out of the norm for you, pick it up! Grab this cookbook, and you may have just found a new favorite food or dish!
Crave-worthy Farmers Market Recipes
Tempura String Beans – Cuz how does that NOT sound good?!
Golden Cauliflower Gratin with Capers – I've become fond of capers recently, so this sounds like an interesting combo to me.
Italian Sausage with Broccoli Rabe – I haven't cooked with broccoli rabe before and I've always wanted to.
Spanish Tortilla with Red Peppers – I grew up on Spanish tortillas (yep, true story), and this sounds so good!
Acorn Squash & Chorizo Tart – This tart is a flavor combo I've never thought of. Yum!
Rolled Eggplant with Sausage & Mozzarella – Sounds like a great alternative to pasta!
Blueberry-Vanilla Panna Cotta – Panna cotta is another dish I've never made but have wanted to.
Fusili with Lemon Zest & Ricotta – Any pasta that involves cheese and lemons is a dish I know I'll love!
Lime Curd Bars with Coconut Crust – You had me at "Lime" – but seriously lime is just one of those flavors I can't get enough of.
I really could have kept going but had to stop myself. As you can see, my list of crave-worthy recipes was already quite long! I think what I loved when going through these recipes is that they are simple, focused on flavor, and don't call for a ton of ingredients.
It's truly all about the fruit and vegetables and making them the star of the show, and I love that! Grab this book to find recipes for whatever fruit or veggie you get your hands on at the Farmers market. I think there's a recipe for nearly every produce under the sun in this book.
What is your favorite fruit and vegetable to cook with and eat? Let me know below!
Stay inspired & may your cookbook collection grow!
~Kelli
0