I've been trying all month to eat fairly healthy in case you can't tell from my recent culinary adventures. I just got back from Miami last week, and it was a whole lot of eating out, which meant that at least half of my meals were not so good for me. I did have some great food though, including a delicious zucchini pizza that I may just need to recreate here for you! When I came home, healthy food and lots of it was in order, which is where this Buddha Bowl came in.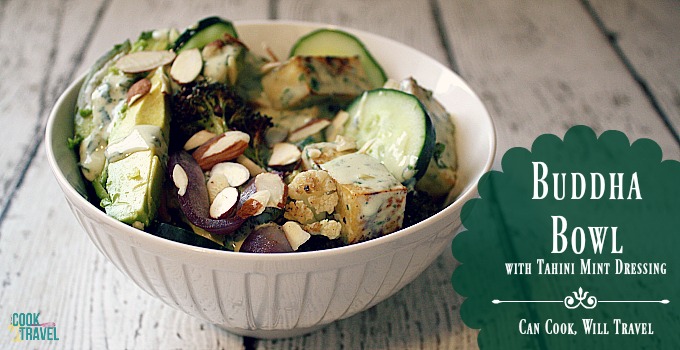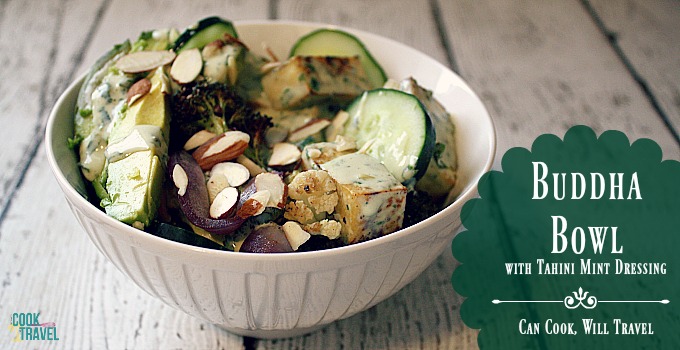 So there I was the other day pinning my little heart out on Pinterest, and this Buddha Bowl popped up. It looked gorgeous and healthy and I was instantly intrigued. And if you've followed me long, then you know that whenever I'm intrigued by a dish, it'll probably make its way onto my blog.
I had no clue what the heck a Buddha Bowl was at the time, but it seemed to fit my healthy recipe goal, so I went grocery shopping! Turns out that Buddha bowls (or you might hear them called glory or hippie bowls), are just a big bowl of goodness. You'll find your favorite greens, roasted or raw veggies, and some kind of a grain like quinoa, rice, faro, etc in this bowl. Then you can top the Buddha bowl with a yummy dressing, or your favorite nuts or seeds. So there ya go! Now you know what a Buddha Bowl is!
Now let's talk about this specific dish. You basically prep a bunch of components and then throw it together. So this would be easy to make ahead if you do meal prep on the weekends or the evening before. You could easily make the quinoa ahead of time and just reheat it when you're ready to serve the dish if you're looking to save time.
The protein in this dish is tofu. I'll be honest here. I grew up on a hog farm, and I'm a pretty happy little carnivore. So tofu has always kinda creeped me out. However, I love an adventure, so I'm up for a challenge. And I'm not afraid to cook with tofu. What really intrigued me about this dish from the blog Well Plated is that she referenced an "un-fried" tofu that she loves. So I decided to make the tofu for my Buddha Bowl this way. Super glad I did.
All you need to do is get some tofu and pat it with a paper towel to remove the excess liquid on the outside. Wrap it in some plastic wrap (making sure it's well wrapped), slice it lengthwise, and then freeze it for at least 3 hours. They say tofu is better when you freeze it first, so I was game to try it. When you're ready to work with the tofu, simmer it in a sauce pan until it floats a bit. Then cut the slices into cubes, and "fry" it. You're actually just browning each side in a nonstick skillet using about a tablespoon of grapeseed oil. And that's it!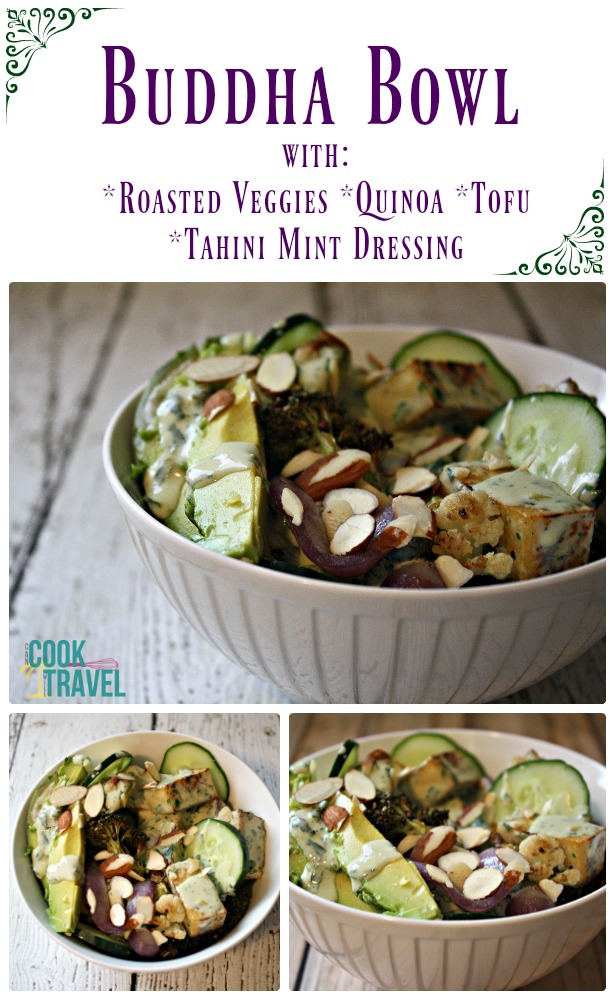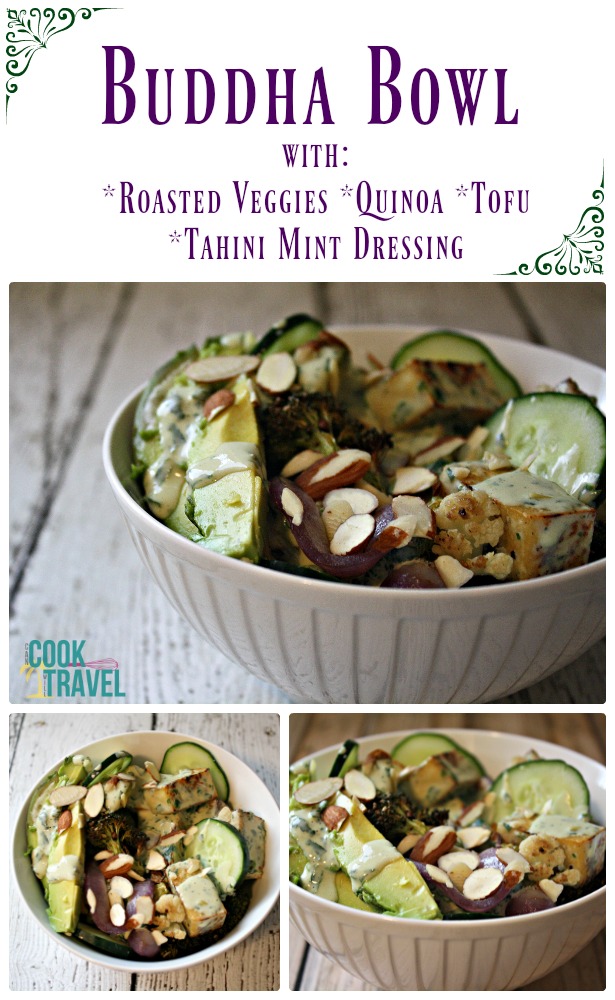 This dish then has quinoa, tofu, raw cucumbers, half an avocado, and then the roasted veggies and dressing, both of which totally send the delicious factor over the edge. I adore roasted vegetables. They're so delicious! I used broccoli, cauliflower, and red onions as Well Plated did, but this would really be fabulous with whatever veggies you love roasted. I could see Brussels Sprouts being a great addition as well. So use this roasted veggie part of the recipe to make it your own and have some fun.
And the dressing . . . oh the dressing! Using Tahini, which is made from ground sesame seeds, as a base makes it healthy and nutty. Add some fresh lemon juice, a little water, fresh parsley, fresh mint, salt and pepper to the blender or food processor and you've got a killer dressing. I was running low on mint, so I added some fresh basil to my dressing and it was so good!
Buddha Bowls are a thing of beauty. To plate yours like a pro, just grab a large soup bowl and add spoonfuls of each ingredient around the bowl so that it's not all mixed together. I love it, because it let's you see what you're about to eat. The tofu will get tossed in a little dressing before it's added to the bowl. Then top it with some sliced almonds, a few drizzles of dressing and enjoy!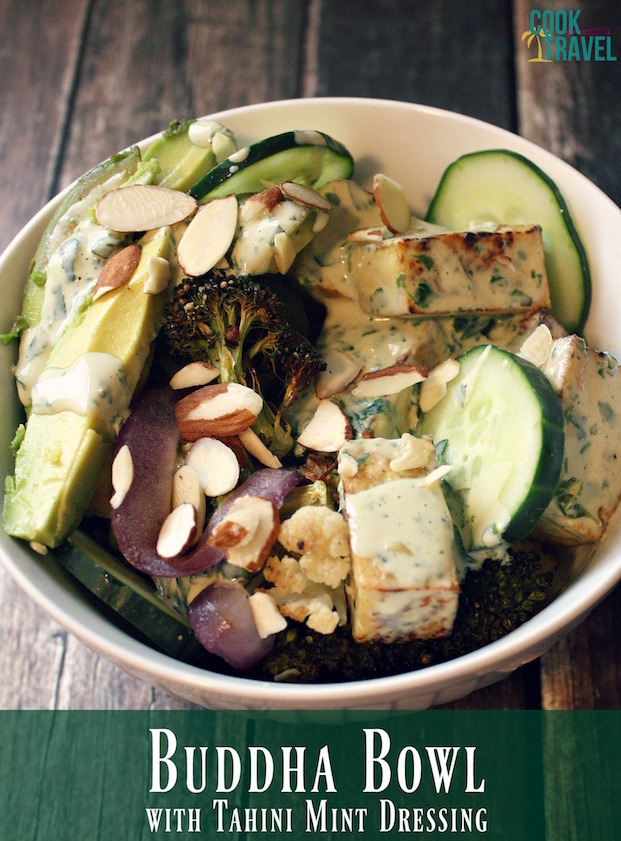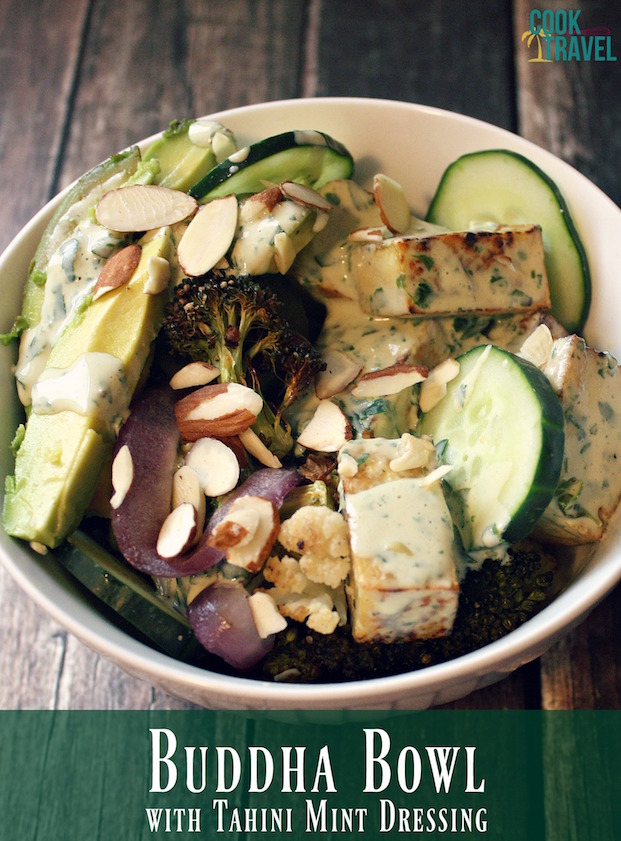 I loved how each component stood out and added its own special flavor. The quinoa is great because it takes on the flavors you put with it and it's really good for you. Sautéing the tofu first gives it a little more flavor and improves the texture. The roasted veggies are hearty and crazy good. Then the creamy avocado, crunchy cucumbers, and sliced almonds add great texture to the dish. And that dressing is super flavorful, bright and fresh!
Leftover tip for you: If you have leftovers, store all of the components individually. That way you can reheat what you need to and then it keeps each ingredient fresher and the dressing won't make anything soggy in the fridge. I did this with my leftovers, and it worked like a charm!
As I was eating this dish, I declared that I could eat this Buddha Bowl every day. You gotta love when a recipe is healthy and ridiculously tasty and filling! Be sure to click that link for the recipe and step by step instructions! Happy Buddha Bowl-ing!
A look back:
One year ago: Garlic and Ginger Edamame is Simply Fabulous
Two years ago: Chocolate Zucchini Cake…Making Life a Bit Sweeter
Three years ago: Cheesy Zucchini Rice Couldn't Be Easier
Four years ago: Appetizers with a Side of Bling
Five years ago: Breakfast for dinner – Cinnamon Pancakes
0