I did it! A couple of weeks ago, I highlighted a cookbook that focuses on going to the Farmers' Market and what to do with all of the fruit and veggies you get there. At that time, I declared that I would go to a Farmers' market this month. And I made a point to go to a local one last weekend. And that is where this week's Teriyaki Shrimp recipe comes in.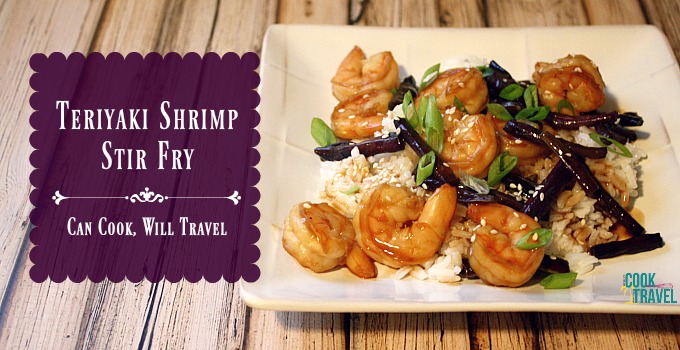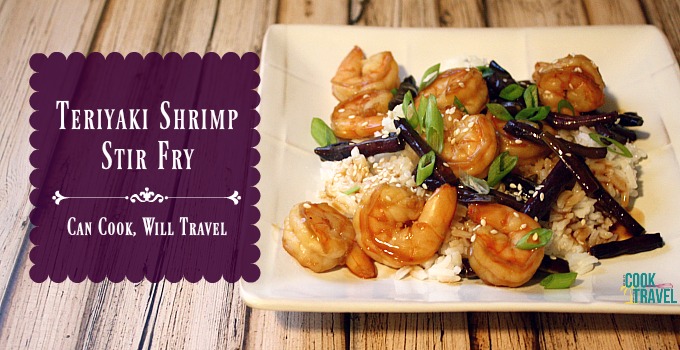 Going to the local farmers' market for me was more about taking the time to slow down, be present, and check out a ton of produce. I was struck by all of the different varieties of the food there. AND I was lucky enough to win a raffle of a basket chock full of goodies that I was excited to experiment with. I was psyched to win, because I seriously never win anything!
One of the vegetables that caught my eye and I just had to try was the noodle bean shown in the picture above. I spotted both red and green varieties. And when I asked a vendor how to cook them, she said just like normal green beans. So I picked up a bunch of red noodle beans, which look purple, but hey I didn't name it. They're just too pretty and fascinating not to try.
But what's a girl to do with these guys? Well out of the blue I saw this Teriyaki Shrimp stir fry dish pop up from a blog I love called Sally's Baking Addiction. And while Sally used snap peas, I just knew this would be the perfect way to feature my noodle beans.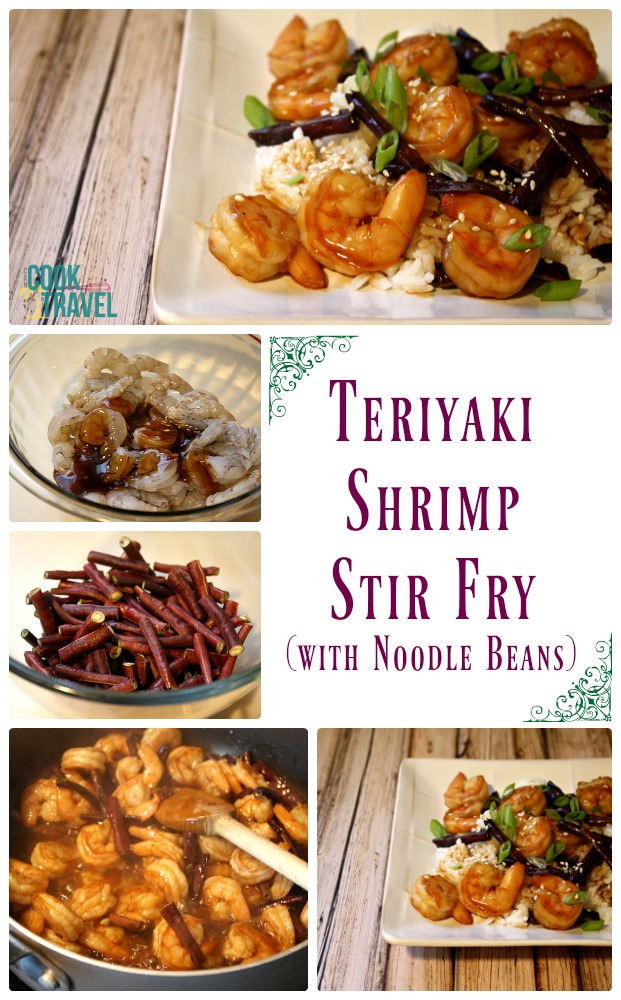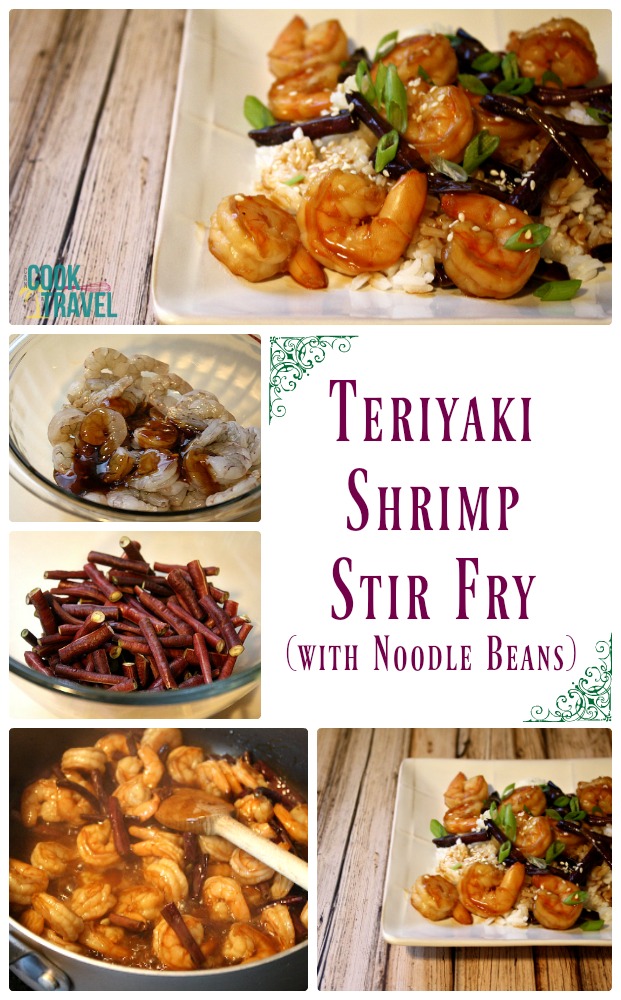 This dish is super easy to make and comes together in just a few minutes. You'll make your own teriyaki sauce, which is easy and fun. Whisk together some cornstarch and water. Then combine it with soy sauce, brown sugar, honey, minced garlic, grated ginger, and vinegar. Bring it to a boil in a small saucepan and after one minute of boiling, it's thick and smells absolutely delicious! Pour half of the sauce over your uncooked shrimp and let it marinate for 10 minutes. Then it's go time!
Heat a large skillet over medium-high heat. I used sesame oil to give the mixture a nice, nutty flavor. And I added my noodle beans to the pan. Sauté the beans for 3-4 minutes until they start to cook but make sure not to overcook them. Add the shrimp and all of the sauce to the hot pan with the beans and cook for another 2-3 minutes until the shrimp is cooked and pink.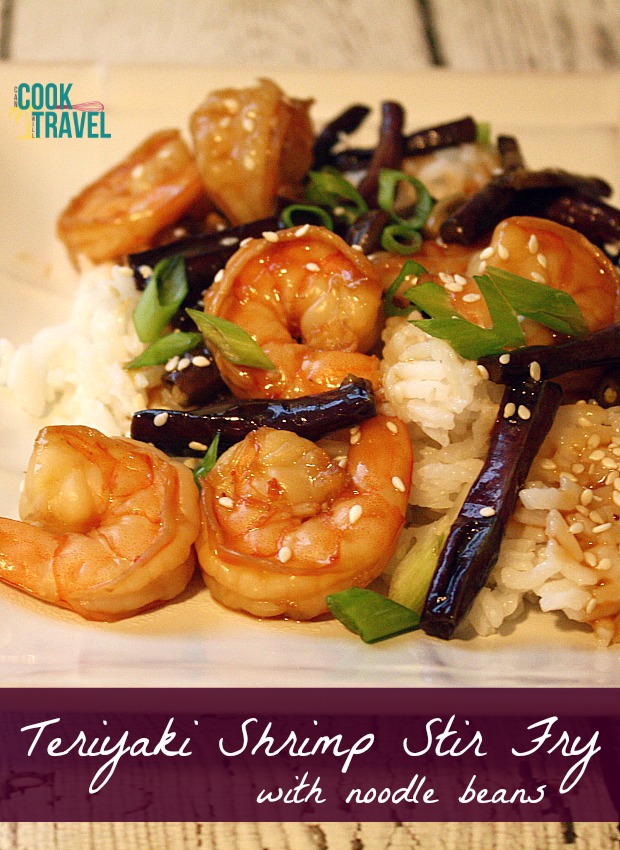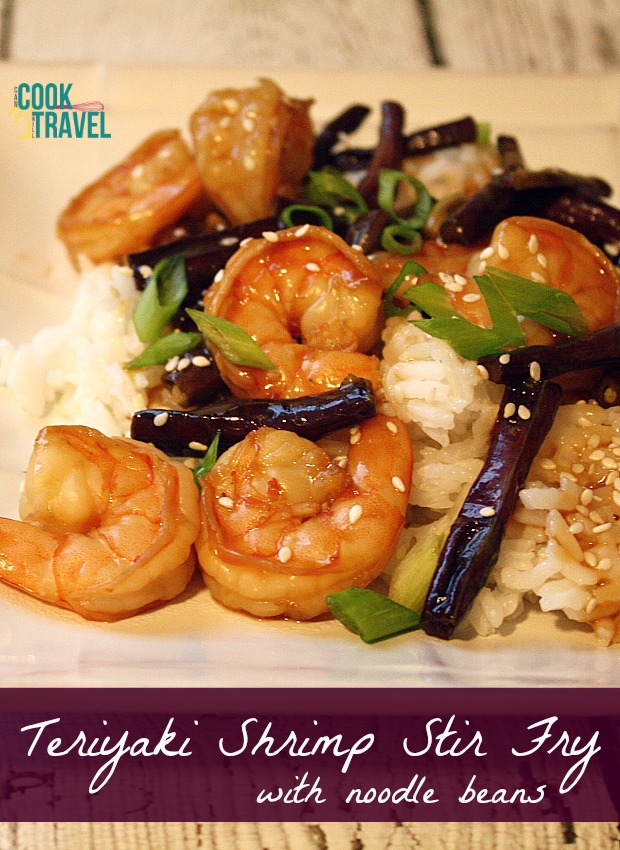 Then serve it immediately with rice and enjoy! Seriously, isn't that easy?! I topped mine with some sliced scallions to add some green and a sprinkle of sesame seeds. I adore the sweetness you get that is a great balance to the shrimp.
And the noodle beans were perfect in this recipe. But if you can't get your hands on them, your favorite stir fry veggies will work great here (like snap peas, snow peas, bell peppers . . . you get the idea).
So when you're looking for a healthy and fast dinner to whip up for a busy weeknight, then I think you've found it here with this Teriyaki Shrimp recipe. I can't wait for you to try this one, so be sure to click the link for the recipe and step by step instructions. Happy teriyaki-ing!
A look back:
One year ago: Bring on the Basil Garlic Popcorn!
Two years ago: Three Cheers for Sauteed Zucchini with Toasted Garlic and Lime!
Three years ago: Feeling Fancy with Blackberry, Fennel and Goat Cheese Pizza
Four years ago: It's a Mac 'N Cheese Kinda Week
Five years ago: It's Tea Time…Muffins + Chai Tea = Pure Goodness!
1