It's been a bit of a whirlwind lately with me. Maybe you've sensed it from other posts, or maybe not. But I am on the go a lot. And while sometimes it seems like a bit much, I'm not sure I'd change it. That also means that I haven't had a lot of time to cook intricate meals, which is why this Chicken Sugar Snap Pea Stir Fry became so perfect when it crossed my radar.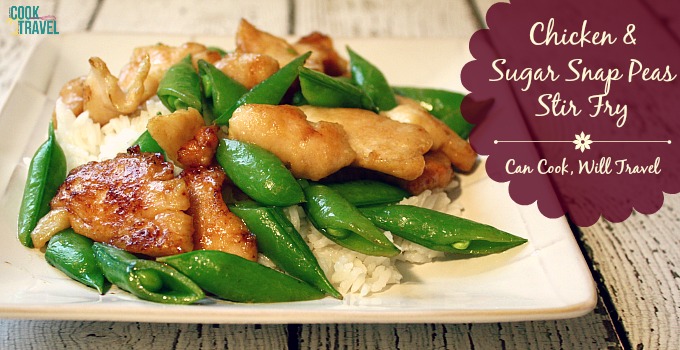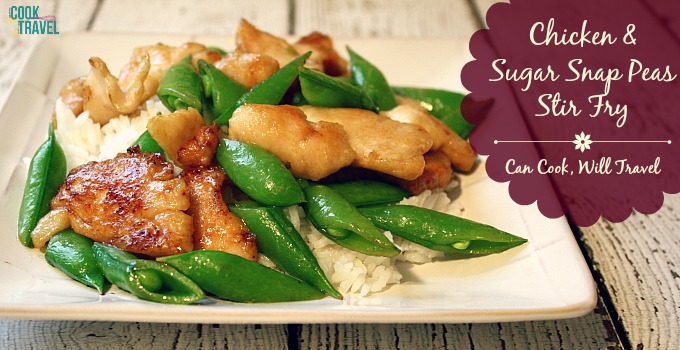 I've gotten to meet up with 5 dear friends from college in the past week, and it's reminded me how important those relationships are. And it's just crazy that with every single one of them, we can catch up like no time has passed. Whether it's been a couple of months in some cases or 2-4 years in the others, I love that these friendships have stood the test of time. There's something about the friends you make in your college years that make them withstand the test of time.
But back to the food, right? So this week I featured this awesomely handy Farmers' Market cookbook for August's Cookbook Love series. And when I found some sugar snap peas at Trader Joe's, they sounded too good not to try. I really love snow peas and sugar snap peas. The sugar snap peas are the ones that are bigger, but they are totally edible, which makes for a pretty dish.
And I hadn't made a stir fry on my blog in a while. (Not since this yummy and healthy sweet and sour chicken recipe.) So it was past time, so this Chicken Sugar Snap Pea Stir Fry was perfect. And the best part was that I didn't need much to whip this up, because it's a simple recipe that focuses on the chicken and peas.
It's pretty easy to throw together. Just cut a pound of chicken breasts into strips (cutting across the chicken for shorter strips). Then toss the strips with some peanut oil, baking soda and cornstarch and let them chill for about an hour in the fridge. This helps them thicken up the sauce and and cook up really well.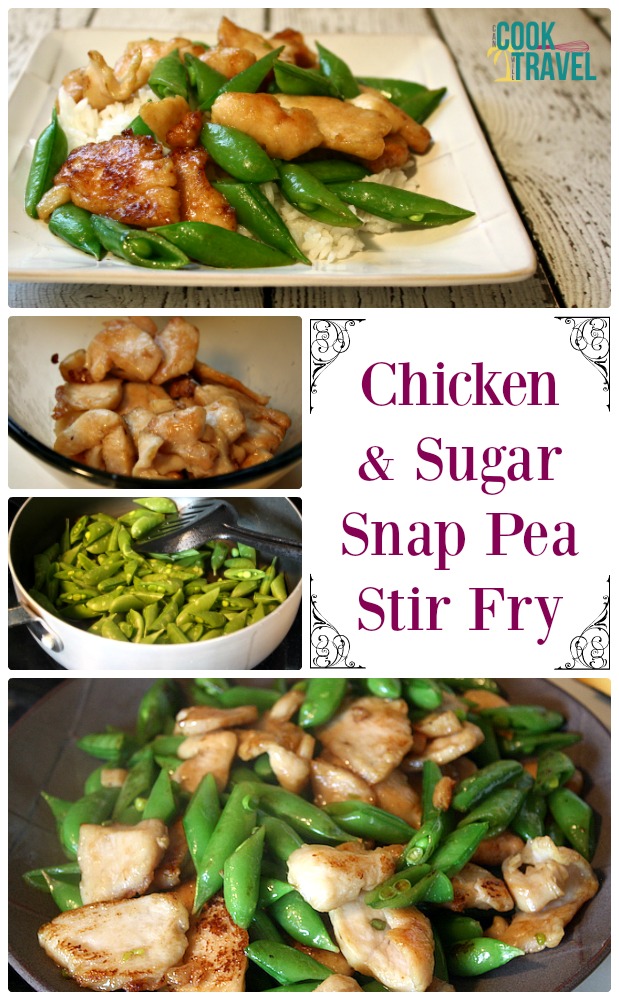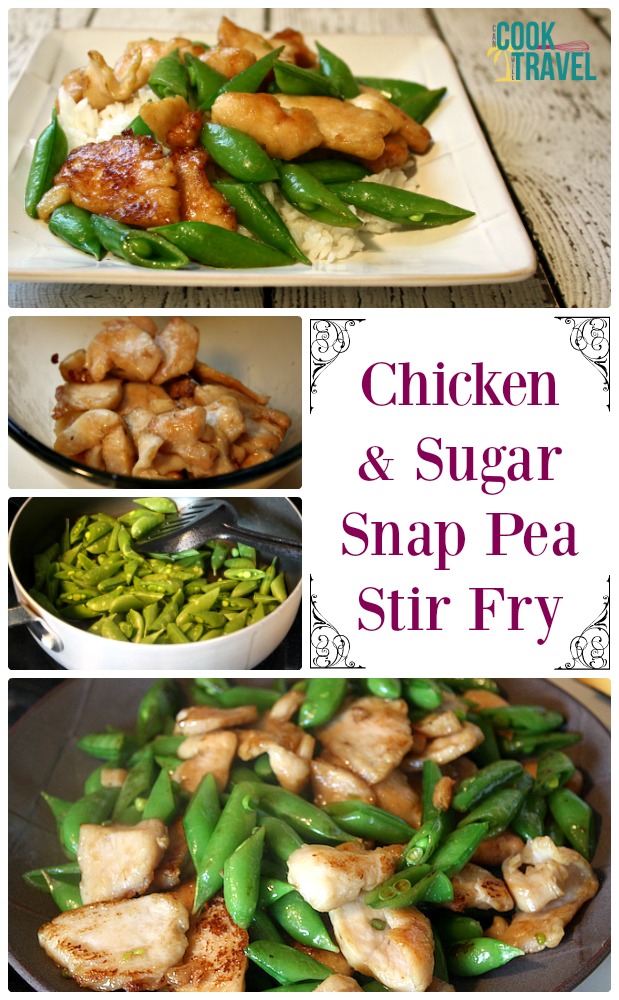 While the chicken is chilling away, cook some white rice with your favorite method. And then you'll cut your sugar snap peas in half at a diagonal. Cutting them this way makes them a bit prettier when you're serving them. Then you'll stir fry your chicken, add some oyster sauce, remove the chicken from the pan, and add the peas for a minute or two. Add the chicken back and stir fry everything again for 30-60 seconds and you're done.
Oyster sauce? (I'm guessing you're asking this.) So it's just a thick sauce with a concentrated oyster juice base. It's not uber oyster-y tasting, but adds a bit of richness and is a popular ingredient in Asian cooking. Don't be afraid! It really makes the Chicken Sugar Snap Pea Stir Fry dish stand out.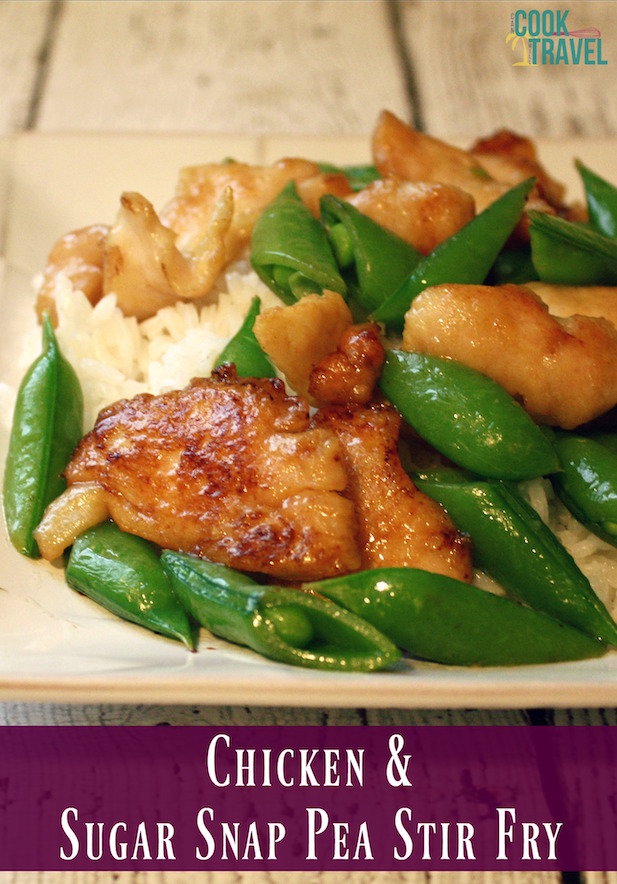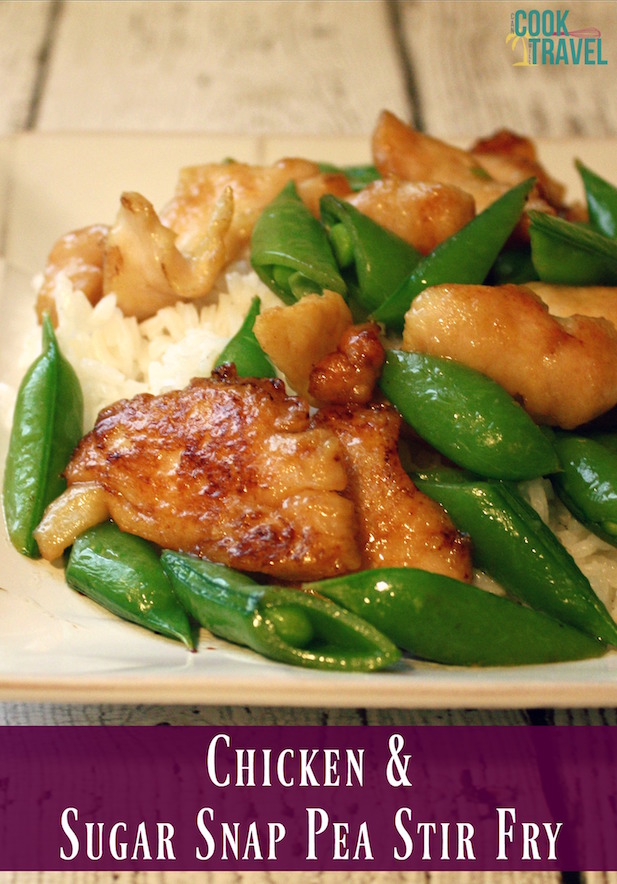 As you can tell, this is such a simple recipe, but it's so good. The crunch of the fresh peas and nice, thin chicken strips on a bed or rice makes for such a great weeknight dinner. It's not super heavy, so you can enjoy a light stir fry and knowing that you've made a tasty and healthy dinner.
Can't wait for you to get your hands on some snap peas and try out this Chicken Sugar Snap Pea Stir Fry too! Be sure to click that link for the recipe and step by step instructions. Happy sugar snap pea eating!!
A look back:
One year ago: Learning to Love Salads – Part 18: Couscous Greek Salad
Two years ago: Gooseberry and Blueberry Mini Tarts…When in Doubt…Bake!
Three years ago: Something from the Sea – Shrimp Scampi
Four years ago: Egg Roll: To Bake or Not to Bake…Not Even a Question!
Five years ago: Orzo with Artichokes and Peas
30